2018 Honda Amaze Bookings Open to four powertrain options which include petrol automatic and diesel automatic along with manual gearbox options
Honda Cars India Ltd today commenced pre-launch bookings for the much-awaited All New 2nd Generation Honda Amaze. The booking can be made at all authorized Honda dealerships across the country, with a booking amount of Rs 21,000.
The All New 2nd Generation Amaze is built on an all-new platform, incorporating Honda's advanced engineering prowess and expertise in research and development. The car is scheduled to be launched in May 2018 and will be available in both Petrol and Diesel.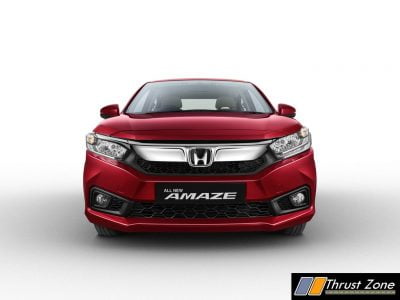 The all-new Amaze will feature the First in Industry Diesel CVT Technology in the Indian market, offering effortless driving experience. This will be Honda's first diesel engine combined with advanced CVT, and India will be the first market to launch this technology.
The 2nd Generation Honda Amaze continues with unique design, spacious interiors and advanced engine technology. It is equipped with several new convenience features and latest safety technologies. New Digipad 2.0, multiple airbags and a new dashboard design should help it stand out.
Since its introduction in the Indian market in 2013, the Amaze has gained popularity as a premium family sedan from Honda and has sold 2.57 lakh units so far. Amaze was the first diesel model introduced by HCIL, marking Honda's entry into Diesel segment in India.
Amaze remains one of the most strategic & exciting models for the Indian market from Honda Cars India. The car helped Honda consolidate its position in the Indian car market, with the aim to be the most trusted car manufacturer in India.