Japanese bike maker Honda has unveiled its new H'ness CB350 recently, thereby finally making its entry into the burgeoning 350cc segment. The category has been dominated by Royal Enfield for a long though of late, we have witnessed a slew of new players such as Jawa Forty Two and Benelli Imperiale 400 claiming their stake in the segment. H'ness CB350 is expected to further intensify this rivalry and to take stock of the situation, we have come up with this specification comparison review.
Design and Style
In terms of design inspiration, H'ness CB350 is an old school Honda with a lot of charm and retro-looking ingredients. Whether it is a round LED headlamp, the shape of the fuel tank or chrome fenders, all bears resemblance to bikes of yesteryears. Similar retro design can be witnessed on the Imperiale 400 as the bike draws upon the rich Legacy of the Benelli for its genesis. Royal Enfield and Jawashare sprung seat feature while offering knee pads on the fuel-tank. Forty-Two comes across as a more affordable model and hence, many of the chrome bitson bike have been replaced by a matte black finish. Thankfully, there is no such skimping on Royal Enfield 350 as it has loads of chrome to the drive home the luxury factor.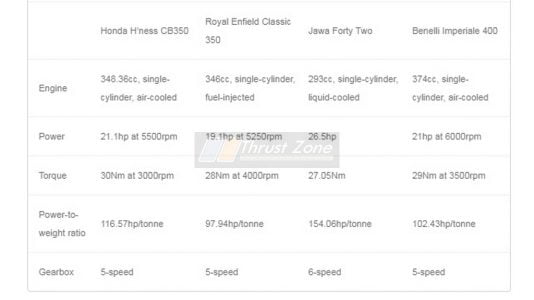 Fire power: H'ness CB350 comes powered by a new 348.36cc engine which has been specifically designed for the Indian market. This single-cylinder, fuel-injected engine puts out 21.1hp along with 30Nm and comes mated to a 5-speed gearbox. The bike features assist and slipper clutch as a part of standard equipment. In terms of power, Honda is on par with competitors such as Royal Enfield and Benelli Imperiale 400 although its torque is highest in the lot – a fact that is definitely going to benefit riders in terms of low-end and mid-level grunt.
Imperiale 400, on the other hand, features a cubic capacity of 374 cc with an output of 21 bhp and 29 Nm – figures which are close to the output of Royal Enfield Classic (19.8bhp/28Nm). However, it is a Jawathat comes on the top thanks to its highest output of 27bhp and 28Nm. Another distinction for the Jawa is its 6-speed gearbox while all other bikes in this comparison come with 5-speed gearbox.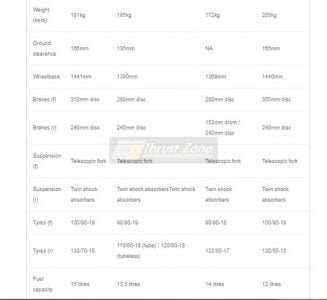 Chassis and Suspension
In terms of chassis, H'ness CB350 features a semi-double-cradle steel frame and uses telescopic fork up front and dual hydraulic shock absorbers as suspension hardware. Both Jawa Forty-Two and Imperiale 400 come with double-cradle chassis framework while suspension system on bikes is also similar in the form of telescopic forks and dual shock absorber at front and rear respectively. However, there are important differences when it comes to wheel sizes and brakes that are featured on these bikes. Honda, Royal Enfield, and Benelli come with the 19-inch front tyre and 18-inch rear tyre while Jawa relies upon 18-inch and 17-inch front and rear tyre respectively.
Stopping Power
Both Jawa and Royal Enfield employ 280mm front disc brake while Benelli and Honda have used 300mm and 310mm front discs respectively. Anchorage at the rear of Benelli, Royal Enfield, and Honda is via disc only while Jawa can be had with 153 mm drum brake which is an optional feature. Dual-channel ABS system is standard on all except Jawa which offers dual-channel ABS with rear disc option to customers. In terms of curb weight, Jawa is considerably lighter with tipping the weighing scale at only 172 kg.
Features and Equipment
In terms of feature and equipment, Honda has gone all out to equip CB350 with new-age technology. Some of the prominent features on the bike include Honda smartphone voice control (HSVC) and Honda selectable torque control (HSTC). In addition, the bike also offers side stand engine cut off and LED lights. Benelli comes with a twin-pod instrument cluster featuring a speedometer and RPM gauge in addition to having an odometer display. There is a single pod display on the Jawa and like Benelli, it also features a display for the odometer. Royal Enfield, on the other hand, has only got analogue speedometer and in terms of instrumentation, it is least equipped among the rivals.
Verdict
There is no doubt that Honda H'ness CB350 is a very impressive offering. It offers a long list of advanced features, comes with a powerful engine, and with a price tag of roundabout Rs 1.9 lakh, the bike is priced competitively as well. We firmly believe that it can easily fend for itself in the segment. The real contest, however, is expected to begin only once Royal Enfield reveals the specifications of its upcoming Meteor 350. With the Imperiale 400 and Jawa on offer which are new but very good packages, customers have a wide choice to choose from. So far, we think the new Honda has got it all what it takes to compete successfully in the category.