In keeping with its commitment to promote the safety and security of citizens, Hero MotoCorp, the world's largest manufacturer of motorcycles and scooters, has handed over 150 Hero motorcycles to the Uttarakhand Police Department.
Presented as part of its initiatives under the Company's flagship CSR program – Hero WeCare – these motorcycles – the technologically-advanced Hero Glamour FI 125 – will be used by police officers for active patrolling in their respective areas of jurisdiction, thereby ensuring overall security, including road safety, and rapid services during emergency situations.
The Hero Glamour FI125 motorcycles – specially fitted with the necessary accessories, including sirens and flashlights – were handed over to Shri Pushkar Singh Dhami – Hon'ble Chief Minister of Uttarakhand on Tuesday, June 28th, in the presence of Shri Ashok Kumar, DGP, Uttarakhand, Mr. Yashpal Sardana, Head – Plant Operations (Haridwar), Hero MotoCorp and senior officials from the state government, local administration and the police department.
Flagging off the motorcycles, Shri. Pushkar Singh Dhami, Hon'ble Chief Minister of Uttarakhand said, "We appreciate Hero MotoCorp for collaborating with the Uttarakhand Police Department in such a noble initiative. I am confident that these new motorcycles will further enable the Police force in the state in better law enforcement, ensuring the security and safety of the citizens."
Mr. Ashok Kumar, DGP, Uttarakhand, said "The association of Uttarakhand Police Department with Hero MotoCorp goes back a long way, and these motorcycles are a sign of the deep appreciation the company has for the hard work put in by police officials. Such initiatives encourage the police to carry out law enforcement, keeping both themselves safe and the streets safer for the people."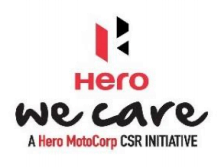 Mr. Bharatendu Kabi, Head – Corporate Social Responsibility (CSR) & Corporate Communication, Hero MotoCorp, said, "We have always collaborated with the police department and the state government in Uttarakhand in several community outreach programmes for the safety and security of the citizens. As a responsible corporate, Hero MotoCorp has always been at the forefront of such initiatives to ensure a greener, safer and equitable society. We deeply value our partnership with the state government and we will keep strengthening this association with similar community initiatives."
Earlier this month, Hero MotoCorp handed over 300 motorcycles to the state forest department through the Himalayan Eco Restoration, Biodiversity Conservation and Livelihood Enhancement Society in Rishikesh, Uttarakhand.
Hero MotoCorp's Initiatives in Uttarakhand –
Handed over 13 life-support ambulances to the Government of Uttarakhand
The company supported Ramakrishna Mission Sevashrama in Kankhal, Haridwar to strengthen the healthcare system with 122 bed COVID-19 hospital – Total 1550 Covid patients benefitted in second wave of pandemic
5023 doses of vaccines were administered to the people in Haridwar
Partnered with the local health department and facilitated vaccination for specially-abled people in the district – 2019 specially-abled citizens benefited through this initiative
Supporting 60 Covid Affected families in District Haridwar
Provided Covid Care Kits with PPE Kits, Masks, Sanitizer, Hand Gloves, Pulse Oximeter to various hospitals in Uttarakhand
Supporting Government Medical College and Hospital Dehradun and Haldwani, Ramakrishna Mission Sevashrama, Swami Bhumanand Hospital, Haridwar , CMO Office in Roshnabad , Haridwar