2017 Mercedes-AMG E63 AMG India Launch has been done, the AWD 621 PS car is now priced at Rs. 1.5 crore
Mercedes-Benz has set a new standard and is right on time, the executive sedan making 600 BHP was way too much to date. RWD cars were the restricting factors for many manufacturers. However, at the crank, the numbers were always quoted less and but as few know, they exceeded even current numbers. Sure extra ordinary premium sedan today, namely the Audi RS7 makes 600 Plus horsepower, but that just happened around this year and 2017 Mercedes-AMG E63 AMG is here to reply to that
2017 Mercedes-AMG E63 AMG India specific has dropped the outgoing 5.5-liter twin-turbocharged V8. The engine is the same as the AMG GT which is lower in displacement, but more potent. The 4.0-liter force-fed V8, and now gets standard 4MATIC four-wheel drive across the range. Base car has the V8 that makes 571 PS and a crazy 750 Nm. This helps it accelerate from 0-100 km/hr in 3.5 sec. Meanwhile, in 'S' guise, 2017 Mercedes-AMG E63 AMG produces 612 PS and 850 Nm allowing 100 km/hr sprint in a terrifying supercar territory of 3.3 sec.Top speed of 250 km/h is limited. However, the availability of AMG Driver's package can raise the limit to 300 km/hr.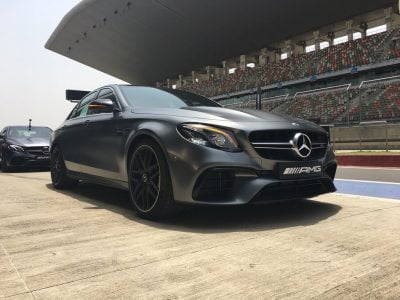 Fuel consumption can be lower with the new V8 as it can run on four-cylinders via the cylinder deactivation system. The system is on when in Comfort driving mode has been chosen and the transmission usually shifts between 1000 RPM and 3250 RPM. Engine comes mated to refreshed 9-speed MCT gearbox. Very German feature this time is the Drift Mode which sends power only to the rear wheels and allows you to drift.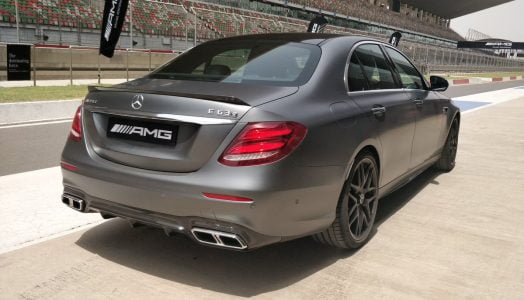 Stopping power comes with 360 mm discs sporting six-pot calipers up front and 360 mm discs with single pot calipers at the back. E63 AMG, E63 AMG S gets larger 390 mm front discs. Mercedes is offering ceramic carbon discs measuring 402 mm up front and 360 mm at the rear. Good luck taming this beast. Experienced drivers can say 'let the fun begin'.