Audi A8L India bound vehicle is loaded to the brim with technology and best in class interior and features, something that is being claimed by the company
Finally, after a long time of eager anticipation, the new Audi A8 has officially released at the Audi Summit in Barcelona, Spain. Let's dive into technical details as it is all about technology and drive train.
The suspension system works with an help of an electric motor on each wheel which will incorporate a rotary tube and an internal titanium torsion bar and lever that can apply up to 1,100 Nm (811.3 lb-ft) of torque on the suspension because of a coupling rod.
This system then works in combination with the sedan's front camera which detects bumps and allows the suspension to automatically adjust which offers the smoothest ride possible. Audi says that this system will be able to eradicate almost all vibrations and jolts.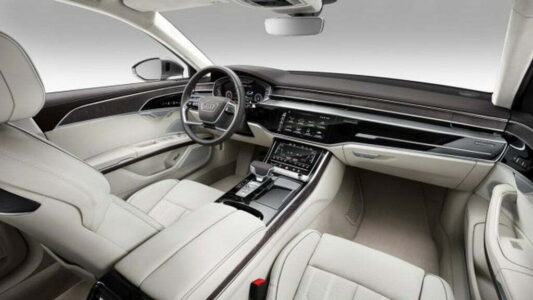 There is an autonomous system in the car which in the highway of upto 60 km/h takes full control of the car, and the driver can completely take his hands from the steering wheel. The A8 also can be parked using a remote.
Coming to the design, the A8 is highly inspired by 2014's Prologue Concept and brings a new Audi design into reality. At the front, Audi has incorporated a set of thin horizontal headlights with LED daytime running lights, and there is an enlarged chrome grille in the front.
Altogether, the design of the new A8 isn't quite as new as the Prologue was but it is surely modern enough to rival the existing Mercedes-Benz S-Class and BMW 7-Series.
The new A8 will initially be offered with two V6 turbo engines, a 3.0-liter TDI and a 3.0-liter TFSI. The diesel engine will give 286 hp while the petrol powertrain will offer 340 hp. A 4.0-liter TDI V8 delivering 435 hp will be introduced along with a 460 hp 4.0-liter V8.
The new A8 can bank with the engine switched off and restart smoothly when required. Audi says that this alone can decrease the fuel consumption by as much as 0.7 liters per 100 km in real driving conditions.
Later, an A8 L e-tron quattro will come in the market. It will combine a 3.0-liter TFSI engine with an electric motor to deliver 449 hp and 516 lb-ft of torque. It will also have an all-electric range of about 50 km, thanks to its lithium-ion battery. German prices for the Audi A8 (new) will start at 90,600 euros ($103,248) in Germany while the A8 L starts at 94,100 euros ($107,236).