Benelli is up and ready this time around to target the Indian market with a slew of motorcycle launches. The manufacturer offered the TRK twins in the Indian market couple of months ago and offered the Benelli Leoncino 500 in quick succession. Every more quickly the Leoncino 250 and Imperiale 400 are almost here as well. Even motorcycles are planned for launch. For now, Benelli wants to target the hot and happening body formats such as cruisers and scramblers.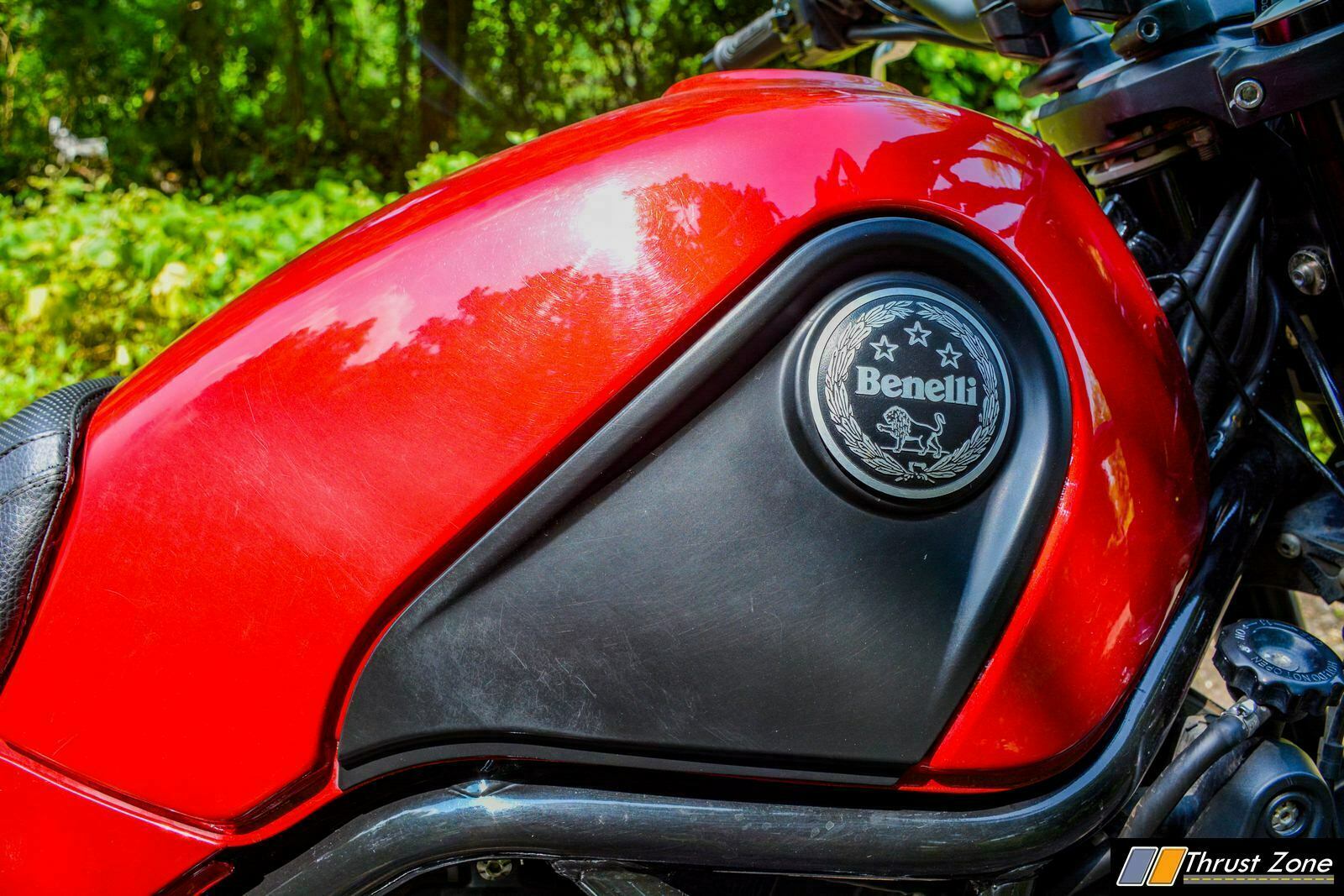 It is almost done with naked, super sport and high-end bikes in the past, which are not far from upgrades either. Coming back, to the Scrambler part in specific. That is what the Leoncino 500 is all about. Everything shouts Scrambler with this motorcycle. There is even an off-road version which could come at a later stage. Nevertheless, the road going model here we tested seems potent enough. How much? Let's find out!
Design
Styling is where it shouts scrambler with its flowing silhouette which starts from the long and tapered tank which runs all the way till the end. The muscular body panels, large headlight make it look good. The exhaust seems out of proportions and looks like an aftermarket unit. A more upward positioning of the same would have helped the design cause better.
The muscular chassis component, tyres and every other elements makes the bike stand out and grab attention. The headlight has an LED DRL which shaped like a horse shoe. There is lion 3D logo on the front mudguard. The led tail-lamp are flush and simple and look very futuristic. LED turn indicators bulbs are quite huge which helps it stand apart. Overall, our red and black scheme made the bike look premium and unique. Quality, could be better but fit-finish is very good for a bike of this size and price.
In terms of practicality, the ergonomics are extremely comfortable with an extra long handlebar and perfectly placed pegs. The cluster has basic information on offer and can switch from MPH to KM/hr with a touch of a button, if you want to feel that you are riding abroad. There are no fuel economy parameters, no back-lit switches but there is a hazard light switch, switchable ABS button and engine kill switch along with the usual necessities.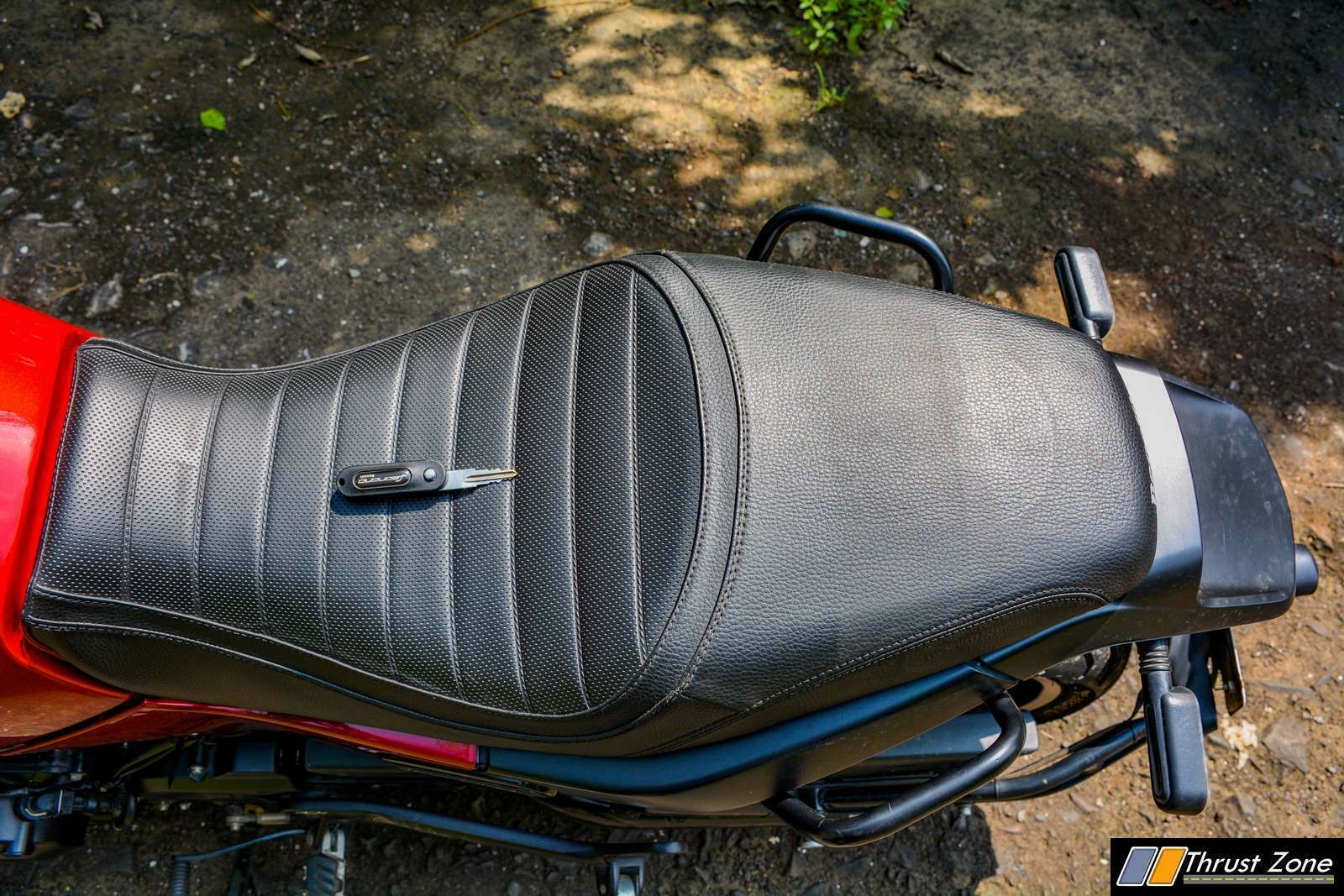 Mirrors are good enough to show what is behind in terms of size. Seat is best for short distance and weekend riders. Touring can be done just fine with it, it can be subjective as always and probably painful for light riders. Same goes for the pillion seat as well. However, there is a great grab rail at the back which should make life a bit more comfier for the pillion.
Riding the Leoncino 500 was a typical Benelli affair but with more zing. The motorcycle weighs around 200 kgs fully fuelled and makes 47.5 PS of power and 46 Nm of torque from its 4-valve, parallel-twin engine mated to an 6-speed gearbox. The clutch is light but the gearbox isn't the best, it requires a bit effort and isn't flawless. Neither it's a deal breaker. The engine with this slightly tall gearing on offer gears spectacular rideability in all conditions. Good low-end torque, excellent mid-range and good top-end as well. However, everything could be better if the engine rev a bit more quickly and cleanly.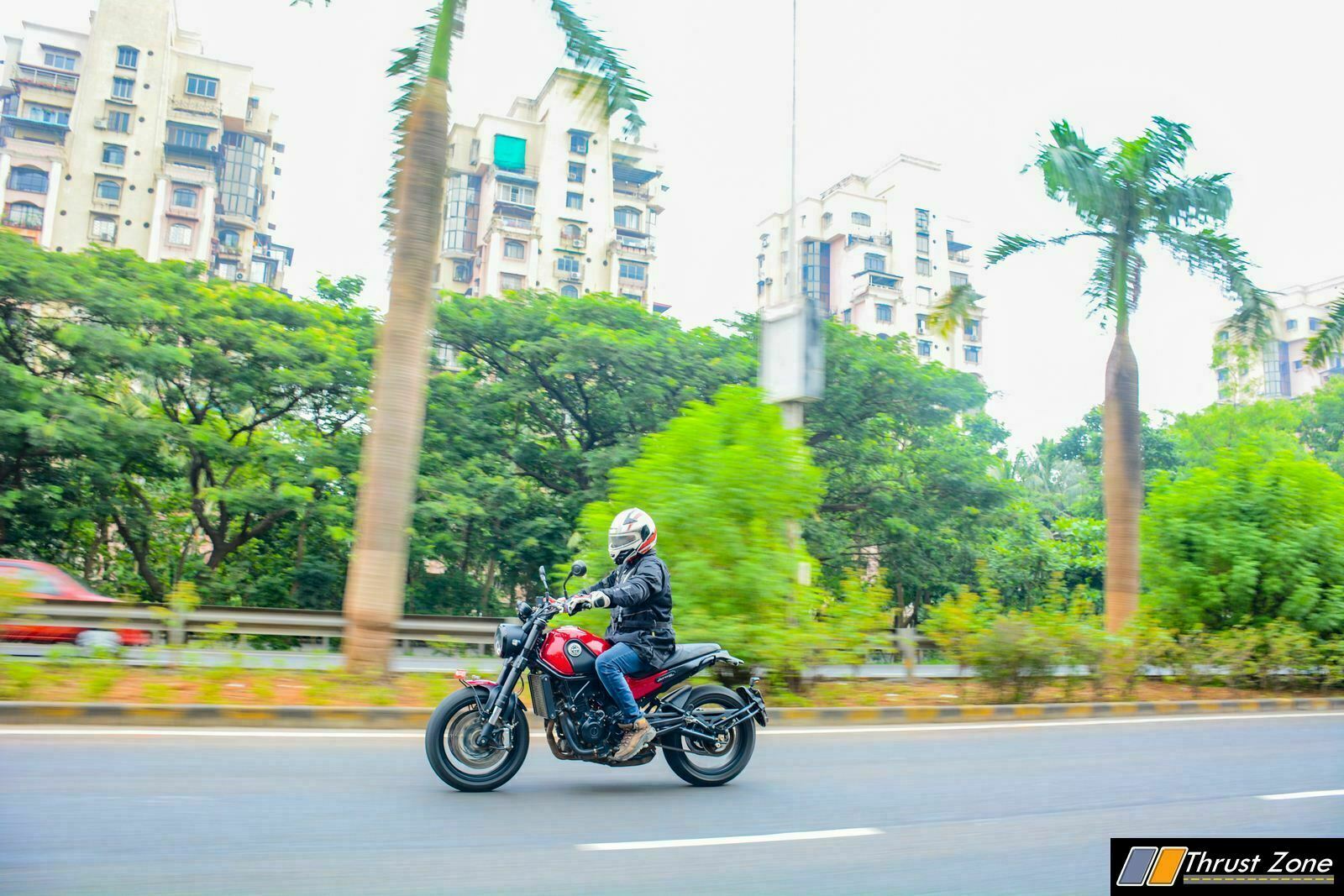 Despite all of this, the engine continues to be good enough and the highlight is the soundtrack when it comes to exhaust note and intake roar as well, both are sporty and loud enough to grab some serious attention on the road. In our fuel economy run it gave us 21 km/l and worst was 16 km/l. The 0-100 km/hr takes 5.5 seconds which makes it a quick motorcycle and a top speed of 180 km/hr plus means its fast enough as well. Everything is good enough for riders hoping on a mid-category bike for the first time as power delivery is linear and the engine is docile and sounds good. However, it could have been more responsive in every way, which includes the throttle response and mild jerkiness below 3000 RPM. Again, not a dealer breaker though.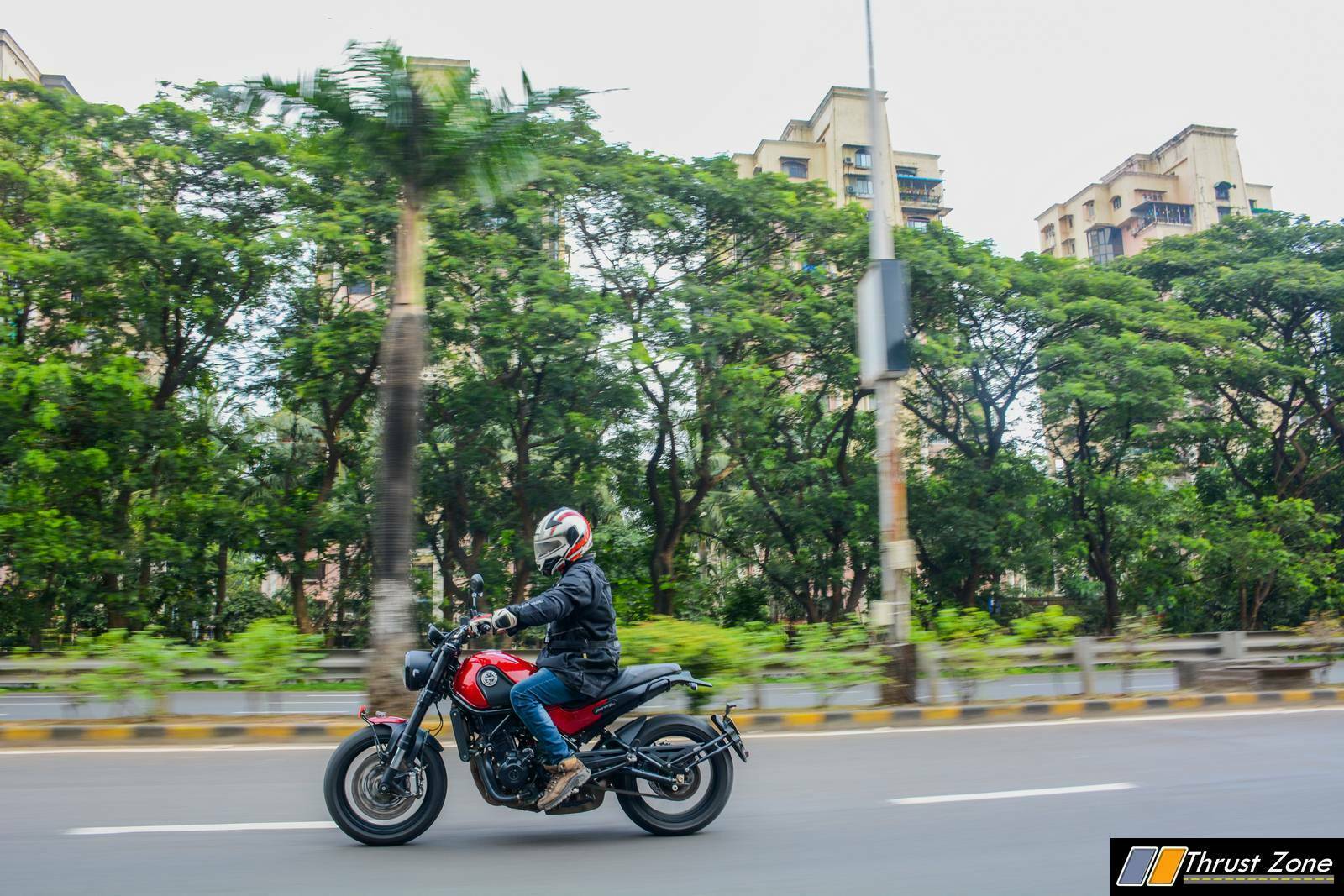 Riding the motorcycle through twisty road showcased its agility which was good enough, thanks to adjustable pre-load at the back, you can make it as agile as you want. The motorcycle is nimble enough for city duties. The highway stability is spot on with long wheelbase and 200 kg kerb weight. There is a good balance that is trying to be achieved thanks to good suspension, but the chassis, especially the swingarm could be more high-tech at this price point.
The front forks are adjustable for re-bound, which is great. Our setup was good enough for 100 kg rider and 80 kg rider that we tested, which was full pre-load at the back and stock re-bound suspension at the front. Ride quality is also good enough for our roads as a result of this balance of being easy yet sporty enough to reach limits from time to time.
Tyres from Pirelli, the Angel GT's, take time to warm up surprisingly, but post that they are good enough. We would recommend you change if you are into sporty riding. Brakes were good enough and so was the lever bite, easy to modulate with good initial bite and a lot of power to stop thanks to dual disc setup at the front and a large rotor is also found at the rear.
2019 Benelli Leoncino 500 India Review, Verdict
The Leoncino 500 clearly is an all rounder. The motorcycle can do it all while sounding great, looking bespoke and providing good thrill when it comes to performance and dynamics. There is just about decent kit on offer but it could have been better in many ways. However, if not for the steep price, this motorcycle is ideal for anyone wanting a 300-500cc motorcycle. It is docile, easy to ride and has typical Benelli traits which includes a well backed warranty package, colors to choose from which other premium manufacturers don't and a laid back riding experience with a lot of oomph available, so, there is just about enough value on offer here for you to consider the Benelli Leoncino 500.