Mercedes Benz E-Class Long wheelbase version came to the market and shook up the segment. The manufacturer masterstroke as we all know created a new benchmark and propelled their sales even higher as the manufacturer is already leading the sales chart in the Indian market since years now. Right from this LWB E-Class to AMG's, everything is contributing, making them the number one luxury car maker in the country. However, as Mercedes says, best never rests, they have come ahead of time and offered BS6 variants of the E-Class as well. These four-cylinder petrol and diesel variants are now BS6 compliant and run on BS4 fuel.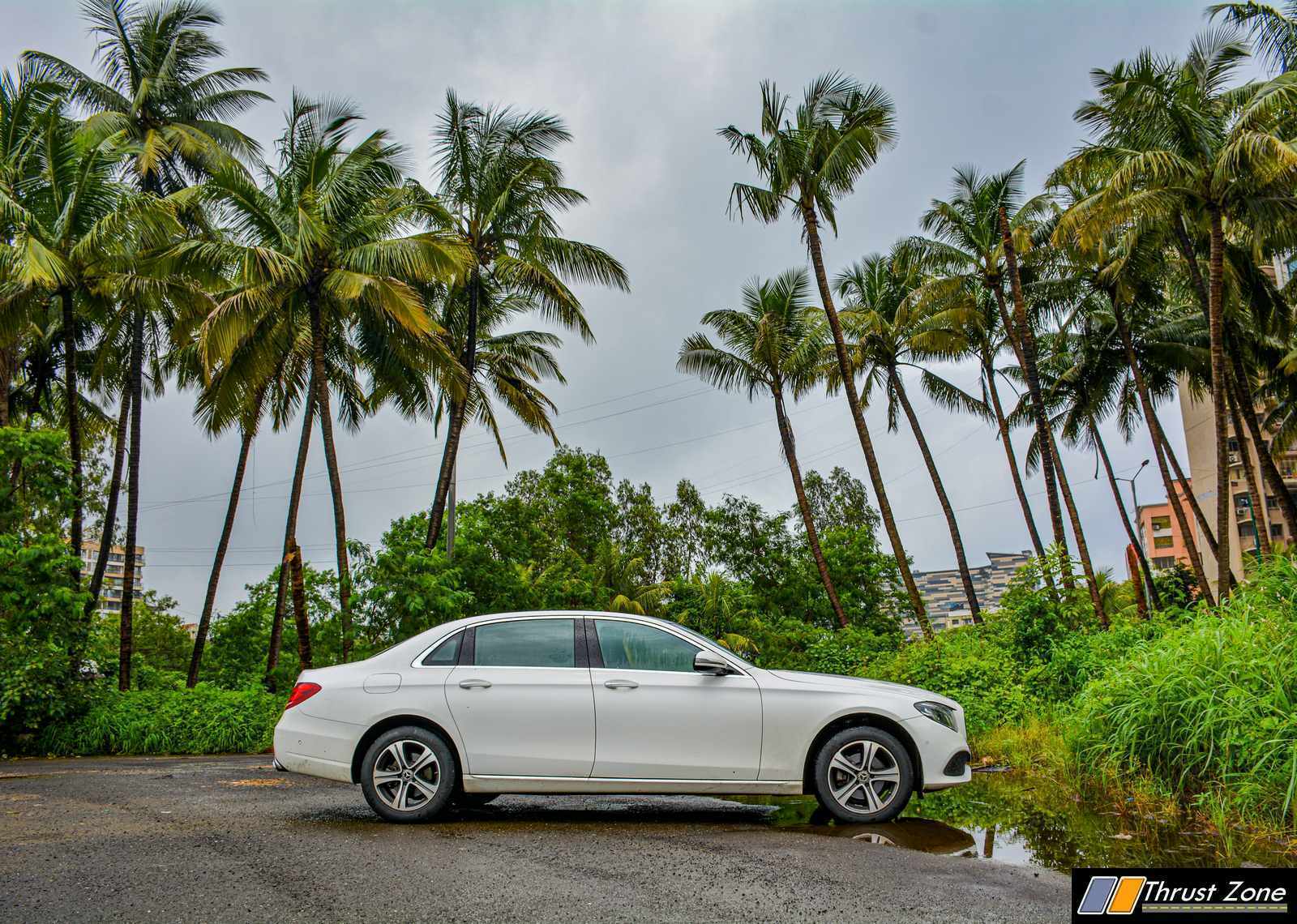 The E-Class LWB with the V6 engine in India continues to be BS4 for now but it will get the BS6 treatment ahead of its time, which should happen just around March-April 2020. However, today, we had the BS6 four-cylinder diesel variant with us for test and it came with a new Exclusive variant as well. What is it all about? Well, we are going to stick with the changes as we had already discussed the E-Class in our previous road test with the 350d V6 diesel variant.
The changes to the outside include a new set of 17-inch alloy wheels which are diamond cut pieces. The rest of the car continues to be a LWB with smooth flowing lines with a lot presence thanks to the length along with well defined elements such as the flush and smooth looking head and tail-lamps and a two slat grille. The interior of our test car had a lovely dark brown color all around. A new 12.3 inch screen which is a huge slab in front of the steering wheel and extends to the center of the dashboard. The screen is all digital and there are three modes to choose from when it comes to the cluster layout.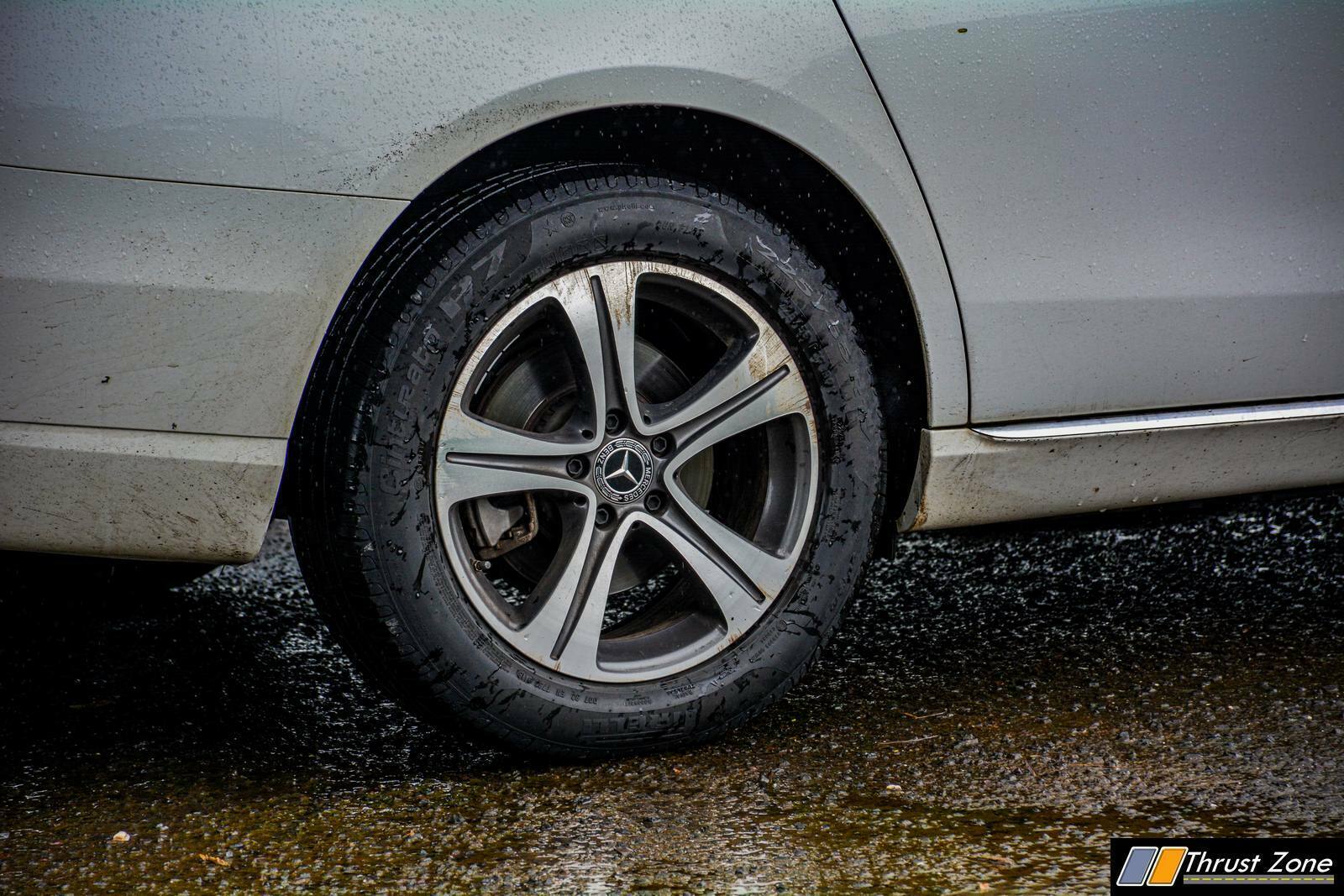 The steering has new notice-able touchpad scrollers which are very convenient to use and was highly appreciated in the E350d which we tested earlier. There is a physical scroller and rest of the buttons which are very unique to Mercedes-Benz worldwide. The quality is good all around, the leather feels, looks and smells good. Feature list now includes a rear touch screen unit embedded in the armrest, a rear wireless charger, a great burmester sound system.
As always a well appointed cabin over all with multiple sunroofs, electric sunblinds for them as well as the windows, memory seats for rear passengers not for the front passengers seen in the Avantgarde 350d variant. Rest of the feature list continues with a command system that can be operated with the touch pad, scroller and buttons on the steering wheel that could be a bit more easier to understand.
What also continues is more than adequate leg, knee, head and shoulder room in its class which helps it stand apart. What was also apparent over the 350d variant is the sound insulation, especially the road noise, was a bit more apparent inside the cabin. Boot is occupied with a space saver and renders it a bit useless if you plan to fill it with luggage.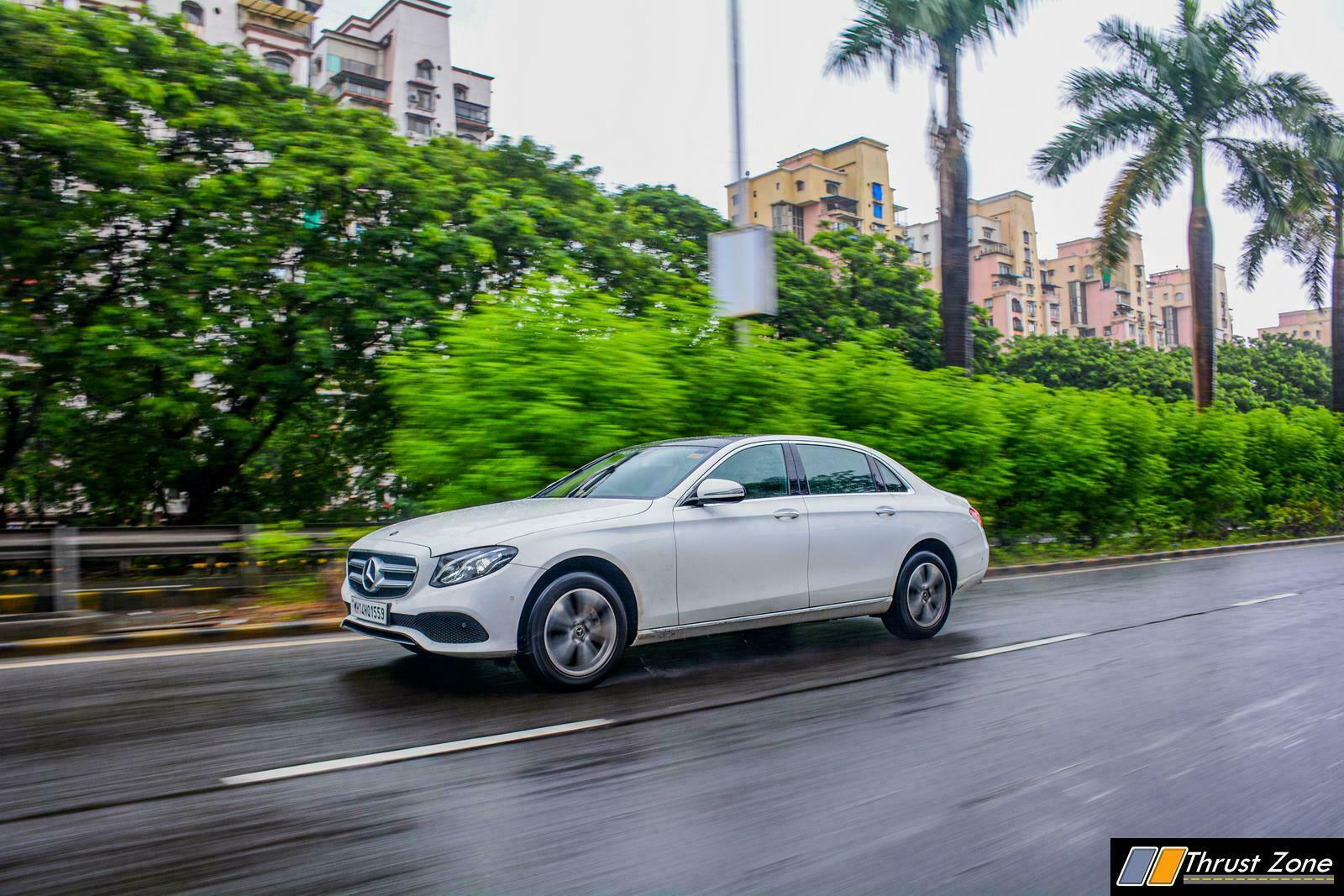 Powering the car is the big highlight as the new BS6 engine is an all-aluminum engine 2.0 litre four-cylinder motor comes mated to a new 9-speed gearbox. The motor is free and quick revving motor making 194 PS of power and 400 Nm of torque. It is just 50 BHP and 100 Nm away from the V6 350d motor for example.
The motor is a tad bit noisy at lower RPM which is under 3000 RPM, where the engine sounds coarse as well. Post 3000 RPM it sounds good for a diesel revs all the way till 5000 RPM. The performance is great it has all the driveabiltiy and ease of use in the city which makes an all-rounder. The gearbox does transmit 'gatung' noises which is a typical Mercedes-Benz car trait.
It delivered a 17 km/l in our Pune-Mumbai run which was impressive and 12 km/l in the city of Mumbai. The gearbox offers smooth, fast and seamless shifts. However, it shifts some times at 3000 RPM instead of 2000 RPM despite being light on the throttle which robs away the refinement and efficiency that could be in-turn, be more. Comfort, Eco and sport mode do their job and respond accordingly once engaged. Overall, with good NVH levels, performance and efficiency, this is one of the best motors out there being a true all-rounder as they provide fun and practicality.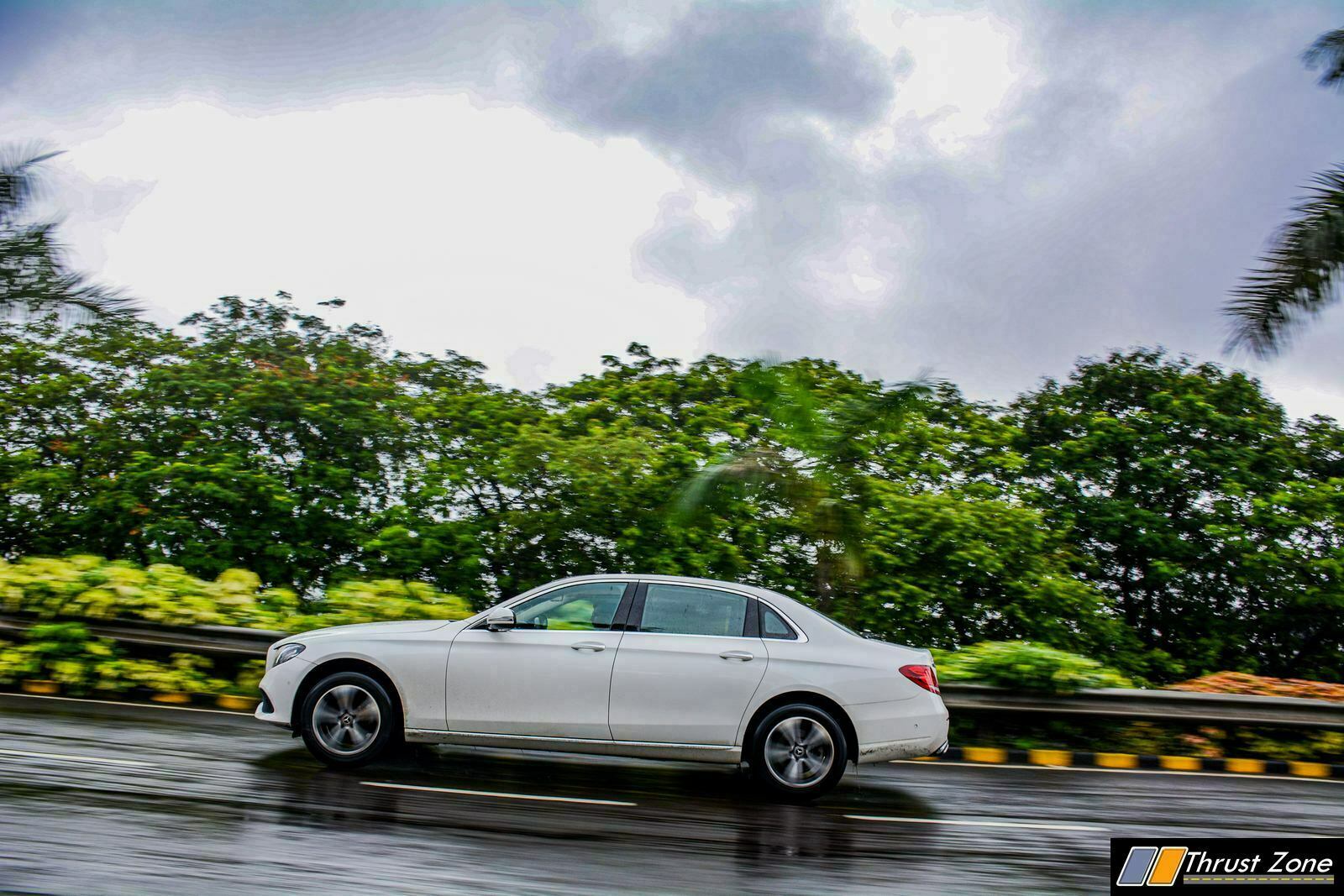 Dynamically, on paper, things suggests that it is not easy to live with in the city and isn't a great sporty car either. Well, not entirely. It is nimble enough for city duties you need to carefully plan your u-turns and lane changes in narrow city streets. However, the steering is light, precise and surprisingly feedback rich all the times. This inspires confidence to the driver at all times. Highway speeds, the steering weighs up too and the car is stable at all speeds. Ride quality on any speeds is good, but go through some twisties and well controlled body roll is apparent and suspension feels soft and comfort oriented. Brakes and tyres do their job well and provide confidence to the driver.
2019 BS6 Mercedes E220d India Review, Verdict
Well, the E-class lWB is a big shining diamond in a large vault of great jewels that the star brand possess. The E-class along with other popular models lower and higher in the range continue to lead the brand ahead. The mid-size luxury saloon in its portfolio also continues to do well is a testament that Mercedes is surely winning hearts. Spending time with all variants now we can safely say that the car is truly a segment leader. Be it comfort, luxury, space, safety, practicality and performance, it can offer it all and hence it becomes a true all-rounder. Competition is catching up in multiple ways but the effort to keep up with the star is very high as it enjoys supremacy in this segment and now we know why.
E 220d Exclusive INR 62,50,000