Biking enthusiasts gathered under one roof on a Wednesday evening at Barrel Mansion, Mumbai as India Bike Week's team announced the highlights and festival schedule for IBW scheduled for 6th and 7th, December at Little Vagator Hills, Vagator, Goa.
Over the last 6 years, tens of thousands of passionate bikers from India and worldwide have ridden IBW's The Great Migration – the iconic ride down to India Bike Week in Goa to celebrate the world of biking at IBW. The Great Migration to IBW has become an annual tradition; a rite of passage, an escape into adventure, moto-culture, riding, music, and biker brotherhood.
This year, the IBW Team announced that the Festival would include well over 40% more biking content than ever before:
1. IBW Track Days: For the first time ever, IBW will feature 4 entirely separate, timed, Bike Racing adventures at the Festival
a. Flat Track Timed Trials by Harley-Davidson India: Flat Track racing is one of the oldest and most iconic racing formats in the Harley-Davidson kitty. Participants will be provided custom built Flat Track 750's from Rajputana Customs for this track, also run by Vijay Singh from Rajputana Customs. The riders with the top 3 times will be awarded with a cash price of INR 50,000, 30,000 and 20,000respectively. Participation is free, interested participants will have to pre-register on www.indiabikeweek.in and click participate.
b. Hill Climb by School of Dirt: India Bike Week, in association with School of Dirt, presents an enduro Hill Climb. It is a motorsport stripped to its essence. One rider, one machine, one hill. Fastest to the top wins! Engines and frames may have evolved over time, but the elemental challenge of being quickest up the mountain endures. You can learn the art of off-road hill climb from the experts and participate to win exciting prizes at #IBW2019! The participation fee is INR 1,000/- and interested participants can pre-register on www.indiabikeweek.in and click participate
c. Big Rock Enduro Training Academy: Experience the thrill of ADV motorcycling. Get training from the off-road experts from Big Rock Dirt Park at #IBW2019 and test your mettle on our specially designed enduro track. Participants will be required to bring their own motorcycle and riding gear. The participation fee is INR 1,500/- for 1 Hour of training. Bikers can pre-register on www.indiabikeweek.in and click participate.
d. MOTO MOB: Inspired by the moto-mafias of Mexico, this track features stripped down, naked machines that will test your skills to the limit. Designed for you and your partner in crime, enroll for this wild relay to show 'em who's boss! Interested bikers, participation fee will be Rs.600 for a team of 2 individuals. You can register on www.indiabikeweek.in and click participate.
2. INTERNATIONAL BIKING SUPERSTARS: At IBW for the first time, celebrated bikers like Rok Bagoros, (International Celebrity Stunter), FMX 4 EVER, (International Freestyle MotoCross Team), Aishwarya Pissay, (First Indian Athlete To Win A World Title), Rajini Krishnan, (First Indian Winner of Asian Road Racing Championship) and Simran King, (National Champion for JK Tyre 1000 CC Category), Ashish Raorane will be showcasing their talents and coming together at the Big Trip for a session on Careers in Motorsport moderated by Sagar Sheldekar.
3. IBW ICONS : KTM Adventure Ambassador Mr. Giovanni Sala : 6 time World Enduro Champion and a Master Mentor for the KTM Adventure Rallies will be flying down and share his insights on adventure segment with the bikers. Aishwarya Pissay – First Indian Athlete to win a world title, Rajini Krishnan- First Indian Winner of Asian Road Racing Championship, Simran Singh National Champion –JK Tyre 1000 CC Category are the other Global icons who will be at the festival
4. Moto Art And Good Music:
Rocking Vagator and India's bikers, India's best new musicians from all over the nation like SU Real & General Zooz, Ritviz, Pineapple Express, Best Kept Secret along with L.Y.D. will perform LIVE at IBW. Taking forward the theme of Hand Built culture will be the Moto Art collective, showcasing some of the various artists presenting Biker inspired art and installations by Bacon & Eggs, Prankur Rana, Mechlogue and Tilak Godwa
5. Global Speakers for the Big Trip: Candida Louis, Manas Dewan & Anuradha Bhonsale Dewan, Girish Venkatraman, Deepak Kamath, Sukesh Viswanath,Debasshish Ghosh & Dharmendra Jain, Alex Chacon are few of the Big Trip Speakers who will be share the stage graced by Motorcycle Traveller Greats like Ted Simon, Nick Sanders, Horizons Unlimited, the late Hubert Kriegel, and relate their experiences and insights into the world of two-wheel travel.
6. Retail Therapy for Bikers: India's definitive biker's mart here will be presenting 120+ brands to showcase their world-class gear in an all new Biker Mart and Expo. Over 120+ Bike Accessory shops including Performance Racing Store and Big Bad Bikes have confirmed their participation.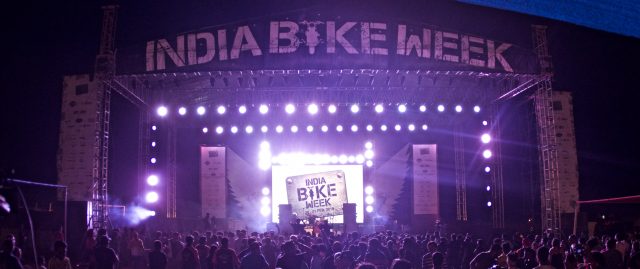 The global speakers will also be engaging in the below panel discussions :
Career & Future of Motorsport
Sagar Sheldekar, Ashish Raorane, Rajini Krishnan, Simran King and Aishwarya Pissay are few of the celebrated bikers inspiring younger generation with a panel discussion on 'Career & Future of Motorsport in India.
Moto Women Meet
Dr. Maral Yazarloo Pattrick, Neharika Yadav, Anam Hashim, Sonia Jain along with Sanika Mehta will be present talking about work life balance and managing their passion for biking.
Content Creators Meet:
Winter Wanderer, Toll Free Traveller, JS Films, Dinos Vault, Alex Chacon will talk about their rides and experiences so far!
Participate and Win:
There's always something to do at IBW and the two-day is packed with unique events like the IBW – Bike Build Off – India's premier competition for Customized Bikes. It will witness some of the greatest creations on two wheels. There's the Burn Out and Loudest Bike competitions with prizes and bragging rights up for grabs. If you want to chill for a while, there's also the IBW film festival that showcases some interesting stories of long distance, transnational bike trips on celluloid.
And there's more … like the BikerInsta booth, bonfire at Club Village representing the 200+ Riding Clubs participating at IBW. Collectors Corner will showcase some of the best, most incredible, Vintage, Classic, Large Bore bikes in India. The line up will be presented by Swaran Bajaj, Hafeez Contractor and Jehangir Faroogh, Barn Cafe by Garage Built Motorcycles, RC Tracks in association with RC Inc. There's the 4 x 4 Track and a host of other incredible firsts for IBW in 2019. Flagship production models like KTM SuperDuke 1290, Freeride and many more will be showcased at the stall of KTM at IBW. Championship Racing motorcycles of KTM from the Dakar Rally, Moto3 & MotoGP bikes will be on display for the first time in India
KTM announced its participation at the India Bike Week 2019. The 6th edition of the country's largest biking festival will be held on 6th and 7th Dec, 2019 at Vagator, Goa. KTM will be participating at the India Bike Week for the first time.
True to its "Ready to Race" philosophy, KTM has an unparalleled legacy in motorsports with over 300 world championships spanning over 66 years. The festival would showcase the World of KTM through a range of exciting engagements for the biker community across the country and especially for all the KTM owners who have been waiting to have a peek into the larger KTM world.
KTM owners across India can purchase an exclusive Orange Pass for a discounted price of Rs 1600/- for the event that entitles every KTM owner for the following benefits:.
– A 2 day entry ticket at the India Bike Week for 6th and 7th December 2019
– An exclusive KTM Fan Package that consists of KTM branded T-shirt, poncho and wrist bands worth appx. Rs. 1100/-
– An exclusive opportunity to be a part of the Orange Parade at the festival on 6th Dec
– An opportunity to meet and greet KTM International Athletes and Ambassadors at the KTM stall
KTM Owners can register on www.ktmindiabikeweek.com for the Orange Pass which is valid for 6th & 7th Dec '19, validate their credentials and then complete the purchase.
KTM is also organising KTM Power Rides to Goa from Bangalore, Hyderabad, Mumbai & Pune. KTM Owners joining the Power Ride will have access to KTM service support, pitstops, ambulance facilities, and an opportunity to ride with a famous social media influencer.
Since its entry into India in 2012, KTM has grown it's presence across 348 cities & 461 stores building a strong customer base of over 2 lac biking enthusiasts who will together rejoice the Orange color, yet again. All KTM Owners can purchase the KTM Orange pass at www.ktmindiabikeweek.com and join the festival. The process of purchasing the Orange pass is available at the FAQ section at the website.
Speaking on the occasion Mr. Sumeet Narang, President (Probiking) at Bajaj Auto Ltd., said "KTM has consistently focused on building a strong biking culture amongst the youth. KTM's presence at India Bike Week, one of the country's premium biking property, gives us an opportunity to engage with the hardcore biking enthusiasts through high quality content. Our theme for this year's event is "Let's paint IBW Orange", which is a call out to our KTM owners to participate & attend the festival in large numbers. The event will be attended by the senior management of KTM India & KTM AG, Austria, and we are looking at making some key announcements during the 2 day festival:
A series of high quality engagements and events have been planned at the festival by KTM for both the days. Some of them are listed below:
– Exclusive performances by KTM's International Factory Stunt Rider, the world famous Rok Bagoros
– Exclusive Stunt Battle between the KTM's Indian Stunt Teams, judged by Rok Bagoros
– Freestyle Motocross (FMX) performance by KTM International athletes : Team FMX4Ever
– Exclusive chat with Giovanni Sala – KTM's Adventure Brand Ambassador: 6 time World Enduro Champion and a master mentor for the KTM Adventure Rallies
– World of KTM brought alive at the KTM Stall – Flagship production models from each platform will be displayed
– Championship Racing motorcycles of KTM : Dakar Rally, Moto3 & MotoGP bikes on display
– Power Ride to Goa with KTM Brigade from key cities, on 4th and 5th December.