When I was told that I would be getting the Kawasaki Versys 650, I was very much hyped. Not because it is a 650cc somewhat big middleweight and definitely not because it is a Kawasaki. Well you see the Versys is many-bikes-in-one kind of package, so no matter what I did with the Versys, fun was guaranteed. Let's find out how it rides.
The Looks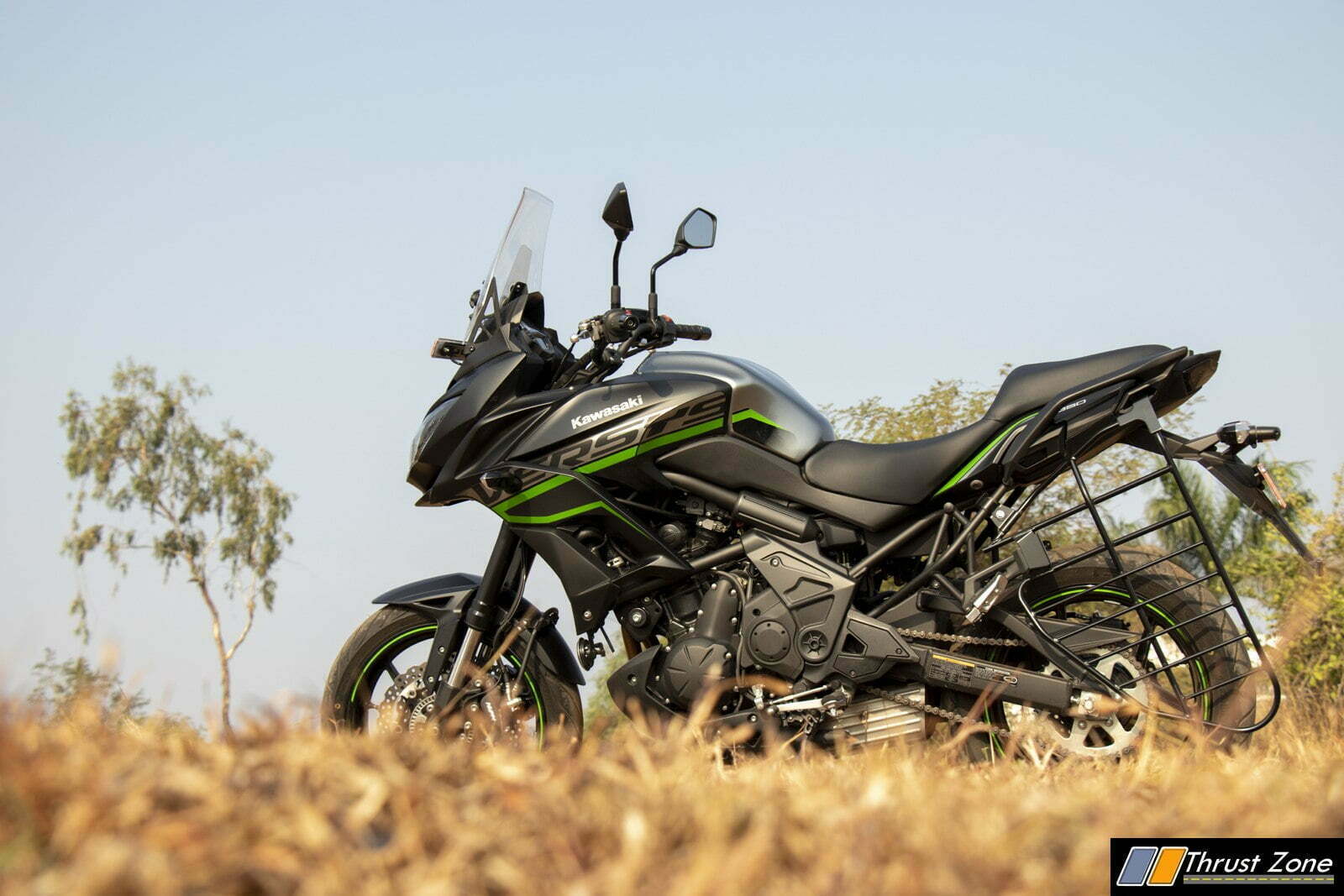 The Versys I had was the new updated 2017 avatar and boy did it looked great in that metallic grey and black paint job. Most onlookers were stunned at the fuel tank finish which sure did look extraordinary. Agreed that it hasn't got the road presence of some of its more expensive and recent rivals, though the Versys still managed to turn a considerable amount of heads on our short stint with it.
There are negative points here though and that's thanks to the ungainly saree guard which also happens to scrape at huge speed breakers. Apart from that though nothing on this bike looks and feels less expensive or not premium, as always, top-notch.
Ergonomics and Switchgear
The switchgear falls to hand perfectly and operates with a satisfying feedback. One however does miss the omission of backlit switches, something which even motorcycles one-fourth of its price tag have on offer.
The ergonomics on the Versys are well sorted for most people above 5ft 9 inches of height. Its 840mm of seat height sure will be a challenge for shorter riders. Rest everything falls to hand (and feet) rather well. The handlebar is just of the perfect length and the brake and clutch lever, which also are adjustable, fall perfectly in place.
Equipment and Specs
As we all know, the Versys gets a re-worked version of the 648cc parallel twin engine that powered the old Ninja 650. I know at this point you sure must be thinking that the engine is almost a decade old now but more on that later. The engine develops 70 PS of power at 8500 rpm and 64 Nm of torque at 7000 rpm and comes mated to a six-speed transmission which also features slipper clutch. The claimed top whack is just a shy of 210 kmph. Oh Yes! These numbers don't really excite and they aren't meant to. However swing a leg over the Versys and its a different story all together. All those numbers are good enough for Indian roads.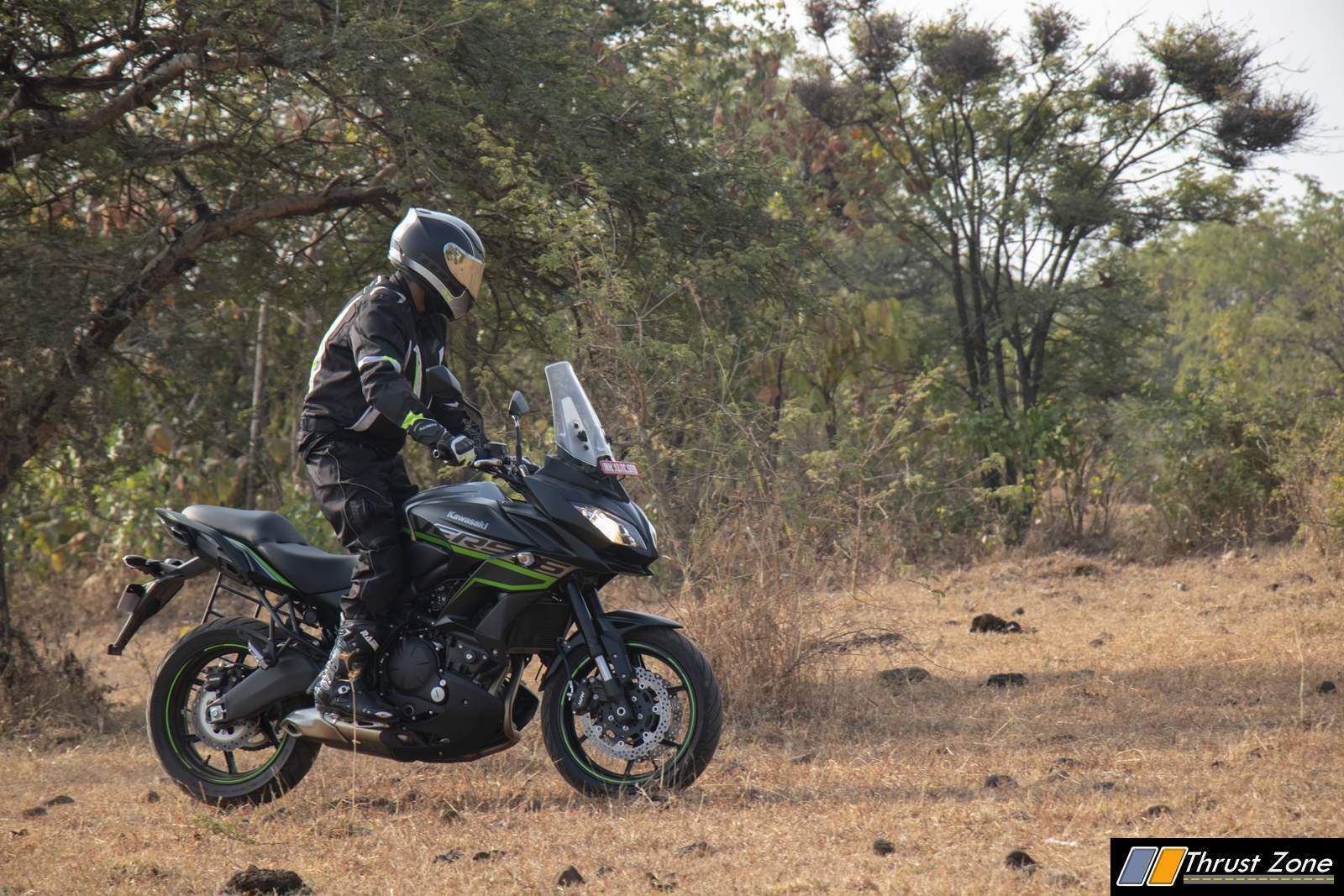 Fully fuelled, the Versys tips the scales at a somewhat hefty 215 kilograms. Suspending the Versys are a pair of 41mm USD adjustable forks at the front and a preload adjustable offset monoshock at the rear. The rear shock gets a remote preload adjuster which makes things simple for guys like you and me. To haul itself the bike comes equipped with dual 300mm rotors which are bitten-upon by two 2-piston calipers on either side. At the rear the bike employs a single 1-piston caliper with a 250mm petal disc.
The Ride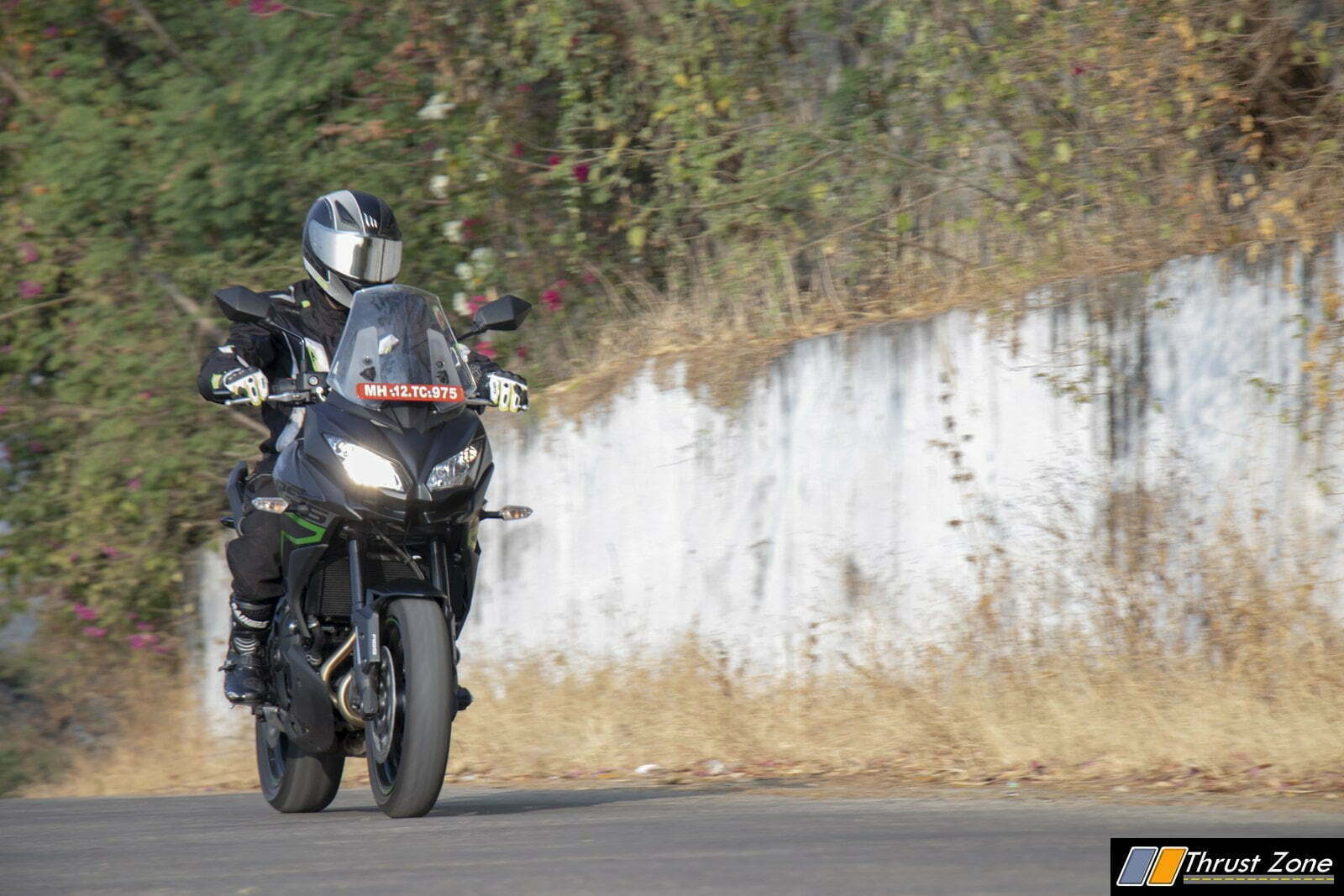 The first impressions of this almost age-old motorcycle are still very promising. Start the engine and it settles into a nice purr of a characteristic Kawasaki twin. Get going and the first thing that hits you is the weight and no by this I mean the lack of it. Suddenly this 215 odd kilos heavy bike starts shrinking around you.
The rather high seat height means you can spot gaps in the traffic with ease and then thanks to its instant torque and amazing maneuverability you can get in and out of those without breaking a sweat. What we really love about the Versys 650 is its near faultless fueling and throttle feel. The throttle response has just the right kind of feel and weight and that makes you feel very connected with the bike, something which anyone would applaud.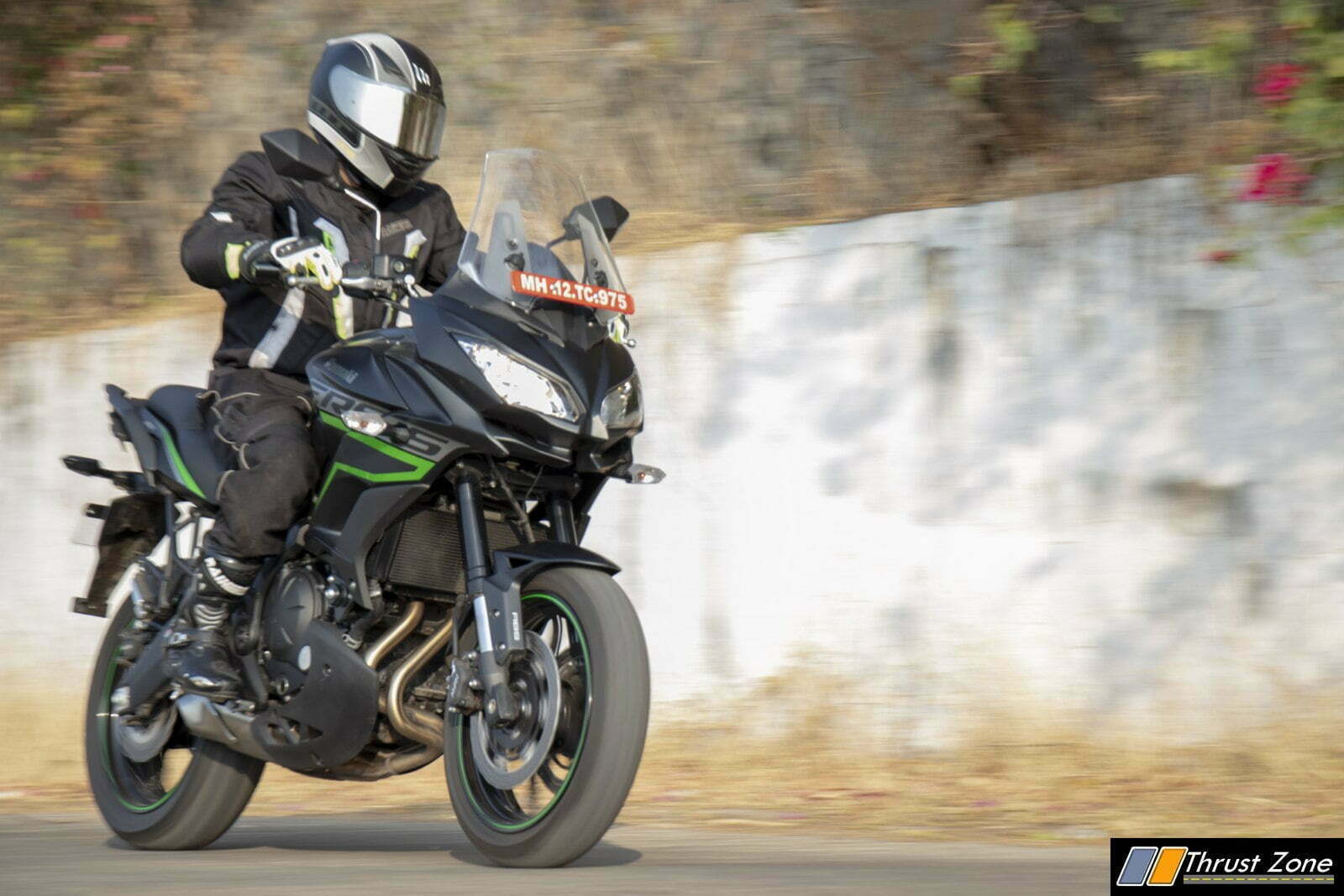 In traffic you also notice the heat coming from the sides. In the Versys 650 the heat is directed towards the rider's calves; however it vanishes the moment you start moving. It wasn't long that I started to enjoy the bike even in traffic and that's sure is saying something. If you made it till here you could have formed the impression that the Versys is a friendly and approachable bike and to some extent probably boring. Slow speed ride is very well damped and this middleweight can tackle the worst our roads have to throw at it without any complains. On sharp bumps though you will feel the slight discomfort though this is very much a nitpick.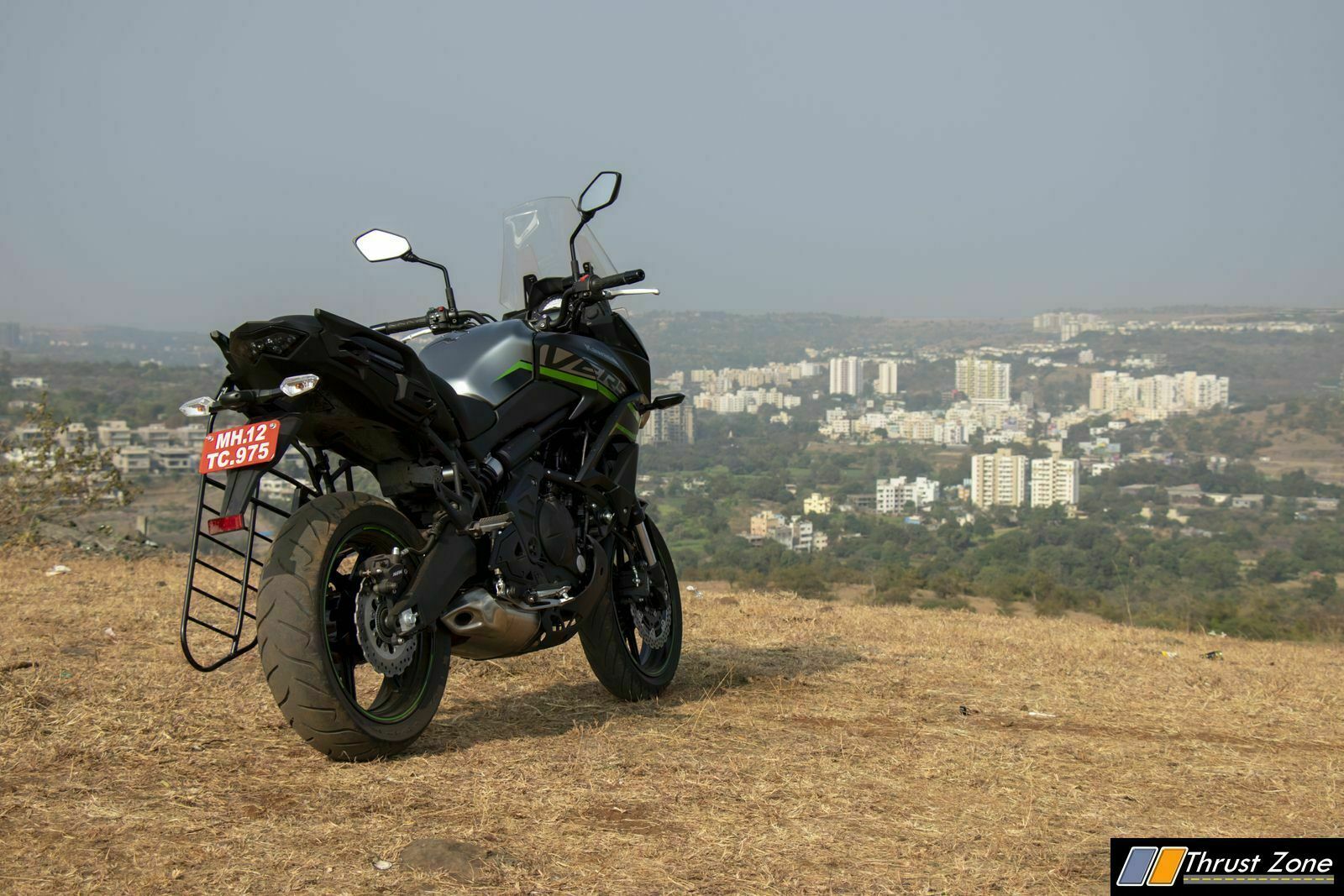 On sparsely inhabited back roads and trust me it proved to be a hoot even there. The lovely bottom end torque and meaty mid-range means you can gun the Versys out of slow corners with supreme confidence. Thanks to its good road manners, turning in the bike late and adjusting your line was also possible on this adventure-tourer of sorts. It felt natural to your inputs, almost like a second skin.
The Versys felt shaky and almost nervous on mid-corner undulations, not something I was expecting but it can be tackled by adjusting the suspension at both ends. Another thing that did stick out was its tires which took longer than usual to heat-up and grip. However what impressed me all the more was its ride quality at high speeds, the bike soaked up undulations and imperfections like anyone's business. Kawasaki deserves a pat on their back for that!
The brakes too were impressive, however a minor nitpick would be the rear brake lever. It felt short and modulating the rear brake say on a dirt-laden tarmac proved to be a slight task. So if you do plan to take the Versys off-road of have a shoe size north of US10, a different size lever should be in your bucket list. Apart from that, the rear brake could do with slightly more feel. The front though is spot on in terms of feel, feedback and progression.
2019 Kawasaki Versys 650 India Review, Verdict
That sums the Versys up/ This first ride proved to be quite convincing and the Versys truly stood out. And that's a big compliment considering that it hasn't received any updated apart from certain styling changes. Yes the tires can get better and its boring instrumentation can get a better makeover, though these minor flaws still do not prove to be a chink in the Versys armour. At an ex-showroom price tag of Rs. 6.7 lacs, the Versys still puts up a strong fight against its new-age rivals as an middle weight sporty touring machine.
Versys 650 India Review
Design

Features

Safety

Value

Performance

Dynamics

Value

Comfort

Practicality