Enchanting –
Stately aesthetics, stand out car in its class
Superlative comfort and V6 diesel engine
Feature loaded, enormous space on offer
Mercedes largest sales and service network
Unsatisfying –
No touch screen inside
Tyres could have been better
Product offensive leader in the luxury car space, Mercedes-Benz always continues to pump the market with products. This time, it pulled out a master stroke with the launch of the LWB E-Class in India. Sold with Right-hand configuration, it was a special move for India. Sure, the manufacturer has brought in almost all products it sells in all market, but this was special.
E-Class has a fantastic history throughout the world and in India, it was first model to come to the market and ever since, India consumers have appreciated it. To make this generation more interesting Mercedes threw in the kitchen sink and made E-Class LWB in the Indian market and gave it everything it could. Be it luxury, performance and most importantly, a fuel which the world loves, which Mercedes also loves making, diesel. Does it have everything, does it nullify the existence of the S-Class in the country then? We spend 500 kms with it to find out.
Design
The stately presence of the car is undeniable with long stance, higher use of metal instead of glass in the doors give it an impression of a car that belongs to somebody important and special. The front is typical Mercedes of 2019. The twin LED DRL with projector headlamps pop out a bit, gaping bumper below and the same theme with the rear tail-lamp also continues.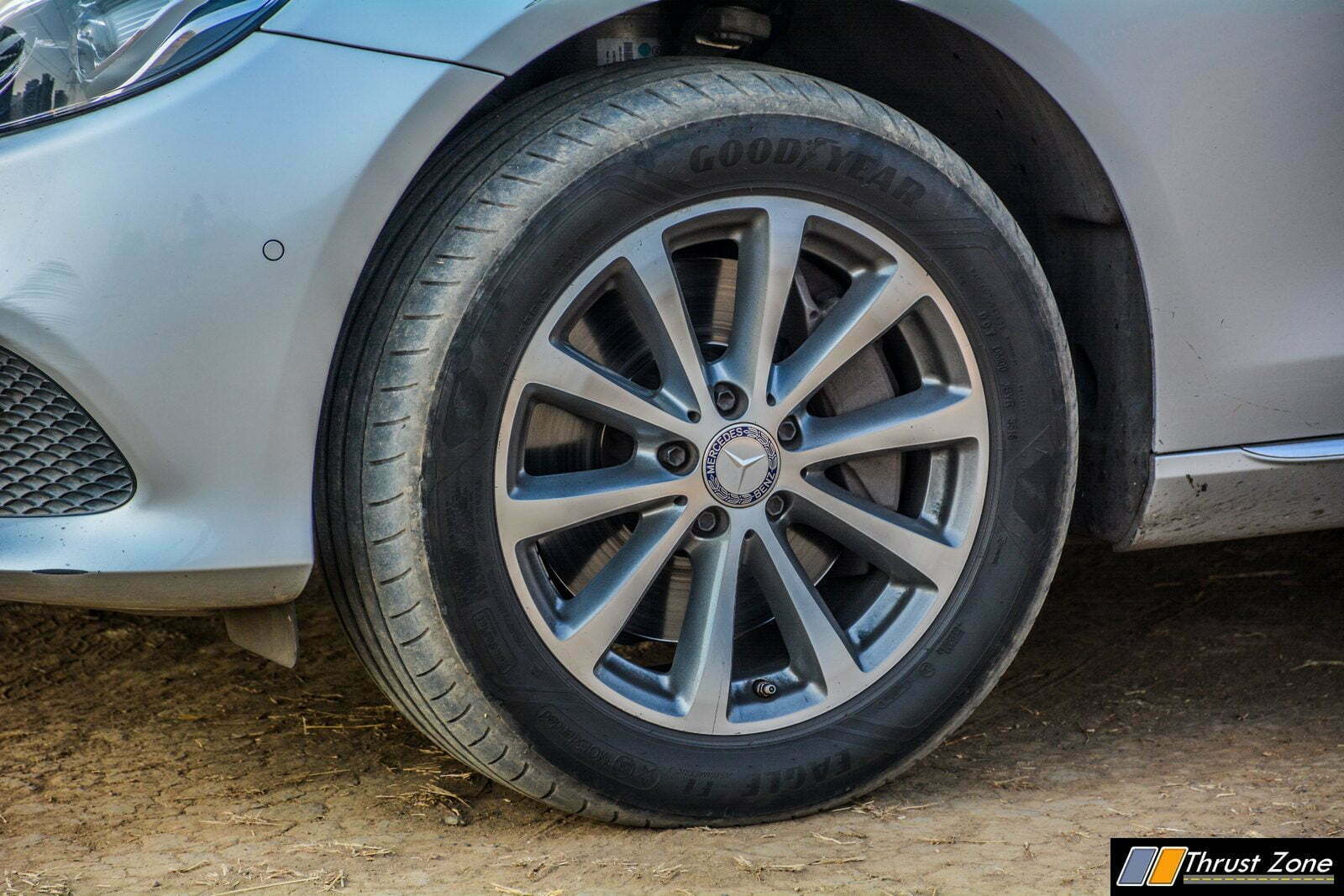 The alloy wheels are diamond cut, but nothing special. The use of chrome below the front and rear bumper, side sill of the car (above and below) is chrome used in the right amount. The silver test car made it slightly over done, but not entirely. Overall, the long, low and meaty stance of this car grabs attention even after two years of launch in the country because there isn't like this in the market today.
Interior
Our test car was wrapped in black color leather, wood and fabric. The quality of materials is really good all around in terms of touch and look. The typical Mercedes air vents, dials, fonts inside them, the analogue clock make the cabin very luxurious. The ambient lighting in the car all around is another highlight because it can brighten up the cabin to a very large extent if the mode is full brightness. A large use of piano black around center console and other parts of the dashboard make the ambiance a bit more royal.
Every single seat, four of them, are adjustable and supremely comfortable. All four seats have memory options, there is a chauffeur package, you can also control under thigh support for the passenger through the driver side door pad. Rear seats are the same. Door pads at the rear allow you to control sun blinds and the dual sunroof, but not the windows, which can only be opened by the driver.
The space on offer is almost like a small bedroom of a metro city. The comfort level in terms of sound insulation is something that is worth noting. However, the tyres let in a noise in the cabin over concrete roads which can be annoying, if you don't have the music system on or nobody to talk to on your journey.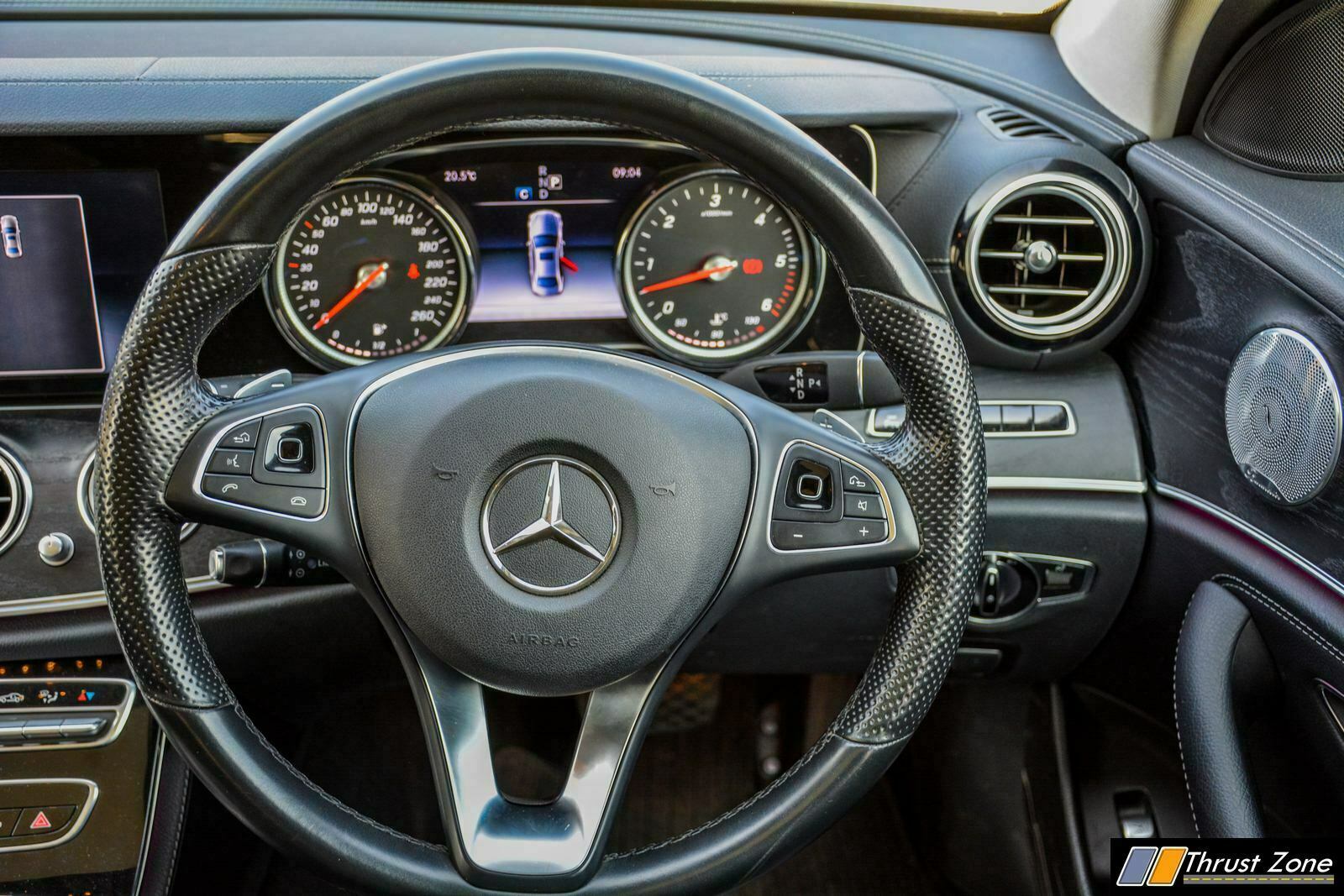 The best part is that every seat control is on the door pad, in true Mercedes fashion so you are not left wandering for buttons. Feature list includes a premium key, start-stop button, automatic wipers and headlights, navigation, Apple Car play and Android Auto. The Burmeister sound system with 13 speakers offers great sound quality.
Park pilot, 360 degree camera, pre safe and command online which has a host of feature that can be controlled which includes car settings. It is quite easy to use in 2019, let's say over the previous version, but there is room for simplification and use of just one button, instead of three present in this car. There is no touch screen in this car but it has touch pads on the steering which help you scroll through things on the middle screen between the dials instead of a scroller or four buttons that are seen previous version and other age old luxury cars. 7 Airbags, including one for knee, ESP, ABS, Attention assist and other electronics such as traction control are on offer with this car.
Engine
The V6 engine is an award/race winning formation of cylinders and now we know why. The motor makes 258 BHP and 620 Nm of torque which is almost available instantly and throughout the rev range. The motor pulls with authority and quickness which is astonishing for a car is this long and heavy. 9-G Tronic gearbox is surprisingly fast and seamless in any mode.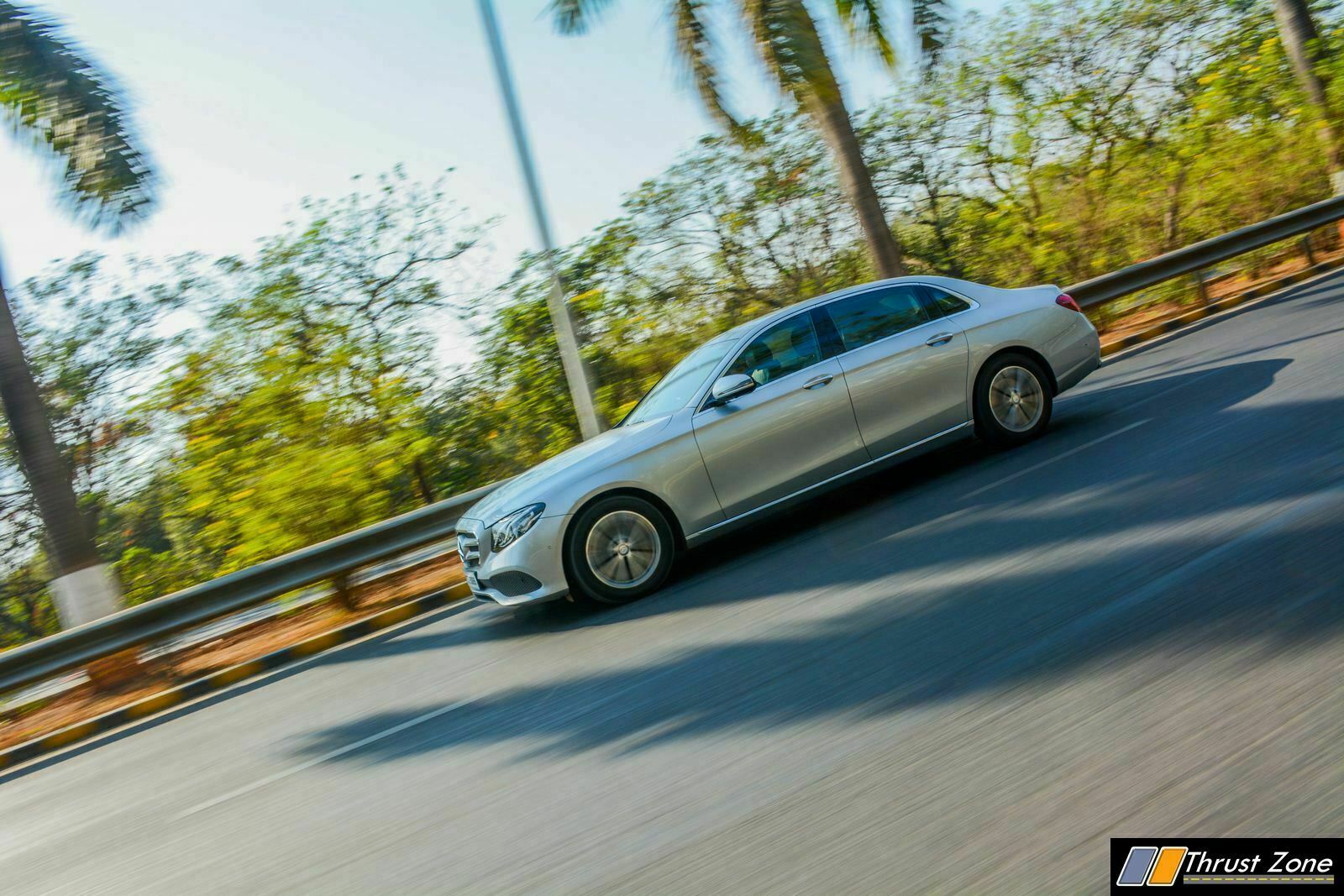 The NVH level are so low that it almost feels like the engine is an ASMR women on YouTube, always whispering into your ears. The creamy smooth, free and quick revving diesel is something enthusiast will never forget and let go this as this V6 engine is testament of refinement, fuel economy and is one hell of a power house too. 0-100 km/hr in 6.5 seconds is clearly very quick! Returning 8-10 km/hr and 11 km/l on the highway, the motor makes the E-Class. Overall, top marks for being an-all rounder to the engine and gearbox combination.
Ride and Handling
Dynamically, the suspension is very soft in comfort mode and still soft in sports mode. You feel this when you hit a big bump at high speeds and realize that there is some vertical movement, which is well controlled, but noticeable.
The steering is surprisingly communicative and feedback rich at all times. The lock to lock ratio is very short, so maneuvering this car in the city and taking u-turns is no issue as it is light and precise too. Body roll is present to a small extent thanks to suspension setup but that also lends fantastic and plush ride quality over broken roads.
Brakes are quite good too with excellent bite and progression. What we didn't like is the tyres from Good Years, which are used to fit our road condition but don't let you have the fun. 18-inchers and premium rubber would make this car quite fun to drive despite the long wheelbase, but Mercedes seems to be keeping this car truly for chauffeur driven class.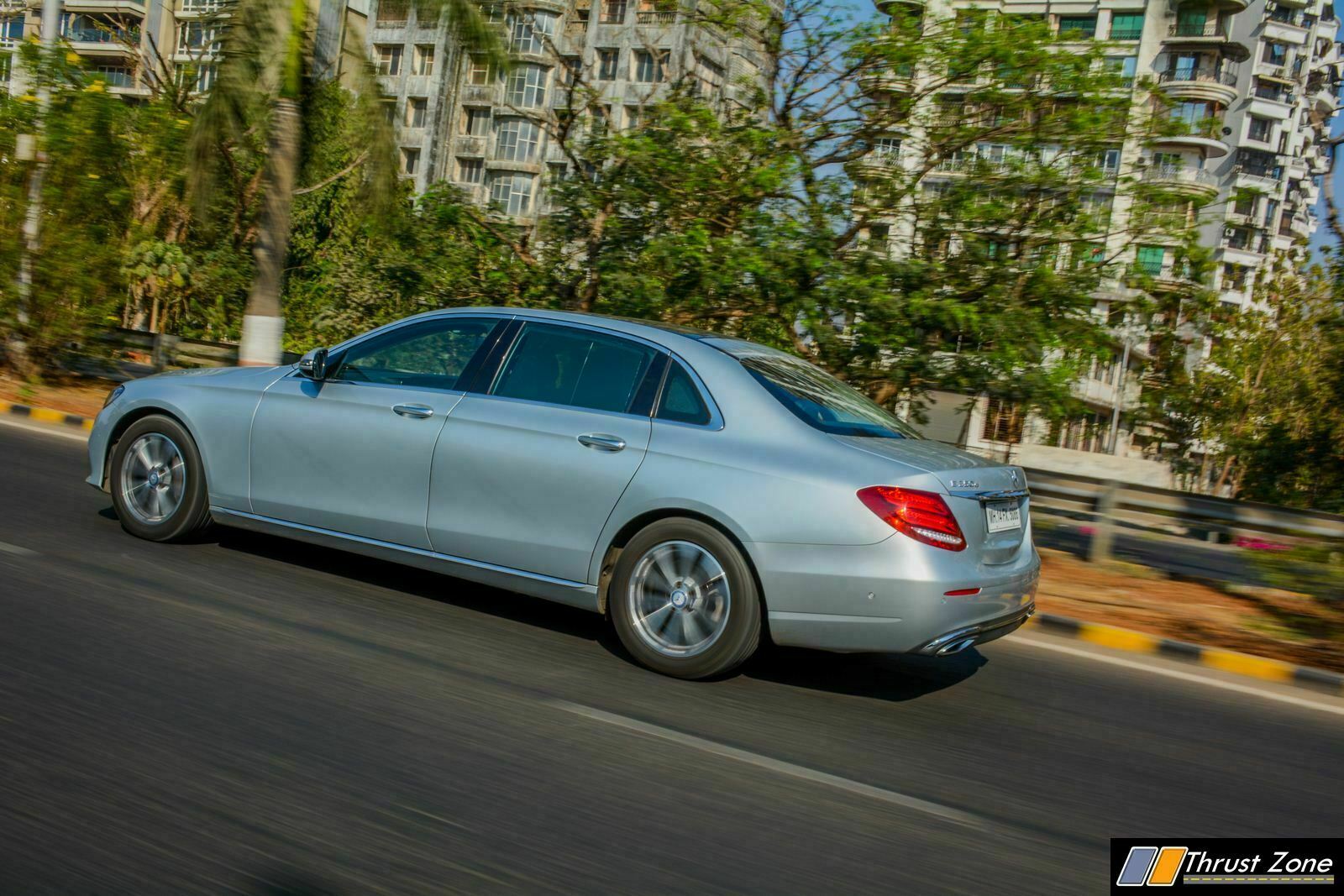 2019 Mercedes-Benz E-Class LWB India Review (350d), Verdict
Mercedes has hit the ball out of the court with this version of the E-Class made for India. The space is enormous, the V6 diesel motor never disappoints, there are enough features on offer and the value quotient is quite high. If the Mercedes had a bit more sharper design on offer with slightly more engaging drive, it would be a serious contender to choose from for the enthusiast as well.
Nevertheless, this very spec of the E-Class LWB with the 350d badge makes up for a lot of things. With its stately design and over-welcoming-interiors and Mercedes well backed service and sales network along with some other perks associated. Mid-size luxury sedan for all your needs? Mercedes E-Class LWB should be on your list!
Price: E350d – 72.9 Lakhs ex-showroom Delhi
E-Class LWB India Review
Design

Interior

Features

Space

Safety

Practicality

Performance

Dynamics

Value