Enchanting –
Well designed and solidly engineered
Superlative chassis, brakes & engine
Comfortable, dynamic and easy to ride
Plethora of technology on offer
Unsatisfying –
No Fast charging, period.
While we enthusiast continue to talk about petrol powered motorcycles and diesel powered cars today because both are facing some challenges, the normal janta is talking about electric vehicles. Given the fact that their favourite ministers have gone on record saying on live television, they are talking about this a lot and i am surprised because this janta was always about just getting a normal scooter or motorcycle, started commuting and barely thought about it in other anyway.
Understanding it more, pushing it a bit more, riding just for riding and not just commuting, is something never comes to their mind. I, however, see this as a positive sign for the Indian automotive industry because there is now hope that things will get interesting. More feedback, better vehicles and more fun can be had for enthusiasts like us.
Talking to rickshaw riders to basic 100-125cc commuters, everyone says electric will take strong foothold. Why? The normal commuters never liked the idea of commuting on their own. They crammed themselves to commute in not so ideal public transport our country has but never bought a personal vehicle. When they did, they hated the idea of commuting with something that burns fuel, because that burns their pocket more and it is tiring. Everyone also wants to be lazy, so that it is why the public transport is burdened. Now, the BS6 version of their not so favourite things is getting more expensive and a bit more complex to their liking at their nearest showroom.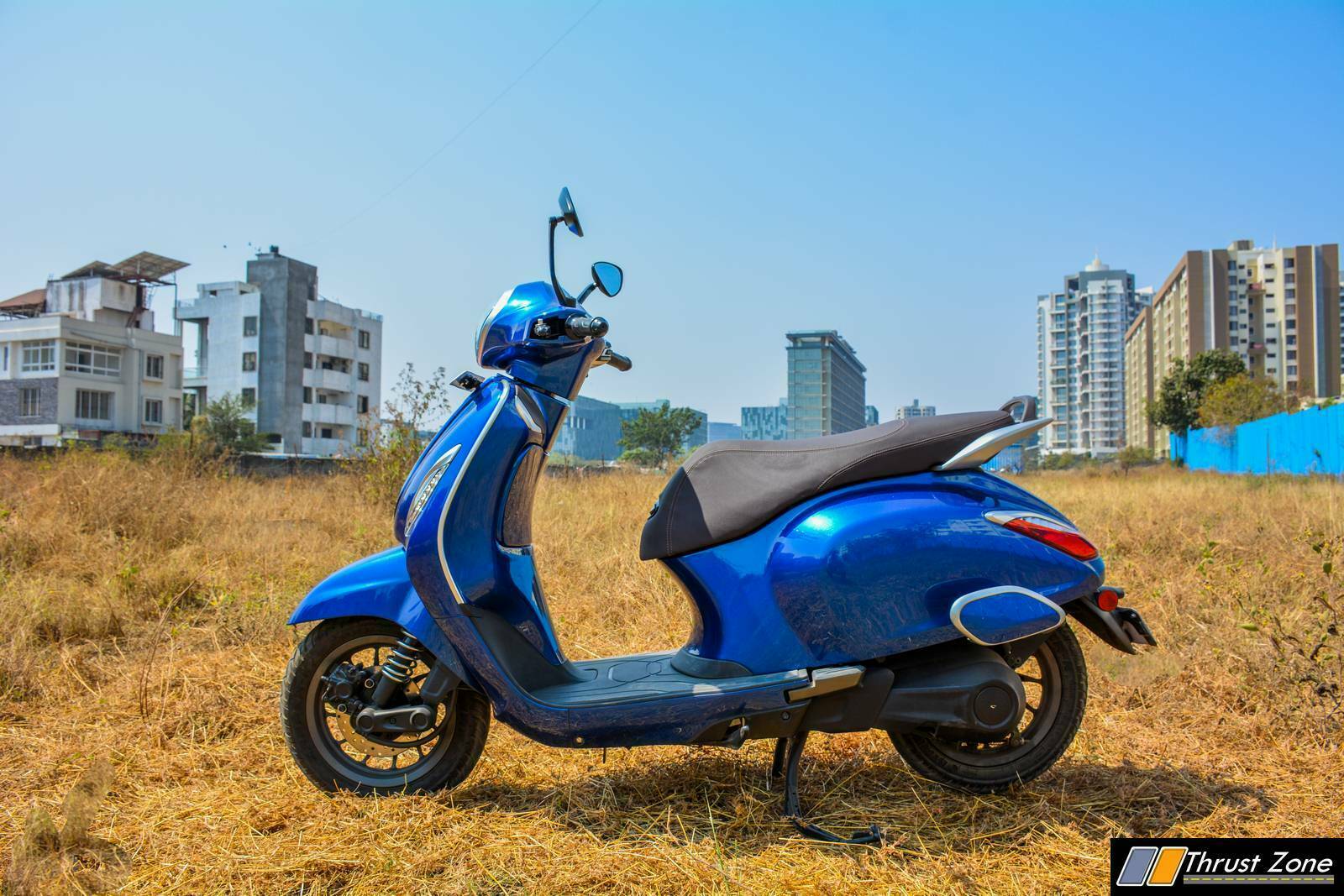 Another surprise is that the janta is upbeat about electric. Reason? The transition is far more smoother, quieter and demand for something no so cheap as ended almost as standard of living is higher despite salary hikes are in single digit. When we asked there is no infrastructure they said it will happen because we want this and government will make it happen. This has been our survey of electric vehicles in the Indian market.
Everybody wants to be hip and caring so electric two wheelers could come and people would buy so the manufacturers started making it. There was also pressure from the government ofcourse but we all know that this revolution has started before time. That hasn't stopped manufacturers and importers to flood the market with electric scooters. The initial lot of electric vehicles are massive disaster if i were to say honestly. Everything is just too fragile and unreliable to be taken home.
This is where incomes home grown, world-renowned company took notice, started building something and most of them are here already. Today we discuss the Chetak, despite discussions are on since October on our website. It took five years for them to build from the scratch. The Chetak is legendary. Named after the horse of Maharana Pratap who fought the Battle of Haldighat, the name is also synonym with a family scooter.
Bajaj has bought it back and this time with technology it has given a feature that takes inspiration from the horse, the horse-shoe shaped LED DRL. An instant attraction at first glance because its a job well done. The front apron and side profile do resemble to the Vespa but the front headlight and rear tail-lamp and indicators are long and edgy are unique in the market. One sided suspension at the front along with multi-spoke wheels give it a retro look that this scooter deserves.
Fit-finish, quality and build is down right impeccable and it is going to set a new benchmark in this class. Attention to detail is spot on with hooks placed below the seat that retracts, charging points, one button to open the glovebox and the seat, Bajaj badges all over the scooter. Mirror stalks are downright high quality aluminium stuff.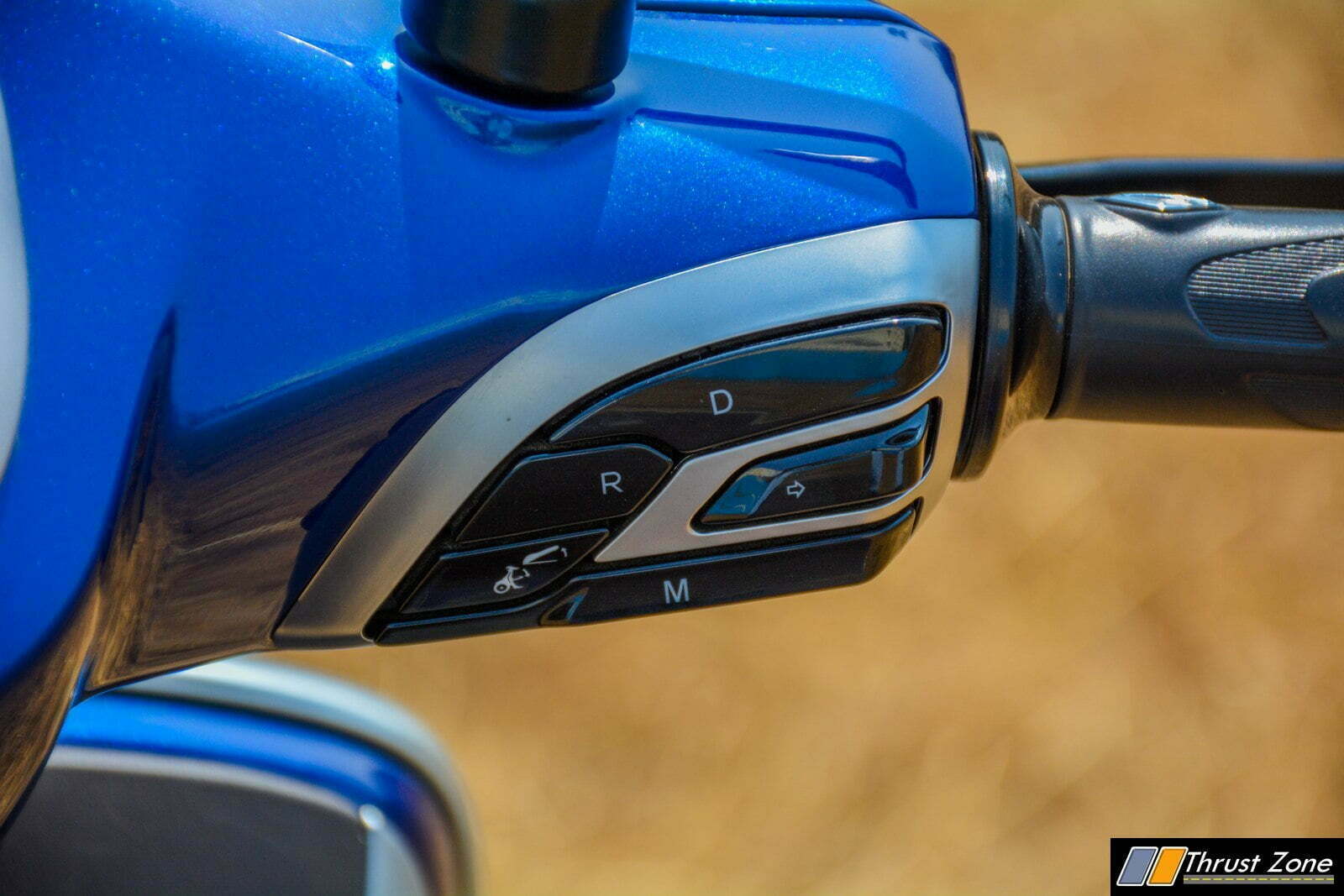 Features wise, the list is very good. Keyless ignition means just one press to the start button and it will start, click twice ignition will shut and long press to lock the handlebar. Bajaj Chetak App which costs to the consumer shows all charging related data and if some one is fiddling with your scooter in anyway. Once charged, it will automatically disarm the battery so it doesn't over charge.
Seat is high quality material, which is double stitched. The pillion grab rail is has a soft grip on the aluminium bar to make it comfortable to hold and is made out of recyclable material. LED DRL can be dimmed, headlight is all LED as well and so is the tail-lamp. LED turn indicators at the back are sequential just like luxury cars.
Instrument cluster looks very futuristic and has all the fuel economy, battery and usual parameters that you need to know. It is difficult to see in the sunlight at times. button on the handlebar control the drive, reverse and driving modes. Giving you the feel of hand gears that the older Chetak had with a modern technology twist, which is at a press of a button, clever work Bajaj!
Riding the Chetak is as simple as it get this time around. Start the scooter, roll on the throttle and step into the world petrol engines with a silent electric scooter. The motor is very silent and if you don't have the helmet on, you still cannot hear it. The only time you will hear it when you will enter an ally late in the night the whine of the motor will be apparent. The IP 67 rated motor makes 9 PS and 16 Nm of torque pushing 120 kgs means the Chetak just like before doesn't excite, but its best for commuting with absolute ease thanks to torque being available almost immediately.
There is a tad bit of power build up, it isn't entirely instant but jumping from petrol powered to electric you will feel that but after some time you will get used to. Eco mode is very linear and power is delivered in a more controlled manner. In sport mode, the throttle remains the same but the extra power and torque is provided and it closes the gap in traffic easily. Throttle response is so easy to modulate, it almost feels like space-age. We wish it was a bit more powerful though and there was no cap of 60 km/hr on the top speed. However, our test scooter reached 80 km/hr. We rode for 50 kms and there will still 30 kms of range. Despite full throttle inputs at times, range some impressive and perfect every day commuters to office/college.
However, the way it goes along with a fantastic suspension setup makes the scooter truly sophisticated and special. The extremely mature ride quality which means it isn't stiff or entirely plush at either ends. The tyres grip well, the brakes are confidence inspiring and the chassis behaviour makes you feel you riding something unshakeable and rock solid. The metal construction is most apparent here as the concrete feel over the worst of cement roads, just wins your heart instantly. It is agile in the corners and nimble in the city and stable at top speed at the same time and that is the reason why we are in complete awe riding this despite it is 'just' a simple electric scooter on paper.
The way it rides it doesn't feel analogue, the power train is electric and everything else you touch is high quality and read outs are all digital, i think i have never seen something come out so beautiful and magical out of Bajaj's Chakan factory in a very long time. I could go relentlessly about this but i want to end this 'magical' experience for now. The word used in the press release by the marketing boys, this time is clearly working for me. I am sure it will work with its prospective buyers as well.
2020 Bajaj Chetak Electric Review, Verdict
To conclude, the Chetak fought the battle of haldighati, the Bajaj Chetak put India on the world map and the new electric Chetak accomplishes it self as a true blue 21'st century electric scooter. The name has come a long way, so has the world. Bajaj adapted in a way that sets a new benchmark in the ocean of electric two wheelers which are nothing but plastic, but this, it is a treasure, that you can own.