If there is one car that has been debated a lot in the enthusiast circle, that has been the Jaguar XE. Earlier, it was talk of the town because of spectacular chassis balance of sporty driving character and good ride quality. However, people dismissed that saying the engine and gearbox weren't upto the mark for a complete package to be enjoyed. The interior and the exterior was also discussed, which were fine with most people. Nevertheless, it did require improvement too as time went by because things were getting dated and basic.
2020 Jaguar XE facelifted version came couple of months ago in the international market and Jaguar India has brought the new version just before BS6 norms kick in India. We told you a lot about the changes but does the Indian version entirely replicate the same, it never did earlier and it doesn't do it now either. How different is the Indian version and most importantly, how is it to drive? We find out!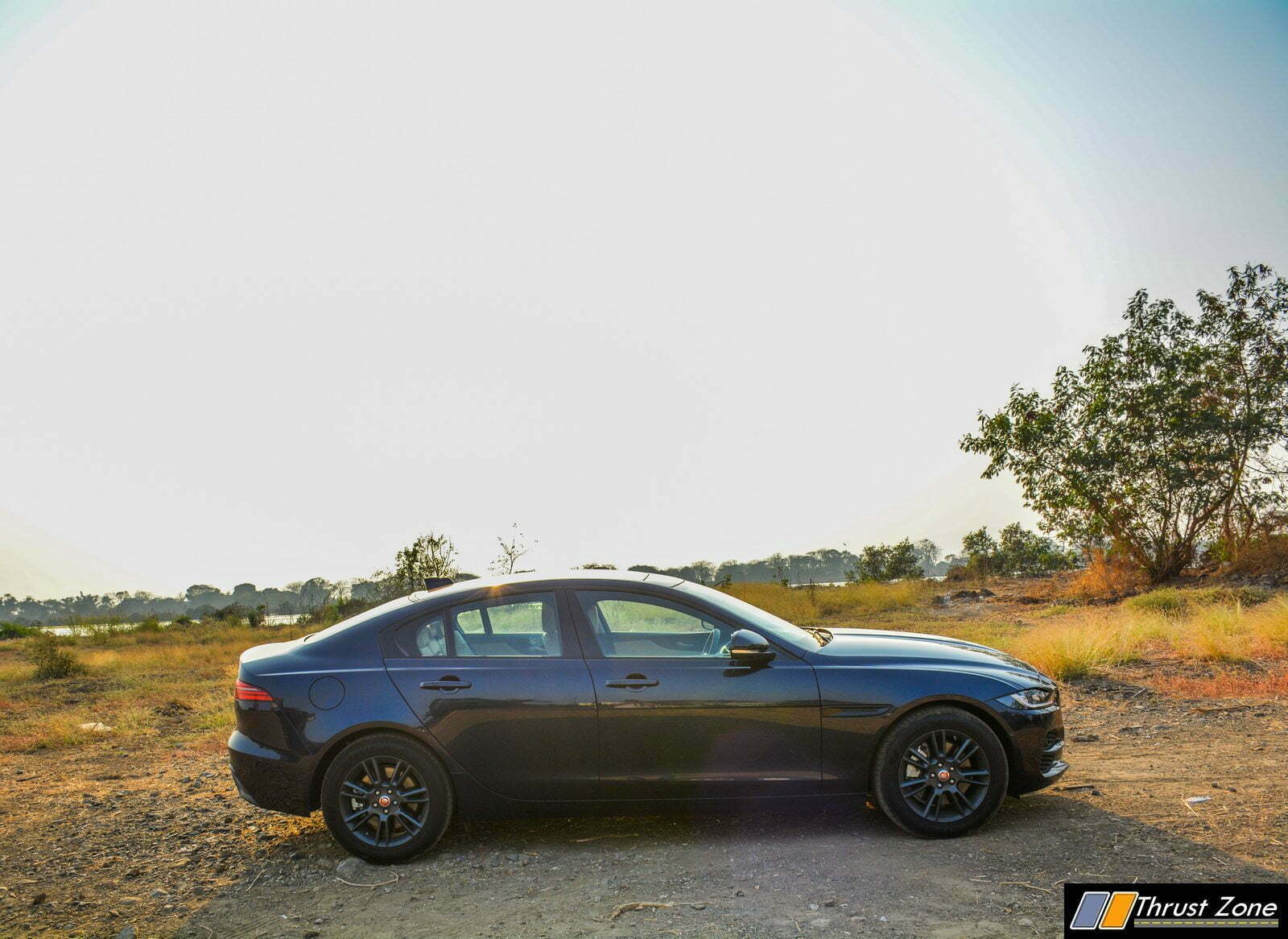 The design of the car has changed to certain elements only. The headlights, tail-lamps and bumpers have changed. All of them have become sleeker and sportier to look at first sight. The side profile remains the same with the identical alloy wheels seen from the pre-facelift version, but smoked out to grey color. The short wheelbase and length but higher width and special attention to detail makes the car look substantial and something that gains attention.
Twin tail pipes for the petrol P250 SE version here is a new addition as well. F-type inspiration in all elements aforementioned above make it definitely stand out than before adds a fresh zing to the car that was much needed.
Interior gets a new screen which is larger in size at 8-inches. The lower screen is also a touch unit but isn't a screen like the dual touch pro like the higher spec international version. Both touch pads are faster to respond, the upper screen gets Apple Car Play and Android Auto along with a lag free experience over the previous version. Merdian sound system is offered as always and it does need to get better as it falls just short over its rivals when it comes to quality.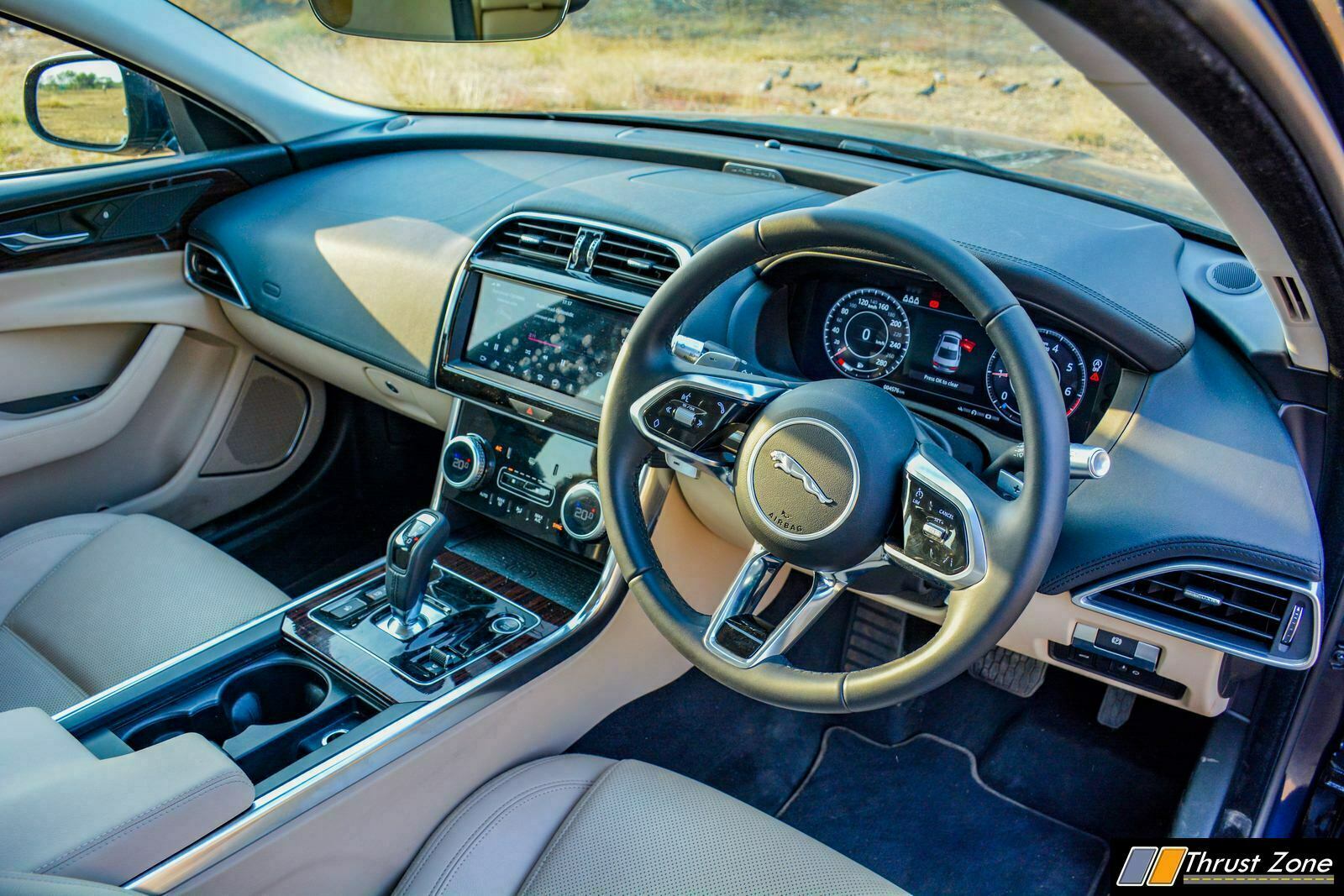 Dashboard remains the same and it is quite intimidating in size. The steering wheel is all new and we love the new royal look to it thanks to the addition of chrome and new buttons which work well and are intuitive. Center console gets a new gear lever, drive mode selector and other buttons from the F-Type. Tambourine door closing for cup holders and space below the center armrest continues where there are charging points as well.
Dials in the front are a LCD screen now, seen earlier in 2019 F-Pace. All information is available and you can choose to see fuel economy parameters or music or navigation between the two dials. There is a sunroof on offer. Safety wise you get 6 airbags in the car along with ABS, EBD and traction control along with ESP. Space in the back is adequate for two when it comes to leg, shoulder, head and knee room.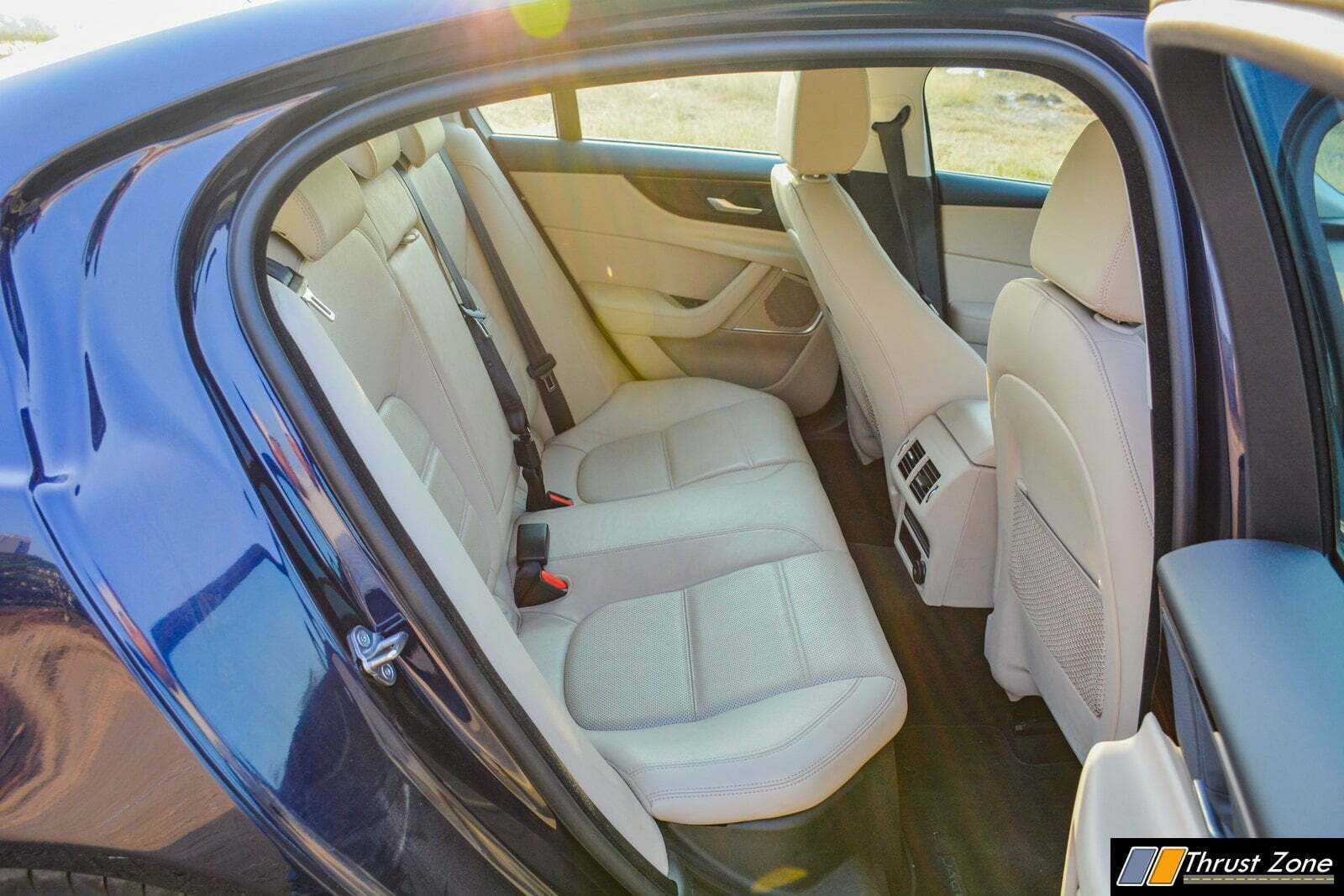 The third pax is a misfit as the center tunnel is big. Beige seats lift the ambience, rear a/c vents are manual but they cool the cabin well. Boot size is very deep but it stands good for 430 litres. Overall, a major change in quality and enough changes all around to invoke freshness while continuing with certain things which could have been better but it isn't expected from a facelift either.
Driving the Jaguar XE petrol was different this time. The 2.0 four-cylinder motor which is now BS6 makes 245 Ps of power and 350 Nm of torque. That is a lot of power and torque for a entry level luxury sedan with short length and wheelbase. Power goes through the rear wheel via a slow shifting gearbox which can be jerky at times when in sport mode. The engine is smooth, almost free revving (because it does feel lumpy at mid-range) and NVH levels are very good.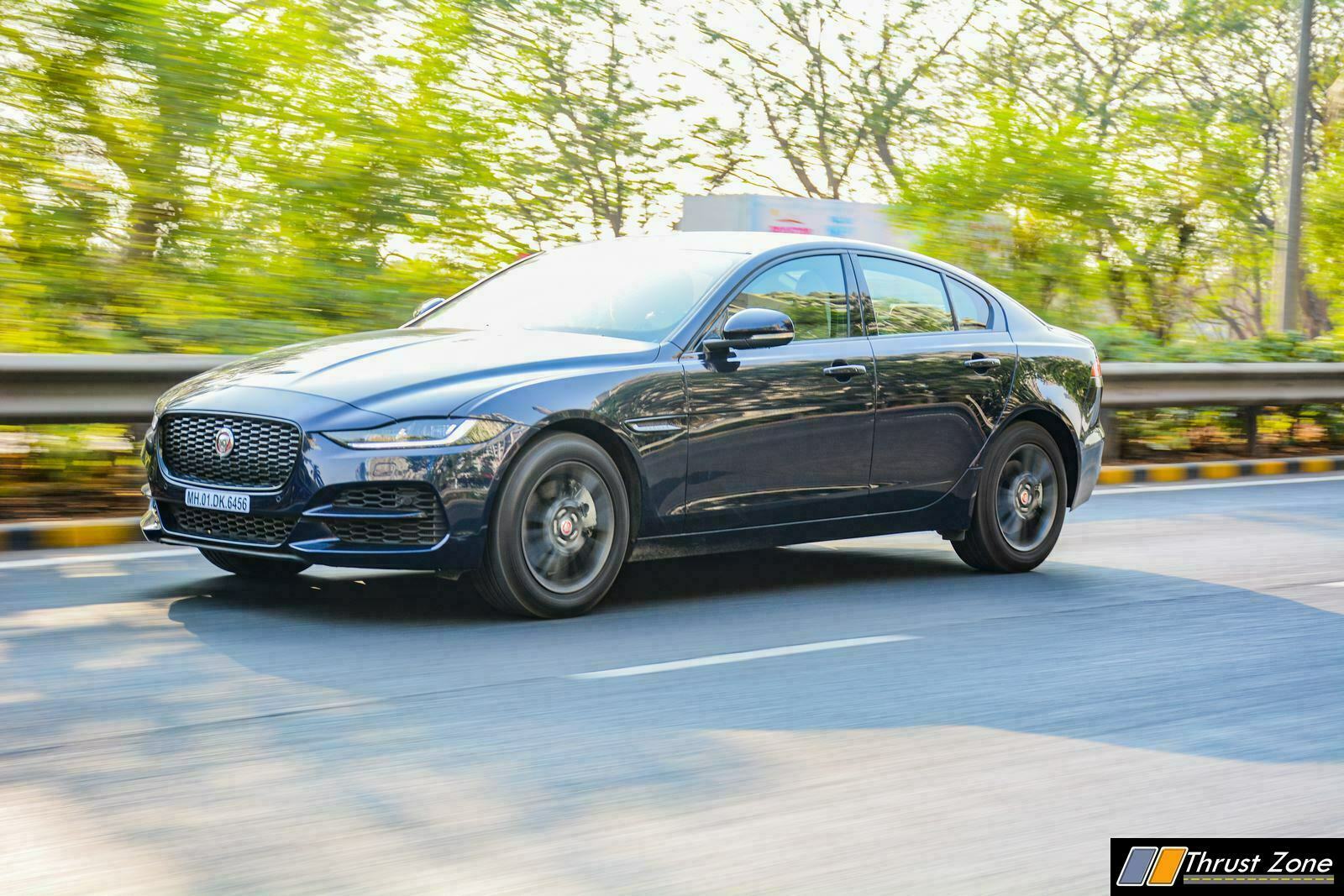 Driving it was different than the earlier version because it just felt more eager in every way and obviously more powerful, but the overall aforementioned character of the engine and gearbox remains the same so not a big departure from the older version. Driveability in the city is good and the performance on the highway is unexpectedly brisk. You can do triple digits over the legal, 120 km/hr all the time and won't even realise until unless you get a SMS on your phone that your fined for speeding.
The push back in the seat is very real every time you hit the gas pedal. Responsive all throughout with such performance in an entry level luxury car is always welcome and much needed for quite some time. We got 11 km/l in our Mumbai-Pune run which was quite interesting for a car with this performance.
Dynamically, the chassis setup is brilliant. Ride quality as always is great thanks to higher profile tyres and taut enough to deploy very less body roll in the corners. If any, still well controlled and inspiring confidence all the time continues with the XE for drivers. Rear wheel drive means you can have some serious fun if you want too. Steering feel and feedback is good but there is a bit of vague-ness in the center of the steering.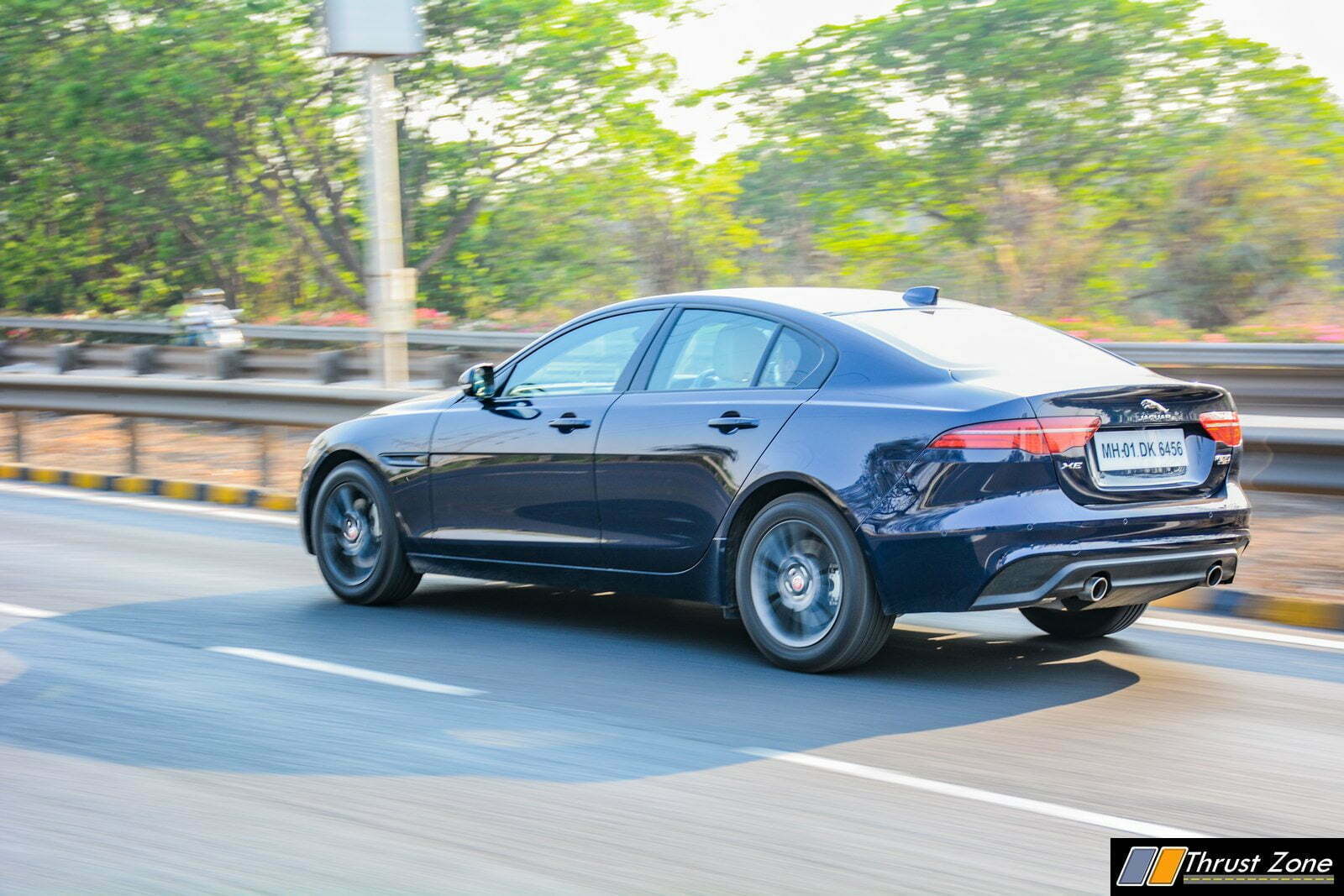 Precision and lightness of the steering also means it is great to drive in the city for enthusiasts as well as every day commuters, which this car can be used rather well because ground clearance is sufficient for Mumbai roads atleast.
Brakes and tyres were good as always. We didn't get the chance to test to its limit, but in our spirited driving, both inspired good confidence. Turning in with that short wheelbase was quick and quite a surprise over its rival. One of the best character that Jaguar has preserved from the older XE and fined tuned it to be even better some how. Sophisticated suspension on all four corners makes the XE quite a drivers car in its class.
2020 Jaguar XE Petrol Review, Verdict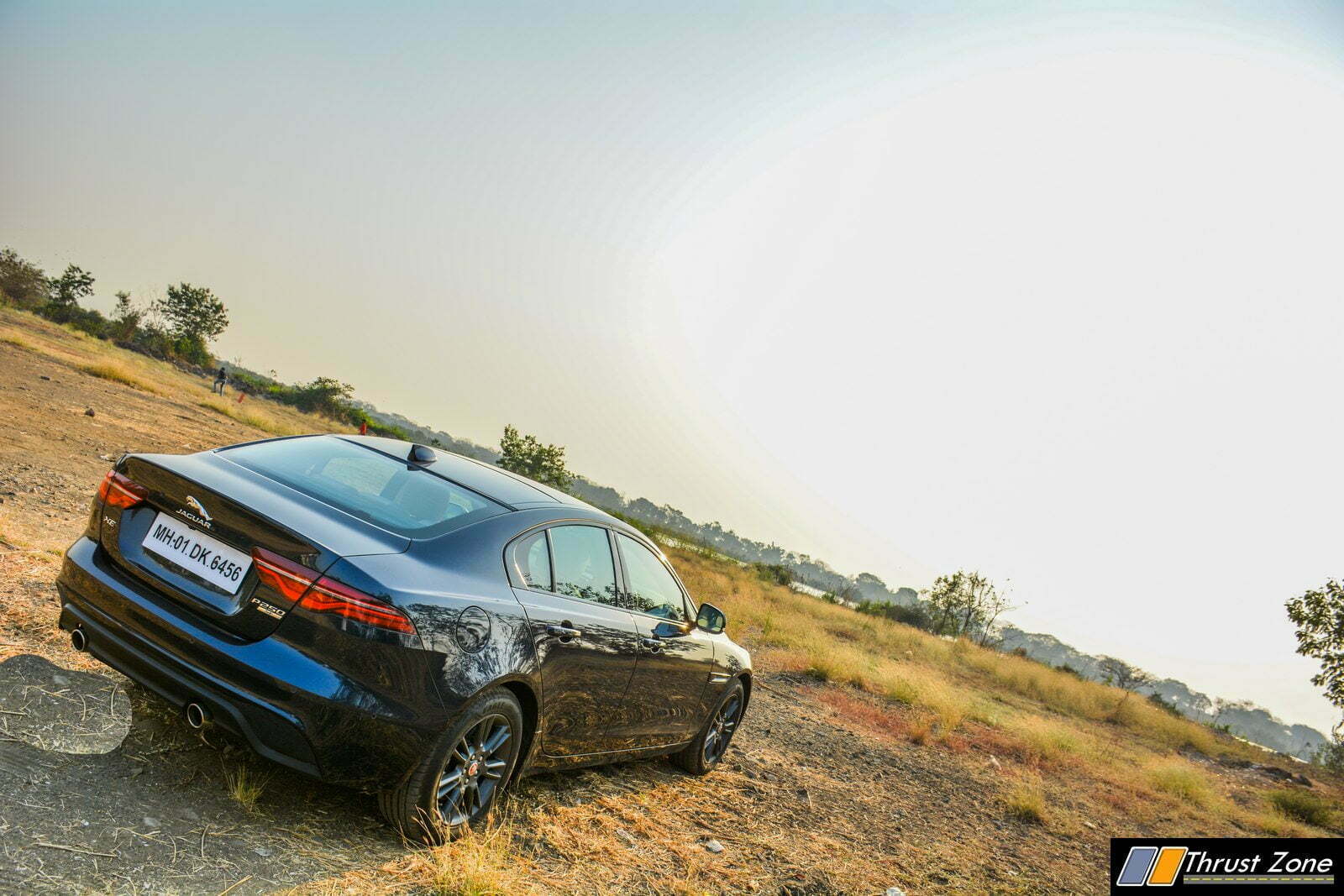 Well, as you know by now, we like everything about the new facelifted Jaguar XE. The only thing we wish changed in the future is a faster or entirely new gearbox. We think if rumors are right, that will be surely taken care of and the XE could come with a bigger bang than this one right now. However, for now, in India, the pricing is right so is positioning and variant list is quite sensible. With petrols and diesels and a great chassis on offer, we think we could live with this car, that's how much impressed we are with the car as it rounds of as a much better and polished gentleman over the past one.