2020 Renault Kwid Facelift Spied Testing will get safety features and BSVI engine with subtle upgrades all around
2020 Renault Kwid Facelift Spied Testing on Indian roads recently for the first time. The test mule was completely disguised, a careful analysis of silhouette reveals that it would replace the current-generation Kwid in the Indian market. Keeping in mind the recent unveiling of the Kwid's electric version (called Kwid K-ZE) at Shanghai Auto Show, many would like to believe that these spied images belong to Kwid's electric version; however, given the nascent stage of the electric market in India, we don't think Renault will take such a big step forward at this point in time.
Prices for electric cars are unusually high with manufacturers finding it difficult to justify the premium electric cars charge over their conventional counterparts. Take for instance the electric version of WagonR which Maruti Suzuki said can be priced around Rs 12 lakh – too high for a hatchback category. We don't think Renault is prepared for such a market scenario, at least for now.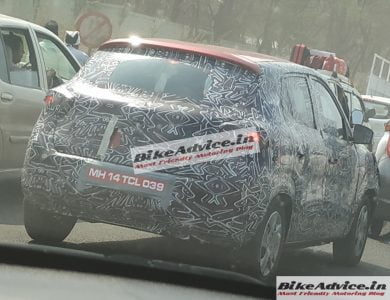 Another reason behind believing that this is a non-electric version of Kwid is the presence of conventional fuel-lid on testing model. In Kwid's electric version (spotted testing in China), there was no such fuel filling arrangement. Further, Kwid K-ZE has an electric charging point on its front fender but on the Indian test mule, we couldn't able to find any charging point or hint of it.
Besides, the front imposing grille on the test mule is different from frontage of K-ZE model. Further, the prototype was wearing Pune's number (MH-14) which means it might have been testing for compliances in ARAI facility; thereby cementing the possibility of it being a conventional ICE-powered car rather than an electric vehicle. Renault Kwid in Indian market is competing against the likes of Maruti Celerio, Tata Tiago, and Datsun redi-Go among others.