Skoda Octavia RS sold like hotcakes when it was launched in India in 2017. The launch was limited only to 300 units but later on, the company had to ship extra 200 units to meet the burgeoning demand. In sum, a total of 500 units of Skoda Octavia RS were sold; leaving many car enthusiasts disappointed who couldn't get their hands on this sporty sedan.
However, now the word has it that Octavia RS will be returning to India and will feature in 2020 Auto Expo next year. This time again the car will be available in limited numbers (200 to be precise) and units will be imported from Europe through the CBU route. Of course, it will have cost implications with estimates suggesting that the price will be around Rs 36 lakh. However, given the craze for Octavia RS, Skoda is confident of selling all 200 units of the car quickly.
In terms of engine specification, Skoda Octavia RS will feature a 2.0-liter TSI turbocharged petrol engine capable of putting out 245bhp and 370Nm. The engine is mated to a 7-speed DSG which can propel the car from 0 to 100 kmph in just 6.6 seconds. New Octavia RS will get an updated suspension system, 18" alloy wheels, LED headlamps, body kit, blacked-out elements in exteriors, and a boot spoiler.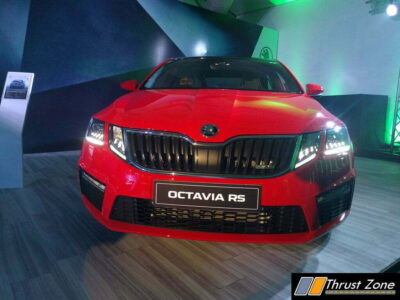 One of the interesting details about the car is its low ground clearance as Skoda hasn't made any India-specific change to the Euro-spec version of the car which will be imported and sold here as it is. This means the potholes and speed breakers need to be negotiated with the care. On the flip side, the low center of gravity is sure to make drives enjoyable. In fact, Octavia RS is not targeted to people looking for a practical drive but it is most suited for the driving enthusiasts who want to get behind the wheel just to get their heart racing.