Benelli Imperiale 400 needs no introduction despite it is relatively a new product in the Indian market. It came, it saw and it conquered. The motorcycle has become the top three options in its category thanks to Benelli India's correct measures. Be it marketing, pricing and the product itself. When it came, the RE motorcycle seemed age-old, which was when BS4 kicked in.
Come BS6, there is now tougher competition from RE and two new other rivals. Benelli has been holding well. In fact, we drove this some time back and we criticized the price. Today, in 2021, the pricing has gone down by Rs 10,000 as Benelli India is transferring benefits of the currency rate which is working in their favour. Today let's look into the bike in brief as we have already road-tested the BS4 version earlier and there are minimum changes when it comes to MY2020 and MY2021 changes.
In terms of design, everything remains identical. Benelli did not change the winning formula for the motorcycle. The teardrop tank design with double-stitched seats, all-black lower portion and our test bike had the maroon colour fuel tank with yellow Benelli embossing on it. The large spoke wheels on both ends along with a round headlamp give it undeniable retro-modern motorcycle because the tyres have a modern pattern.
We like the key that comes with the motorcycle. The clocks that it turns on continue to be the same. Offering odometer, MPH and KM/hr on the pods, gear shift indicator and the standard tell-tale lights. The fit and finish are good and so is the quality. Everything could be a touch better if we had to nitpick because everything seems on par with age old rivals.
Comfortable riding position, narrow handlebar makes it feel like you are riding RE Classic 350 with a much better engine on offer. The smooth and easy to live with motor makes a lot of torque in the low and mid-range which makes it great to ride in the city and adjourning highways of the same city. Returning between 26-30 km/l, the numbers are impressive. 0-100 km/hr coming up in 13 seconds is also far better than the RE Classic 350 by a substantial (8-9 seconds) margin.
Needless to say, it sounds similar to its rivals too and yet its got its own distinct character that helps marks its own territory. Power delivery is very linear, smooth and consists throughout its rev range. 100 km/hr in fifth gear is the best place to be where you get overtaking power as well relaxed nature so you can do that all day long. BS6 can change things for the good over the BS4 and this Benelli shows that.
The chassis deals with most of the part well as the front suspension is hard and rear suspension is equally soft. You need to tune it up if you are heavier than a normal rider (if you are 80 kgs and above). This results in good ride quality and behaviour in the slow to medium speed corners, however, as things go faster, the narrow power band puts you off if you are a sport rider. Something that you are not if you buy something like this, but this is just us, the journo bunch.
As things go faster, the stability is good enough at 100-110 km/hr given any type of road condition, the motorcycle is fairly confident while doing so. The brakes can feel a bit wooden at the lever and soggy at the brake disc end. Something which is good for normal riders, but enthusiast won't like that idea much. Uping the pre-load gets you more ground and cornering clearance. That means you can do a bit off-roading, which Benelli did let us do and when we did with the BS6 version, it is quite comfortable doing so, but still it isn't an entry-level off-roading bike you are looking at here.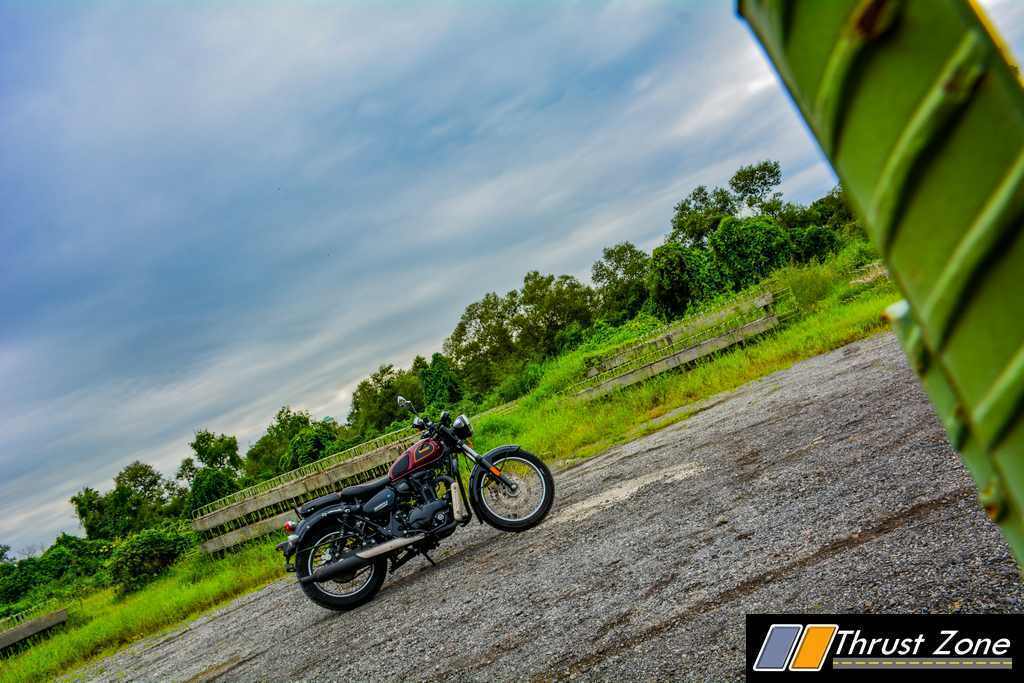 2021 Benelli BS6 Imperiale 400 Review, Verdict
Like we said earlier, the Benelli retro-motorcycle is doing well and has a lot of potential to do so in a segment which has just start booming with a lot of incoming motorcycles in the segment. With a price cut in the year 2021, this has made the motorcycle much better deal than before. With a segment par warranty and service schemes, same price for all colours, 2021 Benelli BS6 Imperiale 400 is here to leave a strong mark and turns out to be a heavyweight contender in this segment among all its current as it sets a solid benchmark.