The Mercedes-Benz GLA. The SUV from the manufacturer that aims to take on the likes of heavyweight champion, the BMW X1, Volvo XC40, and Audi Q3 is finally here with us. Mercedes-Benz has an aggressive strategy of giving a lot of features to models to make sure they stand out and grab attention. This SUV is no different either. Be it on the inside and outside, it has what it takes to impress a set of consumers as always. Like always there are core strengths and weaknesses of any product. We find out what the GLA offers and doesn't to its prospective buyers.
On the outside, the SUV is the most compact in its class. The height and wheelbase are short which doesn't make it the most SUV-type despite its trying to be like its elder siblings. However, the formerly mentioned dimensions are now larger than before giving it much more appeal and road presence than before. The elements on the car make it stand out. The new tail-lamps are entirely a new direction as the new square pattern sets it truly apart from other cars from the stable and rivals. The build quality on the outside seems and sounds good. GLA is five stars rated car from Global NCAP. The alloy wheels continue to be typical Mercedes which is something you will truly like or not. The large grille with a single slat and big Mercedes logo, it continues tradition that the brand is known for.
On the inside, the build and quality are good and so is the expansive feature list we have explained time and again in our launch reports. You get every feature possible. We found that front and rear parking sensors are optional on our test car and can be easily installed on the car at a dealership. Reversing camera is given to meet the government norms and makes this easier to a certain extent. The two large screens, the multiple options for the dial patterns, and the design to choose from is a great addition and suits your moods and needs from time to time. It can be futuristic and classic at a moment's notice.
The screen can be operated from steering controls, touch on the screen and dial pad below which makes it easier anyhow you like it. MBUX also works rather well in most conditions. Android Auto and Apple Car Play are still not wireless though. The AMG treatment on car our car meant we saw red stitching on the all-black interior which made the car sporty. As always, we are not a fan of a dashboard design on the left side as it feels it is left unattended. When it comes to space, the shoulder, leg, head, and knee room, they are surely better than before but still a whisker away from rivals in the same segment.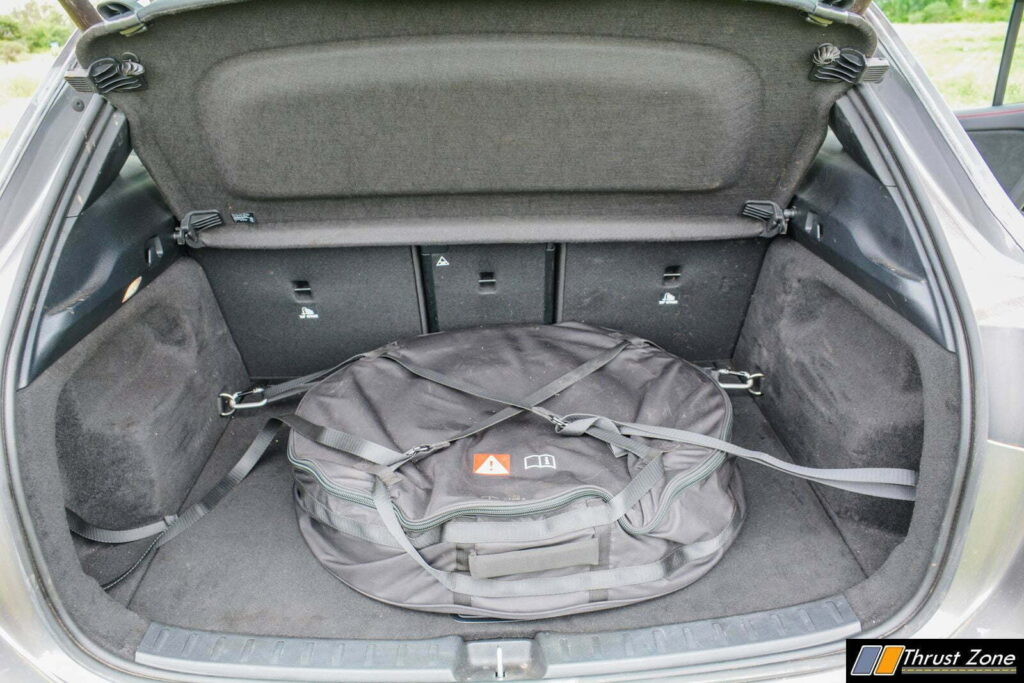 The boot space is good by segment standards. However, the spare tire takes some space in the boot with no dedicated cavity, it does not seem India ready entirely like its rivals. Road and wind noise inside the cabin is also well controlled and it's a pleasant place to be like any Mercedes and that is the highlight of the baby Mercedes. Safety kit continues to be high with electronic stability control and eight airbags are for higher variants and Hill Hold Assist is with the automatic variant. ABS and EBD and other passive electronic features are on offer.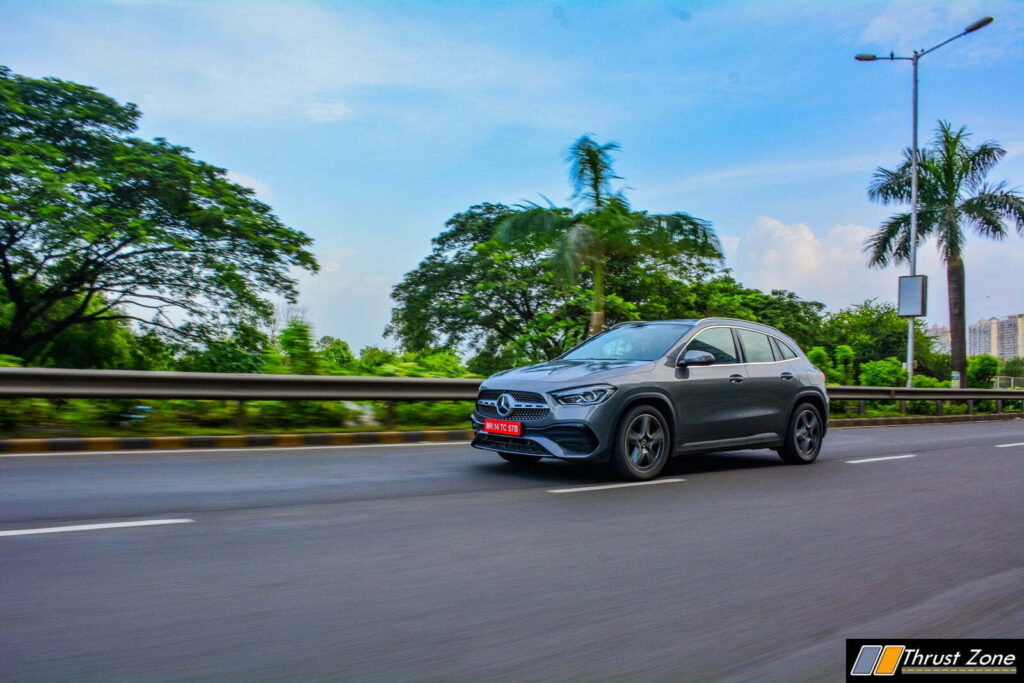 All Mercedes engines are smooth, free-revving, and low on NVH and the one on the GLA is no different. Be it in any part of the rev range. The 190 PS and 400 Nm diesel motor coupled with an 8-speed gearbox which is slow to react and isn't entirely seamless at slow speeds can be bothering. It is best to keep it in economy mode to makes things better with the gearbox. Comfort mode can be snappy and sport mode is even snappier. Low and mid-range are good on the diesel and so is the top-end concluding that performance and driveability are in ample amount. However, the powertrain also gets 4WD on our test car which helped it rocket from 0-100 in 7 seconds and that is very quick for a car of this segment. It just shoots off the line and that adds to the drama that the GLA has to offer. It might be an SUV and with 4WD but it's best suited for trails, bad roads and tarmac itself.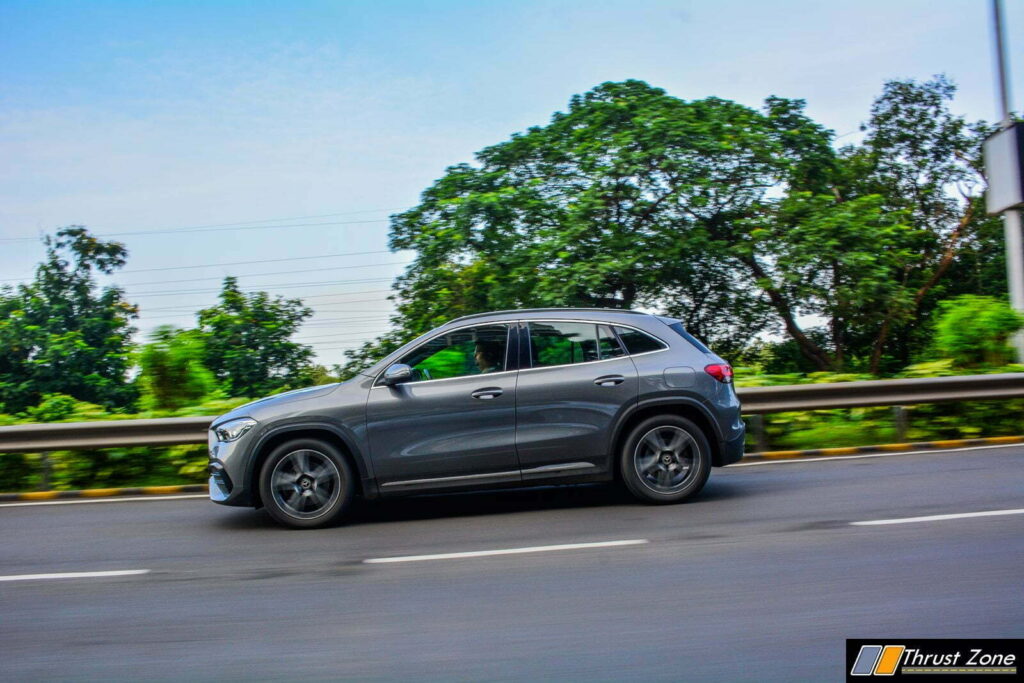 The fuel economy continues to be top-notch. With 13 km/l for the diesel in the city and Highway efficiency reaching almost 19 km/l. We were surprised by our Pune-Mumbai run economy numbers which were quite high considering normal driving and occasional bursts of acceleration.
Like most of Mercedes cars, the low to medium ride quality is good and the high-speed ride is flat and composed. All of this despite 19-inch AMG Wheels on offer. Body roll increases as speeds get higher while taking a corner or changing lanes at high speeds, but it still stays well in control providing feedback and not feeling unerving. Steering is light, quite precise and has great feedback on offer which makes the SUV 100% confidence-inspiring to push harder. Brakes are good with good pedal bite. Overall, very easy to drive and surprisingly one of the most fun to drive.
2021 Mercedes GLA Diesel India Review, Verdict
Mercedes is going all-in with their entry-level cars. GLA also gets 8-year warranty which covers most of the things such as the powertrain and other things. The pricing can be said on the higher side considering the petrol is a small motor and that is where the range begins. The GLA 220d 4WD though represents great value, a good evolution over its predecessor and it stands out against its aging rivals. The GLA is polished in all areas and is the reason this is the SUV to buy in the entry-level compact luxury SUV segment.
2021 Mercedes GLA Diesel India Review
Design

Features

Space

Practicality

Safety

Interior

Performance

Dynamics

Value