Skoda Octavia has always ruled the roost and has had complete dominance in the D-segment sedan despite strict competition from Koreans and Japanese. The segment starter continues to hold the ranks its because it has always delivered the best to the customer. It has maintained its legacy rather well, you can say. Also, the competition went weak too with not-so-impressive powertrain and high sticker prices which never really converted into value. Octavia also loses the diesel motor but the petrol trend is back after decades, Octavia is here with a powerful petrol motor and an entirely new designed car to wow its customer base. Octavia is promising than ever before. We find out what it has to offer, which it has a lot, so dig in!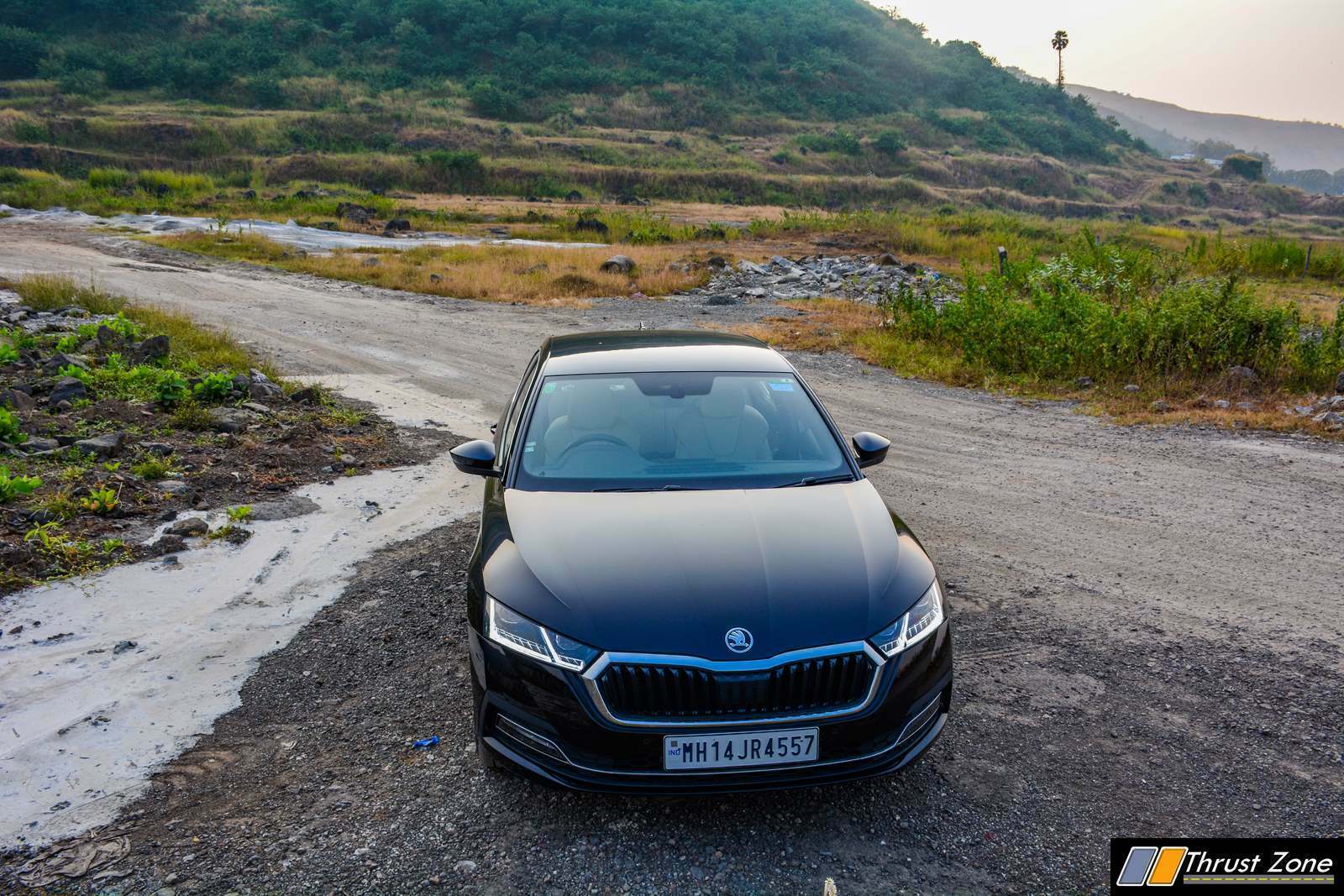 On the outside, the butterfly grille size is the biggest we have ever seen and it is for the good, as it does look befitting. The new BMW-inspired LED DRL at the front and very fancy-looking C-shape LED tail-lamps make the car look all new. The C-pillar and the window frame make it look like an evolution of the Skoda Octavia as it continues with the lineage.
A fairly simple bumper on both ends makes the Octavia look like a proper European saloon that we have loved ever since the Skoda sedan came to India. The build quality on the outside seems and sounds great and it scores high on crash tests like any other Skoda. The elements on the car, such as grille, LED lights on both ends, 4.5-meter length along with a large wheelbase, multispoke diamond-cut wheels add substance to the stance of the Octavia this time around by a big margin!
On the inside, the build and quality are good and so is the expansive feature list we have explained time and again in our launch report. You get every feature possible in the saloon. Right from automatic lights and wipers to reversing cameras, front and rear parking sensors, ambient lighting, and projector lamps. The car is devoid of the large panoramic sunroof, ventilated seats, wireless apple car play, and android auto are missing but the wired ones continue to serve.
The virtual cockpit as the instrument cluster area is welcome and a host of features including navigation and all fuel economy indicators and other bits can be seen on the screen. A fantastic 12 speaker sound system by Caton makes the experience top-class. The main screen is the new charmer and it is even better than the previous version which gained very high praise. Skoda's MY connect system includes a host of GPS-related features such as GEO and time fencing and much more. We loved the illumination, spread and assist that came from the headlamps which have assist in them to make things better while cornering or not blinding the traffic ahead.
Space is more than sufficient with enough shoulder and knee room you expect, is here. Leg and headroom continue to be in good supply but as always it is a strict four-seater. The boot space is good enough at 600 liters and so is the overall practicality of the interior. Road and wind noise inside the cabin is also well-controlled thanks to good insulation all around. Like any other Skoda premium car, it is still a pleasant place to be thanks to things like Aircare with multi-level filtration. Safety kit continues to be high with electronic stability control and eight airbags, Hill Hold Assist, ABS and EBD, and more come as standard.
Skoda TSi engines are smooth, free-revving, and low on NVH and the one on the Octavia is no different. Be it in any part of the rev range. Low and mid-range are good on the 2.0 turbocharged petrol motor that makes a 190 PS and 320 Nm of torque going through the fantastic, smooth, seamless, and quick-shifting 7-speed DSG automatic. The engine is linear flexible and powerful at the same time.
0-100 km/hr under 7 seconds is quick and it has an electronically limited top speed of 250 km/hr is on offer Top-end is great as always and the engine can also and it cruises at legal speeds and higher than that, quite easily. This makes it good enough for city and highway duties and makes driving comfortable. Skoda has still not given it driving modes. 9 km/l for the in the city and 15 km/l on the highway is what we got in our Mumbai-Pune run.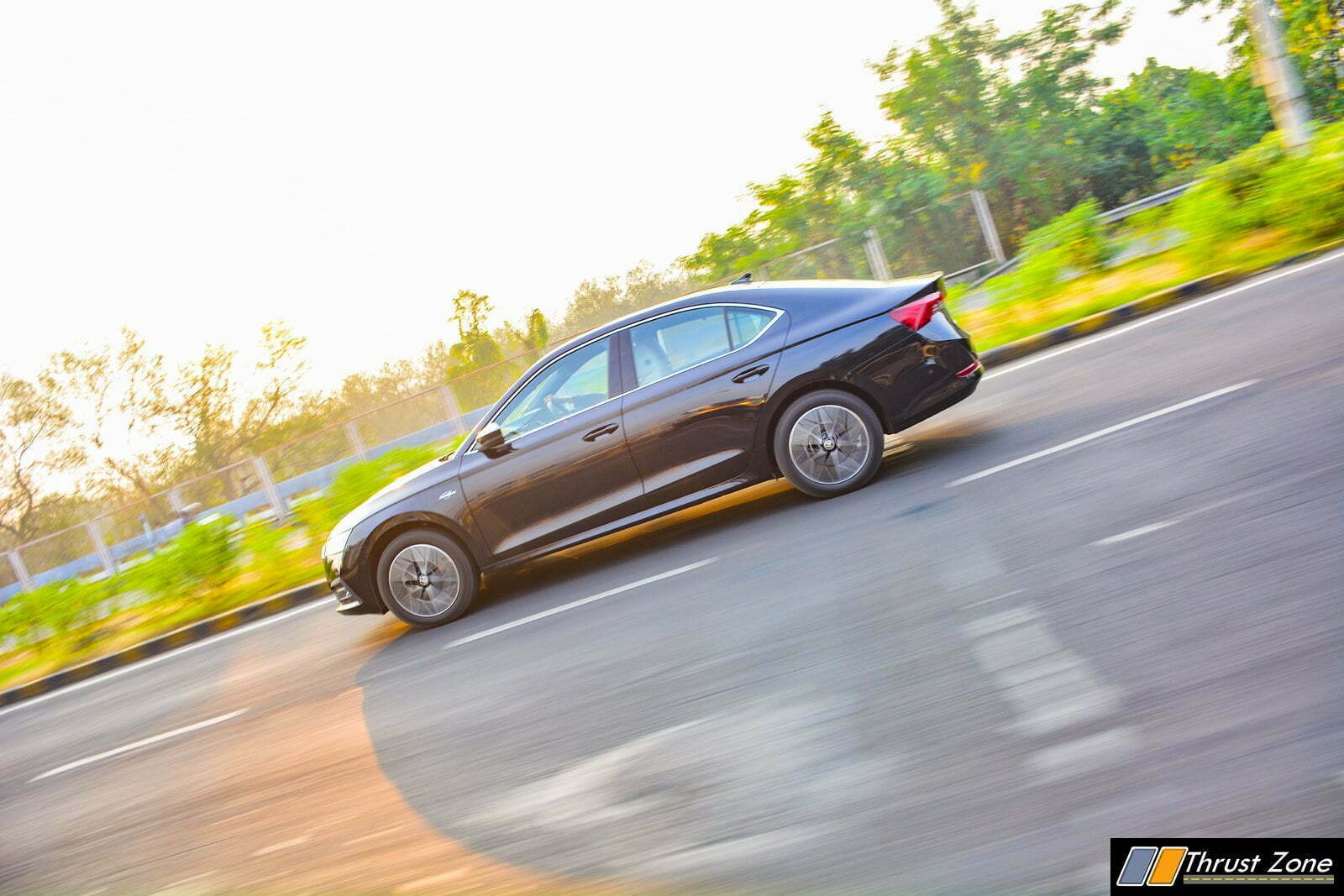 The ride quality is good at all speeds and it does feel slightly softer over the previous version. The steering gives enough feedback and is very precise at all speeds. Wish it weighed up a bit more. High-speed stability is spot on thanks to the ideal balance of underlying stiffness and compliance. Brakes were good too with great pedal bite and lot of performance on offer. Body roll exists while changing lanes at high speeds but it is still a very confidence-inspiring car to drive at any given speed. Overall, very easy-to-drive car despite its size while being extremely comfortable on all four ends while being good fun to drive.
2021 Skoda Octavia Review, Verdict
Skoda Octavia at first impression can be seen as an expensive proposition. However, the new enormously plush interior and very tempting exterior with a more powerful engine and more features than before making things special. The Octavia feels like it is from two segments above and makes the cabin experience is simplistic and sophisticated than ever before.
Taking the game forward despite the previous benchmark is you, here in the Indian market, shows some serious commitment from Skoda India. Since nothing major has been skipped over the international version. Skoda could have made some things better but give it time, or get yourself some discount if you can manage and the Octavia can make your everyday experience a truly special one.
Style INR 25,99,000/-
Laurin & Klement INR 28,99,000/-
2021 Skoda Octavia India Review
Design

Interior

Features

Practicality

Space

Safety

Performance

Dynamics

Value

Comfort