The Scrambler genre is growing much more than anticipated. It did start with the Ducati and it seems like everyone has their own copy. A local manufacturer in India has gone ahead and given it the same generic name too. Of course, the Japanese are still far away from this concept by and large, unlike others who have a full-blown Scrambler that works, which comes from the stables of Triumph Motorcycles. Ducati expanded, fixed and facelifted its Scrambler offering by introducing a 400cc and 1100cc unit. However, in India, the 800 still grabs a major chunk of the attention due to its entry-level pricing which makes it the first Ducati you look at if you are on a budget? So does it mean, it is a proper Ducati, we find out!
When it comes to design, the headlamp is the usual round-shaped unit. The illumination and spread of the headlight are impressive on a pitch-black road. The tank has an elongated design and is big enough with a yellow and silver color panel on it to make it look very hip. The rear tail-lamp has a U-shaped LED bulb is distinctive for Scrambler The wheels are multi spoke units and the forks are USD units in black color. We wish they had a different color.
The side is completely exposed with no panel as the rear shock, chassis tube and rear cylinder are visible. The rear fender is short enough to make it look sporty and purposeful. There is no grab handle, but there is a basic recess below the seat of the pillion. The retro seat gives it a typical scrambler look. The exhaust also looks befitting but it is new to the previous version. Overall, a motorcycle that looks good, is proportionate enough and grabs attention in almost all colors.
The instrument cluster continues with the same single pod and also has a digital layout below it showing a fuel gauge, trip meter, eco-driving manner, fuel efficiency parameters, tachometer service indicators and more. It finally gets all these as the previous version was devoid of it. The telltale lights are also in the pod, but on the lower left side. Switchgear is the same as the earlier version. A Ducati Multimedia Bluetooth option is also available with the new Scrambler making things easier on a daily basis. Mirrors offer a good view of what is behind but could have been bigger.
The ergonomics are the same as before with the seat positioning being upright and the handlebar is even higher. Making it easier to ride while standing up. Footpegs are rear set which helps grab the tank rather well. Seat comfort for rider and pillion is above average. Our 300 km run during our road test went with ease which is also courtesy of the low seat height that the motorcycle offers at 789mm. The optional seat can go lower to 778mm.
Powering the motorcycle is an 803cc engine making 74 PS and 67 Nm of torque from a 2-valve, SOHC, air-cooled engine. The motor is mated to a 6-speed smooth-shifting gearbox that operates with a light clutch action. The refinement is now much higher than the previous version. You can rev it all the way up and there are negligible vibrations on the handlebar, seats, and footpegs. Low and mid-range torque is where it excels as it does lack punch after 140 km/hr. The cruising speed is still around 100-120 km/hr. This is due high wind resistance as it lacks basic wind protection. However, it does that in a more calm, smooth, and consistent manner than before.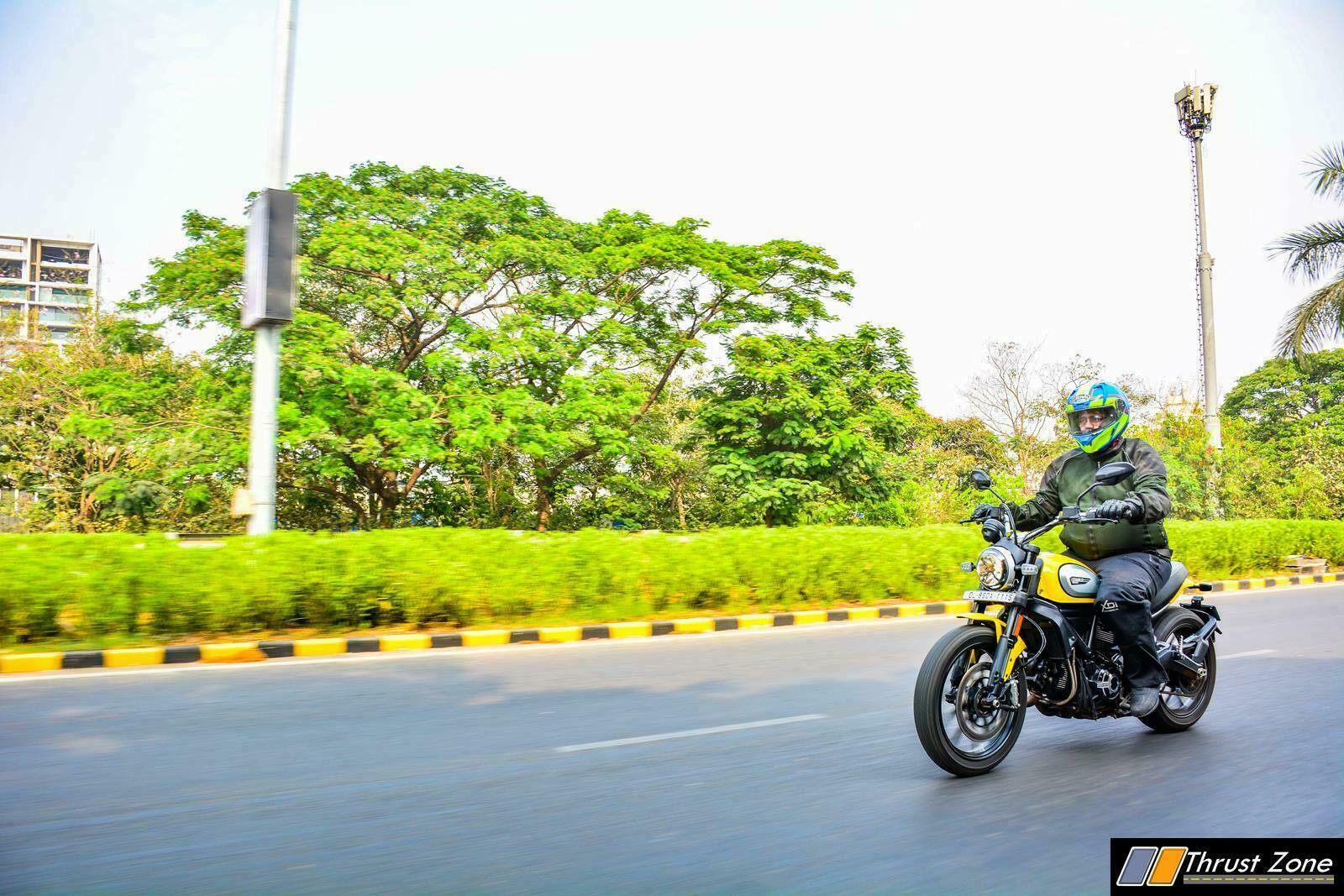 The top speed is 200 km/hr on the speedo. The soundtrack, be it intake or exhaust note does remind you of Ducati of the past but albeit with a lower decibel and different tone. Throttle response is precise and power delivery is linear as always. Fueling is sorted throughout the rev range and makes it easy to ride in the city at low speeds with only a small hiccup between 2000 and 3000 RPM. We got 20 km/l in the city and 24 km/l on the highway. Overall, there is nothing really to complain about apart from the fact that the motorcycle could easily have more tank range as it can only do 220 km per tank refill in cities like Pune and Mumbai.
Dynamically, the front rake and trail are surprisingly sharper making it easy and quick to chuck into a corner. Composure, while cornering is not so impressive due to suspension that is soft and lacks adjustability, makes it even more cumbersome for keen enthusiasts. The more than usual ground clearance makes things easier over going all sorts of obstacles. Ride quality is excellent over the worst of city and highway roads and this is where the Scrambler can maintain speed and gain traction over normal road-biased motorcycles. However, it does not provide enough confidence to go fast as the front forks need to provide more feedback and desperately need adjustability.
110x80x18 section tire at the front and 180x55x17 section at the rear is a welcome move. The brakes surprisingly are good for road high-speed braking as the bite at the lever is also impressive. High-speed stability is good too with a light or heavy rider only after rear suspension preload is adjusted to the maximum. Cornering ABS is on offer which makes things far safer. Maneuvering at low speed requires a bit of effort, including at parking speeds.
2022 Ducati Scrambler 800 Icon India Review, Verdict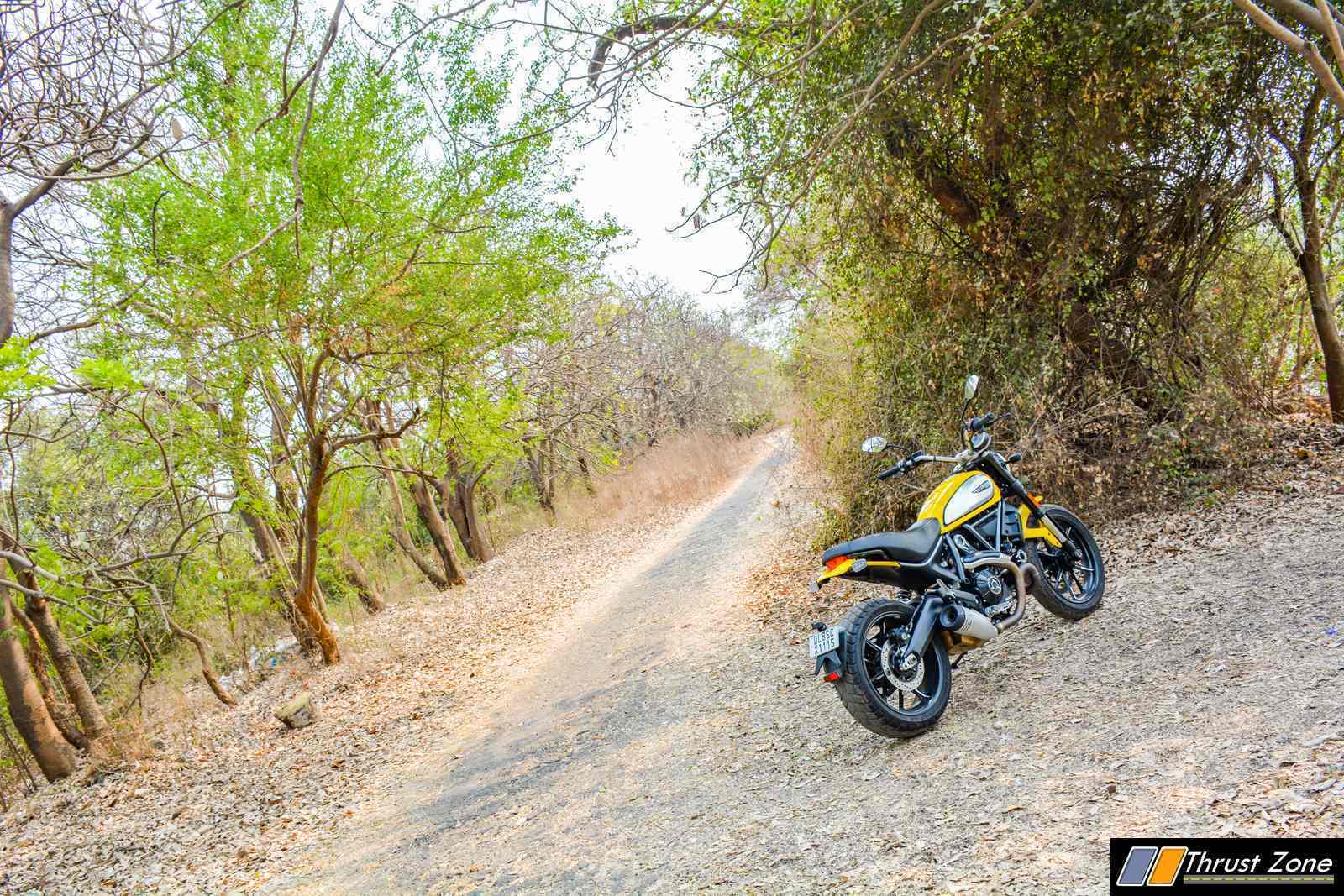 Overall, the Ducati Scrambler has not changed much and it remains a lifestyle motorcycle and not for the keen enthusiast to ride. Raising your budget and getting a bigger Ducati would be ideal for the more experienced enthusiasts. Hoping Ducati can solve the Scrambler issues as the next generation should follow soon in markets worldwide. For now, it remains a motorcycle that would ideal for people getting into the superbike world, but for riders who don't have extremely high expectations from their motorcycle.
2022 Ducati Scrambler 800 Icon India Review,
Design

Features

Comfort

Safety

Performance

Dynamics

Practicality

Value