Allow me to give you an example about time and timing. The last time we had some seat time with the Defender, it was 110 version and we had ample parking. This time, seat time with the Defender 90 comes along, our parking just became tighter. Talk about timing. JLR India timing though is spot on. Launching one iconic vehicle after the other in the Indian market makes the crowds go wow. Be it at the customer end or the enthusiast end. JLR sales show! As it has been doing really well and it has closed on its rivals such as Audi and Volvo and overtaken them in sales.
However, in 2022, JLR India has a lot of promises to deliver. A lot of bookings are pending, it has gone through a tough time in 2021 and it hopes to bounce back. As we spend time with the Defender 90 to see how it performs, JLR is busy with bigger plans. For now, let's stick to the iconic name in automotive history and see what it delivers.
The design of the Land Rover Defender 90 is of a true blue boxy SUV. The tall stance, the short wheelbase, and more than normal extra ground clearance over a normal luxury SUV lend it the hardcore SUV look. The tailgate-mounted spare wheel gives it a robust template of an SUV ready to go off-road. The elements though, make it look cool and tough just like any other JLR. The new slim grille with the signature Defender light green color helps the SUV stand out. The butch front-end is another signature look that continues even after all these decades.
The LED DRL lights in the head and tail-lamp units were, as always the highlights of the exterior. This makes it unique from any existing SUV in the world. The window-to-door ratio is off the charts as both are big and lend it a very commanding presence on the road. The alloy wheels look basic and make it overall look very contemporary. Overall, a standout car in the market with its stance, design and iconic elements continue to impress.
The interior quality of the cabin remains the best balance of robust and luxurious. A minimalist approach can be seen with the dashboard. There is space in the dashboard to kepe things that could slide around though while cornering. The touch screen is smaller in the Defender 90 than the 110 we drove. The Pivi Pro system works well enough but the screen can be faster to be more responsive than it already is. The system has a confusing way of dealing with certain system settings. However, it redeems itself by showing all off-road modes, dimensions, off-road differential settings and so much more on offer when it comes to information.
Features list includes a high resolution a highly detailed virtual cockpit, air filter ionization, spectacular LED lighting, Park Assist Plus with 360° camera and Lane Departure Warning with Steering Assist offers driver assistance and convenience. LED Ambient Lighting is fixed, Navigation, Phone, 2 zone climate control, and a good sound system by Meridian are here as always.
There is wireless charging, cruise control, an electronic parking brake, ventilated seats at the front, heated seat at the back, electric steering adjust, auto hold, and a large panoramic sunroof. The features list is surprisingly excluded ADAS features and Wireless Apple car play or Android auto. There is a video feed in the IRVM which comes from the Antenna mounted on the roof to aid in visibility which is poor without the video feed as the spare wheel blocks most of the view of what is behind. The video feed is adjustable and brightness can be adjusted through the buttons below the IRVM itself.
Space at the back is above adequate at best when it comes to the knee, shoulder, leg, and headroom. Boot space also stands at 300 litres. This makes it an SUV ideal for everyday commutes and weekend trips. Getting in and out can be difficult. Lowering the suspension can help make things better. The highest suspension ride height means even six-footers will find it difficult to climb. Make sure the suspension is lower before you get out and plan to get in quickly. Tones of storage space as the controls are mounted on the lower part of the dashboard and center console can take a lot of things in return. Safety kit continues to be high with electronic stability control and eight airbags, Hill Hold Assist, ABS and EBD, and more come as standard.
The 2.0-liter motor 4-cylinder motor makes 300 PS and 400 Nm of torque and all the power is going through the slow but smooth and seamless shifting 8-speed gearbox which gives power to all four wheels. Four-wheel drives mean it gets off the line very quickly. It just sprints ahead and does 0-100 km/hr in 7 seconds! The SUV has the lowest NVH levels in its class and that keeps things comfortable in the city and on the highways. The low and mid-range pull is excellent only after the downshift that happens a bit late than you expect it to be.
All this makes overtaking in the city and on the highway need a tad bit of planning. The top-end is good enough too as it can cruise at any given speed. The top speed is limited to 191 km/hr. Post 160 km/hr is a bit of a struggle for this SUV that weighs 2162 kgs. Eco mode helps it achieve 10 km/l on the highway. The fuel economy in the city stands at 6.5 km/l. The lower compression ratio means you can fill up the car anywhere with 89 or 91 octane.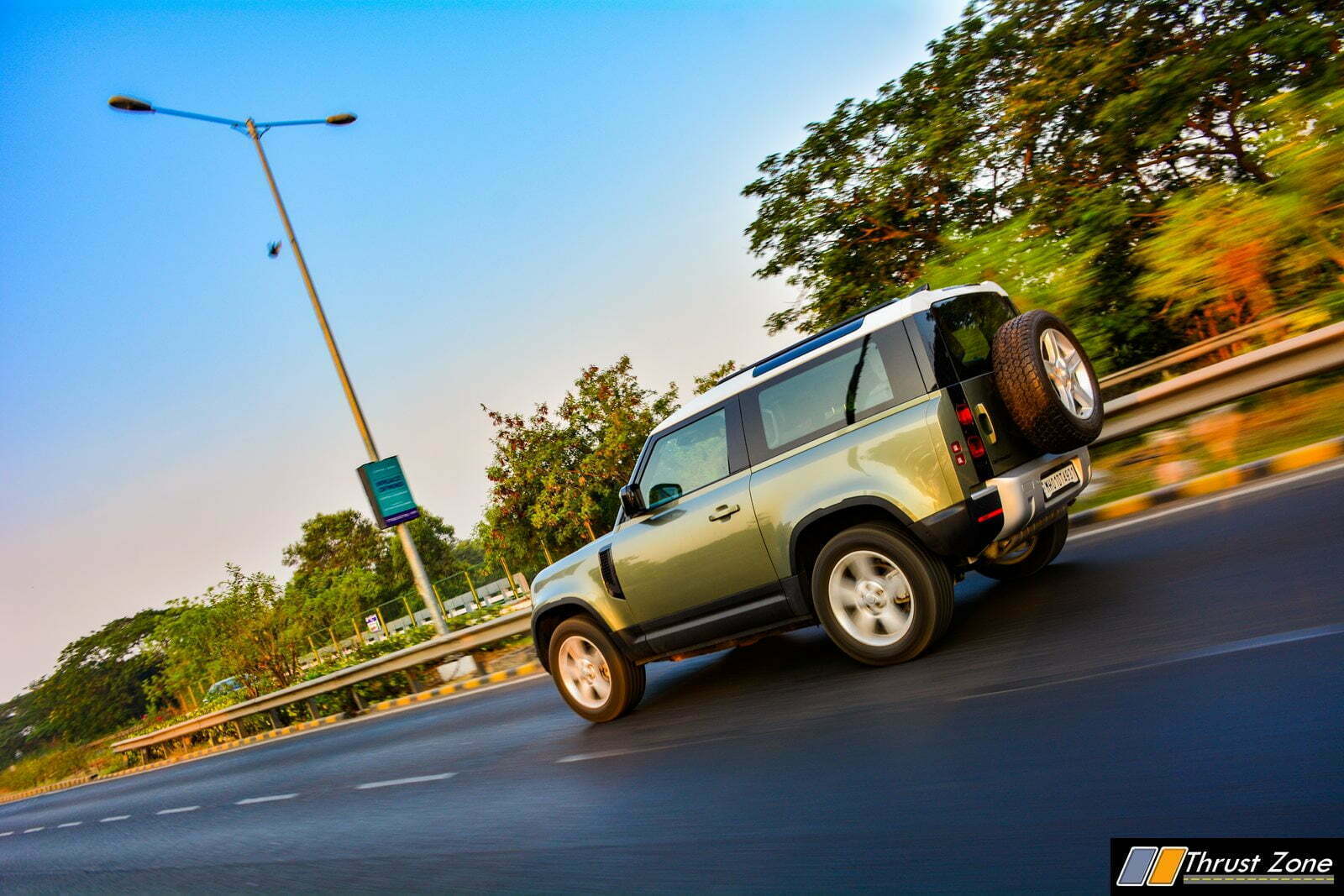 Steering feel and feedback are good enough and it weighs up well on the highway as well. Braking was excellent as always with tires also helping make things better and confidence-inspiring. Going through corners, it does feel stable and agile but with a substantial amount of body roll involved. Maneuvering is easy at low speeds thanks to a very well-calibrated steering lock to lock ratio.
This is also possible once you get along well with the dimensions that the SUV has! Off-road is great with 300mm ground clearance, excellent departure and approach angles along with a huge water wadding capacity, Defender does it all. We went on a beaten off-road track and it took like it was gliding over a tarmac road as it flattened out everything. We didn't waste much of our already short time with the car something that the Defender is purpose-built to do so.
2022 Land Rover Defender 90 Review, Verdict
As aforementioned earlier that JLR has to deliver and we can now say it does. Defender 90 impresses with a slightly lower footprint over the 110 version on congested Mumbai roads and its capability to flatten any sort of surface is going to be truly missed. Handing over any JLR back to them has us recalibrating our brains to slow down in the next vehicle we drive over bad roads. The Defender is the best in the entire portfolio at doing so. Surprisingly, our drive-in both variants was the 2.0 litre petrol motor. A diesel Defender would surely make more sense for you though. The fuel economy would rise and so would the off-road chuga-ability would be easier. We cannot wait to do so! For now, you can go and book one if you have cash lying around for an SUV that costs between Rs. 75 lakhs to RS. 1.2 crores. Also, try and get the diesel!
2022 Land Rover Defender 90 Review
Design

Interior

Features

Practicality

Space

Safety

Dynamics

Performance

Value