The new Porsche 911 GT3 R will be unveiled to the public at this year's 24 Hours of Spa-Francorchamps. From the 2023 season, Porsche customer teams can campaign the new racing vehicle in worldwide motorsport events that adhere to the GT3 regulations. The vehicle is based on the latest 992-generation 911. Compared to its predecessor, the new 911 GT3 R features a larger engine producing up to 416 kW (565 PS), a more constant aerodynamic performance and an optimised vehicle balance. Porsche Motorsport now offers the new 911 GT3 R at a price of 511,000 Euros plus country-specific VAT and optional extras.
With the latest generation of the 911 GT3 R, Porsche unveils a new customer racing car. The new challenger for GT3 series around the world is based on the current 992 generation and will be ready to race at the beginning of the 2023 season. Development began in 2019. Priority was given to further improving the driveability for professionals and so-called gentleman drivers, as well as tapping larger performance reserves for different Balance of Performance (BoP) classifications. Another focus was on streamlining the handling of the race car for the teams and reducing the running costs.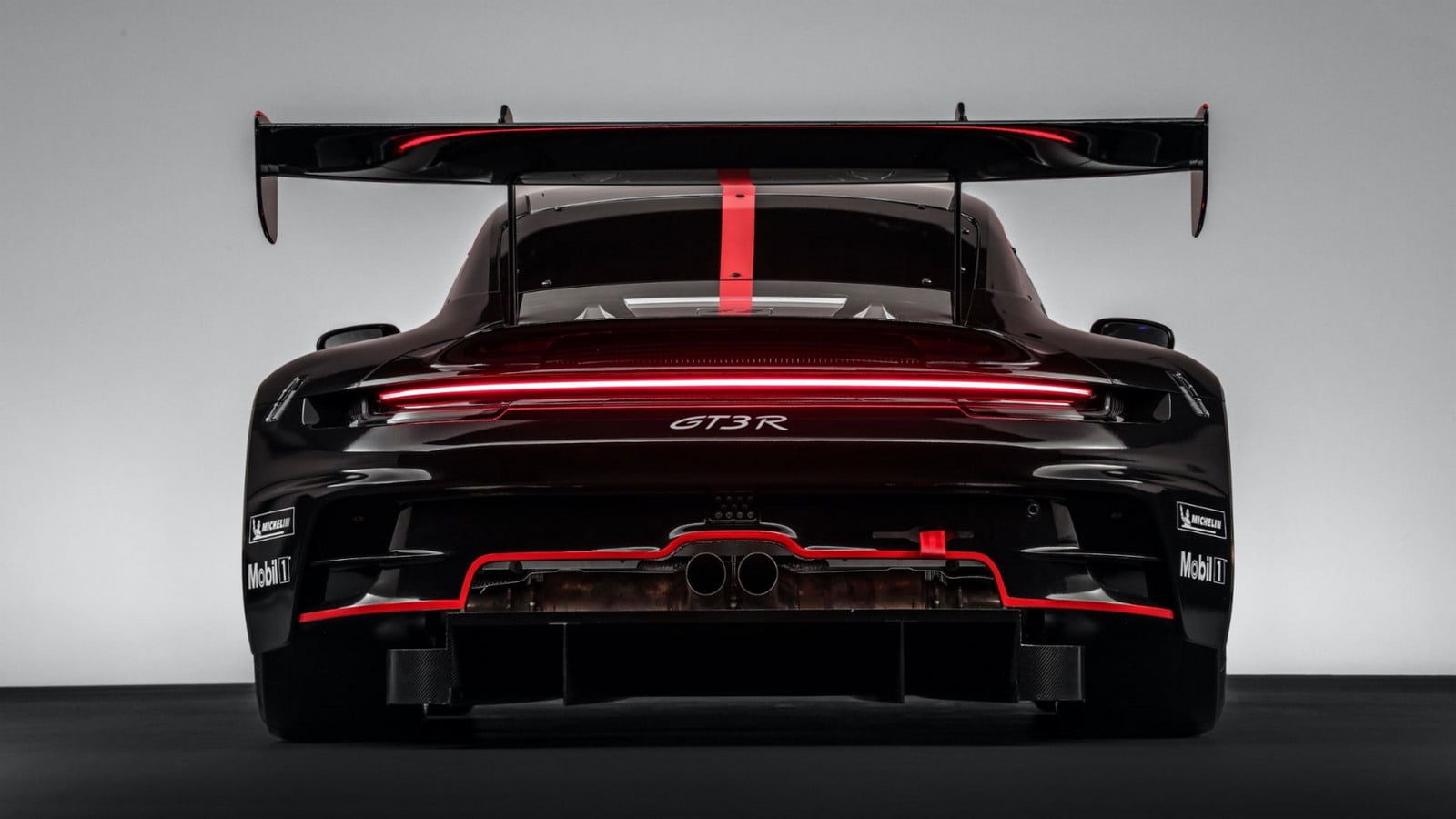 Technical data Porsche 911 GT3 R (992) model year 2023
Concept • Single-seater customer race car; homologated for the FIA GTE category; homologation basis: Porsche 911 GT3 (992 series).
Weight/dimensions
• Base weight: ca. 1,250 kg (depending of BoP classification); wheelbase: 2,507 mm.
• Length: 4,619 mm; width: 2,039 mm (front axle) / 2,050 mm (rear axle).
Engine
• Water-cooled six-cylinder boxer, rear-mounted; capacity 4,194 cc, stroke 81.5 mm, bore 104.5 mm; max rpm 9,250/min; power: ca. 416 kW (565 PS); four-valve technology; single throttle butterfly system; direct fuel injection; engine control unit Bosch MS 6.6; dry sump lubrication with oil-water heat exchanger; single mass flywheel; race exhaust system with twin tailpipes and DMSB certified catalytic converter; fuel quality: Superplus unleaded to E20 (min. 98 octane).
Transmission
• Porsche six-speed sequential constant-mesh gearbox; shift paddles on the steering wheel with electronic shift actuator; mechanical limited slip differential with adjustable preload system unit; three-plate carbon race clutch.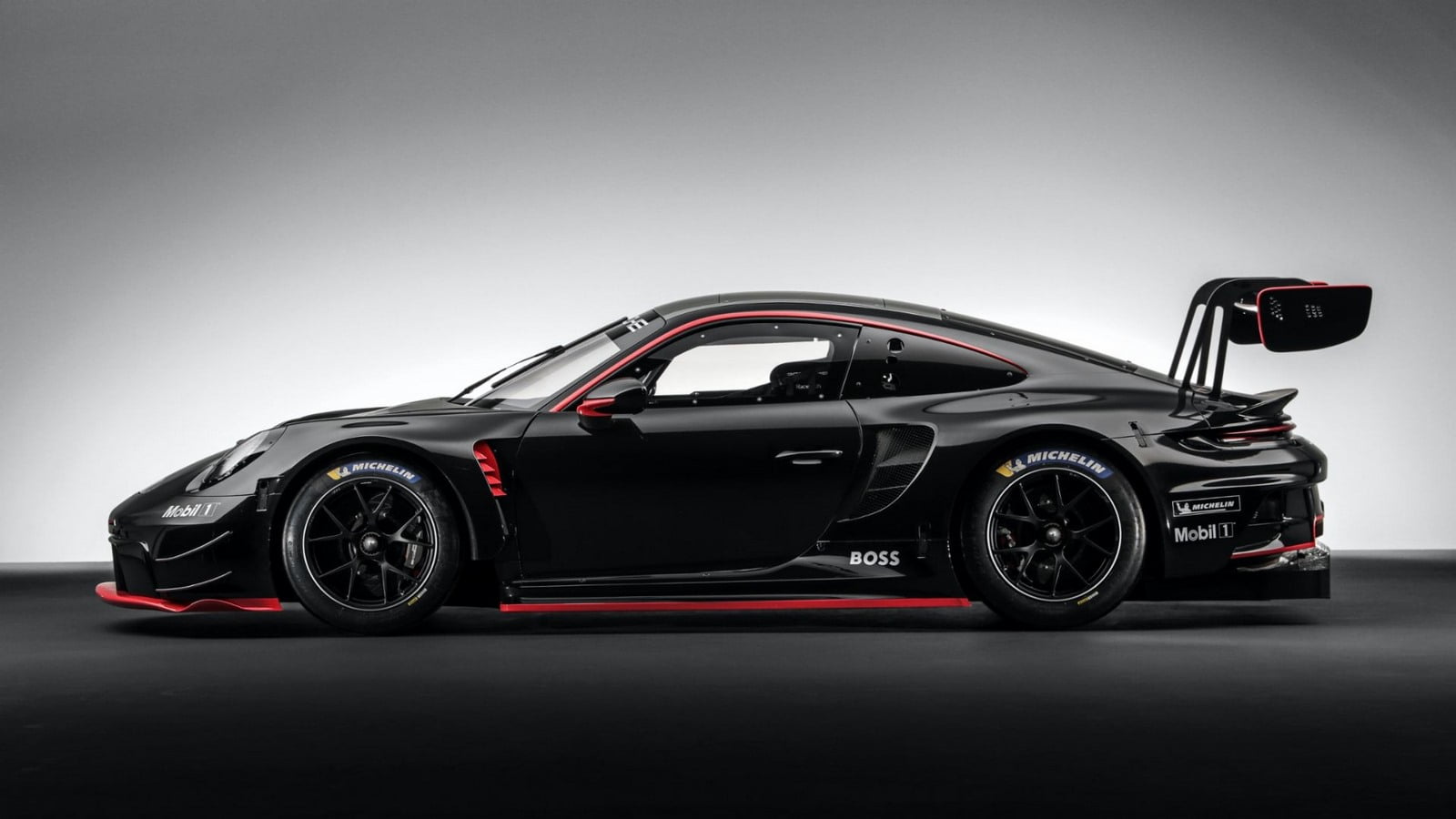 Body
• Lightweight body featuring intelligent aluminium-steel composite design; mounting points for lifting device, removable rescue hatch in the roof; welded-in roll cage; approved for co-driver use on circuits; six-bolt carbon racing seat pursuant to FIA 8862-2009; six-point safety harness for use with HANS®; longitudinally adjustable pedal assembly and adjustable steering column with steering angle senor; front cover with integrated quick-release fasteners, cooler exit-air duct and central air intake for cockpit ventilation; widened front bumper with spoiler lip; fenders with extensions; rear trim with integrated rain light in accordance with FIA; doors, carbon-fibre rear lid and rear wing; rear wing with "swan neck" mounts; fully polycarbonate glazing with hard coating; heated windscreen; four-post air jack system; valve mounting points on either side; 117-litre FT3 fuel cell in front of the car.
• Carbon-fibre interior trim, multifunctional carbon-fibre steering wheel with quick release coupling, shift paddles and illuminated push buttons; ergonomic digital touch panel with multi-color backlighting; safety nets (center and driver's side) in accordance with latest FIA safety regulations; integrated CFK side impact protection; drivers' seat with seat ventilation; fire extinguishing system with electronic release unit.
Suspension
• Forged aluminium control arms and top mounts, stiffness optimised; highy-duty spherical bearings with dust protection; wheel hubs with central locking; five-way adjustable racing shock absorbers, motorsport-specific valve design and blow-off function; suspension adjustment via shims; sword-type anti-roll bars adjustable on both sides; spring travel potentiometer; tyre pressure monitoring system.
Front axle:
• Double wishbone front axle, adjustable ride height, camber and toe.
• Electro-hydraulic power steering.
• Single-piece alloy rims, 12.5J x 18, tyre size 30/68-18.
Rear axle:
• Multilink rear suspension, adjustable ride height, camber and toe.
• Racing driveshaft with tripod flanges.
• Single-piece alloy rims, 13.5J x 18, tyre size 31/71-18.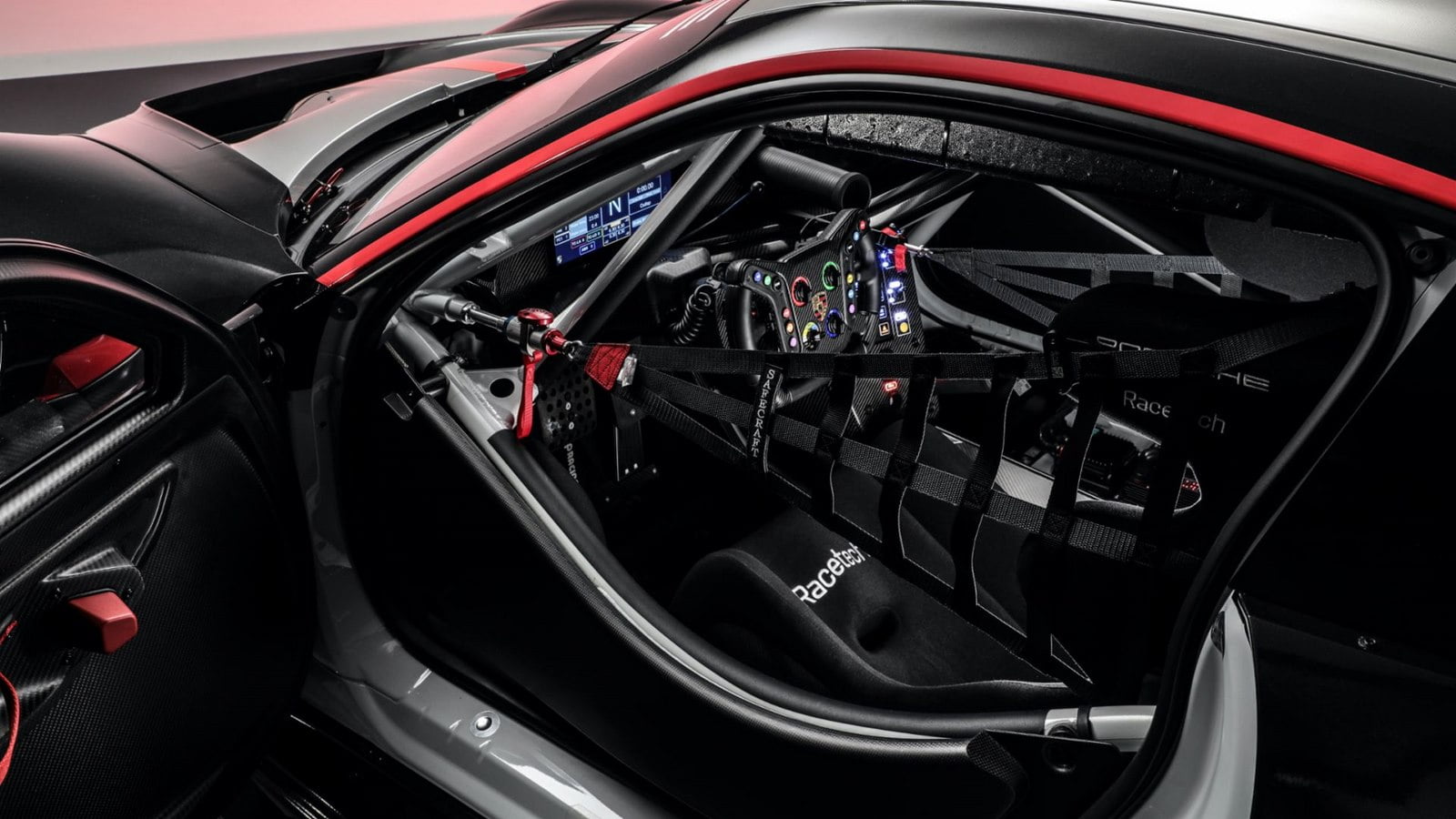 Brakes
• Two independent brake circuits incorporating front and rear axle brake pressure sensors, driver adjustable brake-force distribution via brake balance system; racing brake pads; optimised brake ducting; brake temperature sensors; ergonomic brake pedal positioning for left and right foot braking.
• Generation 5 racing ABS from Bosch
• Front axle: Six-piston aluminum monobloc racing brake callipers 'anti knock-back' piston springs; internally vented multi-piece 390 mm x 35.7 mm steel brake discs; aluminium brake disc chamber.
• Rear axle: Four-piston aluminum monobloc racing brake callipers with 'anti knock-back' piston springs; internally ventilated multi-piece 370 mm x 32.1 mm steel brake discs; aluminium brake disc chamber.
Electrical system
• 992 EE Motorsport architecture; new easier-to-use Porsche toolset with more streamlined handling; latest generation Cosworth electronic components; Porsche Logger Unit; Porsche power box; 10.3-inch Porsche colour display with integrated RLU, data recording via USA stick; leak-proof LiFePo4 battery 12V, 40 Ah in the passenger footwell; 210 A alternator; digital touch panel with multi-colour backlighting; single-arm windscreen wiper with direct drive (intermittent and continuous).
• LED headlights with integrated auxiliary lights; LED taillights plus rain light. Attachments for Accident Data Recorder (ADR).