Ather Energy, India's leading electric scooter manufacturer, kicked off the year with a slew of industry firsts and features on its offerings at its marquee customer event, called the Ather Community Day. Ather has rolled out AtherStack 5.0, the biggest upgrade to its software engine which drives the vehicle. AtherStack 5.0 will be powering a brand new UI for the dashboard in addition to launching vector maps powered by Google. The company also expanded options for customers by introducing four new colours, a new comfortable seat, AutoHoldTM to help riding on inclines, an unmatched five year extended battery warranty program, and the unveiling of Ather's scooter accessories and merchandise.
AtherStack is the software engine that powers every single user experience on the Ather 450X, built on various interconnected layers of software, firmware, system intelligence, and algorithms. AtherStack will allow the customers to ride at top speed while extracting maximum torque from the scooter for far longer without derating, compared to every other EV, get incredibly accurate range predictions down to the last % point, enable intelligent auto cut-off when plugged into a charger, thereby prolonging your battery life significantly.
THE UI/UX
The all-new AtherStack 5.0 gives the dashboard a fresh look and an even more intuitive UI. The new UI will enhance the overall experience of operating the dashboard. The home screen has been redesigned to allow users to set up their ride with options such as Bluetooth connections and navigation before starting the motor. New ride animation now shows both power usage and consumption in different modes, making them more intuitive and at the same time, rides more efficient. Quick controls have been added, allowing users to easily adjust settings such as brightness or turn off incoming call notifications with a single click. A new quick view section is now accessible through just a swipe, providing a centralised location for dashboard notifications and important information such as tyre pressure.
The new UI is an engineered experience achieved through a user-centred design trial where Ather analysed how users interact with the screen by monitoring every eye movement during the ride. The intent was to reduce distractions & improve accuracy multifold. With the new UI, Ather claims to have reduced the ride screen time by 50-60% and improved ride accuracy by 2X.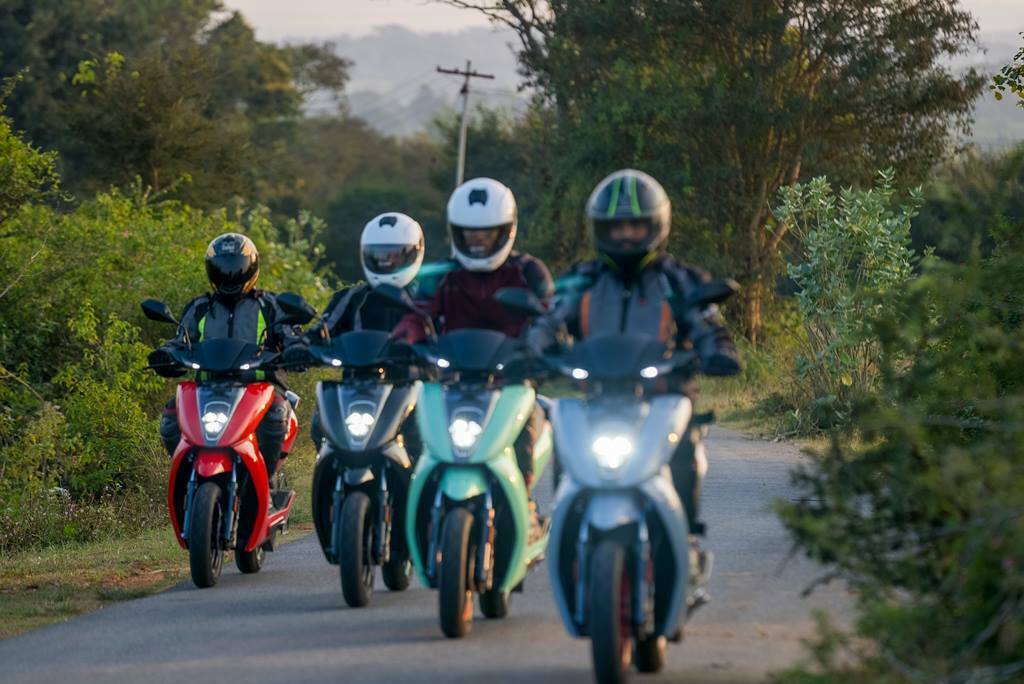 Google Maps
Ather is the only scooter in the world providing onboard navigation powered by Google. With the new AtherStack 5.0, the UI will also feature vector maps, which are far more smarter and intuitive than the previous versions. The Vector Maps will allow the user to get the closest experience of google maps on a 2-Wheeler like smartphones. The new maps come with live traffic and a navigation view showing the rider's perspective. This also means that the onboard navigation is far more intuitive, providing far more context, and adapting to the user's location and riding style in real-time.
AutoHoldTM
Powered by AtherStack 5.0, Ather launches AutoHoldTM technology which ensures the scooter never rolls back or forward on a slope. Unlike manual brake locks or any standard Hill hold implementations available on other two-wheelers, AutoHoldTM delivers a fantastic experience backed by a combination of multiple sensors & algorithms. The experience is completely automatic, instantaneous, and consistent across any riding condition. It ensures very high rider confidence and makes navigating through stop-and-go traffic on any terrain very convenient.
Ather Battery ProtectTM
Taking a significant step for first-time owners, Ather announced the Battery ProtectTM which extends battery warranty to 5 years/60,000 kms. This is the first such warranty program in the industry that not only covers battery failures but also guarantees a minimum of 70% state-of-health for the battery at the end of 5 years. With this, owners will not need to worry about the scooter's range dropping after a few years of usage and will be able to extract maximum performance, ride after ride. This reaffirms faith in our battery's performance and longevity for all Ather owners. The 450X comes now with Ather Battery ProtectTM included, making it a 3 + 2 years coverage. Ather 450 Plus customers can purchase this additional 2-year warranty for INR 6,999.
Colours
450 as a vehicle has always stood for its timeless design and performance. With four new colours, Ather plans to double down on creating more expressions of performance, thereby creating an elevated sense of identity for Ather owners.
Taking inspiration from the world of racing, Ather introduces the True Red colour. The Cosmic Black colour takes inspiration from Ather's Series1 Limited Edition scooter, which was much loved. The Salt Green colour is Ather's modern take on retro classic scooters. Finally, the new Lunar Grey colour takes its inspiration from the world's famous Nardo ring and with red alloys, this colour truly shouts out serious performance. In addition to this, the 450 Series has retained the Space Grey and White colours, making it a total of 6 colours for customers to choose from.
New Seat
Enhancing the comfort level of the scooter, Ather has introduced a new, redesigned seat on the 450X and 450 Plus scooters. The new seat is now narrower in the front, flatter in the middle, steeper at the back, and has a thicker throughput. The new seat now is also more accommodating to riders of a wide range of builds. The seat is also backward compatible with all generations of 450 and can be bought by previous owners at Ather Experience Centres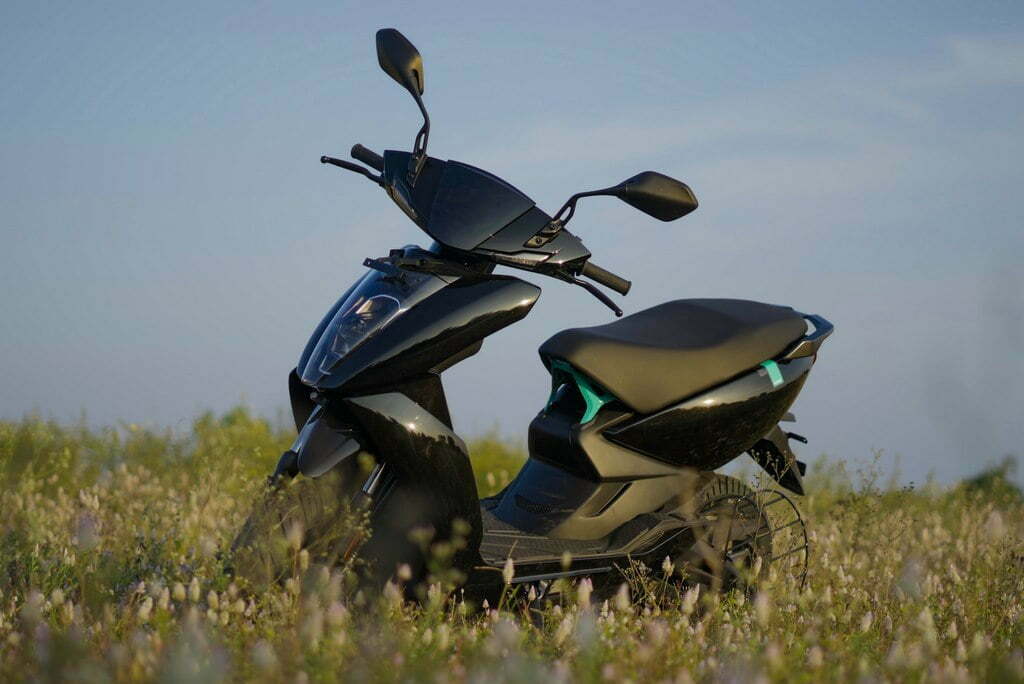 Ather strengthens the EV ecosystem – Introduces Ather Neighborhood Charging
Today, Ather Energy has the largest fast-charging network for two-wheelers with 850+ fast chargers. To strengthen the overall EV ecosystem and address the concerns of all stakeholders, Ather announces its new initiative – Ather Neighborhood Charging. This charging solution provides access to charging points in shared private spaces such as apartment complexes, office buildings, and tech parks. This will ensure a hassle-free charging experience and give people the confidence to transition faster to electric mobility. Moreover, Ather Neighborhood Charging will have the capability to power not just Ather scooters but any electric vehicle, whether it's a scooter, car, or even a three-wheeler. The company also revealed its plan to install 2500+ fast charging grids in the next 12 months as a step to democratise charging and alleviate range anxiety.
Accessories & Merchandise
Ather also unveiled a new front storage solution – The Frunk – that offers Quick Access storage, without compromising the legroom of riders. It has a generous 14 litre capacity, with an additional waterproof compartment for mobile phones, and can hold up to 5kg weight. It is made of 100% polyester ripstop material and is water and abrasion resistant.
Not just accessories, Ather Merch has been much sought after ever since the early adopters started making their custom Ather T-shirts, helmets, and even cakes. Today, Ather has dropped the first line of apparel that celebrates everything #madeofAther, with illustrations inspired by the scooter, the people behind making it, and the people riding it. Like every Ather Product, the apparel also comes with premium quality material and unique print techniques. It is available for purchase online starting today at shop.atherenergy.com The new Ather 450X and 450 Plus will be available for test ride and retail across 70 cities and 89 Experience Centres across the country.
As an ode to early adopters of Ather scooters, the company announced an industry first buyback offer for its first 1,000 customers. This allows them to buy the new Ather 450X at Rs.80,000. The first 1000 consumers who opt for this buyback upgrade will get an additional discount of Rs.10,000 making the effective price as Rs. 70,000.