2023 Audi Q3 is an SUV that we all have been waiting for quite some time. The SUV was discontinued and till the new one could be bought in. Audi sort of replaced it with the Q2 for a good amount of time before giving us a bigger surprise. The Q3 came in and then later, the Q3 Sportback moved in and made a lot of noise for the manufacturer.
The SUV is selling quite well because of its rich history in India and the two variants of it on offer. I remember driving all three iteration such as the petrol, diesel and the unique, manual Audi Q3! We are now back in the Q3, but this time, we are starting off with the Q3 Sportback. A mini Q8 when it comes in many ways! Let's find out what it offers this time!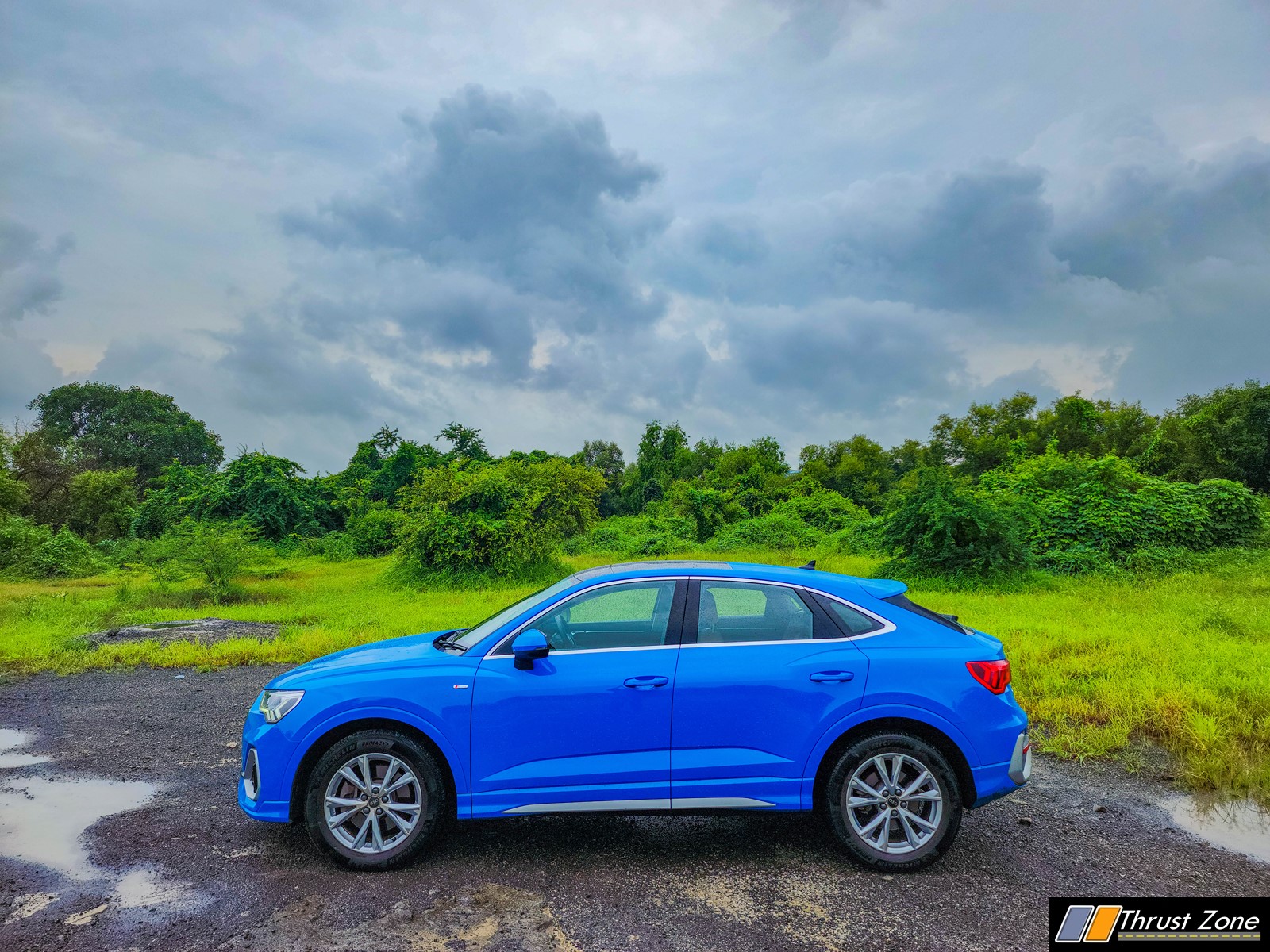 On the outside, the large grille grabs attention with the iconic old-school logo, and the bumper size makes it look subtle and sporty. At the front and at the rear, very sharp looking LED lamps make it look futuristic, along with the LED stop lamp bar at the back. This makes the car typical Audi, with strong lines and delicate elements. The side profile is of a proper German coupe design language that has evolved well over the decades as it looks clean, stylish, and sharp at the same time.
A very strong resemblance to the Q3 in certain ways makes it an instant hit, the average rich Joe can enjoy the classic and sharp design. The build quality on the outside seems and sounds great, and it scores high on the crash test as well. The elements on the car, such as the front end, LED lights, a short wheelbase, and large wheels help it stand out against all its rivals, regardless of any colour you choose. This turbo blue is just fitting well on all sizes and shapes of Audi's.
On the inside, Audi's always impress and a similar interior from the past is still highly welcome. The build and quality is good, and so is the feature list we saw at launch. You get automatic lights and wipers to reversing cameras, parking sensors all around. An infotainment system which is great with excellent haptic feedback on the screen always. It ends up feeling like buttons, which is a sense of nostalgia too.
The touch, response, colours, fonts, layout, all are brilliant. The screen is also a fingerprint magnet to a certain extent, not to a large scale alike some rivals. The car gets surprisingly a small sunroof, power seats and a virtual cockpit as always which shows everything and has three displays to choose from in the form of themes. Wireless Apple Car Play and Android Auto are missing, but a fantastic sound system is on offer as always with any Audi. The all black interior on our test car was a bit dull and a dual tone option, if you can choose, will liven up the experience. Soft touch materials everywhere elevate the experience.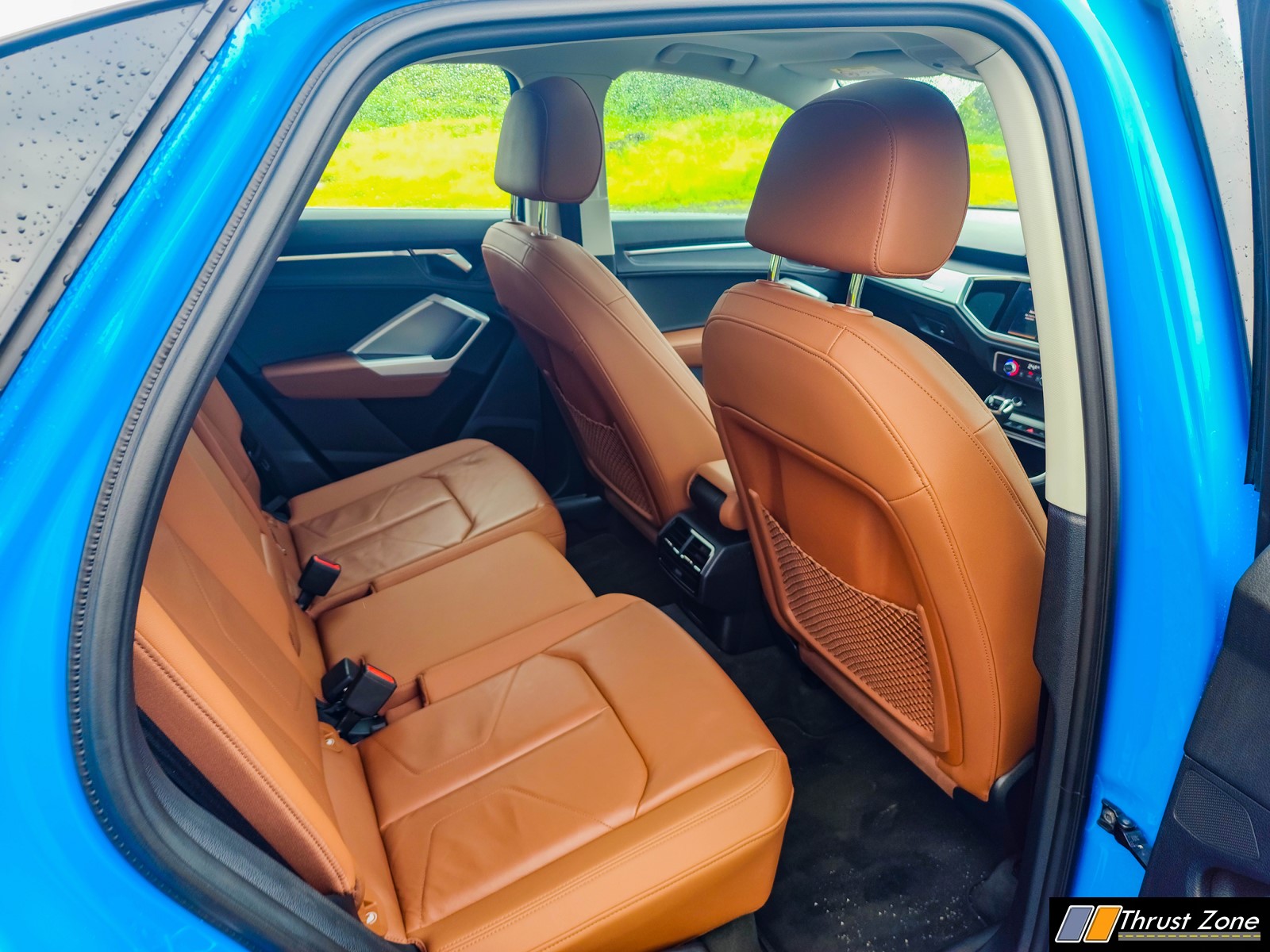 Space is more than most of its rivals, with adequate shoulder room. The knee and headroom you expect is here by a good margin, despite it is a coupe. Leg and headroom continue to be in good supply, but as always it is more of a four-seater than a five-seater. Rear seats lack charging points and its own climate control at this price point. The large arm-rest with cup/can holders is great for our market to have. The boot space is good enough at 500 litres, and so is the overall practicality of the interior.
Road and wind noise inside the cabin is also well-controlled thanks to good insulation all around. Like any other Audi, it is still a pleasant and calm place to be. Safety kit continues to be high with the inclusion of active safety features such as electronic stability control and eight airbags on all variants. ESC, traction control, Hill Hold Assist, ABS and EBD, and more are on offer. ADAS continues to be a miss, like most Audi's and other German cars in this segment.
Audi's engines are smooth, free-revving, and low on NVH, and the one on the Q3 Sportback is no different. Sharing the engines within the family, the Audi engine somehow feel truly special with a bit different tuning. Be it the smoothness or feeling sportier, it does that really well. Low and mid-range are good on the 2.0 engine that makes 250 PS and 320 Nm of torque going through the fantastic, smooth and seamless DCT automatic. The engine is linear, flexible and powerful at the same time. The engine delivers spectacular fuel economy of 17-18 km/l in the highway run. Dealing with traffic in cities and a slightly spirited highway run, it can still deliver 12 km/l. All this while doing 0-100 km/hr in 7 seconds. Revving the engine is fun and pushing it higher in the rev range is rewarding as always.
The ride quality is more reassuring at all speeds. Stiff at slow speeds and, despite that, compliant at higher speeds. A true Audi trait that makes driving the car effortless and comfortable for all passengers. Regardless of that, it is nimble and downright easy to drive. Unfortunately, a sick day for me and Mumbai's terrible traffic, more than usual, that is, put me in slow mode and i realized how easy to drive this car when your body is at 50% energy.
The steering gives good feedback and is very precise at all speeds. It weighs up well on the highway too. High-speed stability is spot on too. The brakes were good too, with great pedal bite and a lot of performance on offer. Body roll exists while changing lanes at high speeds and taking corners much faster, but it is still a very confidence-inspiring car to drive at any given speed. Quattro just helps you so much that you feel like a racing hero behind the wheel. Overall, a very easy-to-drive SUV that is efficient despite it has AWD, linear, no sudden jumps in powertrain and yet high on performance.
2023 Audi Q3 Sportback India Review, Verdict
The rich history of the Q3 in India just got escalated with many new initiatives that brand took. The sportback version is one of them. The new design is welcome, the coupe SUV world is big, and this SUV makes most of that space. The manufacturer has used a strong engine-transmission combo along with the Quattro to make the driving part very special, fun and quite enthusiast than some of its rivals, if not all. The Q3 sport back is right up there now because of its strong powertrain against its rivals. Rs. 51.43 Lakh is a new norm for this segment as prices have reached for this segment of vehicles. Back in the day, it was around Rs 40-45 lakh mark. The Q3 Sportback does lack some features this price, but the special interior, comfortable nature, sporty driving credentials makes it our top choice in this segment.
2023 Audi Q3 Sportback India Review, First Drive
Design

Interior

Features

Space

Performance

Dynamics

Practicality

Safety

Value