2023 Citroen C5 Aircross Facelift seems to come to have too early you think? The SUV was ready for launch in 2020 but the pandemic played spoiled sport. The launch was delayed by 1.5 years but the cycle was on and the facelift was a work in progress. Hence, without any delay, Citroen has brought the facelift. The full-size SUV from the manufacturer aims to take on the likes of heavyweight champions, the Volkswagen Tiguan, Jeep Compass and others in this segment. The SUV is finally tested by us. Citroen has an aggressive strategy of giving a lot of comfort to models to make sure they stand out and grab attention. This SUV is no different either. Be it on the inside or outside there are enough changes to make things better and refreshed. Citroen SUV SUV has what it takes to impress a set of consumers as always. We find out what the 2023 Citroen C5 Aircross Facelift offers and doesn't to its prospective buyers.
On the outside, the full-size SUV is almost five meters. The design elements of the car make it stand out. The build quality on the outside seems and sounds good. The new grill is better than before and is more modern and has a lot of elements making it look busy and futuristic. The 18-inch wheels and the unique Michelin tyres on it help it stand out more than all other SUV's in this class. The tail lamps with LED usage are seen before with a new design that is more attractive than before. The old ones were classic and a bit more premium in our eyes. The side profile is identical and still remains quite good when it comes to the glass and metal ratio of the door and windows.
On the inside, the build and quality are good and so is the expansive feature list we have explained time and again in our launch reports. You get every feature possible in the two variants that the SUV only comes with. The SUV gets automatic lights and wipers reversing cameras and a panoramic sunroof. The new screen is welcome indeed as it is more modern, fresh, responsive and has great colours. The centre console has a new gear shifter button instead of a lever, which liberates more space. The wireless charger has made it to the car. Android Auto and Apple Car Play are on offer. The haptic buttons below the screen and above the centre console take some time to understand but they work well once you get used to them.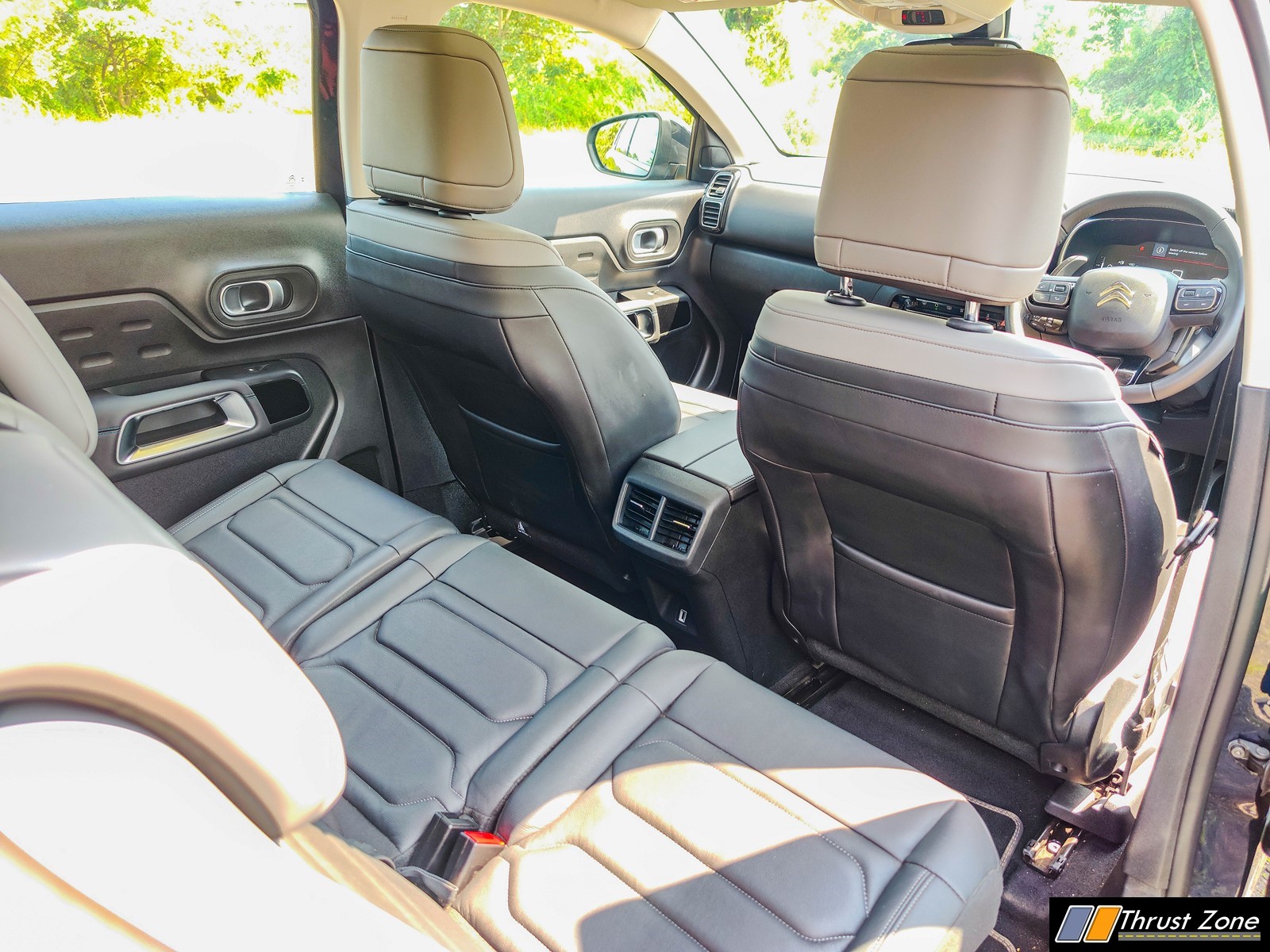 Space is good with enough leg and headroom on offer. The shoulder and knee room are adequate as well and so is the under-thigh support. A third seat in between means this is a true-blue 5-seater car in this class where most are four-seaters. The seats themselves at the front and rear are extremely high on comfort. The boot space is good by segment standards. Road and wind noise inside the cabin is also well-controlled unlike most other budget cars making the Venue, like any other Hyundai a pleasant place to be. The safety kit continues to be high with electronic stability control and six airbags along with ABS and EBD and traction control comes as standard. What is missing is ventilation seats, a 360-degree camera, memory seats and other things that we expect in a car of this price are still missing.
Citroen diesel is a gem as it is smooth, free-revving, and low on NVH. Be it in any part of the rev range. Gear shifts are smooth at all speeds and it gets seamless when it reaches higher speeds is what we saw. Low and mid-range are good on the diesel and the top-end is good enough as well it cruises at legal speeds easily and has a lot of reserve power for some serious fun. 13 km/l for the diesel in the city and 18 km/l on highways is on offer.
The low to medium-ride quality is excellent and the high-speed ride is downright brilliant. The suspension has been tuned with patent technology which makes it very comfortable. Everything feels well-damped as nothing harsh gets inside the cabin. The steering, brakes and suspension are included! Body roll increases as speeds get higher while taking a corner or changing lanes at high speeds, but still very confidence inspiring. Not outright sporty either but while driving at high speeds, it feels worth every penny you spent.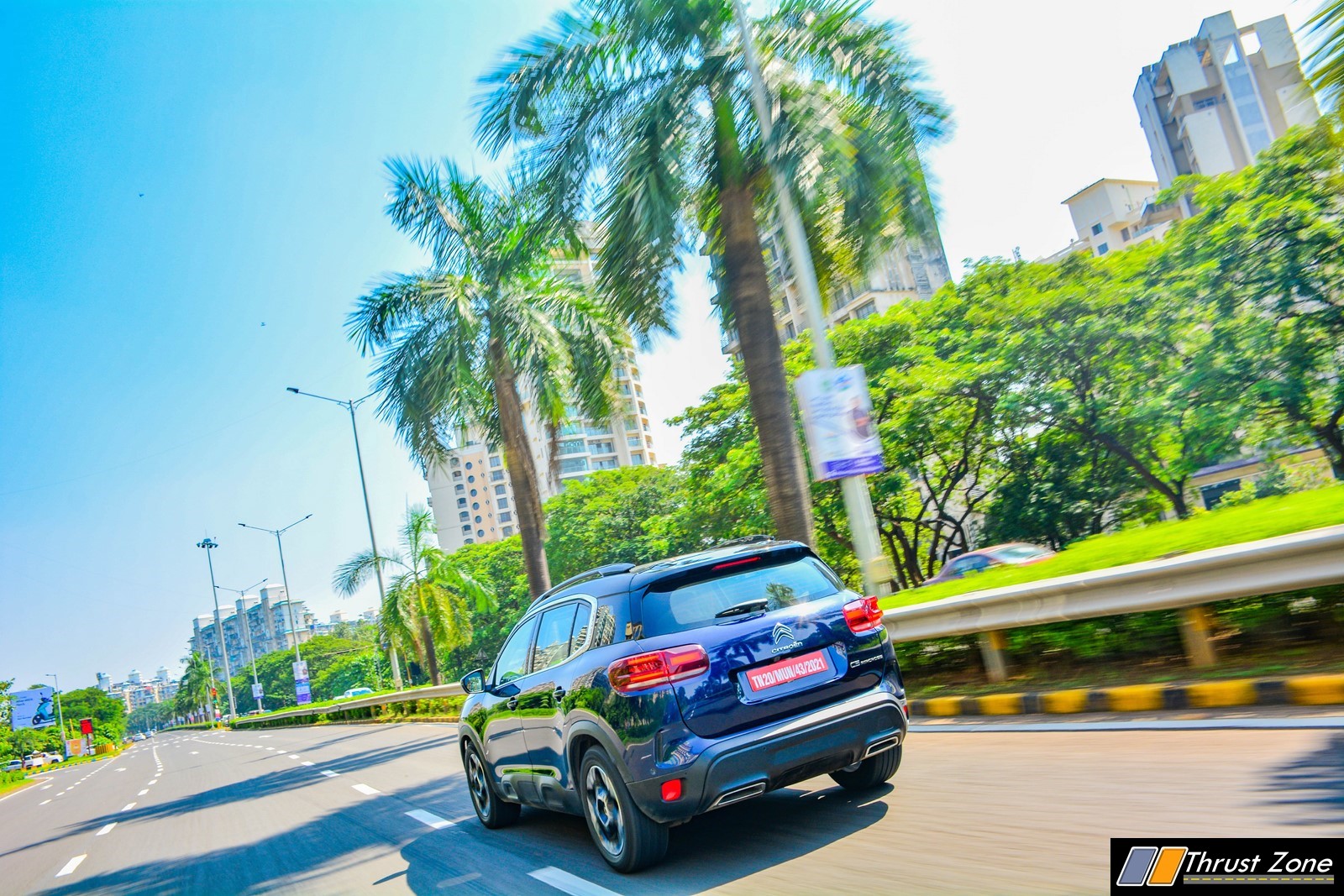 Steering is light, precise and has good feedback on offer which makes the car fun enough to push harder. The brakes are good with good pedal bite and excellent performance Overall, it is a very easy drive, and fun enough to drive thanks to the diesel mid-range and excellent stability at any given speed.
2023 Citroen C5 Aircross Facelift Review, Verdict
The Citroen C5 Aircross facelift gets subtle changes all around and it becomes even better. Most of the feedback from the first drive has been taken in and improved upon. It continues to have a gem of an engine, but still, the petrol is missing. The SUV continues to be expensive. It needs to offer a greater feature list to compete with rivals. The ride, handling and comfort are good enough to be considered. A lot of long-distance friends have already bought the SUV and they are better critics than us and all they have is praise for this SUV. They look forward to more service centres but are also happy with Citroen's 'luxury car manufacturer' style approach towards their problems. Citroen C5 Aircross facelift can be more value for money, but if you can afford it, and want only a diesel, this is the best SUV you can buy and drive all day long without breaking into a sweat which makes it a good value for money, if not great.
2023 Citroen C5 Aircross Facelift Review
Design

Interior

Space

Practicality

Performance

Dynamics

Features

Safety

Value