Hyundai Alcazar is now going to be powered by a new 1.5 Turbo GDi Petrol engine that is RDE compliant and also E20 fuel ready. Offering this new engine over the previous 2.0l naturally aspirated motor that was on offer. Hyundai ACLAZAR can now be booked by clicking on (https://clicktobuy.hyundai.co.in/#/bookACar?modelCode=AA) or across Signature Outlets in India for Rs. 25,000.
The new 1.5 Turbo GDi petrol engine of 2023 Hyundai Alcazar Turbo Petrol is paired with two transmission options – 7DCT and 6MT. The new powertrain is set to offer Max. Power of 117.5 kW (160 PS) / 5 500 r/min and Max. Torque of 253 Nm / 1 500 ~ 3 500 r/min. The new 1.5 Turbo GDi also claims to be the segment's most fuel-efficient powertrain with the 7DCT version offering a top mileage of 18 km/l and the 6MT returning 17.5 km/l. 2023 Hyundai Alcazar Turbo Petrol will remain available with RDE-compliant 1.5 l diesel CRDi engine that produces 85 kW (116 PS) / 4 000 r/min and 250 Nm / 1 500 – 2 750 r/min.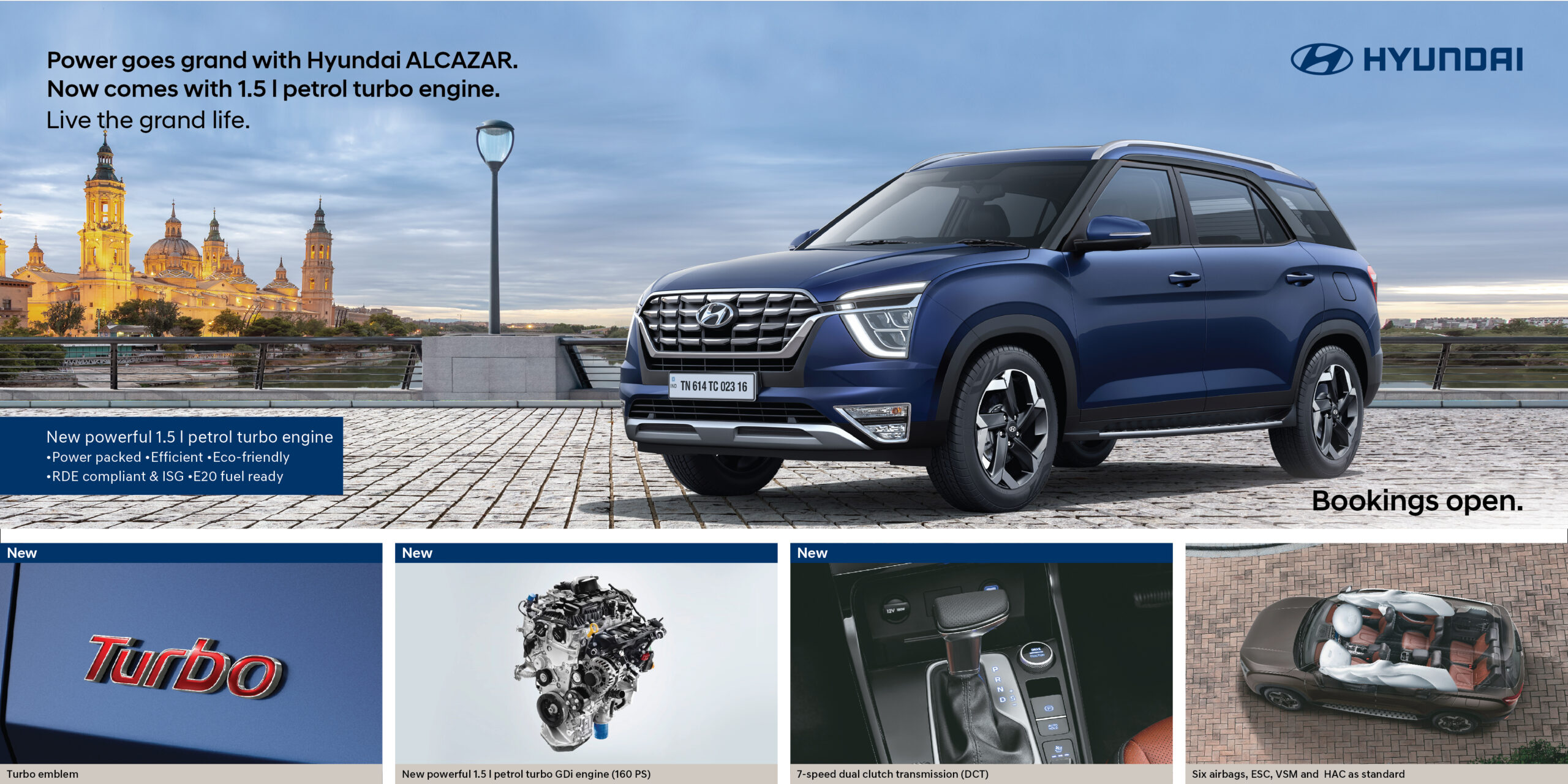 In addition, 2023 Hyundai Alcazar Turbo Petrol will feature design changes with a new front grille design that distinguishes this 6 & 7 Seater SUV. Hyundai also upgraded the puddle lamp logo, which now features the 'ALCAZAR' emblem. As part of the MY'23 updates, Hyundai ALCAZAR will now be offered to customers with 6-Airbags as standard (Driver, Passenger, Side & Curtain), while also introducing Idle Stop & Go feature as stock fitment as announced earlier.
Hyundai has not provided a manual gearbox for top-end variants. The prices are up by Rs 66k over the N/A aspirated 2.0 litre petrol motor. The design remains largely the same on the inside and outside. The addition of new color on the Alcazar will make it stand out over previous variants.
7 Seater Prestige 1.5 l Turbo GDi – ₹ 16,74,900 – 6MT
7 Seater Platinum 1.5 l Turbo GDi – ₹ 18,65,100 – 6MT
7 Seater Platinum (O) 1.5 l Turbo GDi – ₹ 19,96,000 – 7 DCT
7 Seater Signature (O) 1.5 l Turbo GDi – ₹ 20,25,100 – 7 DCT
6 Seater Platinum (O) 1.5 l Turbo GDi – ₹ 19,96,000 – 7 DCT
6 Seater Signature (O) 1.5 l Turbo GDi – ₹ 20,25,100 – 7 DCT