The New Range Rover Velar is a pure expression of modern luxury, featuring the latest technology, trademark Range Rover refinement and a dramatic, clean and reductive new design.A new grille combines with the characteristic floating roof, unbroken waistline and flush deployable door handles that define the world's most desirable luxury SUV family. New super-slim Pixel LED headlights9 provide a technical, jewel-like appearance and optimised visibility while the exterior is enhanced by a new lower rear bumper and dark accents.
The Range Rover Velar pioneered Range Rover's reductive design philosophy and it takes this approach to a new level inside. The new single floating 11.4-inch curved glass touchscreen is integrated into the centre console, providing immediate and intuitive control of all key vehicle functions1.
A full suite of technologies promotes passenger comfort and wellbeing, making the mid-size luxury SUV even more desirable. The Range Rover Velar also offers the quietest vehicle in its class for road noise*, thanks to refinement technologies including the pioneering Active Road Noise Cancellation8 system.
The plug-in electric hybrid Velar is more capable and flexible than ever, with a greater pure-electric driving range of up to 64km (40 miles)10 thanks to a redesigned battery pack, while the choice of highly advanced petrol and diesel engines feature mild hybrid technology for assured refinement and fuel efficiency.
The Range Rover Velar pioneered Range Rover's reductive design philosophy and its new grille – alongside the introduction of new Pixel LED Headlights9 with jewel-like effect Signature Daytime Running Lights – ensure a unified look across the entire family.
At the rear, the powerful overhang provides balance and highlights the Range Rover Velar's imposing length. Its pronounced kick adds to its muscular stance while the new lower rear bumper enhances its proportions, featuring hidden tailpipes for a clean and elegant appearance.
New LED taillights echo this sophistication with an eye-catching 3D appearance and super-red illumination. They are complemented by a full-length high-level stop-lamp.
Inside, the bold, elegant interior of the Range Rover Velar is even more reductive, with outstanding craftmanship and new materials. The latest evolution of Range Rover's Pivi Pro7 infotainment forms the centrepiece; a single 11.4-inch floating curved glass interface is ergonomically positioned higher and within easier reach, to help minimise distraction and reflections.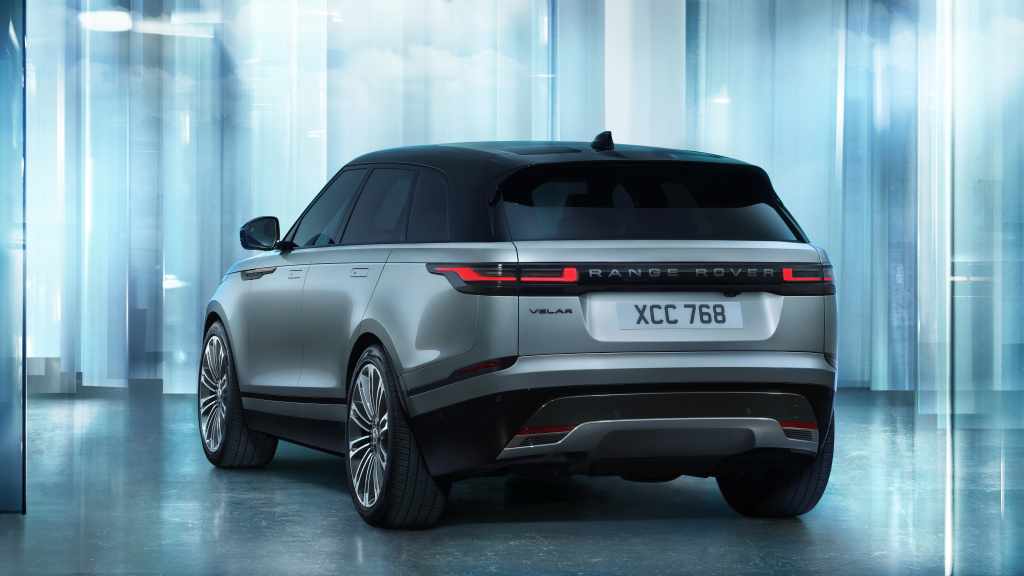 Range Rover Velar continues to offer a leather-free cabin option, with new seat designs and materials. The leather-free option combines wool from Danish textile experts KvadratTM with UltrafabricsTM polyurethane textile inserts, featuring a new Diamond Herringbone perforation pattern. Inspired by bespoke tailoring, KvadratTM wool blends are 58 per cent lighter than leather and provide a modern appearance and enhanced tactility for a contemporary take on traditional Range Rover luxury.
Four new leather colourways are introduced: Cloud, Caraway, Raven Blue and Deep Garnet. These are complemented by a curated choice of details, including new Moonlight Chrome on the steering wheel, centre console surrounds and air vents. Technical Light Anodised or Dark Anodised Aluminium, or tactile Shadow Grey Ash wood veneer trim finishers underline its elegance. Two new colour options join the exterior palette: Metallic Varesine Blue and Premium Metallic Zadar Grey.
Controls for the climate, seating and audio volume are always visible at each side of the screen via new sidebars, featuring multi-functional sliding controls on either side. These virtual buttons are always visible and provide immediate access to frequently used items, including individual temperature controls for the front occupants, audio volume and Terrain Response® modes.
At the beginning of every journey, drivers are presented with a Pre-Drive panel for fast access to commonly used features, such as window demisters and the optional heated seats. Once on the move, it disappears to reveal the familiar three-panel home screen that can be customised with trademark Pivi Pro7 intelligence and flexibility. For added convenience, additional controls in the permanently visible side bars include shortcuts for media and navigation, cameras and window demisters.
The next-generation infotainment was the subject of extensive testing and development, both digitally and physically with human testers, to reduce task and interaction time and deliver the most user-friendly technology experience possible. Approximately 80 per cent of tasks are able to be performed within two taps of the home screen.
Pivi Pro7 supports effortless smartphone connectivitywith Wireless Apple CarPlay™2. Wireless Android Auto® is also supported, while Wireless Device Charging – from a new stowage area in the centre console – provides immediate fast charging and reduces the need for wires.
With 80 per cent of the vehicle's total ECUs – spanning Pivi Pro infotainment, navigation mapping, and on-board diagnostics as well as chassis and powertrain systems – capable of wireless updates, the Range Rover Velar is able to receive the latest Software Over The Air with no need to visit a retailer.
New Range Rover Velar is also Wi-Fi Enabled with a Data Plan6, ensuring occupants remain entertained and connected. Pivi Pro7 features twin embedded eSIM technology and cloud-based architecture, meaning it provides full access to a range of online apps6 – including Spotify and Deezer – integrated within the infotainment system.
Amazon Alexa3 brings a new level of convenience, providing the ability to control various settings and features using natural voice commands while reducing the potential for distraction1. Alexa is embedded in Pivi Pro7 and can simply be activated by saying "Alexa" or tapping the Alexa button on the touchscreen.
For simple navigation, what3words is also integrated within Pivi Pro7. The clever mapping technology divides the globe into a grid of 3m x 3m squares, each assigned a unique combination of three random words to provide a what3words address. With these words drivers can navigate to an accurate and precise location.
The cabin of the Range Rover Velar minimises road noise with pioneering Active Road Noise Cancellation technology8 – ensuring the New Range Rover Velar offers the quietest vehicle in its class for road noise*. This technology senses external frequencies and automatically processes an anti-noise through the vehicle's audio system, reducing overall interior noise levels by a minimum of 4dB – the equivalent of turning the volume down by four steps.
A range of powerful Meridian audio systems for New Range Rover Velar is led by the optional Meridian™ 3D Surround Sound System,which delivers high-fidelity music playback using up to 17 speakers and 750W of amplifier power for an immersive listening experience.
The latest Cabin Air Purification Plus system is available as part of the optional Comfort Pack (or standard on Autobiography) to help promote occupant wellbeing and alertness, aiming to provide superior air quality. CO2 Management and PM2.5 Cabin Air Filtration improve the cabin environment by monitoring interior and exterior air and adjusting accordingly.
To activate, clients can simply press the Purify button on the Air Quality page within Pivi Pro7 and reduce the level of harmful allergens or particulates inside. The system also combines nanoe™ X technology12 to combat pathogens and help significantly reduce odours, bacteria and allergens.
Configurable Cabin Lighting provides a choice of 30 interior colours to illuminate the doors, console and footwells as part of the optional Comfort Pack. Preset colour themes make it easier to find the perfect combination, while every occupant can select their ideal interior temperature using the four-zone climate control.6
When it comes to greater visibility in the dark, New Range Rover Velar pushes the boundaries of pixel LED lighting technology with advanced Pixel LED Headlights9 with Signature Daytime Running Lights (DRLs). Standard on Dynamic HSE and Autobiography, the system features three times as many LEDs as Matrix LED headlights. Each headlight features four pixel modules with 67 precisely controlled LEDs in each one to accurately adapt to the conditions and the road ahead and provide the most effective forward beam.
Dynamic Bend Lighting9 uses speed and steering data to respond to the road and illuminate dark corners and verges, while the high beam range can focus light almost half a kilometre in front, for optimum visibility.
Able to cast shadows around four oncoming objects and avoid dazzling, Adaptive Driving Beam automatically adapts to vehicle speed, casting a wide beam at low speeds and a more intense, longer beam above 70km/h.
New Range Rover Velar has power to suit every client, including the P400e plug-in electric hybrid. It is available alongside a range of smooth Ingenium petrol and diesel engines, all featuring Mild Hybrid Electric Vehicle (MHEV) technology that boosts fuel efficiency and performance.
Trademark Range Rover ride comfort and refinement is provided by advanced chassis and suspension set-ups in the Range Rover Velar. Optional Electronic Air Suspension provides serene comfort, maintaining its composure on rougher roads while smoothing out bumps with Adaptive Dynamics, an advanced chassis system that continuously varies the damping forces at each wheel. The advanced P400e electric hybrid provides the best of all worlds, combining a 105kW electric motor with an Ingenium petrol engine to provide effortless and hushed performance.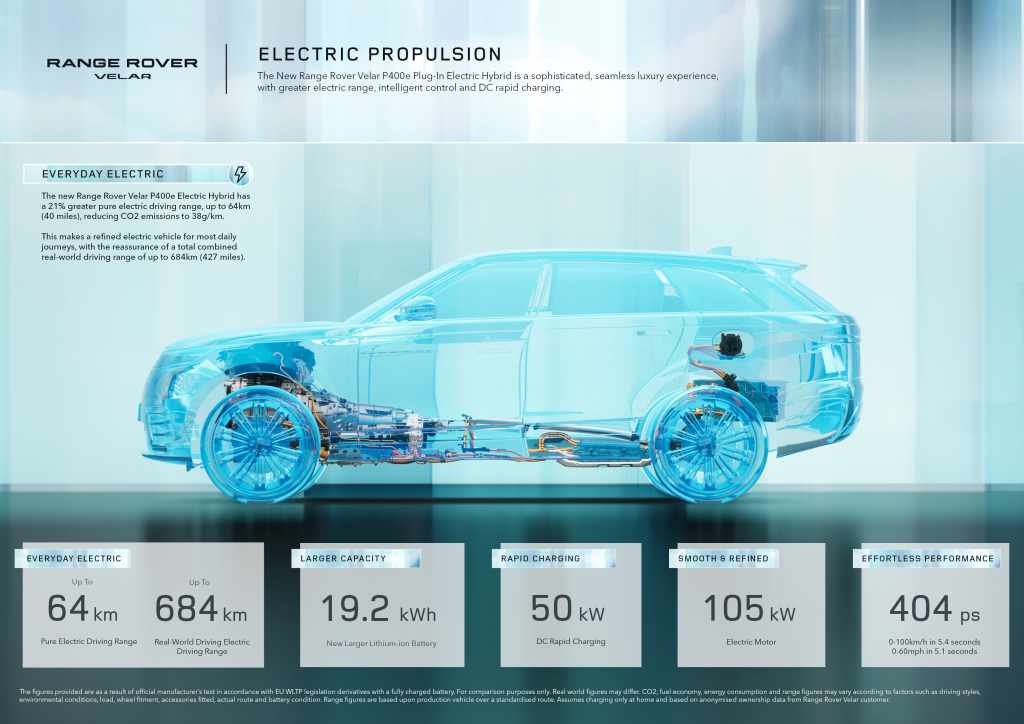 The balance of electric-only driving and petrol performance means the Range Rover Velar P400e is perfect for short urban trips and longer journeys. It has an expected real-world range of up to 51km (32 miles)11 – enough to ensure the average daily distance driven in a Range Rover Velar could be done with zero tailpipe emissions. For longer journeys, the plug-in hybrid powertrain provides a combined real-world 684km (425 miles) of petrol and electric range.
With a combined 404PS and 640Nm of torque from its 300PS 2.0-litre four-cylinder Ingenium petrol engine and 105kW electric motor, the P400e is capable of accelerating from 0-100km/h in 5.4 seconds (0-60mph in 5.1 seconds), with a 209km/h (130mph) top speed. It can also travel on electric power alone up to 140km/h (87mph).10
The P400e is one of very few plug-in electric hybrid vehicles capable of rapid DC charging, with a 0-80 per cent charge possible in as little as 30 minutes away from home using a 50kW charger. At home, it can charge from 0-100 per cent using a 7kW AC charger in around two and a half hours.
The latest generation of Ingenium petrol and diesel engines are available with 48-volt MHEV technology for enhanced efficiency and power delivery, using a Belt integrated Starter Generator (BiSG) to harvest energy usually lost under deceleration. It is stored in a 48-volt lithium-ion battery beneath the rear loadspace. It can redeploy the energy to assist when accelerating, while also delivering a more refined and responsive start-stop system.
The 3.0-litre straight-six Ingenium petrol engine is available in two power outputs. The P340 delivers 340PS and 480Nm of torque, with acceleration from 0-100km/h in 6.3 seconds (0-60mph in 6.0 seconds). The more powerful P400 delivers 400PS and 550Nm of torque, with acceleration from 0-100km/h in 5.5 seconds (0-60mph in 5.2 seconds) with CO2 from 219g/km.10
The 2.0-litre four-cylinder now features a new smoother-shifting automatic eight-speed transmission. TheP250 provides 250PS and 365Nm of torque, with 0-100km/h in 7.5 seconds (0-60mph in 7.1 seconds), CO2 emissions from 211g/km and fuel consumption up to 9.3l/100km (30.4mpg).10
The 3.0-litre straight-six D300 diesel engine produces 300PS and 650Nm of torque to deliver powerful performance, with acceleration from 0-100km/h in 6.5 seconds (0-60mph in 6.1 seconds). Series sequential turbos and an advanced after-treatment system are fitted, with CO2 emissions from 188g/km and fuel consumption of 7.2l/100km (39.2mpg).10
The 2.0-litre, four-cylinder D200 Ingenium diesel engine produces 204PS with CO2 emissions from 168g/km* and fuel consumption of up to 6.4l/100km (44.1mpg).10
Electric Hybrid: P400e – 404PS, 2.0-litre four-cylinder petrol PHEV, 640Nm of torque at 1,500-4,400rpm, eight-speed automatic, AWD
Petrol:
P250 – 250PS 2.0-litre four-cylinder petrol, 365Nm of torque at 1,300-4,500rpm, eight-speed automatic, AWD
P340 – 340PS, 3.0-litre six-cylinder petrol MHEV, 480Nm of torque at 1,500-4,500rpm, eight-speed automatic, AWD
P400 – 400PS, 3.0-litre six-cylinder petrol MHEV, 550Nm of torque at 2,000-5,000rpm, eight-speed automatic, AWD
Diesel:
D200 – 204PS, 2.0-litre four-cylinder diesel MHEV, 430Nm of torque at 1,750-2,500rpm, eight-speed automatic, AWD
D300 – 300PS, 3.0-litre six-cylinder diesel MHEV, 650Nm of torque at 1,500-2,500rpm, eight-speed automatic, AWD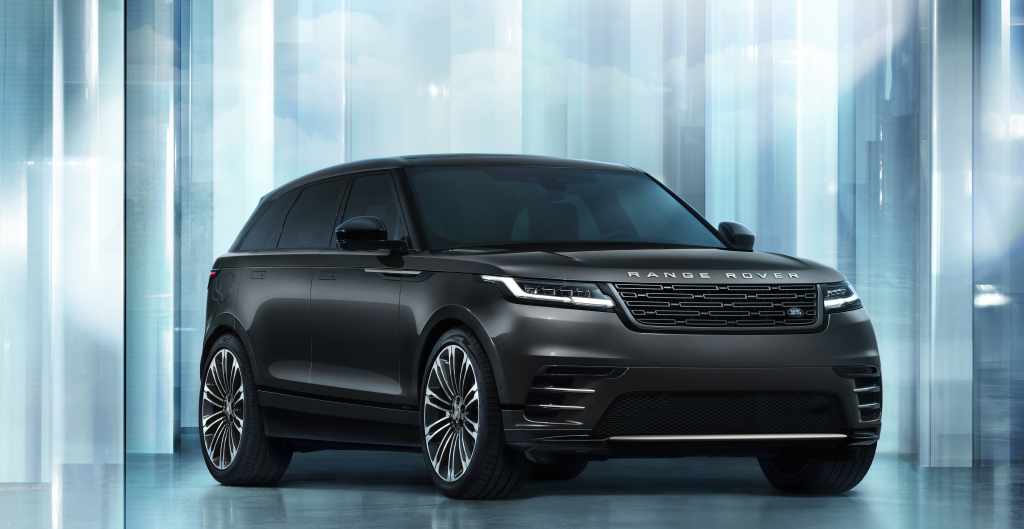 Adaptive Dynamics is standard on all six-cylinder and PHEV models as well as all Dynamic HSE-specification four-cylinder models and ensures suspension stiffness is optimised for the driving conditions, improving ride comfort and handling. There's even a specific calibration for off-road driving. Advanced chassis and suspensions, including Electronic Air Suspension, Adaptive Dynamics and Configurable Dynamics, deliver exceptional performance and agility on-road.
Supreme all-terrain performance is also guaranteed, with assured Range Rover breadth of capability thanks to an intelligent torque on-demand all-wheel drive (AWD) system. It provides the optimum torque distribution to suit the conditions, whether driving dynamically on the road or pulling away from a standstill on slippery surfaces.
Terrain Response 2® is accessible through Pivi Pro7 and allows the driver to adjust vehicle settings to suit the driving environment, with a choice of Eco, Comfort, Grass-Gravel-Snow, Mud-Ruts, Sand, Dynamic and Automatic mode. Each alters the calibration of the engine, transmission, all-wheel drive system, suspension, and stability control systems for optimum traction and composure.
On sale now: New Range Rover Velar is available to order now, priced from £54,045 (OTR) in the UK.