The 2023 Toyota UC Hyryder AWD. The mid-size SUV from the manufacturer that aims to take on the likes of heavyweight champions, the Creta and Seltos is finally tested by us. Toyota has an aggressive strategy of giving a lot of features and hybrid tech to its models to make sure they stand out and grab attention. This SUV is no different either just like many others planned for the future. Be it on the inside or outside, it has what it takes to impress a set of consumers as always. Like always there are core strengths and weaknesses of any product that comes from the Toyota stable. We continue to wait for the Hybrid version review that you guys are asking for for quite some time now. For now, we find out what the 2023 Toyota UC Hyryder AWD offers and doesn't to its prospective buyers.
On the outside, the 2023 Toyota UC Hyryder AWD is just about tall enough to be considered substantial. However, its length and width make it look a bit utilitarian. The design elements of the car make it stand out. The build quality on the outside seems and sounds good but as we know, most Toyota's score the highest marks in crash tests. The diamond-cut 16-inch wheels and the unique head and tail lamps with LED DRLs and LED lights are our favourites as they look sleek and futuristic. The small grille along with the lights, lends it a sleek and sharper look.
On the inside, the build and quality are good and so is the expansive feature list. The SUV gets from Toyota Connect, automatic lights, steering controls, cruise control, reversing camera, parking sensor and a panoramic sunroof. The AWD variant is devoid of ventilated seats, and digital instrumentation that is on offer on the Hybrid version. The 2023 Toyota UC Hyryder AWD does not have power seats, wireless Android auto and Apple car play like its rivals. A good sound system, an impressive infotainment system which works really well when it comes to response, touch and sensitivity. The graphics and fonts are good but could have been better. The screen is large enough, but there is more room to make it bigger and it can surely be devoid of the huge bezels on the sides. We appreciate the switches and buttons on the centre console, but the mirror and window operators could have been better.
Space is good if not great when it comes to shoulder and knee room. Leg and headroom continue to be in great supply. The boot space is good by segment standards in this non-hybrid version. Road and wind noise inside the cabin is also well-controlled, unlike most other budget cars. The safety kit continues to be high with electronic stability control, six airbags, Hill Hold Assist, ABS and EBD come as standard in all variants.
All Toyota engines are smooth, free-revving, and low on NVH and the one on the UC Hyryder AWD is no different. Be it in any part of the rev range, there is enough torque. The clutch is light and so is the gearbox to operate on manual. Low and mid-range are good on the petrol and top-end are good enough as well and it cruises at legal speeds easily in both engines too. This makes the 2023 Toyota UC Hyryder AWD good enough for city and highway duties, the suv is enjoyable unlike its Korean rivals and the MG Astor. The naturally aspirated is a screamer and is loud as well because it has to be worked hard, but only at the top-end Fuel economy continues to be impressive side with 14 km/l in the city and 17 km/l on the highway.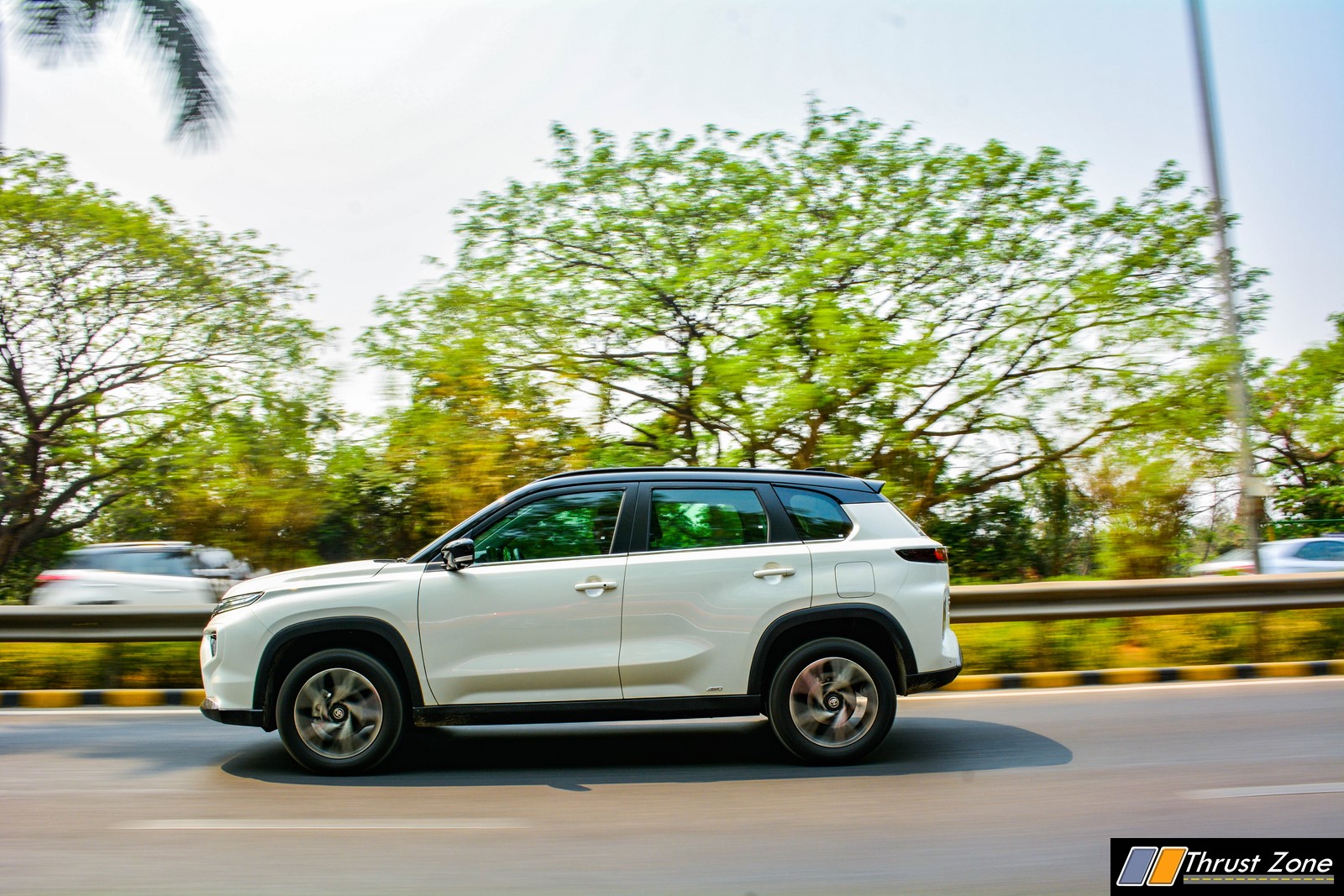 The highway efficiency goes higher by 25-30%, which depends on your speed if it stays under 100, you can get a higher number. This Maruti-sourced four-cylinder motor isn't very impressive considering its price and segment, but it does the job. This SUV is best for people looking for AWD at any cost. The lack of automatic on the AWD is an issue that premium customers look forward to, no matter how easy the clutch and gear shifts are.
The low to medium ride quality is good, but the high-speed ride can be a bit stiff. Steering is light, quite precise and has very good feedback on offer which makes the car fun and confidence-inspiring to push harder. The larger wheels and low profile help you do so if you opt for the top-end variant. Handling is borderline sporty and the overall stability is very good. Ride quality is stiff, but vertical movement is in check so it does make the car quite comfortable over bad roads and at high speeds as well. Brakes are good with good pedal bite, which can fluctuate as it can be overpowerful at times sometimes it feels soggy. Overall, quite fun to drive by far compared to its Korean rivals, but a bit away from its German rivals.
2023 Toyota UC Hyryder AWD Review, Verdict
The mid-size SUV has been awaited by the brand for a very long time and today it has proved itself to be quite good, if not the best in this segment. A result of clever packaging, spacious interior and a lot of capabilities on offer. The AWD variant here lacks automatic features which can be a deterrent to some people who want the AWD with everything included. This is a version for people who are looking for the Toyota badge which brings them peace of mind, excellent after-sale experience and reliability. The car made here has involvement from Maruti Suzuki India and they sell a variant like this too. However, Toyota has clearly established its strengths with its such as design and the company's core beliefs are seen here. The aforementioned aspects help people get this car without a second option in mind because competitors don't offer AWD and this high-level fuel economy from an engine like this. Sure, the competition may offer better performance, but they don't offer what Toyota does, making it the right choice by a long shot in this segment.
2023 Toyota UC Hyryder AWD Review
Design

Interior

Space

Features

Safety

Performance

Dynamics

Value

Practicality