On its home turf in Shanghai, the partner SAIC Audi is introducing two debutants – one with electric power, the other with a powerful internal combustion engine under the hood. The completely redesigned Audi A7L limousine, which will go into production in the course of 2021, is appearing in its series look. Made in Shanghai and reserved for the Chinese market, the Audi A7L combines the sporty DNA of the A7 Sportback with the prestigious elegance of a large limousine. Innovative technologies such as adaptive air suspension, rear-wheel steering and the permanent quattro four-wheel drive are among the features of the Audi A7L.
SAIC Audi is showing the second debutant in the new program, still kept under wraps – an SUV study named Audi concept Shanghai. The series-made version of the all-electric, 4.87-meter-long vehicle is to be unveiled in the second half of 2021.
In 1988 Audi was the first premium manufacturer to start local production in China, in the FAW-Volkswagen joint venture. Since then approximately 7 million vehicles have been delivered in China. Audi's production in the FAW-VW joint venture takes place at four sites in China: in Changchun, Foshan, Tianjin and Qingdao. In 2020 a total of 727,358 vehicles were sold in the People's Republic – an increase year-on-year of 5.4 percent. In the first quarter of 2021 Audi supplied 207,386 cars to customers in China.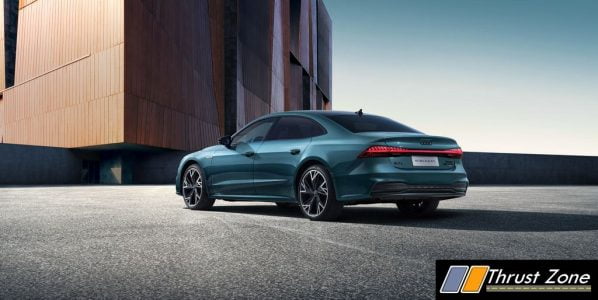 Audi is taking its next purposeful steps to set a new course in China. A clear focus on electromobility, a new production site for electric vehicles in Changchun and a second partnership with the SAIC Motor Corporation – these are the pillars for implementing Audi's future China strategy.
At the end of 2020 the company announced the founding of the Audi FAW NEV Co. In cooperation with its long-standing joint-venture partner FAW, Audi is currently building a completely new automotive plant specially for the future generation of electric-powered models on the basis of the new PPE technology platform. The first series-manufactured automobiles for the Chinese market are scheduled to come off the production line from 2024 onwards in Changchun. With four world premieres at Auto Shanghai, Audi is providing an outlook on specific developments for the future such as the new Audi Q5L, Audi A6 E-tron concept and more on the charts.