People chase money, motorcyclist chase better motorcycle and this is where the story begins with the Triumph-Bajaj partnership. The Speed 400 begins a new journey. The motorcyclist who look forward to something like this are going to go ahead with it in one way or the other. Love it or just simply buy it. Triumph-Bajaj will get something more than money. They will get a lot more admiration that they deserve. The partnership is second of its kind, but it has created a same level of response it did 10 years ago with KTM. This is something that promises to shake the segment yet again. Bajaj is clearly in the mood to dominate completely the 400cc class with its single cylinder which it has perfect over the decade. How well does it do in the Speed 400 and how are the rest of things in the Speed 400. Are they truly Triumph? We find out with our first, yet, solid impressions.
When it comes to design, the motorcycle does look very Triumph indeed. The round yet distinct Triumph headlamp design with twin LED DRL and LED lights that makes it stand apart from the crowd. The illumination and spread of the headlight are yet to be checked. The tank is big enough and dominates the entire motorcycle's design. The rear tail lamp is huge and is LED with indicators being LED as well. The wheels are multi-spoke units and are black in color making it look befitting to the over design.
The side panel looks quintessential Triumph and has a big faux vent on it with the Speed 400 lettering undermarked with a golden line. The rear subframe colored in grey, the most unique grab handle is here but still looks basic and large and yet, it does its job. The exhaust also looks befitting, large and chunky for befitting the iconic old Triumph design quite well. Overall, a motorcycle that looks good, is proportionate, and grabs attention due to its legacy designed carried forward and not something entirely as expected. Triumph says they have done this to make sure they are 100% Triumph representation.
The instrument cluster is a analogue speedometer and a digital tachometer layout. The digital part shows fuel gauge, trip meter, eco-driving manner, service indicators, and speedo meter housing all the telltale lights. The button to use everything is on the speedometer is on the LHS switchgear. The right side button controls the ignition, hazard lamp and kills switch together. Bar-end mirrors offer a good view of what is behind but could have been bigger.
The ergonomics are comfortable with the seat positioning being upright and the tank can be grabbed perfectly well for the sizes of riders. 790mm seat height suits anyone above 5'3. The handlebar is wide to give it that typical Triumph retro-modern bike posture. It is also stretched ahead a bit which makes it a bit of a reach yet being comfortable. Footpegs are rear set which helps grab the tank rather well. Seat comfort for rider and pillion is above average. Our 100 km/hr run was comfortable as there is enough space for all kinds of riders. Be it legroom or width on the seat.
Powering the motorcycle is a 398cc engine making 40 PS and 37.5 Nm of torque from a 4-valve, DOHC, liquid-cooled four-cylinder engine. The motor is mated to a 6-speed almost smooth-shifting gearbox that operates with a fairly light clutch action and shifts can be clunky at times. The refinement is spot as NVH levels are well in check. You can rev it all the way up and there are negligible vibrations on the handlebar seats, and footpegs. Low and mid-range torque is where it is really good.
Fifth gear, 30-40 km/hr and reaches 140 km/hr in the same with a hiccup or two! The top end is good too but aerodynamics limits it to 160 km/hr. The cruising speed is around 120-130 km/hr, if you can find the road. The Speed 400 does that in a calm, smooth and effortless manner before making it easy to live with and control-able to newbies who are entering this segment for the first time from their 150/250cc motorcycles.
0-100 km/hr takes under 7.0 seconds. The soundtrack, be it intake or exhaust note are almost Triumph-ish of the past with modest decibel levels on offer too. Throttle response is precise and power delivery is linear. Fueling is sorted throughout the rev range and makes it easy to ride in the city at low speeds. We expect it to deliver around 28-30 km/l. Overall, we are impressed with the engine and all its parameters making it an all-rounder. We tried premium fuel and normal fuel and found a substance in the way the throttle and intake note behaved and economy jumped by 1.5 km/l over the aforementioned numbers as well. 14-litre fuel tank only delivers 400 of range if you keep the throttle in check.
Dynamically, the front rake and trail are sharper making it easy to chuck into a corner. Composure while cornering is great thanks to a solid chassis setup thanks to a large wheelbase on offer and soft setup helps it take bad roads and corners with confidence. The suspension is exceptionally compliant. It is apt on our Indian roads. Despite that, it has excellent cornering and highway stability. Feedback from the front is good enough. The rear suspension comes with an adjustable and there will be need to rise it up to number three as stock setting is one.
High-speed stability is good too with a light or heavy rider. 110-section tires at the front and 150-section are on offer and just like other 400cc motorcycle and they are grippier MRF Steel Brace tyres brand new for this motorcycle which perform well in the wet and dry. The Sportier Apollos are also on offer as well.
There was a good bite at the lever and solid performance from 300mm disc at the front and 230mm at the back. Ground clearance at 170mm is sufficient. Maneuvering at low speeds requires minimum muscle effort and including at parking speeds. A motorcycle that offers agility and nimble-ness despite the kerb weight is just something truly vows you! Traction control and ABS does keep you safe. However, we are yet to test it thoroughly given our conditions while this testing didn't allow us enough time.
All New Triumph Speed 400 India Review, Verdict
Overall, a comfortable motorcycle, cuts through the wind like hot knife through butter, does a lot a job for you, before you realise it. The pricing, the quality, the design and performance all work in its favor. Sure, it isn't a sporty motorcycle that we expected. This is a old-new Triumph motorcycle that gives riders a feel of a true Triumph motorcycle. Triumph did set to deliver that and they did! Competition isn't far away when it comes to some things. However, three advantages of a high quality, good looking and well priced motorcycle has things going in its favor.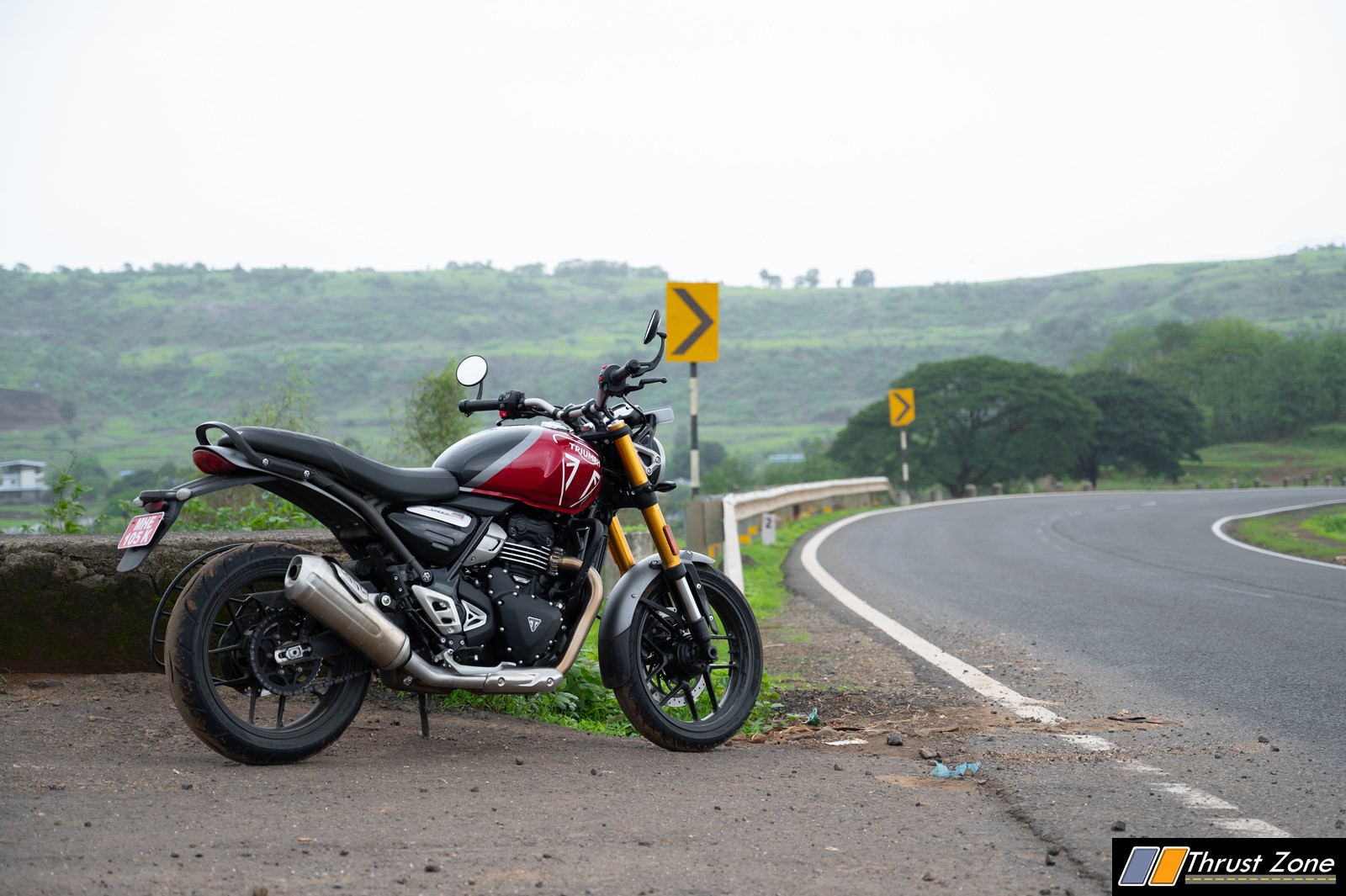 The other motorcycle also deliver strong brand resonance, good performance, but the Speed 400 is still going to be hard to beat. Triumph brand recall is higher considering these are truly scaled down model of the iconic portfolio. Everyone has something different to offer and everyone has created a different niche. Brands running away from neck to neck comparison is a new trend too. All this ends up as a choice for what the customer truly wants in this segment, as they have different demands and being spoilt for choice isn't a bad thing. Ofcourse, the Triumph Speed 400 changes the game yet again in this segment, it is set to ace it too with its charisma, which it packs, a lot!
All New Triumph Speed 400 India Review
Design

Quality

Features

Comfort

Safety

Performance

Dynamics

Price

Value

Practicality