All You Need To Know: New 2022 Jeep Wagoneer and Grand Wagoneer
The all-new 2022 Wagoneer and Grand Wagoneer mark the rebirth of a premium American icon, with legendary capability courtesy of three available 4×4 systems, exceptional driving dynamics, powerful performance, including best-in-class towing capability of up to 10,000 lbs. (4,536 kg), advanced technology, safety and a new level of comfort for up to eight passengers – all wrapped in a sophisticated and authentic new design culminating in an undeniable presence.
As a premium extension of the Jeep brand, Wagoneer launches with a portfolio of vehicles that includes two models: the 2022 Wagoneer and Grand Wagoneer. While the Jeep brand broadly covers the North American mainstream SUV market from the compact to full-size segments, Wagoneer will significantly expand into the large SUV segment while Grand Wagoneer competes in the premium segment.
Wagoneer appeals to the classic, ever-growing North American family and the couple that has it all. Creating an adventure with the ability to seat up to eight passengers and carry everything that comes with them is what the Wagoneer experience is all about. A best-in-class towing capability of up to 10,000 lbs. (4,536 kg) allows for almost any toy to be towed while occupants sit comfortably inside gracefully enjoying integrated advanced technology and connectivity.
Grand Wagoneer takes American premium to an entirely new level. Every seat in the Grand Wagoneer is a first-class experience. Grand Wagoneer is for those with a sense of adventure and discovering idyllic parts of North America in comfort.
The epitome of American artisanship, the 2022 Wagoneer is available in three different trim configurations: Series I (late availability), Series II and Series III. Grand Wagoneer offers three different trim levels: Series I, Series II and Series III.
To build the highest level of confidence in both the product and the vehicle purchase process, the brand is making a commitment to every Wagoneer and Grand Wagoneer owner. Wagoneer Certified Dealers are those dealers who have a dedicated Wagoneer display area in the showroom, as well as the new vehicle delivery area, all while delivering on the Wagoneer Customer Promises, including: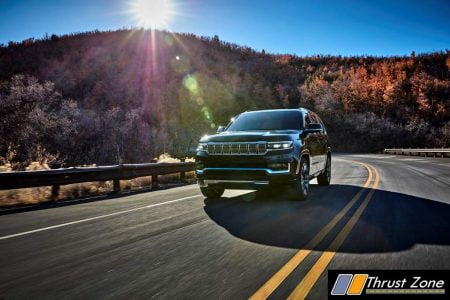 #Offer remote showroom, test drives and delivery for sales and vehicle pickup/delivery for service
#Provide an equivalent loaner for service customers
#Wagoneer Client Services includes dedicated customer support and three years of worry-free maintenance, including up to six oil changes and tire rotations
Built in Warren, Michigan, the 2022 Wagoneer and Grand Wagoneer models are scheduled to arrive in showrooms in the second half of 2021.
#Wagoneer returns as a premium extension of the Jeep® brand and marks the rebirth of a premium American icon
#Rooted in Jeep brand heritage, Wagoneer will become a portfolio of vehicles that redefines "American premium" while delivering a unique customer experience
#Legendary capability with three 4×4 systems: Quadra-Trac I, Quadra-Trac II and Quadra-Drive II with active low range and rear electronic limited slip differential:
#Crawl ratio of 48:1
#Selec-Terrain traction management system
#Up to 61 centimetres (24 inches) of water fording
#Quadra-Lift air suspension delivers a smooth ride and up to 25 centimetres (10 inches) of ground clearance
#Best-in-class towing capability of up to 10,000 lbs. (4,536 kg)
#Exterior styling boasts a confident and elegant design with a timeless silhouette and embodies American authenticity with artisan-levels of craftsmanship
#Pinnacle of premium SUV interiors with elegant American style, meticulously crafted finishes and modern-day appointments
#Interiors are designed to support active customers' lifestyles
#Best-in-class overall passenger volume, total volume, best-in-class third-row head and second- and third-row leg room with the most cargo volume behind the third row
#Wagoneer and Grand Wagoneer offer standard third row with available seating for up to eight passengers on all trims
#Highly advanced user-friendly technology:
#Up to 190 centimetres (75 inches) of total screen display area available on Grand Wagoneer
#Nearly 114 centimetres (45 inches) of screens along the front instrument panel:
#10.1-inch and 12-inch reconfigurable centre stack touchscreen displays feature split-screen capability for dual-application operation
#All-new Uconnect 5 system is standard, five times faster and features Wi-Fi capability
#Android Auto and Apple CarPlay as standard equipment
#Simultaneous connectivity for two Bluetooth-enabled phones
#First Fire TV for Auto integration with Alexa and access to hundreds of thousands of movies, TV shows and apps
#First-in-segment 26-cm (10.25 in.) passenger screen has four major functions: Co-Pilot (navigation, device management), entertainment (via HDMI or Rear Seat Entertainment control), the ability to view the exterior vehicle cameras and Fire TV for Auto
#Grand Wagoneer features a four-zone HVAC system with a 26-cm (10.25-in.) articulating front comfort display and a 26-cm (10.25-in.) fixed rear comfort screen
#Available 360-degree Surround View and Night Vision with Pedestrian and Animal Detection camera
#Wireless charge pad
#Digital rearview mirror
#Autonomous vehicle capabilities, including Hands-free Active Driving Assist (late availability) and Park-Sense Automated Parking System
#All-new high-strength steel frame uses advanced materials and engineering to be lightweight yet stiff and durable
#New body-on-frame design features premium on-road ride and handling characteristics with enhanced body torsional stiffness
#Electronically controlled suspension system delivers greater on-road handling and comfort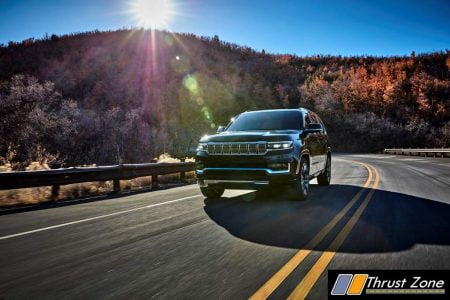 #Refined and proven V-8 power offers premium performance:
#2022 Wagoneer features a 5.7-litre V-8 engine – rated at 392 horsepower and 404 lb-ft. of torque – fitted with the next generation of eTorque 48-volt hybrid with fuel-saving #technologies, including cylinder deactivation and Variable Cam Timing (VCT) as standard equipment
#2022 Grand Wagoneer features 6.4-litre V-8 power with cylinder deactivation and VCT that delivers class-leading 471 horsepower and 455 lb.-ft. of torque
#Each engine mates to the robust TorqueFlite eight-speed automatic transmission
#Trailer Hitch Line-up Assist with active grid lines and camera zoom allows for a seamless connection to a trailer
#Industry-first McIntosh 1,375-watt premium audio system features 23 speakers, including a 12-inch subwoofer, with 3D Surround System that provides an immersive audio experience
#Packed with more than 120 standard and available advanced safety and security features
#Available driver-assist technologies include Head-up Display, adaptive cruise control, Active Driving Assist, Hands-free Active Driving Assist (late availability), night vision, drowsy driver detection and Traffic Sign Recognition
#2022 Wagoneer is available in Series I (late availability), Series II and Series III trims. Grand Wagoneer is available in Series I, Series II and Series III trims
#Grand Wagoneer Obsidian (summer 2021) includes 22-inch black wheels, Black Oynx grille and badging, Gloss Black exterior mirrors, body-colour wheel and door flares, Dark Onyx chiseled metal instrument panel trim, Global Black instrument panel and doors, Piano Black appliques and a McIntosh 1,375-watt premium audio system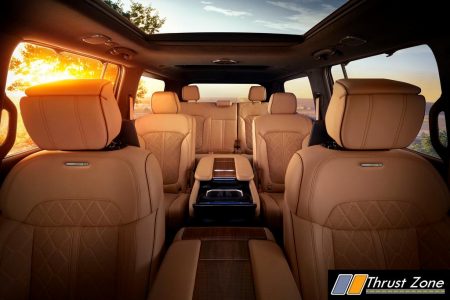 #Wagoneer Customer Promises is designed to build the highest level of confidence in both the Wagoneer and Grand Wagoneer and the overall vehicle purchase process, including Wagoneer Client Services
#Standard Wagoneer Client Service program offers unique and premium customer experience, including:
#Three years of worry-free dealership maintenance, including up to six oil changes and tire rotations
#Dedicated call centre support and roadside assistance
#Built in Warren, Michigan, the 2022 Wagoneer and Grand Wagoneer are scheduled to arrive in dealerships in the second half of 2021