Lexus NX300h offers an exciting option for buyers who are looking to flaunt their sustainability credentials in a contemporary style. This compact SUV from the Japanese carmaker subscribes to an entry-level segment although it comes equipped with all bells and whistles that make it very desirable. Here's a long list of positives and a few negatives that you should consider before making a final buying decision:
1) Contemporary and Radical Styling: The looks of the new Lexus NX300h one of its strongest points. Its in-your-face design is characterized by the large spindle grille and edgy headlamps, making for a design that is radically different from anything on Indian roads. In profile, cuts and creases are the mainstay of design and further adding to its character are large alloy wheels. At the back, the design of the SUV is designated by uniquely styled tail lamps and a black diffuser. The biggest strength of Lexus NX300h is its well-balanced proportions and one has to give credit to designers for being successful in harmonizing the dimensions of SUV very elegantly.
2) Hybrid Engine: The new Lexus NX300h comes powered by a combination of a 2.5-liter petrol engine and two electric motors, producing a combined output of 195 bhp. The power to the front wheels of the car is channelized with the help of an e-CVT gearbox and to assist with the drive, each axle is supplemented with a motor. The fuel efficiency of the Lexus NX300h is rated at 18kmpl which is rather good and adds to its green credentials.
3) Driving: One of the easiest car to drive is the Lexus NX300h. The least amount of effort, no kick in the pants feeling, no shove of torque and no loud exhaust noises. Lexus is all about comfort, luxury and peace of mind. That is how life behind the wheel of every Lexus and the NX is no exception. There is enough performance which is delivered so linearly and yet quickly that ends up making life easier.
At slow speeds, the Lexus NX300h uses only an electric drive to power its movement though with the increase in speed, the source of power generation shifts to the internal combustion engine. The petrol motor also helps to charge its batteries and propel the SUV from 0-100 kmph in just 11 seconds. You can choose from three different drive modes – Eco, Sports, and Sports+.
The responses in the Eco mode are quite sublime though it is hard to differentiate between Sports and Sports + as both have almost similar nature of drivability. The e-CVT has a perceptible rubber band effect which takes away some joy from the driving, especially in case of slow-moving traffic or driving on undulating roads. The steering wheel is quick to respond to inputs which is a good thing and it is quite light in the city to use.
4) Feature and Equipment:
The Lexus NX300h offers a long list of features and equipment and this should appeal to buyers who want fully equipped SUV as their companions. Among key features, the NX300h gets eight safety airbags, panoramic sunroof, dual-zone climate control, HUD, 360-degree surround camera system, electrically folding rear seats, auto headlamps, electric tailgate, and a wireless charger. Further, one gets a 10.3-inch infotainment system which is operated with the help of a touch-pad – not a very intuitive touch still it manages to do its work effectively. LED lights and the front are great and rear are great to look at while offering class-leading illumination too.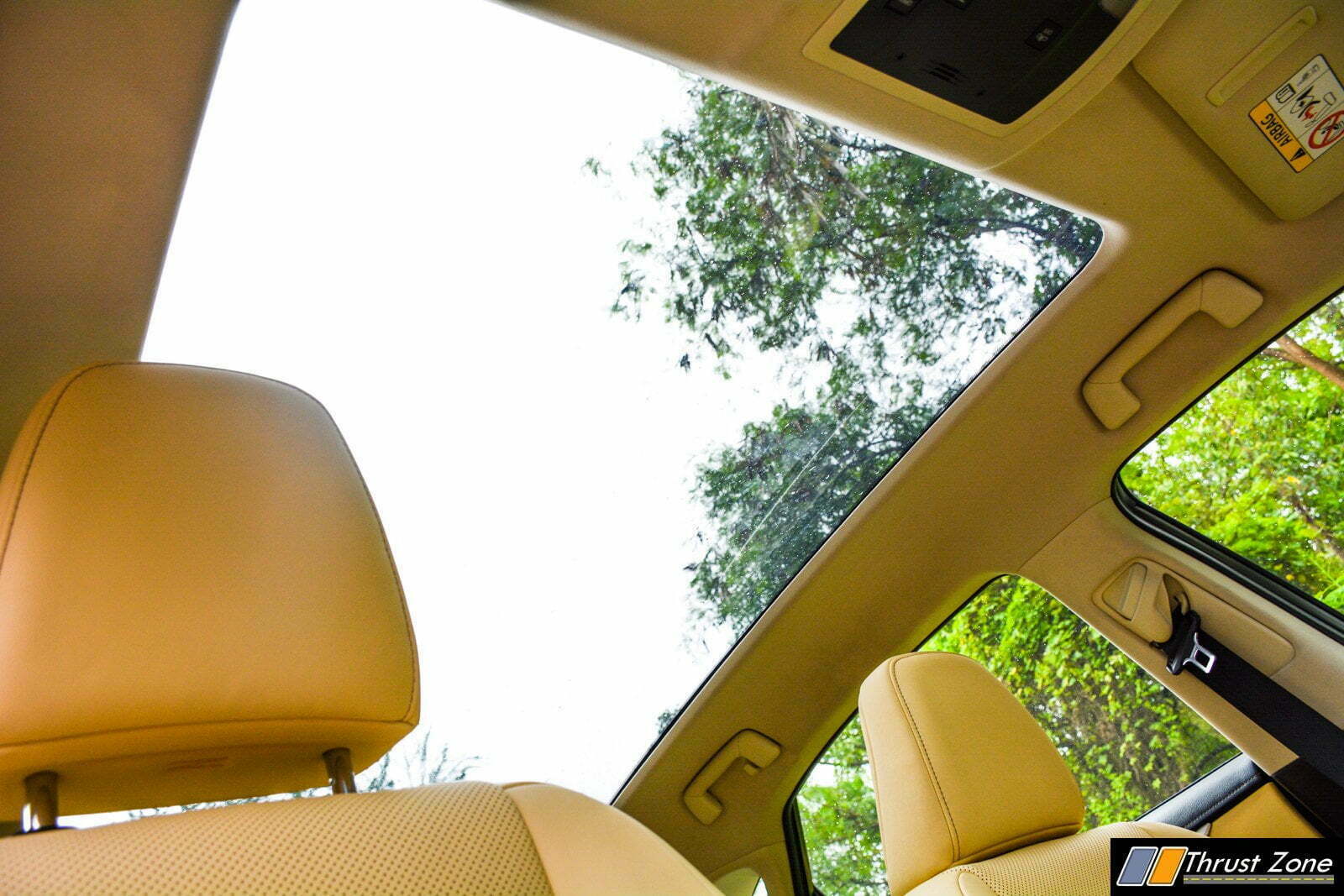 5) Space and practicality: The cabin of Lexus NX300h is a very practical, comfortable and luxurious place to be. Thanks to the electric adjustment for the steering and memory function for the front seats, one won't struggle with anything related to the driving scenario. Visibility all around is also good and although most of the controls are within easy reach, some buttons hidden behind steering are not very practical. The second row of seats offers good passenger space although there is a lack of under-thigh support owing to the high-set floor. The trunk is quite large with an overall boot capacity pegged at 475-liter.
Weaknesses Of the NX300h?
1) Dated Interiors: Despite a long list of equipment, the overall scheme of interiors inside the cabin feels dated. The multi-information display is practical though it lacks the flair of modern times. The center console comes with an old-school CD player which is nostalgia or outdated, depends on how you look at it.
2)Driving: Lexus NX300h is offered with only a single engine option and there's no hope that the company will introduce other options in the near future. Lexus could look at increasing power and torque or giving an option of a sportier V6 engine for the enthusiasts. A better look at the suspension for better handling would be ideal as well.
Verdict:
The first thing that runs through any one's mind with the NX300h that it is a machine from the time that we have left behind. Imagining this car back then was so good, a new update would make the NX300h even more desirable. Surprisingly, this is the entry-level product in most markets, it continues to do well for the brand. It will be great if Lexus could locally assemble it or bring a refreshed version to strengthen its position even more.
Well, we will wait and watch what happens. In the meantime, the NX300h is here to stay for consumers who are looking at something which is truly bespoke, easy to live and drive with. Given the fact that it is a Lexus owning and keeping one in the garage is going to be far easier than all its rivals, that is for sure.