Apache RR310 vs Dominar 400 vs KTM Duke 250 Vs RC200 Vs CBR250R – Rs 2.0 lakh segment got interesting – we tell you what is best for you and probably a winner!
If there is one motorcycle which has opened up a box which is slightly less dangerous than the Pandora's box, its the Apache RR310. The motorcycle comes at a certain price tag with a new category and experience to serve to the market that nobody has offered before. You have seen many 'Fancy' comparisons of the motorcycle till date, but today, we give a definitive verdict, a proper answer, a part of consumer journalism that is to help you to buy the best bike in the booming market of Rs 2.0 lakh sporty motorcycles.
We bring along the new and the old motorcycles to give you the answer that you deserve and probably have on your mind but cannot come to a conclusion too. As expected we have all the bikes here which are above and below the Rs. 2.0 lakh mark. They are the Honda CBR 250R, KTM Duke 250, KTM RC200 and the Bajaj Dominar 400. Let's start the procedure of explanation!
Styling
Design wise, the Duke 250 is the sharpest naked motorcycle here with all the right elements, colors used on it. RC200 from KTM has a sharp and minimalist design with a fairing, nose down and tail-up design with cool looking LED lights and headlamps on offer. CBR250R has the VFR look and is bulky, muscular and substantial looking quarter-liter motorcycle.
However, the boring elements are the head and tail-lamp. The fairing makes up for the rest of the motorcycle and stands out even today. Bajaj Dominar 400 is a sport aka power cruiser has a very strong stance with its long wheelbase and muscular panels and elements which includes everything, the fat chassis and suspension bits to the chunky headlamps on offer. Dominar's tail-lamp still haven't grown on us.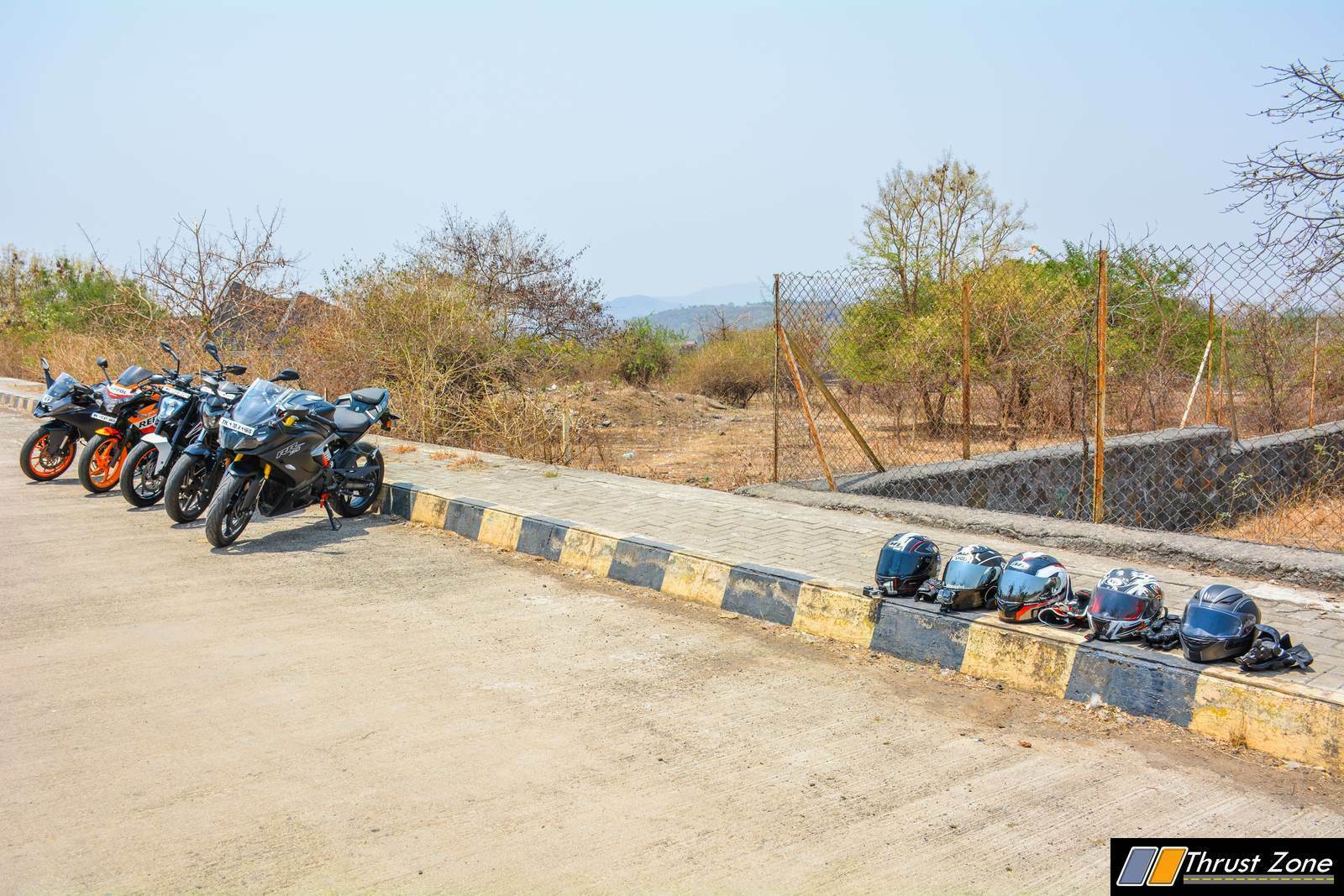 Apache RR310 design as we know is the best with its shark face, futuristic rear-end LED tail-lamps, a well-chiseled fairing and huge fuel tank makes it stand out with the right color schemes used. Golden forks and red chassis with a matte black body is clearly a big eye magnet. The Dominar does get close in terms appeal, but the fairing seals the deal for most, we still have a tough time deciding between the two.
Features
The least loaded cluster here is on the CBR250R because of its almost a decade old now with basic features on offer. Dominar 400 also sadly falls on this list but at least it looks good and is inspired by an Italian bike. Both KTM's have all fuel efficiency parameters, service indicator that also come with the basic features such as clock, temperature gauge, trip meters and average speed indicator. RR310 has all of this, has a lap timer, date, lap info, acceleration time recorder and all the tell-tale lights for every possible warning. All bikes have good fit-finish and quality on offer and they rank in this order: Apache RR310, Duke 250, Dominar 400, RC200 and CBR250.
Ergonomics
Dominar clearly has the most comfortable riding position of the lot with its huge seat, huge tank that allows you to hug it and the handlebar are tall and near enough to rider to make it supremely comfortable. KTM Duke 250 also offers upright riding position but with handlebars are placed lower and almost rear set foot pegs.
Apache RR310 does come close to offering comfort with its semi-upright riding position but the large tank and thin seats is a miss for most riders. Larger riders can do fine though. KTM RC200 has the most dedicated riding position with rear sets, lower and further set clip-on bars and similar seat comfort as the RR310. CBR250R riding position also similar to the RR310 but is a bit more stretch in terms of reach to the handlebar and is fairly upright.
Engine
Let's get to the heart of the matter and finish discussing NVH levels first. CBR250R and KTM Duke 250 have the smoothest engines with negligible vibes and heat coming out of the engine to the rider's leg. RC200 does come close to these two but it maintains its distance and needs a bit of improvement in this area. Dominar 400 and Apache RR310 make similar vibrations which can be annoying at times but most of the time they are smooth.
Apache RR310 leaves you with numb fingers and buzziness on the tank and pegs. However, Dominar 400 has considerable vibrations at the tank and less at the pegs and handlebars. Apache RR310 misses out on slipper clutch because your fingers ache in peak traffic. Duke 250 and Dominar 400 do warm up your legs a bit, but the other three bikes offer no heat to riders leg at all. All bikes have a light clutch except for the RR310. Gearbox is also smooth on all bikes, but the RR310 gearbox can be moody at times.
All engines are free revving units and offer good driveability in the city with, but no one has enough low-end punch to make a difference. All bikes have punchy mid range power and top-end. Dominar lacks that bit of top-end performance because of heavier kerb weight and lack of sophisticated aerodynamics it's faired rival in this comparison boast of. Dominar does 160 km/hr, CB250R does 155 km/hr, RC200 does 137 km/hr, Duke 250 does 150 km/hr and Apache RR310 has the highest at 167 km/hr. Apache RR310 does 100 km/hr in 7 seconds flat while the KTM Duke 250 does in 8 seconds, Dominar does it in 8.5 seconds, RC200 does it in 9.5 seconds and CBR250R does it in 9.1 seconds.
Duke 250 has very tall gearing, while RC200 has short gearing. The remaining three bikes have the usual gearing which allows extracting power and aid in rideability and performance at all times. All bikes have great throttle response and linear power delivery. Apache RR310, in particular, builds up speed very progressively and quickly which can be an eye-opener for most out there. Dominar 400 has a torque curve well suited for the job. It's these two motorcycles that are surprisingly very close to each other in the way the engine feels.
Dynamics
CBR250R comes last it has a softer setup and chassis isn't up to the mark since day one. Better tyres and upping up the suspension does make a subtle difference which makes touring good enough but not sporty riding because it isn't rewarding by a huge margin. Brakes are good on the bike with enough progressive power.
Duke 250 loves to commute and go around twisty with its fantastic suspension setup and great chassis on offer. All of that makes it nimble, agile and stable at any given speed. Duke 250 offers a supple ride as well because the suspension is best in a class by a big margin. Tyres limit the bike a bit, but that is only at race pace. Brakes are not good in terms of feedback, initial bite and power is a bit less. ABS should provide safety but the power and feedback won't be solved unless you get a tighter setup.
RC200 is focused, loves turning in quickly and is stable and agile through corners and nimble in the city. Ride quality is almost harsh on the RC200 because of the race-spec tune it offers for the road. Brakes are just about ok with very less feedback and power and they could do with better tuning. ABS is not offered yet.
Dominar 400 is a surprising package in this comparison because it has the agility and stability which is fantastic for a cruiser which weighs the highest here. Ride quality is stiff but bearable. It offers a great balance of everything with MRF tyres seen on the Duke 250 as well. Brakes are good with enough stopping power and bite on offer. ABS is standard on the bike now.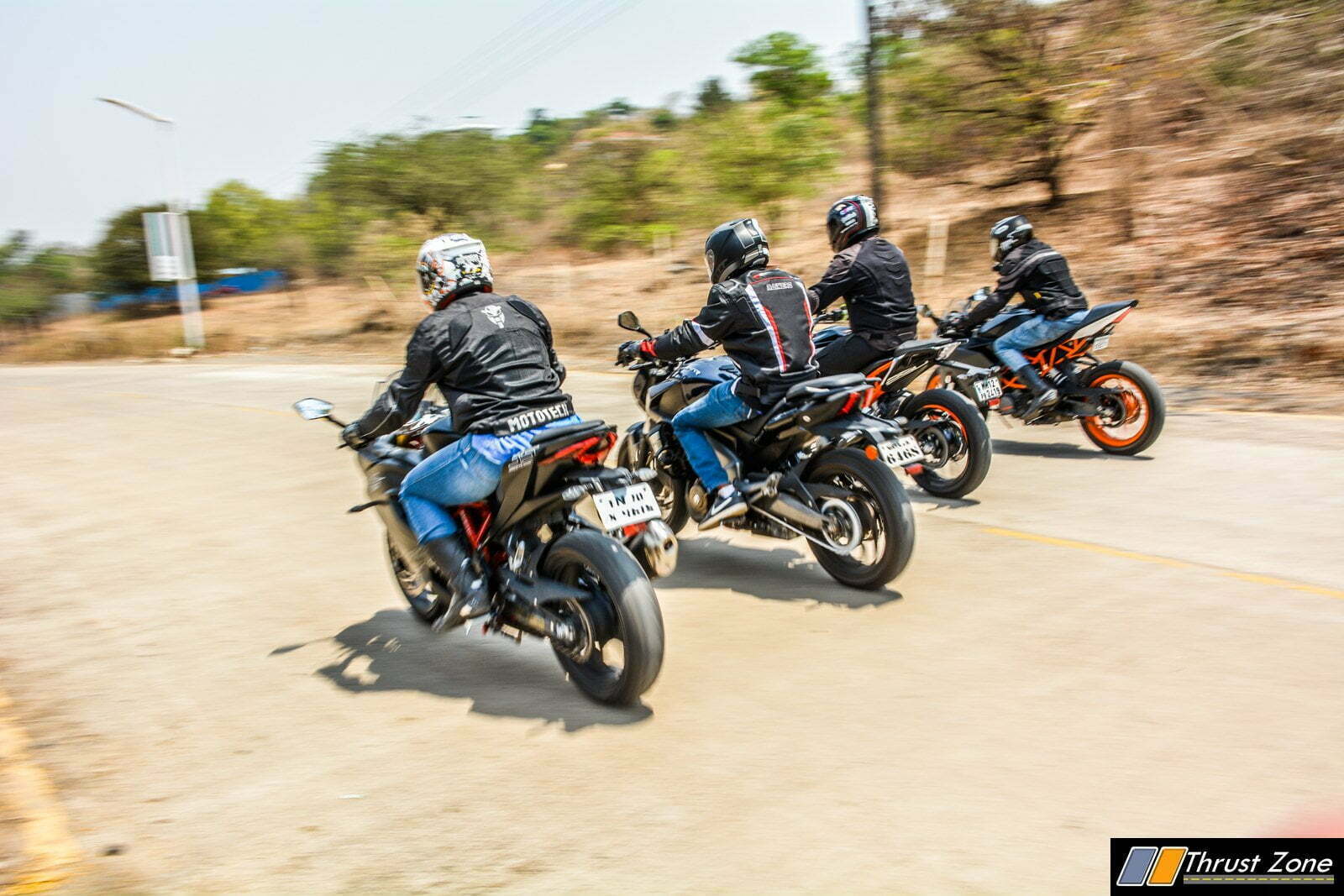 Apache RR310, on the other hand, is super feedback-rich, turns-in very quickly, is phenomenal in terms of stability. Confidence from the chassis is downright brilliant. Michelin tyres and right damping from the rear suspension make it stand out and offer best of ride and handling. RR310 rear brake locks quickly, apart from that front brake is good with decent initial bite and more than enough progressive power. ABS is standard on the bike.
Verdict
Wrapping up the test, we personally felt that no bike is completely out of the ballpark here. They all came in the RS 2.0 lakh price bracket and they still offer something to the customer for that. Some manufacturers charge a premium while some products become older. CBR250R is one of them and is last despite it is a good all-rounder but not the best. The RC200 is focused but the engine isn't, as it needs a race track orientated engine not an engine from a street bike.
Duke 250 does a good job, but the tall gearing and a basic approach from KTM till now don't make it stand out in this test, but somewhere else. The Dominar 400 and RR310 come very close surprisingly. The Dominar 400 does everything here but it is a cruiser which makes it appeal limited.
Apache RR310 being the most expensive bike here, does it win this test? Yes, it does. It has the brand power, it has the underpinning of a bike which millions of riders aspire, it is the only bike which has passive and active fulfillment which you rarely find and look in the market for, something now you can buy of the shelf, as simple as that.
Price:
RC200: 1.76 lakhs
Duke 250: 1.77 Lakhs
CBR 250R: 1.89 Lakhs
Dominar 400: 1.58 Lakhs
Apache RR310: 2.23 Lakhs
All prices ex-showroom Mumbai