Clearly, Aprilia revolutionized the scooter segment with its performance scooters in the Indian market. The 125 and 150cc SR's were an instant hit despite a good amount of misses. The clear goal of performance, minimalist looks, and traditional Aprilia design nailed the idea and to date, the scooters are cash cows for the company. The company didn't stop and gave us Maxi scooters with similar cubic capacity. The SXR 125 and SXR 160 have the recipe for success. How good are they, we spend doing 1000 km on it to tell you all about them!
When it comes to design, the headlamp is very traditional in Aprilia. A true three-pod led light equipped with an LED DRL as eyebrows are the biggest highlight which grabs attention on the road. The exhaust shape is muscular and the rear profile is sharp just like the side profile. The front profile is large with a huge apron, a large windshield, triple pod lights and 12-inch wheels making the scooter almost propionate and pretty at the same time in both black and red color schemes.
The rear tail lamp is substantial in size and runs on either side of the rear side. The illumination and reach are far and bright. With the alloy wheels and chunky exhaust, Overall, a motorcycle looks good and is proportionate. The new black color on this looks even better than before as it hints at grey and other black colors used in certain to make it look like the next-gen Pulsar design approach. A USB port and the keyhole for the rear seat opener are well placed too. The fit and finish are good and the quality is pretty good as well. The overall clean look aids in it looking very international and high quality.
The instrument cluster is a single screen with a digital layout showing a fuel gauge, trip meter, eco-driving manner, service indicators, and more. The telltale lights are in the area on the left. Switchgear is the same as seen on Aprilis scooters and the quality is good and has top-notch tactility. Connectivity features are missing for now. However, it does show fuel economy parameters. Mirrors offer a good view of what is behind but could have been bigger. Aprilia has its own suite of connectivity features via an app which are truly helpful.
The ergonomics are comfortable. You sit upright with the handlebar being a bit lower. Seat height is good enough for most people who are 5'4 and above. While the taller one's just about to get enough legroom for comfort. Seat comfort for riders and pillion is surprisingly good for long distances as well. The seat base and comfortable grab handle make the package ideal for everyday use.
Powering the scooter is an all-new 160cc engine making 10.84 PS and 11.5 Nm of torque from a 3-valve, SOHC, air/oil-cooled engine. The motor is mated to a smooth-shifting CVT gearbox. The refinement is highest in its class. You can rev it all the way up and there are negligible vibrations on the handlebar, seats, and footpegs. Low and mid-range torque is where it could excel more but it does 110 km/hr on an empty stretch easily.
The cruising speed is around 80-90 km/hr. The top speed is 120 km/hr on the speedo. The soundtrack, be it intake or exhaust note is throaty and loud. Throttle response is precise and power delivery is now linear. Fueling is sorted throughout the rev range and makes it easy to ride in the city. Fuel economy was recorded always around 34 km/l which is a very good number. Overall, there is nothing really to complain about as the scooter does most of its job. With a large fuel tank and a light hand on the throttle, the fuel range is good enough for Mumbai-Pune runs that we did from time to time.
Powering the SXR125 3-valve air-cooled, fuel-injected scooter making 9.75 bhp and 9.7 Nm of torque. The 125 is an even more calm and relaxed scooter with mediocre low-end torque. Mid-range is good but just like SXR 160, the top-end is a bit limited. Making it ideal for everyday city use not so much for highway, where the 160 still shines over it and is almost equivalent to the SR 160.
Dynamically, the front rake and trail are sharp, making it easy and quick to chuck into a corner. Composure while cornering is great thanks to a solid chassis setup that includes a perfect wheelbase. The excellent 12-inch tires gripped so well despite pushing in twisties, every day turns, and over wet and dry surfaces. The suspension is well-tuned and the ground clearance makes things easier overgoing all sorts of things our roads can throw at it. The underlying stiffness can feel jittery at times. Giving an impression of a solid-feeling scooter. Front forks provide good feedback than we expected from them.
The rear suspension is adjustable and we didn't find the need to despite one 80 kg and 105 kg rider using it only on a daily basis. The brakes are great too with a good bite at the lever if not excellent for a scooter in this segment. Assisted with ABS, it becomes a safe scooter to ride fast in all conditions. High-speed stability is good too with a light or heavy rider. Maneuvering at low speed requires little effort as it can feel a tiny bit top heavy. Overall, a great scooter for everyday fun commuting.
Aprilia SXR125 and SXR160 Review, Verdict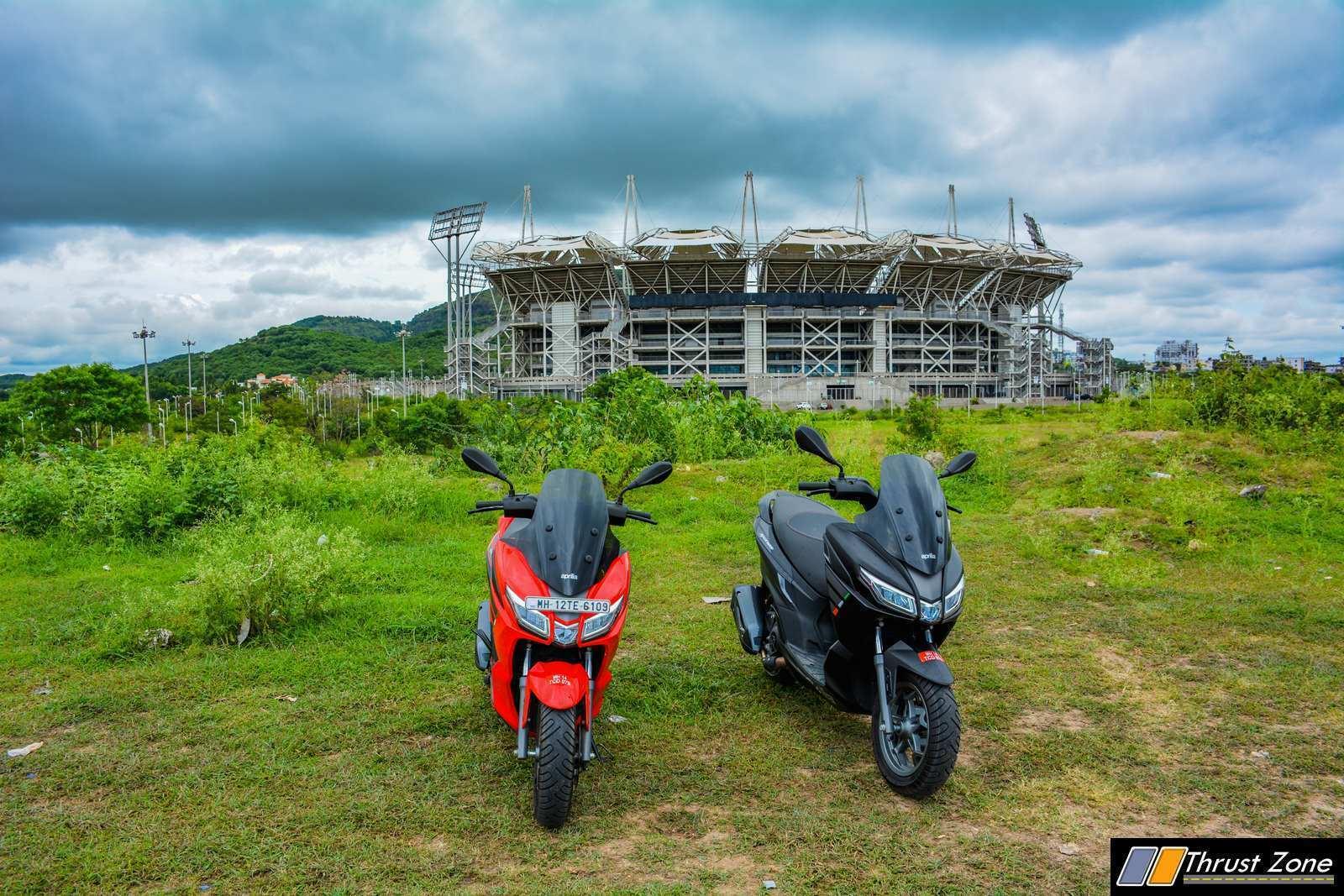 The Aprilia 125 and 160 are a welcome move in the way of practicality and most importantly, a maxi scooter that India truly needs with both types of engines. The SXR twins make a lot of sense thanks to added comfort, similar performance and dynamics. There is of course a bit of improvement required on certain areas such as quality and small issues that should not be associated at this price point but they can be overshadowed easily for what is a scooter that is truly impressive for the family and that one motoring enthusiast that stays in it.
Aprilia SXR125 and SXR160 Review
Design

Features

Practicality

Comfort

Performance

Dynamics

Safety

Value