Aston Martin RapidE comes with 800V battery pack and makes gigantic gains in terms of horsepower and torque, right form ZERO RPM!
British luxury car maker Aston Martin Lagonda is today celebrating the global debut of its first all-electric model, the Rapide E, at the world-renowned Auto Shanghai motor show. Alongside the production-ready Rapide E, the hotly-anticipated AM-RB 003 and Lagonda All-Terrain Concept are making their debuts in China after being revealed at the Geneva Motor Show last month.
The Aston Martin Rapide E, the marque's first all-electric model, will be built at St Athan in Wales, Aston Martin's home of electrification. Just 155 examples of the car developed in collaboration with Williams Advanced Engineering will be built. With twin electric motors producing over 610PS and 950Nm of torque it is the most powerful Rapide model yet.
Rapide E is powered by an 800V electrical architecture battery – encased in carbon fibre and Kevlar casing – with a 65kWh installed capacity using over 5600 lithium-ion 18650 format cylindrical cells. This bespoke battery pack lies where the original 6.0-litre V12, gearbox and fuel tank were located, with the 800V system allowing for more efficient charging and greatly improved thermal characteristics over existing electrical architectures. This battery system powers two rear mounted electric motors producing a combined target output of just over 610PS and a colossal 950Nm of torque.
Rapide E's range is over 200 miles under the Worldwide Harmonised Light Vehicle Test Procedure (WLTP), while the model is capable of charging at a rate of 1851,2 miles of range per hour using a typical 400V 50kW charger. However, the car's 800V high-voltage battery system enables faster charging of 3101,2 miles of range per hour, using an 800V outlet delivering 100kW or higher. For destination charging, the car also features an industry-leading high-power AC on-board charger capable of recharging the battery in as little as 3 hours.
Top speed for Rapide E is 155mph, with a sub-4.0 second 0-60mph time and a 50-70mph time of just 1.5 seconds. These figures are not restricted to a narrow window of battery charge or climatic conditions, instead, thanks to the cutting-edge 800V architecture, the Rapide E will deliver its performance in a consistent and repeatable way as would be expected from a traditional Aston Martin product. This includes the ability to drive a full lap of the Nürburgring with no performance derating of the battery or the motors.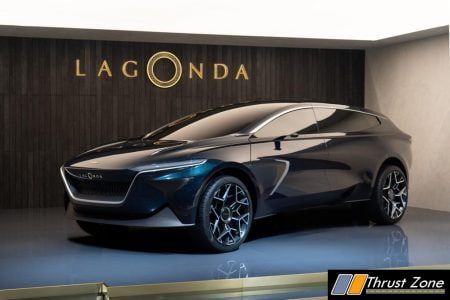 The AM-RB 003 concept car on show at Shanghai is the first taster of what will become Aston Martin's third mid-engined hypercar. The sublime AM-RB 003, heavily-influenced by the game-changing Aston Martin Valkyrie is being developed in partnership with Red Bull Advanced Technologies. Described as both evolutionary and revolutionary, AM-RB 003 will incorporate F1TM technologies that will provide it with unparalleled levels of performance.
Aston Martin Lagonda is also proud to present the first glimpse in China of the first production model from its Lagonda brand, whose cars will all be driven by zero emission powertrain technologies. The Lagonda All-Terrain Concept showcases the unique design language of Lagonda – ultra-stylish and supremely luxurious – providing numerous clues to the Lagonda models of the future, while broadening the new brand's horizons with a car that is as comfortable in the city as it is in the wildest countryside.
Aston Martin has a long-held commitment to the rapidly-growing Chinese market, highlighted in 2018 with the announcement of a £620m trade and investment programme in the region, which has already seen an expansion in its dealer network and the commencement of a design and innovation partnership with the prestigious Tongji University in Shanghai. In addition to this, Aston Martin recently opened its first global brand centre in China. The 'House of Beautiful' in Shanghai showcases every aspect of the Aston Martin brand, reinforcing the British brand's commitment to the region which registered a 31% growth in 2018.
The first fruits of an exciting collaboration between Aston Martin Lagonda and Shang-Xia, a brand established by the world-famous designer Jiang Qiong Er and France's Hermès Group, has also been revealed in Shanghai. This creative collaboration's first project is a set of limited edition "Shang Xia" carbon fibre chairs. Inspired by the beauty and craftmanship of Shang Xia and Chinese tradition, Q by Aston Martin has developed a family of cars to pair with the chairs, uniquely painted to match the colours of Aston Martin. With a shared culture of craftmanship, heritage and innovation, the two brands are in a unique position to work together to create truly bespoke, luxury products.