SUV's are the rage and some manufacturers get it right around the world. Be it hardcore off-roading or soft roaders with enough muscle to get you out of 'sticky' situations. Audi is the latter as the Q series of SUV's have been doing well for the brand around the world for many reasons and not just one. Jack of all trades, master of none seems to be applied well here.
In India, Audi, Q series of vehicles, Quattro and the brand recall helped the company climb the ladder of luxury sales and it continues to do so. The manufacturer relies of two products and one of them is the Q5. The mid-size SUV is as important as the E-Class or the 3-Series is to the other respective brands. Q5 came to India storming with a great price tag and two popular engine choices at launch. We rode the diesel earlier, this time its the turn of the petrol. We find out how it does in urban runabouts and fast highway run.
Design
We have told you earlier in the diesel review that the Q5 has gone a bit curvier in terms of design with strong character lines all around. Large grille at the front with lines in the bumper at the same time give it a typical Audi family look while adding width and sense of substance to the front end.
The almost squarish LED lights and profile look good along with that pattern. LED tail-lamps at the rear are more eventful in terms of illumination along with size of them. Rear bumper is busy with large reflectors, chrome and faux exhaust tips.
Interior
Interior is high quality, well laid out, practical and carries simplicity all across thanks to the use of aluminum and wood around. There is a pad to control the screen which has numbers for radio stations. Rotary knob for the screen and virtual cockpit which takes care of everything to be displayed is controlled by the steering mounted controls. Fully electric and heated ORVM and auto IRVM are on offer.
3-Zone climate control, rear a/c vents, wireless charger, electric parking, leather electric seats with memory function, auto hold, automatic wipers and headlights, cruise control, speed limiter, Apple Car Play and Android Auto are on offer in terms of features. Space in the rear continues to be segment best and so is the boot space at 550 litres.
The Drive
The 40 TFSI motor is the 2.0 litre turbo motor making 252 BHP of power and 370 Nm of torque sending all the power down via a 7-DCT gearbox to the all wheel Quattro system. The engine offers all the driveability you need in the city and great performance at the same time. Which means it delivers enough punch for our highways and expressway. With a top speed of 237 km/hr and 0-100 km/hr in just a 6.3 seconds, it is more than a powerhouse, it is proper explosive performance form an SUV which weighs quite less than all of its rivals by a good margin. The fast and free revving engine with oodles of torque and power make the Q5 a fun to drive SUV.
Fuel economy is good at 11 km/l in the city and 14 km/l on the highway. Four driving modes change the way power is delivered which includes economy, comfort, dynamic and auto mode. Sport and manual mode in the gearbox heighten things up and becomes more responsive. The slow speed DSG jerk is masked quite well and shifts smooth, fast and precise in terms of up and down shifts.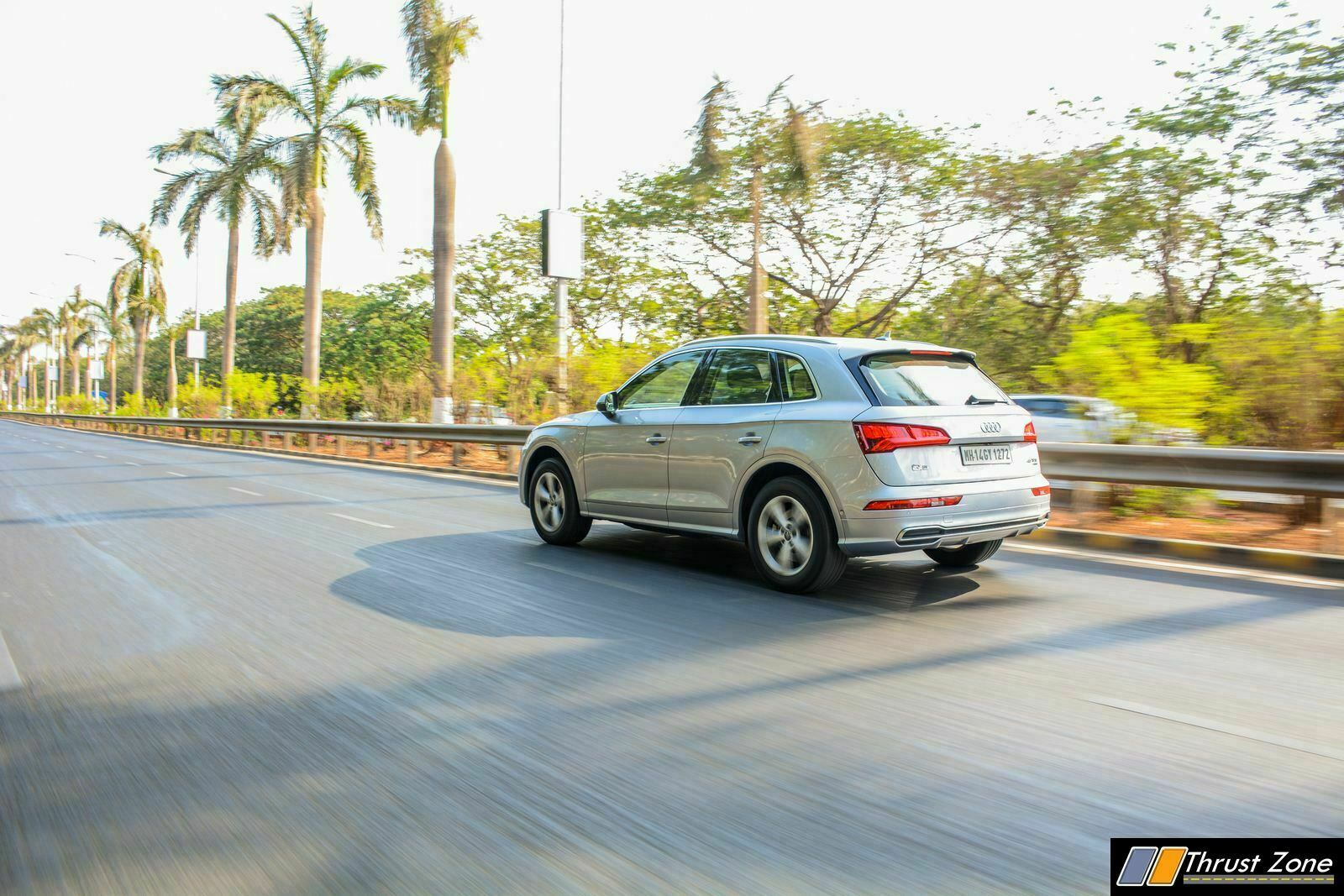 Ride and Handling
Dynamically, the Q5 feels the lightest on its feet because the 2 tonne kerb weight has been masked really well. Most of the competitors feel heavy but the Q5 is very agile in the corners, feels nimble at slow speeds too and still has 100% composure on highway at any given speed. The Q5 is the sportiest Audi SUV in a long time and the new platform has worked its magic.
A fast steering, a perfectly sized wheelbase and 18-inch wheels means it loves turning into corners and body roll is minimum. The Q5 is easy to drive in the city thanks to light steering. Brake pedal bite is excellent and all around ventilated disc assures more progression in excellent braking power without any fade.
Audi Q5 Petrol India Review, Verdict
The Q5 is an important product as we told you earlier and it shows. Audi has worked hard to deliver performance, efficiency in practicality and powertrain area. The high quality cabin, the subtle approach to design inside out makes the Audi a default choice for a customers looking for discreet and elegance in a package. Q5 can do everything in style without shouting about it.
Pricing is right, petrol option makes it flexible in today's time and all of this makes it an excellent choice in a category which has just two rivals with petrol engines on offer. Audi Q5 petrol is clearly on the top of our list over them.
Audi Q5 Petrol Price Ex-showroom Pan India – Rs. 59.70 lakhs
Audi Q5 Petrol India Review
Design

Interior

Features

Space

Performance

Dynamics

Safety

Practicality

Value