A very good friend of mine, huge Pulsar fanatic, still is, but now doesn't like Bajaj as much as he did in 2008. Why you may ask? He bought a Pulsar 200, Bajaj discontinued it. He thought of getting the Discover 125 ST, Bajaj discontinued it. He thought of getting the Avenger 180, Bajaj discontinued it. Bajaj has been shuffling its range since quite some time and most people don't like it and turn not so great fans of the manufacturer.
However, Bajaj has brought things back in their own way and nobody has suffered losses because parts are always available, even today, for his Pulsar 200 to a large extent thanks to excellent use of platform that Bajaj continues to use. Bajaj also says nothing gets discontinued and it can come back when the market asks for it. However, with the Avenger range in the lower part of it to be precisely, Bajaj shuffled a lot. Avenger 150 was introduced and then gone and then the Avenger 180 and then that went quickly and the Avenger 160 came in finally with ABS. What's there to lose or gain? Let's find out.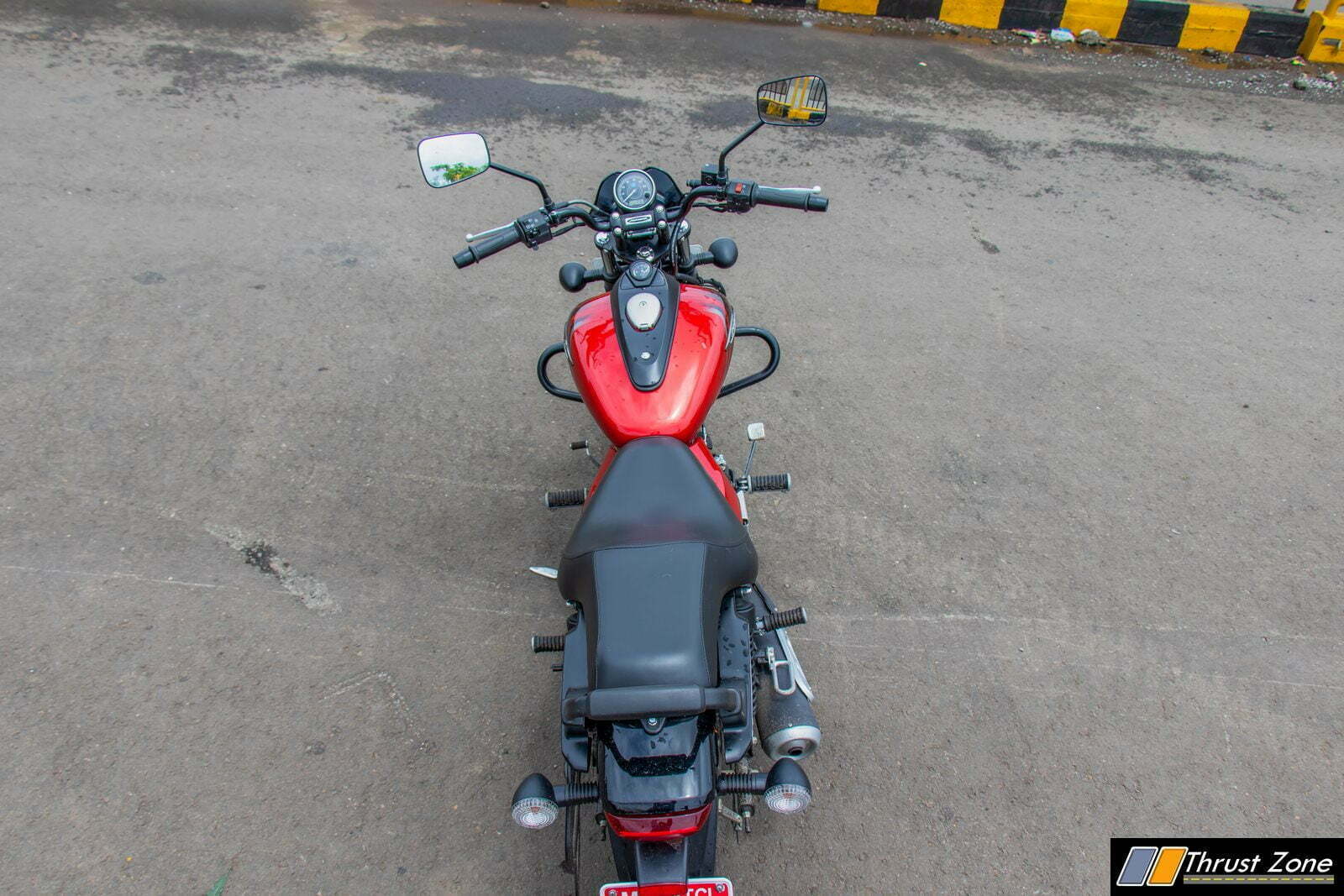 The design remains similar to the outgoing Avenger 180 and so does the rest of the details such as the simple instrument cluster with trip and odometer. The headlight is inspired from the cruisers in the world with a LED DRL up front. Fork gators, sporty yet lengthy exhaust with a new heat shield. The multispoke alloy wheels, propionate fuel tank looks along with a long contoured seat gives it the cruiser appeal.
Attention to detail can be seen everywhere with a well finished bike, thoughtful touches such as a rubberised pillion grab rail, round and aluminum finished foot pegs and overall good quality materials used to make the bike look premium enough at this price point.
Engine
Riding the cruiser we felt Bajaj has done a great job when it comes to NVH, as it is supremely low. There is no inconsistency from the exhaust note at all revs, it all sounds the same. There is also power and torque throughout the range which makes it a great city cruiser. Highway touring can be done, but only if you like to maintain speeds under 100 km/hr, between 80-100 km/hr that is.
5-speed gearbox is slick and the clutch is light as well. The 2-valve air-cooled motor is taken from the NS, but given an entirely different character and the feel has changed due to Bajaj's constant aim for increasing refinement along with class leading power output and excellent assured fuel economy. Expect this to deliver 45 km/l in real life. All of those numbers despite 15 PS and 13.5 Nm of torque from a not so light vehicle are impressive as always, courtesy, DTSi and much more.
Dynamically, we appreciate the composure at any given speed. Ride quality also becomes great when talk about the same. Low speed bumps are filtered well but a hint of stiffness can be felt which matures out as the speeds increase and aids in stability and provides agility and feedback at higher speed. The Avenger 160 ABS also feels nimble in the city for every day commuting. Through the corners it does feel a bit sporty thanks to a mature suspension and turning in is easy and quick but the turn-in takes time but it is stable through the corner at most high speeds within the boundaries of the chassis capability.
Brakes have good bite at the front and rear which are backed by ABS and Rear lift protection to make things safe in an emergency. Tyres are good too just like every other Avenger that has come till date, the size remains the same and it requires 21 PS and 25 PSi at the front and rear respectively. Low numbers, but they are recommended by Bajaj and we thought you should know.
Bajaj Avenger 160 ABS Review, Verdict
The Avenger series has come of age and it has been improved and polished over the years. This is the best iteration till date as the engine takes the center stage and quality all around is good enough. These aforementioned points should make this more reliable and will surely continue to be easy on the pocket to maintain and run as spare part prices and fuel economy numbers are good enough. However, the Avenger doesn't get sportier as much as its rival and lacks a bit of modern touch with the lack of modern design and a better feature list. However, the price it asks is significantly less and if you just like commuting in comfort for long distances on a daily basis, Avenger doesn't disappoint at all and surely will put a smile on your face with its all around capability as a package.
Avenger 160 ABS Review
Design

Features

Safety

Value

Performance

Dynamics

Comfort

Practicality