Honda's CD 110 Dream is a formidable bike in the 110cc segment. It is also the most affordable bike of Honda in India with a starting price of Rs 64,505. We pit this Honda against its rivals (TVS Radeon, Bajaj Platina H-Gear, and Hero Passion Pro) to find where it actually stands in comparison to rival propositions.
Engine Specification
All four bikes have similar engine capacity (110 cc and hence, it is not surprising that they all produce power and torque along similar lines. Hero Passion Pro has a maximum of 9.1 hp of power output while TVS Radeon stacks at the bottom with 8.2 hp. In the torque department, Bajaj Platina leads the chart with 9.8 Nm with again TVS Radeon relegated to the last position. Honda CD 110 Dream puts out respectable figures that are good enough to keep the bike in competition on its own (8.8 hp and 9.3 Nm). In fact, Honda emerges as a winner with the highest power-to-weight ratio (78.5 hp/tonne).
Features and equipment
Hero Passion Pro is the costliest bike in the bunch and in order to justify the price, it has got a long list of features. Some of the prominent ones include a start-stop feature, a part-digital instrument cluster, and a pass light switch. Bajaj Platina has a feature of gear-shift indicator which suggests the rider when to go for a upshift or downshift depending upon the rpm of the engine. Honda has got a silent-start feature in addition to having a new starting button which also doubles up as pass light and kill switch. The highlight on the TVS Radeon is its USB charging slot and analog instrument cluster.
Suspension Hardware and Underpinnings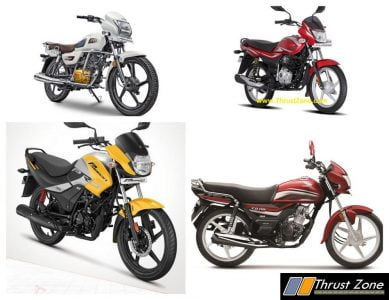 All four bikes here come with a conventional telescopic suspension system upfront and twin shock absorbers at the rear. Honda has got the longest wheelbase (1285mm) while it has a smaller fuel tank (9.1-liter). In contrast, Bajaj has the smallest wheelbase (1255 mm) though it has the largest fuel tank (11-liter). All players in the comparison have got a combined braking system (CBS) as mandated by new rules and regulations though Honda is the only one that doesn't offer the disc brake even as an option. You can have Hero and TVS with the disc as optional while Bajaj offers Platina H-Gear with the front disc as a standard part of the fitment.
Price and Value for money.
Honda CD 110 Dream (Rs 64,505-65,505) seems to be a little expensive especially considering the fact that it is not available with the option of a disc brake. On the flip side, it has the highest power to weight ratio and the Japanese bike maker is now offering a warranty of up to 6 years for a limited period of time. TVS Radeon is priced very competitively (Drum for Rs 59,742 drum, Disc for Rs 65,742) but then it comes across as least powerful bike. The feature list is not exhaustive either. Hero Passion Pro is the most expensive offering in the lot (Drum for Rs 65,740, Disc for Rs 67,940) but then it is the most stylish looking bike. Passion Pro is also the only bike in the comparison which comes with substantial changes over its predecessor. Bajaj Platina H-Gear, on the other hand, with its price (Rs 62,899 for disc version) comes across as the most value for money offering.