As the earth gets older, many surveys around the world say that the people are getting younger in it. A lot of population around the world is now younger too. India tops that chart. So to cater to that market every manufacturer makes products to lure them to their empty showrooms, which is as of now, in September 2019. As market conditions get worse, launching new products with much fanfare, offering a unique proposition will help companies garner more foot fall. Bajaj has done that and this time with all new Pulsar 125. A new engine for sure but as a package, it is a proven over 18 years of blood, sweat, bone and also tears of many makers and riders of it.
A bold step considering the shri shri shri's of the government want nothing to exists below the 150cc range. Since all of that is now history already, Bajaj didn't delay its plan and gave us the youngest Pulsar of the lot. Is this Bajaj's last shot at the 125cc segment where it lacks market share over all its rivals after many attempts with proven and new brands. On paper, this is quite good, we went up and down Pune's road for a day to experience this for you. Stick tight and read on.
The design is based on the Pulsar 150 Neon, but the colors used for the Pulsar 125 are silver and blue along with black and orange. So its a quintessential Pulsar with muscular fuel tank and modern enough side panels, mudguards, fenders and tail-piece. The wolf-eye head-lamp and twin signature led tail-lamp continue. The back-lit switches are the same and so are the ergonomics. Taller clip-on handlebar inspired from the Pulsar 135 can be seen here. The seat height is very low at 790mm and the cushioning is good enough. The digital instrument cluster gets the same layout but the fonts and graphics are changed on the inside. It gets a tachometer and two trip meters along with tell-tale lights and side stand warning.
What is it like to ride? The Pulsar 125 make 12 PS of power and 11 Nm of torque. The motor is 2-valve unit with a 5-speed gearbox and is BS4 compliant for now. The motor has been taken from the 150cc Pulsar and been bored down. The engine refinement level is great and sounds like a Pulsar at idle and in terms of intake and exhaust note. The engine is smooth and rev happy as it revs quickly and freely. There are vibrations only above 90 km/hr, which is also bare minimum. The engine gets a counter-balancer to iron out most engine NVH issues.
The highlight is well done gearing and overall engine character to deliver peppy performance. You can always find yourself almost above 3000 RPM and post that till 6500 RPM there is the sweet spot where you get power and torque to play with. You can rev it till 10,000 RPM, but post 9000 RPM, it doesn't make much sense. We saw 117 km/hr on a downhill and it did 105 km/hr on a normal flat road. The gearbox is very smooth and the clutch is very light as well. All of this makes this bike peppy enough and it does 50-70 km/hr in not time from a stand still if you rev and go through the gears quickly.
The handling was good enough, but wasn't out right sporty. The Pulsar has been a good balance of ride quality and decent agility and this continues to be the same. The Pulsar 125 is nimble enough for city and felt effortless to ride. Stock suspension is at full pre-load which makes things lighter and easier to live with on a daily basis. Front forks at 33mm are segment best by a substantial margin and help aid in stability and bare minimum fork dive. The front brake is a 240 mm at the front and rear drum brake is on offer.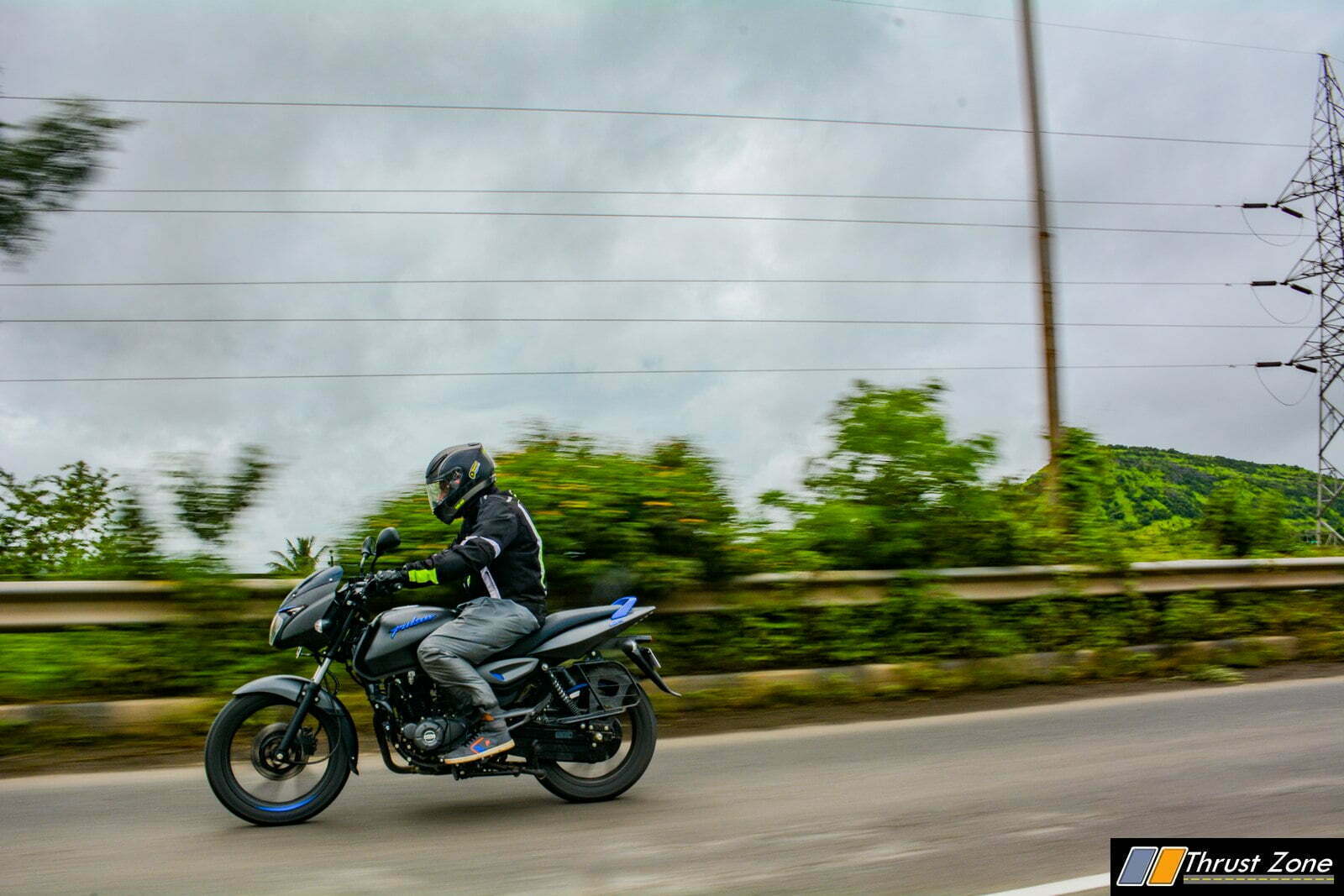 Both are linked via combined braking system which Bajaj calls ASD, Anti-Skid-Braking. Tyres were good enough for commuting but not out and out sporty riding. There were good enough for the intermediate conditions we saw. Dry and wet roads and roads with slush were experienced with the Pulsar 125 it fared fine. For now, you can opt for the disc brake, it isn't standard, Bajaj should do that some time in the future. Overall everything borrowed from the Pulsar 150 and nothing has been taken away means you are getting a 150cc bike with a 125cc motor in it.
Bajaj Pulsar 125 Neon Review, Verdict
The Pulsar 125 doesn't replace the fun and extraordinary character of the Pulsar 135 LS, it carves its own space and it does that brilliantly. Small bikes can be great fun, for new riders as well as experienced rider. We being somewhere in between, had a great time and our first impressions are very positive. The Pulsar 150 engine has been honed for years and boring out a smaller engine out of it delivers everything you would ever need.
Right from performance and NVH to great fuel economy of almost 60 km/l. The value for money is spot on as you get an 150cc bike in all aspects, but a 125cc. All of this makes the Pulsar 125 a not just a shot in the arm for Bajaj, but a bullet towards its 125cc rivals. The Pulsar just got younger and energetic, after all, it just turned 18.
|
Bajaj Pulsar 125 Neon Review,
Design

Comfort

Ergonomics

Practicality

Value

Performance

Dynamics

Safety