Baxy Mobility is a renowned brand with a wide portfolio of Cargo & Passenger three-wheelers and a diverse categories of fuel engines – CNG, Diesel and EV. The 3W carriers are manufactured with advanced technological solutions that provide high performance and are compliant with all regulatory standards. The models come from Baxy Group, which has been serving Indian customers for decades and is famous for its exceptional quality Diesel Mechanical Engines 'M-TEC Engines' under the brand name Continental Engines.
Baxy has introduced two strong CNG variants – Super King Cargo and Express Passenger which are available in BS 6 technology, at around 75 dealerships across India. Baxy introduces 396cc BS VI CNG range three-wheelers at Rs 2.70-3.0 Lacs, offers 32Km/Kg mileage
Mr. Naveeth Menon, Vice President-Market Operations, Baxy Mobility said, "In a bid to further strengthen our position in the alternate fuel segment space, Baxy Mobility has introduced CNG Cargo & Passenger models that offer substantial acquisition cost benefits for the price-sensitive customer. These products are the result of a robust product development process that we follow at our manufacturing facility at Roorkee, which are actually based on consumer insights at conceptualization stage".
BAXY SUPER KING CNG CARGO
Baxy Super King CNG Cargo carrier comes with the biggest cargo tray of 6.5 feet in the industry. The extra size gives more loading options and allows it to carry bulky and voluminous cargo on any terrain without compromising on fuel mileage. The vehicle promises high performance and high reliability with lesser maintenance cost and helps in earning greater profits.
The Baxy M-Tec G400 WG VI Bi Fuel CNG engine produces 8.71 HP / Engine Power 396 cc @3400 rpm as well as 22 Nm torque @2000 – 2400 rpm. It gives a fuel efficiency of 32Km/ Kg and is backed with 4 years warranty. Available in both, single cylinder (40 Litres) as well as double cylinder (30+30 Lt) options, it has an advantage over rivals, especially where CNG Pumps are in far-flung areas. The higher payload capacity along with a smooth 4 speed gearbox, assist in providing efficient working. Baxy Super King CNG Cargo carrier price is Rs 3.00 Lacs (Ex-showroom).
Baxy Super King CNG Cargo is manufactured with a maximum gradeability of 18 % and a good turning radius of 2.8 m. It offers a payload of 475 kg, with its GVW of 990 kg. The cargo carrier has a 2420 MM wheelbase and provides superb maximum speed of 65 Kmph. This green auto rickshaw model has a hydraulic drum brake and the steering type is a Handle bar type with a 4 Forward + 1 Reverse gearbox.
Key Specs:
· Power – 6.5kw @3400 RPM
· GVW – 990 kg
· Mileage – 32Km/ Kg
· Engine – G400 WG VI Bi Fuel CNG
· Fuel Tank – 40 litres
· Payload – 100 kg
· Chassis Type – Robust
· Wheel Base – 2420 mm
· Price range – 2.7-3.0 lacs (ex-showroom)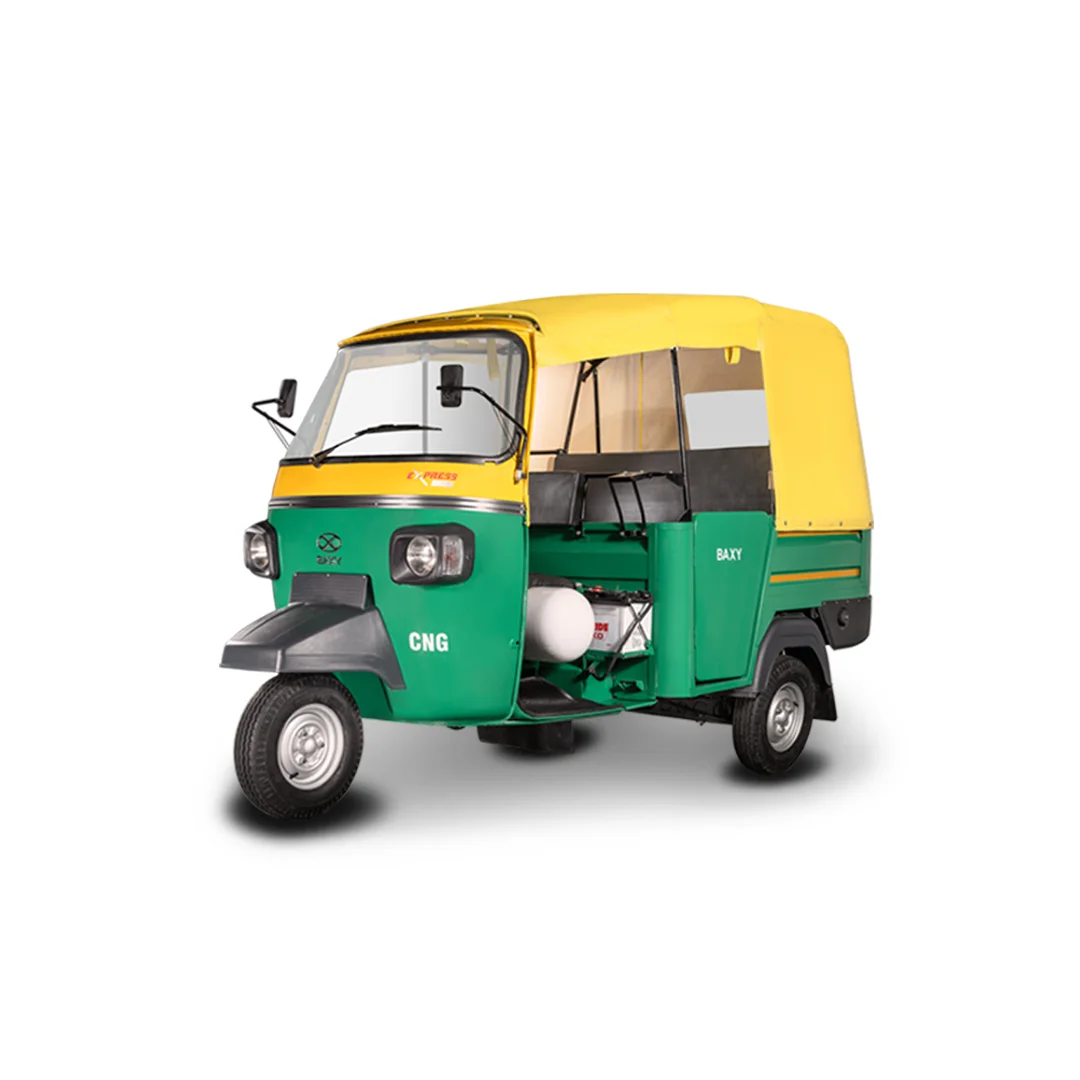 BAXY EXPRESS CNG PASSENGER
This can carry a 450 kg payload and you can carry 3-passengers (D+3), comfortably with a cozy and ergonomic cabin on all kinds of terrain. The vehicle has an engine displacement of 396 cc as compared to competition which runs on 230-300 cc engine, allowing better pick-up & faster performance.
Baxy Express CNG is the higher capacity variant in the passenger carrier segment of the three-wheeler. The CNG powered auto-rickshaw caters to the last-mile people carrying mobility segment on the feeder or share-auto routes. The product is packed with a powerful Baxy M-Tec G400 WG VI Bi Fuel CNG engine, powered by 5.52 BHP @3600 RPM and a torque of 23.6 Nm @2000-2400 RPM. The unique highlight of this 3W is the promise of easy maintenance, high quality and long-lasting aggregates, with a complete fulfilling ownership experience. The mileage range is between 32-34km/ Kg, making it one of the most fuel-efficient auto-rickshaws. This model is enormously demanded in the market for their long-lasting nature and superior finish.
Baxy Express CNG comes with a maximum gradeability of 18 Degree with safety doors and improved legroom. It has a wheelbase of 1910 mm, height of 1780 mm and ground clearance of 175 mm. The fuel tank of this auto-rickshaw is 9 litres of CNG capacity and the Hydraulic Drum brakes & suspension system is superb. The dashboard is stylish with a modern interior, and contemporary exterior and comes with a provision of a music system provided in the cabin. Baxy provides different color options. Available at an affordable price point of Rs 2.90 Lacs (Ex-showroom), the auto-rickshaw comes with a 4-year warranty.
Key Specs:
· Power – 396 CC
· GVW – 990 Kg
· Mileage – 32-34km/ Kg
· Engine – G400 WG VI Bi Fuel CNG
· Fuel Tank – CNG
· Payload – Driver + 3
· Wheel Base – 1910 mm
· Price range – Rs 2.90 lacs (ex-showroom)
· Chasis type – Chasis with Cabin