Nearly a decade after Indian cars were first tested by the Global NCAP, India finally has its own car crash safety program aptly titled Bharat New Car Assessment Programme (Bharat NCAP). India is the fifth market globally to get its own safety standard. Both Bharat NCAP and Global NCAP are identical in many ways, which is great for made in India cars. However, there are some key differences as well. Here's a detailed look at what makes Bharat NCAP and Global NCAP similar and different.
Global NCAP vs Bharat NCAP: What's Different
While both Global NCAP and Bharat NCAP follow similar crash tests procedures, the system to award points stands different. Under Global NCAP, cars can score a maximum of 34 points under Adult Occupant Protection (AOP), which Bharat NCAP sets at a lower 32 points.
Both programmes award 16 points each for front and side impact test but Global NCAP will award 2 additional points for having seatbelt reminders, which includes half a point for the front seats and one point for the second row.
There are no additional points under Bharat NCAP, but cars need to have seatbelt reminders for front seats to achieve at least a three-star safety rating. That said, the MoRTH mandates rear seatbelt reminders as well, which are now available in new cars but don't follow under Bharat NCAP.
All cars tested under the Bharat NCAP will get a sticker to show for it, much like your home appliances. These stickers will mention the model, variant tested and test year, irrespective of the rest score.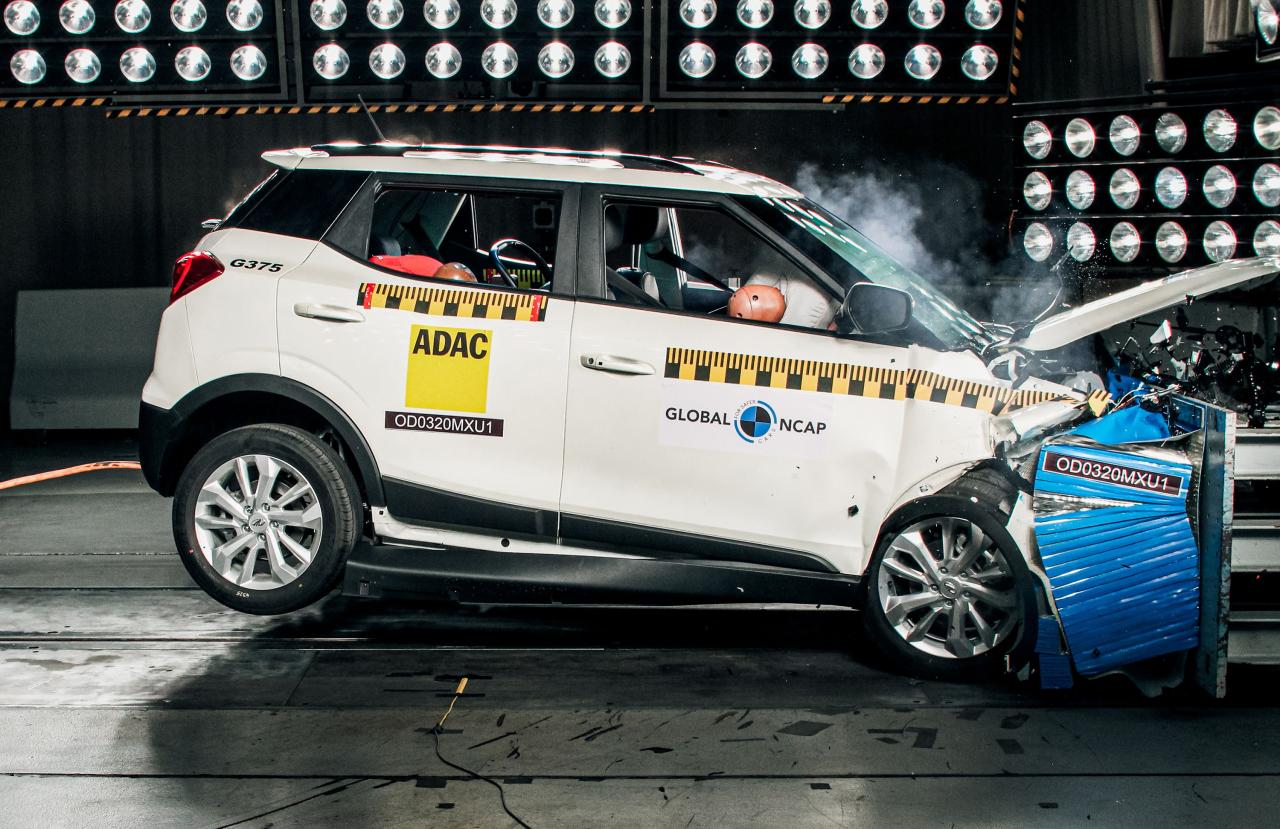 The Bharat NCAP does not include rear crash test protection or ADAS features including Autonomous Emergency Braking (AEB), Lane Departure Warning, Brake Assist and more. These tests though will be added at a later date.
Lastly, the Global NCAP is an independent body that tests vehicles at its own expense without any government intervention. Meanwhile, the Bharat NCAP falls under the Ministry of Road Transport and Highways (MoRTH), which makes it a government body.
Global NCAP vs Bharat NCAP: What's Same
As we said, the Global NCAP and Bharat NCAP are nearly identical on several parameters. The Child Occupant Protection (COP) assessment is the same under both programmes and award 16 points for frontal impact test, 8 points for side impact and 12 points for the Child Restraint System (CRS) installation such as ISOFIX anchor mounts, integrated CRS, three-point seatbelts provision and more.
Much like Global NCAP, cars tested under Bharat NCAP will also be tested at 64kmph for the frontal offset tests, while the side barrier test will be performed at 50kmph. The pole impact test will be conducted at 29kmph. Bharat NCAP will also assess the structural integrity of the vehicle as well as the inclusion of active and passive safety technologies.
The Bharat NCAP also mandates Electronic Stability Control (ESC) but for vehicles manufactured from 2024 onwards in order to score a minimum three-star safety rating. The protocols state that ESC needs to be fitted as standard on the best-selling variant of the vehicle or in equal number in other variants. The protocols also state that ESC will have to be made standard on the vehicle within two years of declaring the test results. It will need to be offered as a standalone option and not clubbed with any other feature in the same two-year period.
The similarities also include the Side Pole Impact test that crash tests the vehicle for pole impact. This requires the cars to be fitted with a head protection system like side and curtain airbags. The car will not be tested for side impact if it does not come with side or curtain airbags, which means it loses crucial points.
The protocols mandate at least 50 per cent of the car's variants to be fitted with head protection systems by the end of this year to achieve a five -star safety rating. This will increase to 70 per cent by the end of 2024 and 90 per cent by the end of 2025. All cars will have to have the feature by the end of 2026. For now, vehicles tested for the side impact pole test will be able to achieve a minimum of a three-star safety rating.
Lastly, the Bharat NCAP requires all vehicles to comply with AIS100 norms which are identical to the UN127 norms followed by the Global NCAP. Both mandate a pedestrian-friendly bumper design.
The government says manufacturers have already lined up over 30 cars to test under the new Bharat NCAP. The crash test program will not only be beneficial for India but will also allow carmakers from other parts of the world to test and validate their cars. Bharat NCAP can also pick up cars on its own and test them without necessarily having the manufacturer involved. It will also be able to test cars individually that are imported into the country. The Bharat NCAP will be applicable from October 1, 2023, onwards.