Piaggio Vehicles Pvt Ltd (PVPL), a 100 % subsidiary of the Italian Piaggio Group, European leader of the 2Wheeler sector and India's leading manufacturer of small commercial vehicles marked the completion of a quarter of a century in India. To commemorate the occasion, Piaggio Vehicles announced a slew of new product introductions for the iconic Vespa and sporty Aprilia scooters. The management also announced entering the performance motorcycle segment in India with the Group's marquee racing motorcycle brand, Aprilia.
The new scooters planned to be introduced in India are designed to cater to various needs of the evolved Indian rider and provide the opportunity to look at scooters beyond much more than the commuter segment such as Touring, Cruising, Luxury, Racing etc. PVPL intends on creating and growing the Premium segments and upwards in the coming decade. The company also has plans to enter the mid-size segment of performance motorcycles in India with Aprilia.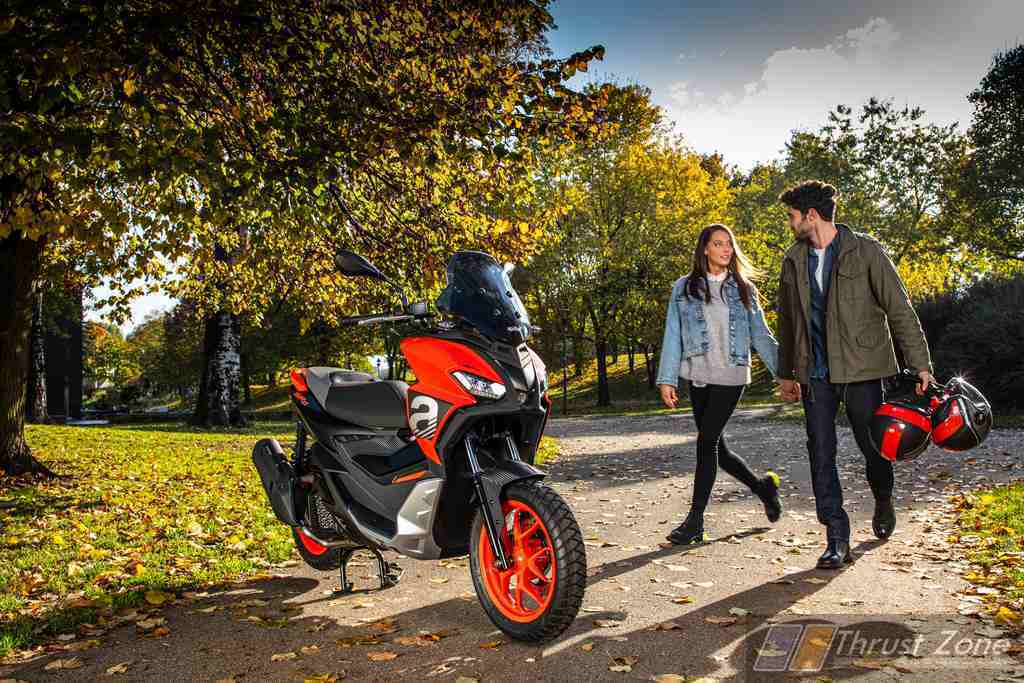 Aprilia scooters Continue to set new benchmarks by being the best in acceleration (0-60 km) and democratizing the cruising segment
#The entire range of Aprilia scooters will now be equipped with a new higher performance i-get engine that delivers improved acceleration and grade ability. These scooters will set the industry benchmark for performance, acceleration, and agility.
#The Aprilia SR range of high-performance scooters will welcome the Aprilia Typhoon designed for aspiring racers. The new scooter promises the thrill of racing as riders easily win the coveted signal-to-signal race thanks to its best-in-industry acceleration
#The new Aprilia SXR range is all set to up the ante and present newer cruising possibilities as a high-performance maxi scooter. Designed for stability at higher speeds and tested on multiple roads, the Aprilia SXR range will allow the user to cruise comfortably on all roads and altitudes as well as make it a fun collaborator to their explorer spirit. With Aprilia SXR range, Piaggio has presented the possibilities of comfortable long distance cruising, on scooters!
#A new product and segment entry by Aprilia Motorcycles. Something that is set to be a new 450cc motorcycle 2-cylinder motorcycle.
Vespa – Introduce and establish the concept of luxury scooters for the evolved rider with a completely refreshed line up
A new Vespa edition will be introduced for young Vespa lovers who in a world of mediocrity, want to stand out, feel distinctive, and make a statement. A perfect companion to take on college hangouts or a fun date, the new Vespa edition will be distinctly recognizable with its stylish dual-tone color palette, breaking the monotony of monochrome 2-Wheelers.
#The all-new Vespa Touring edition has been designed for explorers and creators. They are the ones who venture out into the world to discover new places, get inspired and create art that enables them to share their discoveries with the world. Vespa Touring will allow creators and travelers to explore new avenues and also use it to carry their equipment and carry-ons for quick getaways during weekends.
#The Vespa touring helps live more, explore
#The existing range of iconic and stylish Vespa products will also be introduced in some very fresh colour palettes in the year
Piaggio also recently introduced the limited edition Vespa SXL Sport and a new Racing 60s for consumers who always choose class, but are also sports enthusiasts at heart Overall, customers should look forward to a completely fresh line of the Vespa in 2023 thanks to new product launches, engine upgrades, and new color introductions.
Speaking on the occasion, Mr. Diego Graffi, Chairman and Managing Director, Piaggio Vehicles Pvt Ltd., said, "We have been operating in this country for a quarter of a century. In which time, our business and growth have risen tremendously, and India has evolved to be a world-class hub of manufacturing and development. The love our iconic brands have received from millions is humbling and I am excited about the new products we have planned to introduce this year. 2023 will see a whole range of new 2-wheelers that cater to evolved riders through high quality and performance. It gives me the pride to say that all our 2-wheelers now come equipped with a technologically advanced i-get engine which is tuned to give a significant advantage in acceleration across 125 and 160-cc products and is fully OBD II compliant. As we continue to grow and pioneer India's mobility, we feel there is massive potential for bringing in more of Piaggio's global favorites to India."
To mark this key milestone for the Piaggio Group and currently on a special visit to India, Mr. Davide Zanolini, Executive Vice President of Marketing & Communication at Piaggio Group said, "Piaggio has been amongst the key auto mammoths in India who shaped the mobility fabric of the country. We have a rich heritage of iconic brands like Vespa, Aprilia and Ape in India which are loved by millions in the country. As we continue to evolve and define India's two and three-wheeler industry, our focus for the future is quite clear. We intend to use our superior product and technology might to establish clear segmentation in scooters in India. As the world's leading 2-wheeler market, we believe India is ready to explore the full potential offered by scooters and see them beyond just a means to commute. Through strategic product interventions and focused marketing and communications, we wish to clearly establish distinction for the discerning Indian rider who now demands quality, legacy, luxury and motorsport-bred performance. I am truly excited about the future of Piaggio in India."
Piaggio entered India in 1998 with its commercial 3-wheelers under the Apé brand. In 2012, it disrupted the scooter market with the introduction of its iconic Vespa line of luxury scooters and advanced 125cc and 150cc engines; capacities unheard of then in the scooter segment in India. The company created the performance scooter genre in 2016 with the introduction of the Aprilia SR 125 and 150. In 2021, it introduced India's first line of maxi-scooters with the Aprilia SXR 125 and SXR 160. Currently, the company also sells fully built units of the Moto Guzzi V85 TT and the Aprilia 660 and 1100 range in India.