Reaffirming its commitment to India, BYD India, a subsidiary of the world's leading New Energy Vehicles (NEV) manufacturer BYD, celebrated its 10th year anniversary in the Electric Vehicle (EV) segment in India, a significant milestone of its 16+ years successful operations. The company marks its 10th anniversary in the electric segment in India with a steadfast commitment to the Indian EV market and a vision of driving sustainable growth through cutting-edge technological innovations for a better life.
BYD started its India operations in 2007 in India with the electronics business, and later expanded to other businesses. On 20th August 2013, BYD India's EV journey started with the arrival of its first electric bus in Chennai, which is also the first pure electric bus in the history of India's automobile Industry,signalling the electrification of public transportation in India. This historic event marked a significant milestone in India's pursuit of electrified public transportation, paving the way for cleaner, greener mobility solutions for mass transportation. Over the years, the company has expanded into a diverse range of products including electric passenger vehicles, e-buses, e-trucks and e-forklifts, thus reinforcing its position as an emerging market leader in the Indian EV industry.
On the 10th anniversary of its EV journey in India, BYD India also inaugurated its new office in Gurugram further emphasising its commitment to the Indian market. This strategic location will serve as a hub for BYD's operations, innovations, and collaborations, further strengthening the brand's engagement with local partners, customers, and stakeholders.
BYD manufactured over 5 million NEVs globally and is the first automaker in the world to achieve that milestone resulting in saving a staggering 38 billion kg of carbon emissions. In India alone, the company has helped reduce 274 million kg of CO2 emissions through its electric passenger vehicles, electric forklifts, electric trucks, and electric buses powered by BYD's battery, powertrain, and chassis technology. Among these, the total mileage of BYD's electric buses alone has crossed 126,883,681 kms i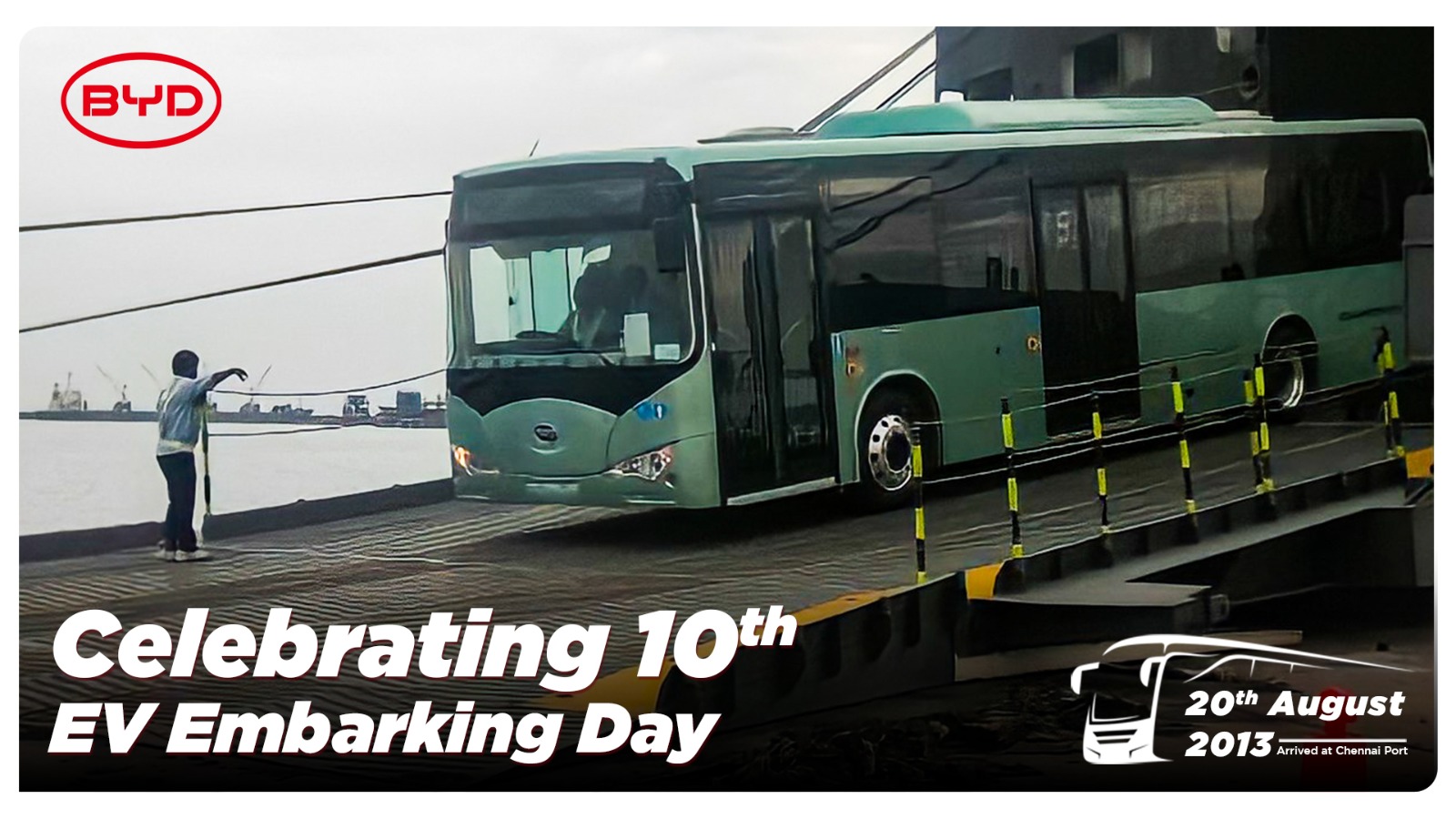 In the passenger vehicle business, the BYD ATTO3 and the All-New e6 also took leading positions in the premium eSUV and eMPV segment. These achievements demonstrate BYD India's unwavering commitment to the Indian market, towards environmental responsibility, and to sustainable practices. BYD was hit by a setback as the Indian government has not allowed its 1 Billion Dollar investment due to security and tax reasons. BYD seems to be still on board for negotiations and its plan without the major investment.