The Indian automobile market has evolved considerably in the past few years. The changing customer expectations, hardening regulators norms, and intensifying competition by the day are some of the significant parameters of considerations among auto experts and enthusiasts. Further, the enhanced focus of carmakers on the customers' aspirations is well-illustrated by the comparison between Skoda Slavia and first-generation Skoda Octavia.
A side-by-side comparison of dimensions reveals that Slavia dwarfs the Octavia in length, width, height, and wheelbase. This is especially important considering the fact that Octavia belonged to a segment higher than Slavia.
Dimensions Skoda Slavia Skoda Octavia
Length (mm) 4541 4507
Width (mm) 1752 1731
Height (mm) 1487 1455
Wheelbase (mm) 2651 2512
Based on the MQB A0 IN platform, Skoda Slavia has been specifically conceptualized for emerging markets including India and hence, due importance has been given to maximizing the interior space. The elongated dimensions have helped Slavia to offer cavernous space to passengers with Slavia's 2651mm wheelbase coming across as a considerable improvement over the 2512mm of Octavia. This focused approach of Skoda underlines the fact that the Czech Republic carmaker has been concerned about the sensibilities of Indian customers about the interior space and comfort.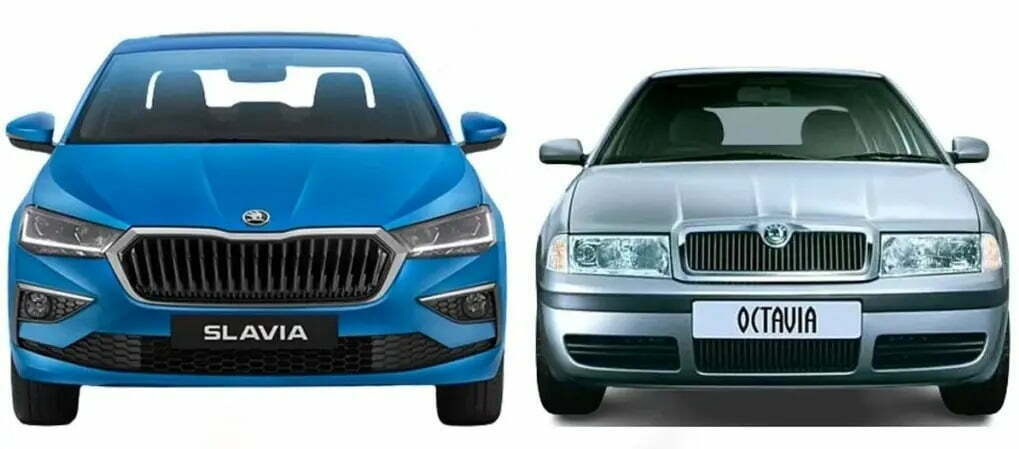 In terms of engines, Slavia features 1.0-liter TSI and 1.5-litre TSI EVO gasoline motors and can be had in three different trims – Active, Ambition, and Style. While 1.0-liter TSI puts out 115PS and 175Nm, the larger 1.5-litre TSI EVO churns 150PS along with 250Nm. The gearbox options with a smaller capacity motor include a 6-speed manual and 6-speed torque convertor while the bigger unit comes with a 6-speed manual and a 7-speed DSG. Pitted against the likes of Honda City, Hyundai Verna, Maruti Ciaz, and upcoming VW Virtus, the Skoda Slavia has priced between Rs 13.99 lakh to Rs 17.79 lakh (ex-showroom, India).