Ford Celebrates Ganesh Chaturthi with Ganesh Idol Made Of Auto Spare Parts is cool and divine at the same time
Ford India is celebrating Ganesh Chaturthi in style with a unique installation of lord Ganesha, made of auto spare parts for this festive season. In collaboration with Workshop Q and with the help from talented artists like Madhavi Pittie and and Nishant Sudhakaran. Ford has turned spare parts into a big 6.5 feet tall avatar of Lambodar. The ideal is made of disc brake, fenders, spark plugs, clutch plates, chains, crankshafts, drive chains and a lot more parts from the catalog.
The idea of creating such an idol is aimed to highlight the importance of using genuine spare parts. The unique and special Gnaesha idol was unveiled by Saurabh Makhija, General Manager, Sales Ford India last week, when it was open for public viewing last week from August 18-20 2017 at the Oberoi Mall in Goregaon.
To strengthen the experience, the lord Ganesha installation will feature a special 12 cameras set up, allowing visitors to click a 180-degree photograph. Users will also be bale to upload their photographs on Facebook with the hashtag #SelfieWithFordGanesha and stand to win a small Ganesha idol, also created with spare parts.
Safety is not an option but a priority for Ford, with the help of this creative idol the company is trying to highlight the significance of suing genuine parts while servicing to ensure the well-being of their loved once.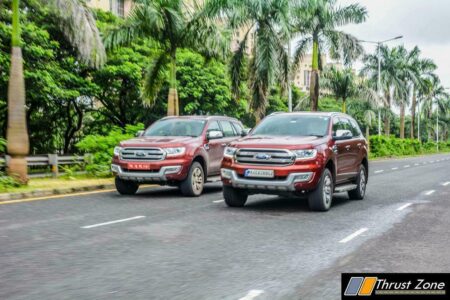 Having expanded the distribution of spare-parts through retail stores, Ford India has not only ensured that the genuine parts are always withing customer's reach but also the convenience of getting the Ford serviced wherever the customer wants.
Talking about the uncommon design and Unique installation, Workshop Q, as being a green product design company, often experiments with discarded objects and materials from the city streets, factories, households and is proud to have made a beginning with auto spare parts- a challenge given to them by Ford India.