Its 2020 already and that hints the AutoExpo are here. Earlier last year, the list of manufacturers taking part at the AutoExpo was a bit complacent considering the bailouts. However, Volkswagen has already confirmed its line-up for the 2020 AutoExpo via a newspaper advert.
Volkswagen has planned on getting four cars for the event and the list consists of the T-Roc, ID.CROZZ concept, T-Cross and the Tiguan AllSpace. Starting from the T-Roc, the car has headlined the news quite a few times, courtesy the spy-shots of its testing in India. The car is likely to house a 1.5-litre, petrol mill and could be mated to a 7-speed dual-clutch transmission. The set-up will churn around 148 BHP.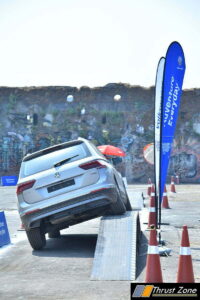 Second in line we have the electric crossover, ID.CROZZ concept. The said model was introduced back in 2017 at the Shanghai Auto Show. The output figures are 302 BHP with a claimed top speed of 180 km/h. The ID. CROZZ is said to munch 500 km of range on a single charge. Volkswagen also plans on serving an all-wheel-drive with the car.
After the electric crossover, we have the T-Cross. This one is an MQB platform based compact SUV. In the foreign market, Volkswagen offers the T-Cross with three variants. Of these three, two are petrol and one is diesel. The options are 1.0-litre and 1.5-litre turbo petrol and a 1.6-litre diesel engine.
Lastly, we have the Volkswagen Tiguan AllSpace. The said model is a 7-seater version of the Tiguan and is likely to sport a 2.0-litre, 4-cylinder, turbocharged petrol motor. Mated to a 7-speed dual-clutch automatic gearbox, the set-up can produce 178 BHP and 320 Nm of torque. These are the four cars that will occupy the Volkswagen stall for the 2020 AutoExpo.