FZ25 vs Apache200 vs Pulsar220 vs Pulsar NS200 vs Duke200 is now a full blown quarter litre gang which offers riders every type of option they probably would need
Yamaha has finally done it, after a long wait and a little bit of tease, the motorcycle has finally made it to the Indian market. A motorcycle that is made in India and made for the Indian market specifically, which will be exported shortly, promises a lot to rides of the country and Yamaha itself. The motorcycle seems the right package on paper as it has everything it to take on its rivals. Along with that it has to have the Yamaha DNA which means it will be a motorcycle easier to live with in every way. Let's find out what what does it offer in front of the competition as it exists in many ways.
FZ25 vs Apache 200 vs Pulsar 220 vs Pulsar NS200 vs Duke 200 Design
All motorcycles are fresh of the line and have had upgrades. However, for the KTM and Pulsar , which are doing rounds since 2012 still do a good job of attracting masses. They have had their share of cosmetic upgrades very recently and stand out till date thanks to new decals and paint scheme. While KTM is a stripped out road legal motorcycle, the Pulsar gets all muscular with the tank and slim headlights which is now a standard affair in today's quarter litre naked motorcycle.
Apache 200 is very fresh and looks just right with the a very stunning design in all thanks to a futuristic headlight and tail-lamp along with large tank shrouds and impressive build quality. The FZ25 when compared to all them does look just right and very Yamaha. The MT inspired headlamps, the RTR 200 reminiscent tail-lamps are pure coincidence we guess. The large tank which is well sculpted and along with a good sporty stance which is dynamic in every way allures riders to it. Pulsar 220, the oldest bike here has a half fairing and a musuclar long tail design which seems to be ageing well and still looks best in black despite many color options on offer.
FZ25 vs Apache 200 vs Pulsar 220 vs Pulsar NS200 vs Duke 200 Engine and Gearbox
KTM has a 200cc engine which makes 25 PS of power and 19 Nm of torque that is mated an 6-speed gearbox. The engines has Fi, 4-valve and liquid cooling on offer. NS200 also has a SIMILAR engine and gearbox but makes 23.5 PS of power and 18 Nm of torque from a carburetor engine. Apache 200 on the other hand comes with carb and fi options, uses four-valves but there is an oil-cooler, a 5-speed gearbox and no liquid cooling on offer.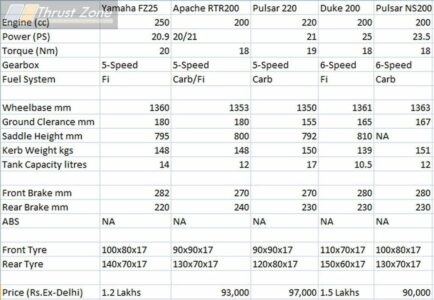 The engine makes 20.9 PS with Fi and 20.4 PS with carb. Both carb and fi engine bikes make 18 Nm of torque. The FZ25 also uses the same layout, but has 2-valves on the cylinder. The engine makes 20.9 PS of power and 20 Nm of torque which is the highest in the segment, a good use of the extra capacity by Yamaha. Pulsar 220 a bike which is the market for quite some time has similar specs as it makes 21 PS of power and 19 Nm of torque from a 2-valve oil-cooled 220cc motor, but it is a carburetor unit.
Read this too: FZ25 LAUNCHED WITH LED LIGHTS AND 21 PS POWER!
FZ25 vs Apache 200 vs Pulsar 220 vs Pulsar NS200 vs Duke 200 Chassis, Brakes, Suspension, Tyres
Pulsar 220, Apache 200 and FZ25 have the dual cradle chassis format, however deployed differently as per needs of suspension setup that is slightly different on all motorcycles. Duke 200 and Pulsar NS200 have a trellis frame and perimeter frame respectively. All motorcycles except the Duke 200 get telescopic front forks while the KTM gets USD forks.
All motorcycles get monoshock here but the Pulsar 220 gets a dual sided shocks. All bikes have dual disc brakes here. Surprisingly none of these bikes are offering ABS for now. Apache 200 is yet to launch it in the market after the unveil. All bikes except the Apache have MRF tyres, while it has TVS tyres and optional Pirellis on offer. The biggest tyres here belong to the Duke 200, FZ25, NS200, Apache 200 and Pulsar 220, in that order.
FZ25 vs Apache 200 vs Pulsar 220 vs Pulsar NS200 vs Duke 200 Verdict
In today's modern time it becomes to difficult to say that which bike is the best as all of them offer something in a different way. Choosing is upto you. however, there are all rounders as they offer everything right from ease of use to riding thrills, dynamics and overall package which includes Price per BHP ratio which is most important. Yamaha comes close to that and it deserves all the attention and a second look and lot of consideration before you choose your quarter litre naked motorcycle in this category. Allow us some time, we will get back to this answer once we ride all of these back to back. For now, FZ25 has a lot of battles to fight.
Read this too: FZ25 LAUNCHED WITH LED LIGHTS AND 21 PS POWER!
FZ25 vs Apache200 vs Pulsar220 vs Pulsar NS200 vs Duke200 Review
Comments Rating
( reviews)