Mumbai-based GS Design has unveiled customisation options for the Toyota Innova Crysta, Force Traveller and many such offerings. The new venture will see the company revamp the interiors of such cars to suit the personal needs and tastes of buyers who are looking for a more luxurious and comfortable experience from their vehicles. Indian industrialist Gautam Singhania, who heads the Raymond Group and the Supercar Club Garage (SCCG), is the brains behind GS Design. GS Design team also had a restored Chyrsler and a Rolls Royce. Have a look at it in the pictures, which does not justice to the insane attention to detail on offe!
Getting back to the custom-built Toyota Innova Crysta looks stock from the outside but the interior gets a complete overhaul. This includes removing the second and third row in favour of two captain chairs complete with an ottoman and reclining function. The seats are upholstered in perforated leather and also come with multiple adjustability options.
The rear cabin also gets additional storage spaces and the option to mount a widescreen TV between the sizes of 32-inches and a whopping 55-inches. The cabin further gets spruced up with ambient lighting, internet and phone connectivity, partition, and a starlight headliner inspired by Rolls-Royce luxury cars. The Innova Crysta with the customised cabin is priced around Rs. 2.5 lakh, which includes the cost of the vehicle and the process will take about 2.5 months.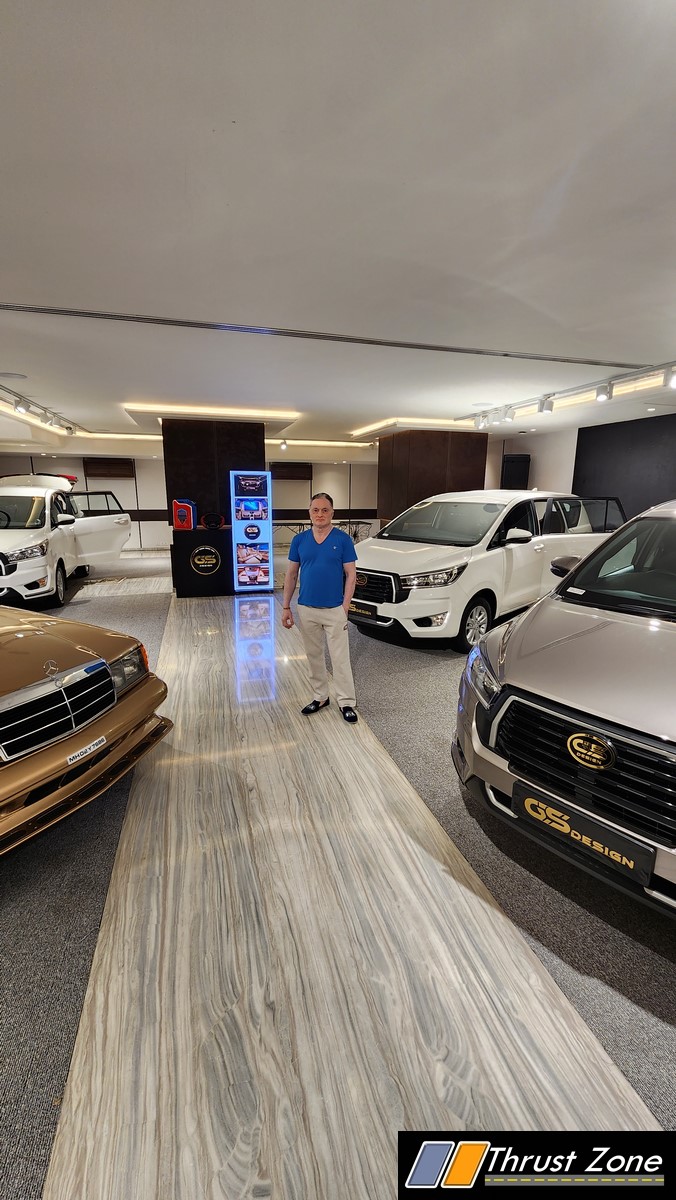 Up next, the Force Traveller gets a fully customised cabin that can be converted into an office on wheels. The Traveller's cabin gets a complete makeover and is restricted to just seven seats. Three of these seats are captain chairs and come with reclining and ottoman functions. The cabin also gets a 43-inch widescreen TV, internet and phone connectivity as well as Ambien lighting. Moreover, the Traveller gets a built-in chemical toilet and mini pantry.
GS Design will also offer further customisation with the ability to install a hydraulic lift for politicians who'd like to address the public. It will also get guard rails for added safety. The Traveller customised for elections will also get two LED televisions on the outside with a public announcement system with external speakers.
Customisation on the Force Traveller will cost from Rs. 85 lakh onwards and will take about three months to fulfil. The company is offering a one-year warranty on the vehicle but only with respect to the customisations carried out.
GS Design will extend its customisation program to other vehicles as well including the Kia Carnival, Volvo buses turned into vanity vans as well as Toyota Vellfire. The company will compete against DC2, by Dilip Chhabria, who has been a long-running player in this space.