Gogoro today announced a partnership with Zomato, one of the largest food ordering and delivery platforms in India, and Kotak Mahindra Prime Limited, a subsidiary of Kotak Mahindra Bank Limited. The first of its kind in India, the partnership is focused on accelerating the adoption of sustainable electric vehicles by delivery partners that are on board with Zomato offering them new, more favourable loan terms not available in India today. The three-way partnership aligns with the government of India's focus on providing broad affordable access to sustainable transportation.
"The urban transformation to electric transportation in India's cities has begun and it is essential that we provide delivery partners with an accessible path to own and leverage the benefits that smart electric two-wheel vehicles and battery swapping offer. Gogoro, Zomato and Kotak are partnering to make this a reality," said Horace Luke, founder, and CEO of Gogoro. "Gogoro Network battery swapping and vehicles provide a proven track record of safety and security that Non-Banking Financial Companies (NBFCs) like Kotak Prime can embrace and support. This partnership will provide a powerful opportunity for delivery partners to lead India's transition to smart and safe electric transportation."
The companies will offer last-mile delivery partners with affordable loan terms and battery swapping services that enable them to adopt sustainable transportation. Gogoro battery swapping and Smartscooters offer safe, reliable, and always available energy, while tethered electric charging still requires dedicated parking and charge time that reduces delivery partner availability and income.
With more than 300,000 delivery partners, Zomato is a leading food ordering, delivery and dining-out platform headquartered in India. It is the only food ordering and delivery platform to have committed towards The Climate Group's EV100 initiative to transition to 100% EV-based deliveries by 2030. Given its commitment to sustainable growth, it is imperative that Zomato take the lead to provide delivery partners with access to advanced electric solutions like the Gogoro Smartscooter and Gogoro's Swap & Go battery swapping network.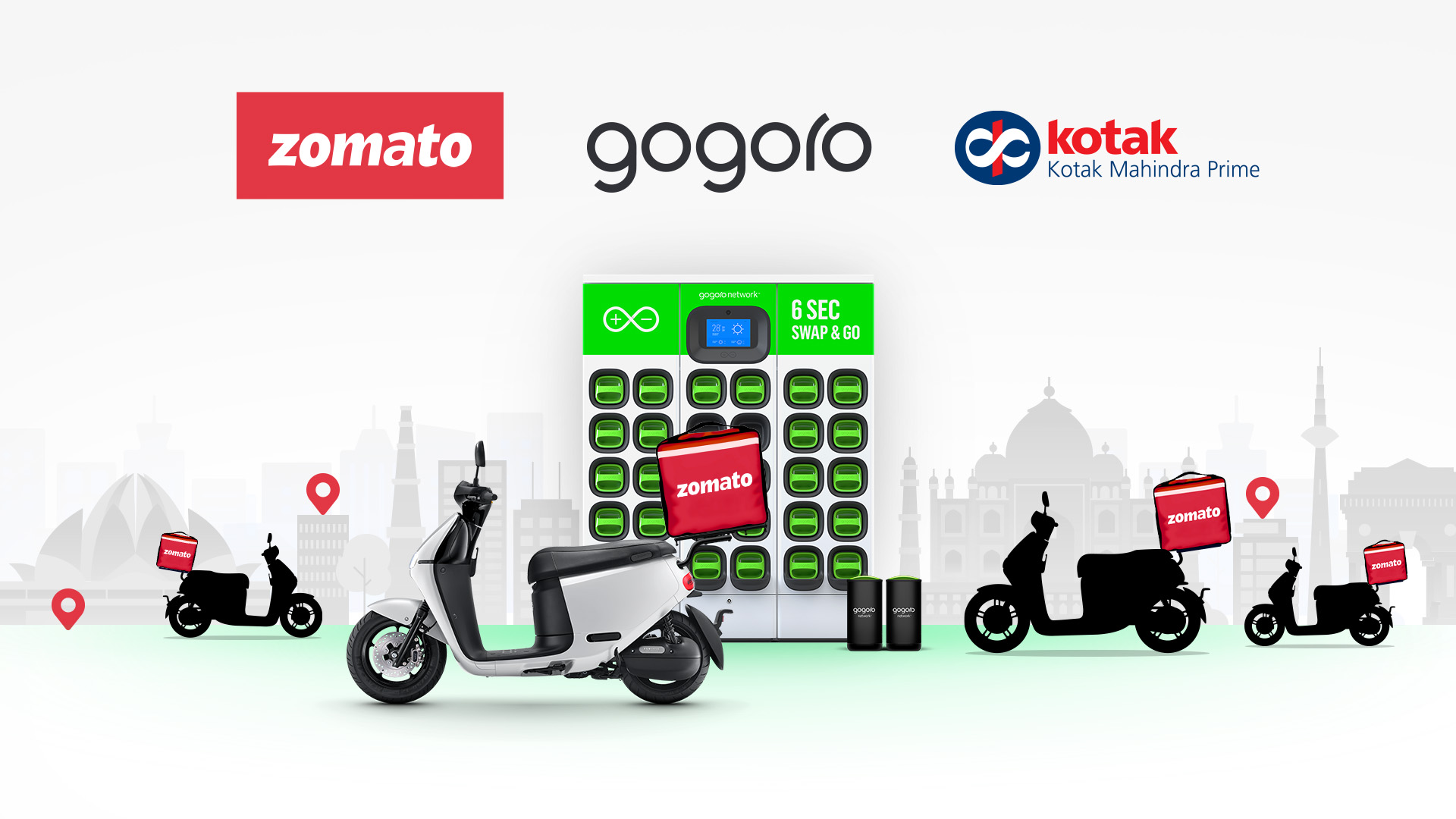 "Electric two-wheelers powered by affordable, reliable, and accessible battery swapping solutions can positively impact delivery partner pay-outs, apart from reducing air pollution. That's why we're excited to partner with Gogoro and Kotak on this endeavour," said Mohit Sardana, COO, Food Delivery at Zomato.
Kotak Mahindra Prime Limited, the vehicle leasing division of Kotak Mahindra Bank, India's fourth largest bank, is committed to providing more accessible loan terms for sustainable transportation and will utilize the unique security features in Gogoro's Smartscooter, including 100-percent user authentication that makes it very difficult to steal. Additionally, payment delinquency will be very low because access to battery swapping can be paused.
"We are pleased to partner with Gogoro and Zomato to further the adoption of electric two wheelers in the country. Sustainable transportation and easy loan access to the consumers is the key," said Vyomesh Kapasi, MD & CEO of Kotak Mahindra Prime Limited. "This is an exciting opportunity for Zomato delivery partners to get access to Gogoro Smartscooters and Gogoro's Swap & Go battery swapping network."
Last mile delivery fleets require a sustainable solution that not only achieves the best alternative to internal combustion engine (ICE)vehicles but is well suited to the specific segment needs of the delivery industry. The Gogoro platform delivers the most sophisticated two-wheel battery swapping system that enables delivery operators to manage their fleets and deliveries more efficiently and sustainably.