Isuzu And Jonty Rhodes – The brand Ambassador has been a cricketing legend worldwide and now stays in India
Isuzu Motors India has signed on former South African cricketing legend and an adventure enthusiast, Jonty Rhodes to promote the brand and V-Cross in India. The announcement comes at a point when ISUZU is establishing itself rapidly as an important player in the Indian Pick-up and Utility Vehicle market. ISUZU launched its latest commercial, featuring Jonty Rhodes, underscoring the message 'Be the Game Changer' at a press conference held in Mumbai, today. Jonty drove the V-Cross to mark his association with ISUZU in India in the presence of senior management executives, business partners and media.
The association with Jonty Rhodes is an embodiment of what ISUZU has been doing over the last 50+ years, making world-class Pick-ups for both personal and commercial segments across geographies. ISUZU has celebrated sports and adventure over the years by proving its mettle in some of the most demanding rallies in the world. It continues to leverage its Rally DNA in rallies like Dakar, Silk Way Rally & British Cross Country Championship (BCCC) to name a few, where ISUZU has carved a niche for its reliability and performance.
Jonty Rhodes, known for this impressive and outstanding cricketing career, brings in a lot of value to the brand ISUZU and stands for everything that clearly defines its core attributes of reliability, performance, excellence on one hand and innovative, consistent and aspirational on the other. Jonty has built an identity in the game of Cricket and continues to inspire many with his unstoppable pursuit for adventure, travel and sports. He strongly reflects a modern Indian who is largely aspirational and willing to explore a new dimension in life.
Isuzu D-MAX V-Cross is a one of a kind vehicle that has played an important role in effecting this change in the country. It is a perfect vehicle for the aspiring young Indians who seek a new lifestyle and complements the dynamism and attitude in them. V-Cross has brought in a paradigm shift in the automobile market and has empowered the aspiring Indian to 'be the game changer'.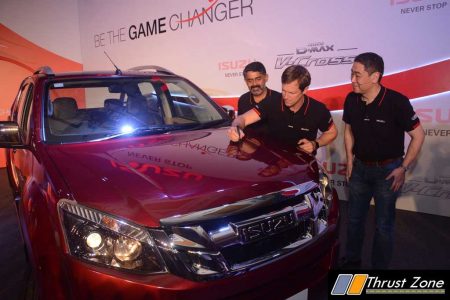 Jonty Rhodes said "I am pleased to be associated with a legendary brand that makes reliable, durable and performance-oriented vehicles. Coming from country where Pick-ups are commonly used as a personal vehicle for daily commute and weekend getaways, I am equally excited to endorse such a versatile vehicle like the V-Cross in India from a world-renowned manufacturer of automobiles. India is a phenomenal country and I have had the opportunity to be closely associated with this country, doing new things and meeting new people. I am truly excited to be associated with ISUZU in India and I look forward to an amazing journey with the brand."
Isuzu Motors India has been selling the world-renowned ISUZU D-MAX Pick-ups and mu-X SUV in India. The ISUZU D-MAX is tough, refined, encompassing aggressive styling and levels of safety – plus ISUZU's legendary durability and fuel efficiency. The V-Cross continues to be the preferred lifestyle and adventure vehicle in the country, while the ISUZU mu-X makes for a versatile family SUV. The company also sells the commercial range of ISUZU D-MAX Pick-ups for the growing businessmen.
Isuzu Motors India recently rolled-out the 10,000th vehicle from its manufacturing plant in SriCity, Andhra Pradesh, since its start of production in April 2016. The company had already crossed a cumulative sales of 10,000 units in March 2018, which includes the vehicles that were sold before SoP at SriCity.
The V-Cross comes with a highly capable 4WD, modern SUV features and a large deck. Available in High and Standard grade variants, the new V-Cross comes with additional features such as – Electronic Stability Control (ESC) with Traction Control System (TCS), Auto Cruise Control, Daytime running lamps (DRL), LED Tail lights, Rear view camera, 2-Din touchscreen entertainment system and Side-step. The ISUZU mu-X now comes with '5ECURE' offer that provides '5 years warranty and 5 years free periodic maintenance or 150,000 km (whichever is earlier).