Buckle up as the Jaguar XJR575 debuts with an fastest interview at 300 km/hr video which is an fun way to pitch the new super luxury saloon
The all new Jaguar XJR575 is the latest version of Jaguar's flagship sedan. The fastest just got faster-the 575 in the name denotes the horsepower that the car's 5.0-litre supercharged V-8 engine generates. The more powerful 2018 Jaguar XJR575 sits at the top of the XJ range in terms of performance and delivers 25 more hp than the previous version.
The super saloon produces 575 hp from 6250-6500 rpm and 517 Nm of peak torque in between 3500-4500 rpm. This enables the car to accelerate from 0-60 in just 4.2 seconds and reach its mind boggling top speed of 186 MPH in just 44 seconds. Available in the short wheelbase body style only, the XJR575 sends power through the same 8-speed ZF automatic transmission as other XJs. Jaguar's new XJ range benefits from a range of enhancements, including new tech upgrades and improve safety additions.
Talking about the design Jaguar has equipped the XJR575 with unique badging, twin hood louvers while, the exterior has been tuned and tweaked including the rear spoiler, side sills, front bumper and lower air intakes which feature Gloss Black surrounds. Being it a performance vehicle the XJR575 carries the same level of comfort and design that customers expect from a Jaguar saloon.
Customers will be able to choose between two bespoke exterior color finishes created by the automaker's Special Vehicle Operations Division – Velocity Blue and the Satin Corris Grey. The new 20-inch Farrallon gloss-black wheels with contrast red painted brake callipers are flaunted well, which make the super saloon look sporty and aggressive.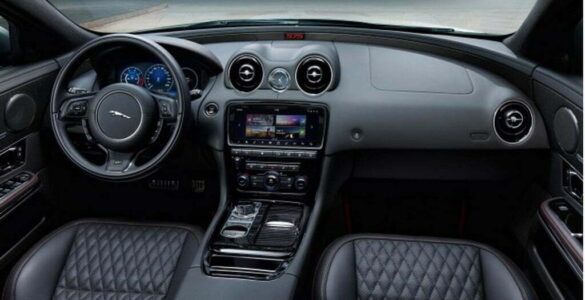 Inside the cabin, we get bespoke embossed tread plates and intagilo and diamond quilted sets. The dash contains a 10-inch touchscreen at the center, and 4G Wi-Fi is available. Key safety features on the model include emergency braking, blind spot assist, lane keep assist and park assist. Pricing and availability for the 2018 XJR575 version have not yet been announced.