Revolutionizing India's tyre market, the pioneer of Radial technology and leading tyre manufacturer, JK Tyre & Industries Ltd., has launched India's first Puncture Guard Tyres for four-wheelers.
Driven by the technological expertise of producing high performance tyres suited for Indian conditions, JK Tyre, aims to revolutionize the industry with Puncture Guard Tyres for new generation cars available in market.
The Puncture Guard tyre technology, with specially engineered self-healing elastomer inner coat, applied inside the tyres through an automated process, heals the punctures. Tyres with this technology can self-repair the multiple punctures in the tread area, due to nails or other sharp objects up to 6.0 mm diameter instantly. Puncture Guard tyre offers hassle free ride throughout the life of the tyre without air loss.
To ensure safe rides, the advanced Puncture Guard tyre has been tested across all Indian on-road, as well as off-road conditions. The tyres are secure, unique and designed for optimal performance, drastically improving road safety while mitigating any potential accidents
The flagship company of JK Organisation, JK Tyre & Industries Ltd is amongst the top 25 manufacturers in the world. Pioneers of radial technology, the Company produced the first radial tyre in 1977 and is currently the market leader in Truck Bus Radial segment. The Company provides end-to-end solutions across segments of passenger vehicles, commercial vehicles, farming, Off-the-Road and two & three-wheelers.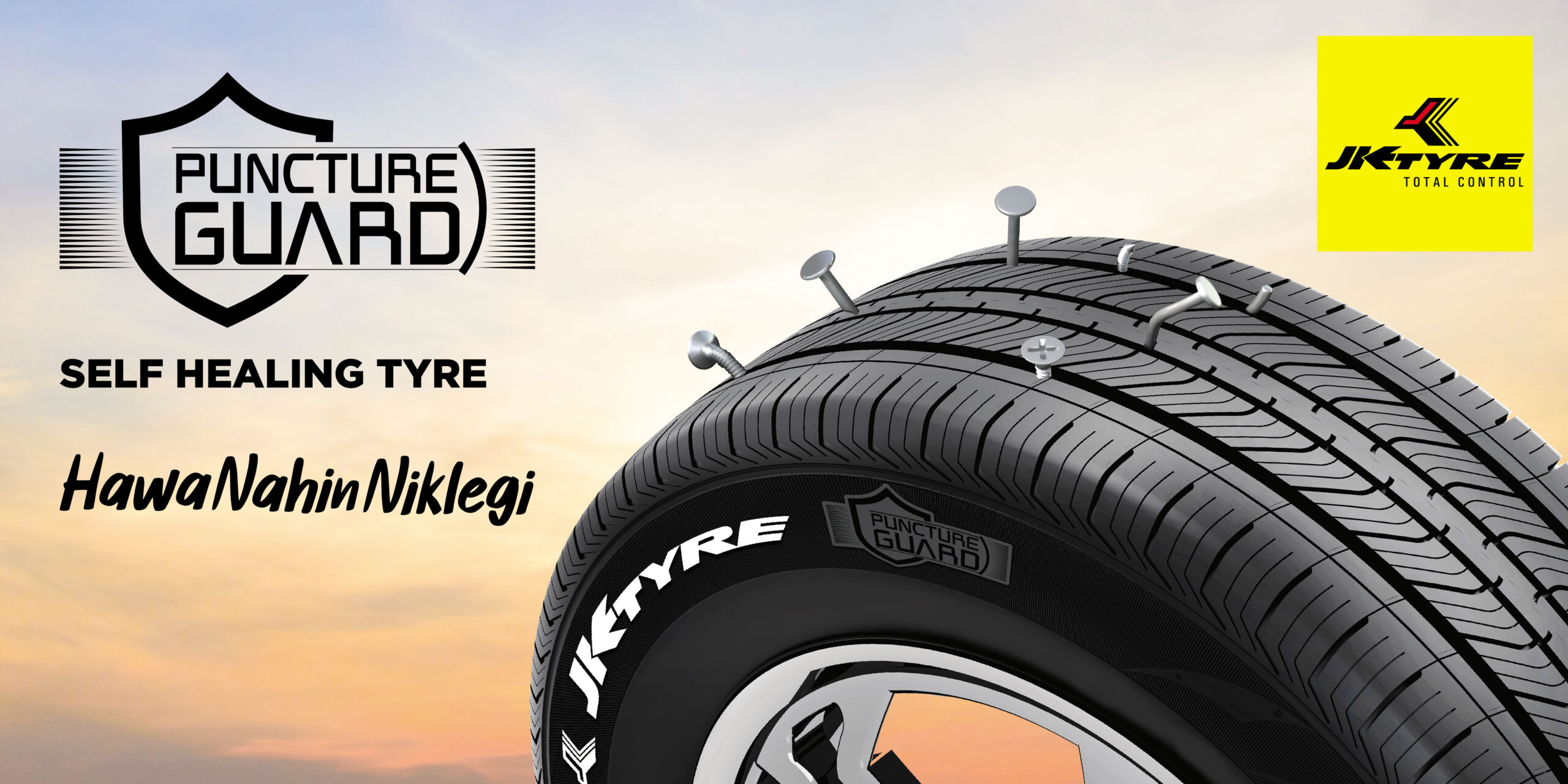 A global force, JK Tyre is present in 105 countries with over 180 Global distributors. The Company has 12 globally benchmarked 'sustainable' manufacturing facilities – 9 in India and 3 in Mexico – that collectively produce around 35 million tyres annually. The Company also has a strong network of over 4000 dealers and 600+ dedicated Brand shops called as Truck Wheels, Steel Wheels and Xpress Wheels.
JK Tyre's unwavering commitment towards innovation is reflected through its state-of-the-art global research and technology centre – the Raghupati Singhania Centre of Excellence – in Mysore, which houses some of the world's finest technologies and techniques.
JK Tyre launched India's first ever 'Smart Tyre' technology-and introduced Tyre Pressure Monitoring Systems (TPMS) which monitors the tyre's vital statistics, including pressure and temperature. The company recently rolled out its 20 millionth Truck/Bus Radial tyre becoming the first and the only Indian company to achieve this milestone.
It is the only Indian tyre manufacturer to be included in the list of Super brands India in 2019 for the seventh consecutive year. JK Tyre has been conferred the Sword of Honour for Safety across its plants by the British Safety Council, UK. The company entered the Limca Book of Records with the country's largest off-the-road tyre – VEM 04.
JK Tyre is also synonymous with motorsport in the country. For over three decades, the Company has relentlessly worked towards shaping India's positioning as the motorsport hub of Asia, developing the right infrastructure for the sport and promoting young talent in the arena.